China's takeover of Western capitalism
From obscure stakes in biotech companies to intellectual property theft, the Chinese state is engaged in corporate subterfuge. But what can the West do about it?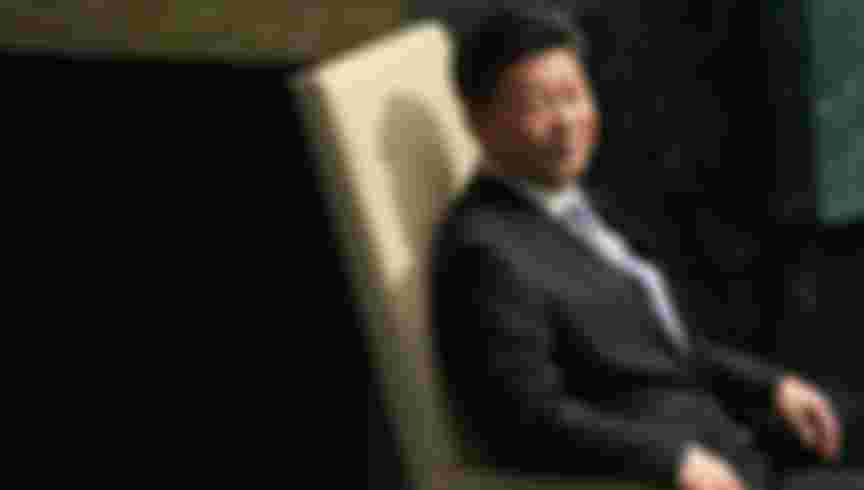 Chinese premier Xi Jingping addressing the United Nations in New York, 2015. Credit: Spencer Platt / Getty Images.
Congenica is not the sort of company a lot of people follow closely. The Cambridge-based start-up specialises in genomics, an area most of us struggle to understand.
Given this reality, perhaps it was inevitable that some venture capital funding Congenica received late last year garnered little media interest. But Congenica's decision to give Tencent, a Chinese entertainment giant, a stake in its £39 million Series C funding round was both important news and a routine announcement. Chinese firms regularly snap up the best Western technology and the best Western start-ups.
Such business deals are part of a Chinese strategy to turn itself into a global superpower. So are sundry less legal means that undermine Western countries and, conveniently, strengthen China. It's not warfare – but it's certainly not globalisation as usual. Congenica's funding from Tencent arrived only a few months after another cutting-edge UK biotech firm, Nanopore, announced it was negotiating to sell an 11 percent stake to Tencent. And while the Shenzhen-based buyer may lack the name power of Huawei, it is in many ways an even more important outfit than the telecom equipment maker. It's an entertainment giant in its own right, best-known as the messaging platform WeChat's parent company, but it's also a formidable investor in start-ups – 580 and counting.
And Tencent is only one of many Chinese outfits that over the past five years or so have been on a start-up buying spree. In 2016, for example, the cutting-edge German industrial robot maker Kuka was acquired by a Chinese appliance maker called Midea; soon its activities had been refocused on China and its CEO replaced. The following year, Imagination Technologies, one of the UK's two leading semiconductor companies, was sold to a Cayman Island-based private equity firm backed by the Chinese government. Imagination had something that China did not: world-class computer chip technology. The UK government approved the takeover on the understanding that the new owner – Canyon Bridge – could not interfere with Imagination's operations. Within Imagination, though, the takeover caused such alarm that the CEO and two other top executives resigned, one of them writing that he wanted to have no part in a firm that is ultimately owned by the Chinese government.
Two years ago, three Chinese outfits – two of them connected to the Chinese military – bought three cutting-edge Swedish space technology firms. And the UK government's faith in Imagination's new owner was vanquished earlier this year when China Reform – Canyon Bridge's main owner – announced it was going to directly appoint four directors to Imagination's board. According to a 2019 report by the Swedish Defence Research Agency, Chinese outfits have bought 51 Swedish firms and acquired minority stake in 14 others; through the acquisitions they've gained ownership of some 100 subsidiaries. Such activity has intensified since 2014, the researchers found.
The investments are China's second chapter as a globalising power. Following China's admission to the World Trade Organisation in 2001, Chinese conglomerates eagerly leapt into the globalised world. In 2003, Chinese merger and acquisition deals with foreign companies amounted to $1.6 billion; by 2006, the figure had risen to $18.2 billion. The takeovers often involved Western household names. MG, the classic British carmaker, was acquired by a Chinese firm. So were the French agriculture giant Adisseo and the Norwegian rig company Awilco Offshore. But many of those acquisitions, such as TCL's takeover of France's Thomson Electronics, ended in failure.
In 2015 Beijing introduced its Made in China 2025 strategy, a ten-year plan launched in 2015 with the goal of making China an economic superpower. The plan's core is a switch from the relatively basic manufacturing at which China has so far excelled (think PPE and toys) to the highly sophisticated kind. Made in China features ten areas where the government wants China to be world-leading in five years' time: electric cars and other new energy vehicles; next-generation IT and telecommunications; advanced robotics and AI; agricultural technology; aerospace engineering; new synthetic materials; advanced electrical equipment; emerging bio-medicine; high-end rail infrastructure; and high-tech maritime engineering.
Along with Made in China 2025, Beijing is pursuing a strategy called military-civil fusion, the aim of which is to strengthen China's armed forces through civilian innovation. The plans, however, have a weakness: Chinese research institutions and the country's start-up community are too far behind to establish China at the top in the ten sectors, and to propel the country to the world military top tier.
So in the mid-2010s, global Chinese investments pivoted to prioritise strategic industries. Less real estate, more biotech and AI. The Swedish Defence Research Agency's report found that more than half of the takeovers it identified involved Swedish firms active in Made in China 2025 focus sectors.
Despite the obvious risks to their countries posed by such strategic acquisitions, Western governments let the practice continue. The US Congress passed the Foreign Investment Risk Review Modernization Act in 2018, which strengthened the US regulator CFIUS, and the same year Germany lowered the limit for when investments in sensitive areas required government approval, from 25 percent to 10 percent, but otherwise not very much happened.
At a British parliamentary hearing two years ago, Permanent Secretary of the Department for Business, Enterprise and Industrial Strategy Alex Chisholm said that, since the passing of the Enterprise Act in 2002, there had only been eight government interventions in foreign investments on national security grounds. In an apparent attempt to stave off concerns about the government blocking foreign investments, the department's responsible minister, Richard Harrington MP, quickly added that 'there have been eight interventions, but that has to be put into the context of literally thousands of M&A transactions. I don't think anyone could say that foreign investment in this country is anything other than welcome, and that will remain the case'.
Harrington's answer revealed the dilemma Western governments find themselves in: Chinese takeovers of their best start-ups are a significant economic and national security risk but they must also make sure their countries are full participants in the globalised economy. Otherwise, recessions and declining living standards are a certainty. The Chinese investments – and the worrying ones are primarily Chinese – reveal a new geopolitical reality in which one country can weaken another and strengthen itself without dispatching a single soldier and without breaking a single law.
During the Second World War, Karl Popper articulated his now-famous warning about the open society and its enemies. He meant the insidious influences of totalitarianism, as then practiced by Nazi Germany and the Soviet Union. As liberal democracies have discovered in recent years, the lure of authoritarianism remains a threat, but it doesn't require any involvement by external enemies. Flirtation with authoritarian behaviour brought America to the edge of a cliff under Donald Trump.
Today, however, open societies face powerful new external enemies as well. These enemies have no ideological guise but turn liberal democracies' treasured way of life against them.
Russia's attempts to undermine liberal democracies have received enormous attention. In both the United States and the UK, there have been parliamentary enquiries. The UK Parliament Intelligence and Security Committee's so-called Russia Report, released last summer after reportedly having been blocked by the British Prime Minister, noted that Russia had tried to interfere with the Brexit referendum. But while Russia has certainly managed to weaken the West, its economy and industry are so small that the country is not a serious competitor. Its economy is smaller than that of Canada, with little prospect of significant growth. And even though its armed forces are considered professional, their equipment is languishing along with the country's finances.
The People's Republic of China, by contrast, is already the world's second-largest economy. While its armed forces have not been tested in wars, China already has the world's largest navy; the Pentagon noted in its 2020 annual report on the Chinese armed forces that the People's Liberation Army's is receiving 'staggering amounts of new military hardware'. And it's not the second-rate military hardware for which China has traditionally been known; the objective of its military-civil fusion strategy is precisely to mine the private sector for the very best innovations that can be applied to military equipment as well, so-called dual use.
That's where Chinese acquisitions of Western start-ups enter the picture. It doesn't matter whether the companies' technologies will be used in China's quest for economic superpower status or in its military ambitions; what matters is that the Chinese Communist Party and Chinese businesses form a powerful alliance and that both use Western innovation to get ahead.
Transactions such as those involving Congenica and Nanopore give Chinese businesses access to cutting-edge Western technology. And it doesn't matter whether Chinese businesses want to assist the government: according to the country's 2017 National Intelligence Law, government agencies may 'request relevant organs, organisations, and citizens provide necessary support, assistance, and cooperation'. In October, Chinese businesses and the rest of the world received a reminder that not even China's most powerful company is independent of the government. President Xi Jinping abruptly scuttled the IPO of Ant Group, an affiliate of internet giant Alibaba, following a speech by Alibaba founder Jack Ma that displeased the government.
Rather unsurprisingly, Western governments and parliaments are alarmed at the prospect of Chinese firms draining their countries of their best innovations. Italy, Poland, France, Sweden, the UK and the European Commission are all in the process of strengthening their foreign direct investment rules or have already done so. The UK parliament has held two inquiries into the issue. This month President Biden signed an executive order banning Americans from investing in 29 Chinese companies. Congress had, in 2018, already strengthened investment screening by passing the Foreign Investment Risk Review Modernization Act (FIRRMA), and both the Trump and the Biden administration have added Chinese firms to the US government's so-called Entity List of blacklisted companies.
Necessary though the stricter rules are, they're unlikely to fully stem Western countries' loss of technology and know-how to China. Investments are far from China's only method in its pursuit of superpower status. Chinese outfits also join venture capital firms as limited partners, a development that's almost impossible to monitor as venture capital firms are not obliged to register their limited partners with government agencies. Through this funding, the venture capital partners get access to cutting-edge innovation and technology long before the start-ups reach the stage when they can be bought up.
In Silicon Valley, the venture-capital firm Danhua Capital currently has some two dozen start-ups — primarily in AI, biotech, and fintech — in its portfolio. Reuters reported in 2018 that Danhua was established and funded with help from the Chinese government; the news agency also found that more than 20 Silicon Valley venture capital firms have close links to a Chinese government fund or state-owned entity. Chinese firms maintain an active presence in other research hubs, including Cambridge.
These are legal means. But the open society's new enemies also engage in aggression through illegal means such as cyber-attacks and intellectual property theft. In September the US Department of Justice charged five Chinese citizens with hacking more than 100 US and international companies, universities and non-profits, one of several such indictments in recent years. Chinese IP theft is pervasive: in a 2019 survey, nearly one third of the United States' largest companies said China had stolen IP from them. Equipped with the IP, Chinese firms typically begin by undercutting US firms on the Chinese market, then on international markets.
In addition, China drains top international research institutions of IP through its Thousand Talents programme, which recruits scientists and encourages participants to send Chinese institutions knowledge gained abroad. 'In recent years, federal agencies have discovered talent recruitment plan members who downloaded sensitive electronic research files before leaving to return to China,' a US Senate report noted last autumn. But not all the recruits, who are enticed with research funding, are Chinese: already by 2017, the programme was estimated to have enlisted more than 7,000 top scientists, including several Nobel laureates.
Then there are the semi-legal means. In autumn 2020, Beijing blocked imports of a range of Australian goods including wine, not through official pronouncements but through instructions to Chinese importers. The move, a not-too-subtle response to Australian criticism of China, was so cunning because the effect on Australian industry is obvious even while the Australian government is powerless to address the problem as officially the blocks don't exist.
In October last year, after Sweden announced that its 5G network would not include Huawei or ZTE, another Chinese firm, Chinese Ministry of Foreign Affairs spokesman Zhao Lijian declared that 'Sweden should assume a positive attitude and address its erroneous decision in order to avoid negative consequences for Swedish companies in China'. Officially it was simply a statement, but the message was clear: if Sweden didn't reverse its 5G decision, Swedish companies operating in China would be punished.
Acquisitions of cutting-edge startups, venture-capital funding of the best innovations for the purpose of accessing those innovations, theft of intellectual property from the best Western companies, draining top research institutions of the same, punishment of globally operating companies. Today's enemies of the open society operate rather differently from those described by Popper, and seen in isolation some of their activities may not seem very frightening at all.
Yet the threat they pose is similar: the undermining of the very openness of these societies. If Western countries can no longer trade freely with other countries, if they can't trust foreigners coming to study and work in their countries, if their companies fear operating abroad because they may be punished not for their own deeds but as an act of geopolitical vengeance, the pillars of the open society will begin to crumble. They will begin to crumble even though no act of war has taken place.
In November last year, a curious interview appeared in the Financial Times. The interview subject was Ericsson's CEO Börje Ekholm, and to the subsequent fury of think-tankers and human rights activists he argued that Ericsson's home country of Sweden should reconsider its decision to ban Huawei from its 5G network. The plea did in fact seem odd, considering that Ericsson stands to win from countries' ban of Huawei (on the grounds that the firm poses a national security risk). But Ekholm's stance is entirely logical. Ericsson uses Chinese firms for parts of its supply chains, and it sells products in China. If China decides to punish Sweden, Ericsson would be a perfect target.
This is the reality of today's open societies and their enemies: anyone is a target. Simply being citizens of liberal democracies, or companies based in such countries, can make us hostages of a rival country's whims. Currently two Canadians are imprisoned in China on trumped-up charges, a situation viewed as Chinese revenge against Canada for carrying out an arrest warrant of Huawei executive Meng Wanzhou on behalf of the United States. She's accused of breaking sanctions on Iran.
This all sounds distinctly depressing. We have it in our power to keep our societies open and help them to keep flourishing. To do so, our countries – our governments, business leaders and we ordinary citizens – must realise that the benefits to which we've grown accustomed can't be taken for granted. We must join forces to make as little room as possible for the open society's enemies.