George IV: a very decadent Prince
George IV was a dissolute dandy and sybarite - but he was also a brilliant patron of the arts.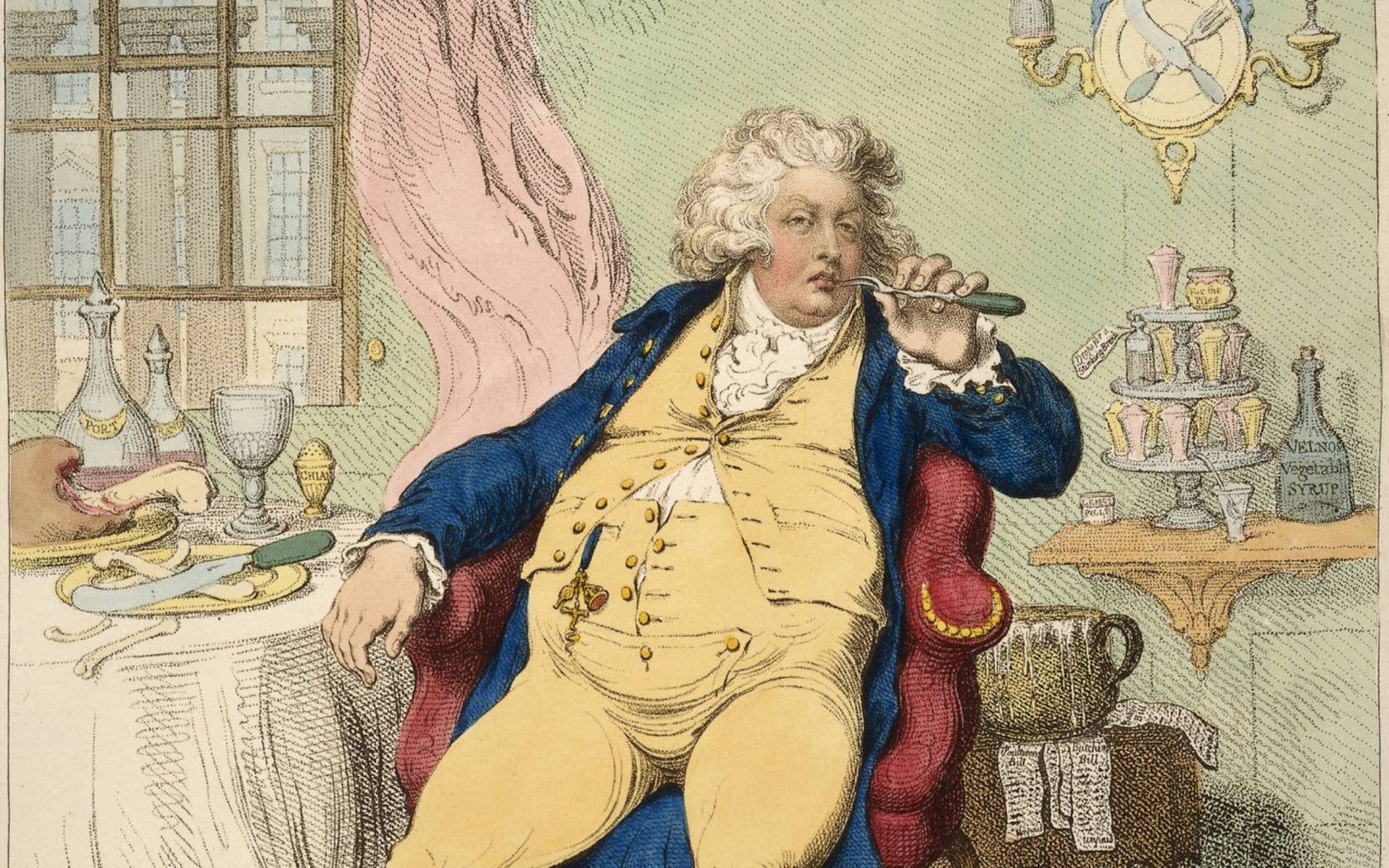 A voluptuary under the horrors of digestion Js. Gy. design et fecit., JAMES GILLRAY. Wiki creative commons.
No British monarch is more synonymous with the word decadence than the Prince Regent who, on his father's death in 1820, ruled as George IV for ten years. Think of any of the adjectives that we typically associate with decadence – corrupt, debauched, depraved, dissolute, self-indulgent, profligate, degenerate and immoral – and it will apply to him.
In 2011, BBC4 aired a three part series entitled 'Elegance and Decadence: The Age of the Regency'. Its thesis was that the Prince Regent – recently voted 'Britain's Most Useless Monarch' in an English Heritage Poll – was indeed a hopeless, spendthrift, womanizing, drug taking sybarite whose excesses reduced the monarchy to its lowest level of popularity since James II. Yet he also presided over – and some would say inspired – an extraordinarily fertile period for British art, architecture and literature. Born at St James's Palace on 12 August 1762, the eldest son of King George III and his young German-born wife Queen Charlotte, Prince George August Frederick began an early descent into decadence and dissipation. It was possibly a reaction to a childhood of restraint and rigid application to duty, with lessons beginning at seven in the morning and continuing until dinner was served at 3 p.m. Even birthdays were not a sufficient excuse to disrupt this monotonous schedule, and any deviation from acceptable behaviour – such as laziness, rudeness and duplicity – was swiftly punished with a beating, often administered by the king himself.
Despite being one of the queen's favourites, the young prince never enjoyed a close relationship with his strait-laced mother. Brought up in the small north Germany duchy of Mecklenburg-Strelitz, she led a narrow provincial existence until the unexpected offer of marriage from the king of England and elector of Hanover.
Terrified of being branded unsophisticated, she stuck rigidly to Court etiquette: her sons were rarely permitted to sit in her presence, and even when promenading with their parents, the royal children would be formed in pairs, in descending order of age. So formal was her relationship with her eldest son that for his eighth birthday she gave him a 'pocket book' (which he had asked for) and a letter containing her wishes for his 'future conduct' (which he had not):
Above all things I recommend unto you to fear God, a duty which must lead to all the rest with ease … Abhor all vice, in private as well as in public, and look upon yourself as obliged to set good examples. Disdain all flattery; it will corrupt your manners and render you contemptible before the world. Do justice unto everybody and avoid partiality … We are all equal and become only of consequence by setting good examples to others. Lastly I recommend unto you the highest love, affection and duty towards the King. Look upon him as a friend, nay, as the greatest, the best, and the most deserving of all friends you can possibly find. Try to imitate his virtues, and look upon everything that is in opposition to that duty, as destructive to yourself
Good advice for the most part, but hardly likely to be absorbed by a wilful 8-year-old. The reference to his 'duty towards the King' was clearly an attempt to break the cycle of father-heir animosity that had dogged the Hanoverians since George I's succession to the British throne in 1714. But it was destined to fail, not least because of their innate differences in character and the fact that the ascetic, strait-laced and devoutly Protestant father was incapable of revealing genuine affection for his warm-hearted son.
Again and again, in letters to or concerning the young heir to the throne, there is an implicit fear that not only would he fail to live up to the high moral standards expected by his parents, but that he might even fall short of the more modest levels expected of any gentleman.
Though the prince performed reasonably well at his studies – acquiring a good grounding in the classics and a reasonable grasp of German, Italian and French – the king was slow to recognize his eldest son's talents, preferring to emphasize his moral shortcomings. One of the prince's sisters recalled how she once saw him and his next eldest brother Frederick (later the Duke of York) 'held by their tutors to be flogged like dogs with a long whip' for some minor misdemeanour.
Fearing that the prince's trusting nature was susceptible to corrupting influences, the king tried to seclude him from the outside world as much as possible. 'It went so absurdly far,' noted the diarist Horace Walpole, that long after other children had been given more grown-up clothes, 'he was made to wear a shirt with a frilled collar like that of babies'. Taking hold of his collar one day, he exclaimed to a servant in frustration: 'See how I am treated!'
On the threshold of manhood, the prince was very much an enigma. Asked for an assessment of his 15-year-old royal pupil, the prince's tutor Dr Richard Hurd wrote: 'He will either be the most polished gentleman or the most accomplished blackguard in Europe, possibly an admixture of both.'
In April 1779, the 16-year-old prince fell in love with his sisters' sub-governess, Mary Hamilton, seven years his senior and a woman 'whose virtue was as unblemished as her beauty'. She would not be swayed by the passionate words of her youthful suitor and told him she could be no more than a 'friend'. Only after she had threatened to resign her duties at Court if he did not stop pestering her did the prince finally agree to address her 'by the endearing names of Friend & Sister, & no longer with the impetuous passion of a Lover urging his Suit'.
Relieved, she continued to act as his mentor, pointing out such 'reprehensible' traits such as his preference for low companions and his 'indelicate, ungentlemanlike & wicked practise … of swearing'. He accepted the criticism, defending himself on the grounds that he had picked up the habit 'from hearing people in the Army do so', and that he had copied the bad language to 'show that I was now become a Man'.
Encouraged by this climate of self-examination, in September the prince sent Miss Hamilton an extraordinarily honest appraisal of how he saw his own nature. 'He is,' he wrote, 'rather too fond of Wine and Women but upon the whole his Character is open, free and generous, susceptible of good impressions, ready to follow good advice.' The prince was only half correct in this last assessment, for his greatest weakness was his susceptibility to people who did not have his best interests at heart. Miss Hamilton was well aware of this and, had the prince been exposed much longer to this sensible, perceptive and honourable woman, he might have turned out very differently. But, as Miss Hamilton had rightly pointed out, the gap in rank between them was too great, marriage was out of the question, and it was only a matter of time before the prince's youthful ardour was directed elsewhere.
He chose for his first sexual conquest a 21-year-old actress called Mary Robinson, 'more admir'd for her beauty than for her talents'. The daughter of a Newfoundland-born captain, she had married Thomas Robinson, an articled clerk who lived beyond his means, and had been 'driven to the stage' to make ends meet. The prince first saw her playing Perdita in a Royal Command Performance of Shakespeare's The Winter's Tale at Drury Lane and was instantly smitten. But the canny Mrs Robinson only succumbed to the prince's advances after he had agreed in writing to give her the enormous sum of £20,000 (the equivalent of £1million today) when he reached his majority at twenty-one.
On 14 August 1780, two days after the prince's eighteenth birthday, his horrified father responded with a long letter outlining his faults. 'Your love of dissipation,' he wrote, 'has for some months been with enough ill nature trumpeted in the public papers, and there are those ready to wound me in the severest place by ripping up every error they may be able to find in you.'
But the prince made little effort to mend his ways. Tiring quickly of the eccentric Mrs Robinson – she was paid off with a lump sum of £5,000 and £500 a year, for which the king had been forced to go cap in hand to his Prime Minister Lord North – he took up with a string of other women, who were usually married and included Mrs Armistead, Grace Dalrymple Eliot, Lady Melbourne, Elizabeth Billington and the Countess von Hardenburg. Both Mrs Eliot and Lady Melbourne are said to have had bastard children by the prince.
Part of the prince's problem, as Mrs Hamilton had recognized, was that he was spending too much time with rakish and disreputable friends like Anthony St Leger and Charles Windham. After one particularly drunken evening he and three friends were arrested in Mount Street, in Mayfair, and confined in the watch house. As the tailor of one of the party was securing their release, the watchmen realised they had arrested the heir to the throne and apologised profusely, saying they hoped he wasn't offended. The prince replied: 'Offended, my good fellows. By no means! Thank God the laws of this country are superior to rank; and when men from high station forget the decorums of community, it is fit that no distinction should be made with respect to them. It should make an Englishman proud to see the Prince of Wales obliged to send for a tailor to bail him out.'
By the summer of 1783 the prince was already £29,000 in debt and had become a friend of the leading Whig politician, gambler and notorious drinker Charles James Fox. As a member of the government, Fox suggested to his fellow ministers that the prince should be given the fantastic annual income of £100,000 when he came of age. They agreed, but when the Prime Minister tried to persuade the king to pay part of the sum from the Civil List he refused. 'If the Prince of Wales's establishment falls on me,' wrote the king to the Duke of Portland, 'it is a weight I am unable to bear; if on the public I cannot in conscience give my acquiescence to what I deem a shameful squandering of public money.'
A compromise was agreed whereby the king donated £50,000 a year from the Civil List, an additional £12,000 a year from the Duchy of Cornwall revenue (which was the prince's by right) and arranged a one-off Parliamentary grant of £50,000 (it became £60,000) to settle the prince's debts and set up his own establishment.
The prince was also given Carlton House in Pall Mall as his official residence, and to enlarge and refurbish it he employed the celebrated architect Henry Holland. Holland began work on the house in 1783 and continued for 30 years; the job eventually cost the prince the astronomical sum of £500,000 (or £50 million today). In November 1783 he moved in as building work continued around him, but within a few months the first stages of the alteration were complete. The new façade, with its elegant Corinthian portico, was generally admired, though one commentator described the whole building as 'one of the meanest and most ugly … that ever disfigured London, notwithstanding it was screened by a row of columns'.
Opinions about the interior were similarly divided. Beyond the impressive entrance hall, fringed with Ionic columns of Siena marble, was an octagon with a sweeping double staircase that led up to the state apartments and the prince's bow-windowed bedroom. The ground floor included the famous Chinese drawing-room, for which the authentic lanterns alone cost £440.
The gardens acquired more statues, a waterfall, a marble-floored temple, and even an observatory. Craftsmen and decorators were brought in from all over Europe; the exquisite furniture was supplemented by fine English and Dutch oil paintings, Sevres china, Gobelin tapestries, bronzes, clocks and marble busts. Some compared it to the Palace of Versailles; others thought the apartments vulgar and 'overdone with finery'.
Arguably the single greatest example of the prince's decadence – his lack of interest in standards, morality, religion (the established religion at least), laws and the dignity of the Crown – was his secret marriage to Mrs Fitzherbert, a divorced Catholic six years his senior. It was a rash action that contravened both the 1701 Act of Settlement (that stated the heir to the throne could only marry a Protestant) and the more recent Royal Marriages Act of 1772 (which stated that no descendent of George II could marry without the monarch's consent). By marrying without his father's consent, the prince not only became a felon but also disqualified himself from ever becoming king. He knew this, yet he did it anyway.
The marriage took place during the early evening of 15 December 1785 in the locked drawing-room of Mrs Fitzherbert's house in Park Street. Aside from the Reverend John Burt, a penniless young curate who agreed to conduct the illegal wedding for the sum of £500, the only witnesses were Mrs Fitzherbert's uncle and her brother. After the ceremony the prince wrote out a certificate of marriage that he, Mrs Fitzherbert and the two witnesses signed. It was given to Mrs Fitzherbert for safekeeping.
Rumours were soon rife and before long scurrilous prints depicting the marriage began to appear. The most popular was by the political satirist James Gillray and portrayed the prince and Mrs Fitzherbert being married in a French church by Edmund Burke, a strong supporter of Catholic emancipation. The bride is given away by Fox, who was wrongly assumed to have encouraged the wedding.
The prince was too blissfully happy to care. Mrs Fitzherbert had rented a mansion in St James's Square so that she could be nearer to Carlton House; he, in turn, let it be known that any invitations to him were also to be extended to her. Society on the whole complied. They are said to have had two children together – a girl and a boy – though they were illegitimate in the eyes of the law and could not inherit the throne.
The one cloud on the prince's horizon was his mounting debt. By the summer of 1786 it had risen to more than £160,000, with a further £80,000 needed to pay for work in hand on Carlton House and £30,000 'for incidental charges not yet come in'. The grand total was just under £270,000. 'I confess the sum is large,' wrote the unchastened prince to his father on 15 June, 'but what adds more to my distress is that the longer it continues unpaid, so much the more it will continue to augment.' The king was unimpressed and told his son that 'assistance from me, is, under such circumstances, out of the question'.
The prince's only option was to shut up Carlton House, sell his stud and most of his carriages, and dismiss most of his Household. He put the majority of his income – £40,000 – aside to pay off his debts and went to live off the rest as a private gentleman in Brighton, thus beginning his long association with that seaside town. He employed Henry Holland to transform a pretty farmhouse on the Steine into the impressive Graeco-Roman structure known as the Marine Pavilion (and not to be confused with its replacement, the Royal Pavilion, which was designed by John Nash almost thirty years later).
In 1787, at the behest of the Prime Minister (William Pitt the Younger), Parliament voted the prince £161,000 to pay his debts – which were less than he had estimated the year before – and an initial £20,000 (it became £60,000) to finish the work on Carlton House.
A year later, when the king suffered his first serious bout of a temporary derangement (almost certainly the rare metabolic disorder known as porphyria), the prince took advantage by scheming with the Opposition to have his father declared insane and himself installed as Prince Regent. But Prime Minister Pitt skilfully strung out the Regency Bill debates for long enough for the king to recover, which he had by the time the House of Lords was about to meet to consider the third reading of the bill in mid-February 1789. The king never forgave his self-serving son; after his recovery he admitted that had the Regency Bill become law, he would have renounced the throne and exiled himself in Hanover.
The prince did not mend his dissolute and spendthrift ways – if anything they got worse in the years after the so-called Regency Crisis – and by the summer of 1794 his debts had risen to more than £500,000. By then he was having an affair with the married 41-year-old Countess of Jersey, a woman who had already had many lovers. It was she who convinced the prince that his marriage to Mrs Fitzherbert had been a mistake and that her Roman Catholicism lay behind his unpopularity and made it impossible for Parliament to vote him an adequate income. Only by marrying a Protestant princess could he hope to solve his financial difficulties.
The prince eventually agreed and Lady Jersey selected as his bride his first cousin Princess Caroline of Brunwsick-Wolfenbuttel, the daughter of George III's eldest sister. Years later the Duke of Wellington claimed that Lady Jersey had deliberately chosen a bride with 'indelicate manners, indifferent character, and not very inviting appearance, from the hope that disgust for the wife would secure constancy to the mistress'.
If that was indeed the case, it worked. At his first meeting with Princess Caroline at Carlton House in April 1795, the prince was so disappointed by his wife-to-be's body odour, short stocky figure and bad teeth, that he called for a glass of brandy and left the room. They married in the Chapel Royal at St James's Palace on 8 April 1795. That night, as they made love, the prince became convinced that his bride was not a virgin. He later told a close friend:
You well recall what I told you the day after my marriage of the scars on the Princess's neck … She has the same on her thighs. But besides this … I have every reason to believe [that I was not her first lover], for not only on the first night there was no appearance of blood, but her manners were not those of a novice. In taking those liberties natural on these occasions, she said, 'Ah mon dieu qu'il est gros!', and how should she know this without a previous means of comparison. Finding that I had suspicions of her not being new, she the next night mixed up some tooth powder and water, coloured her shift with it and … in showing these she showed at the same time such marks of filth both in the fore and hind part of her … that she turned my stomach and from that moment I made a vow never to touch her again. I had known her three times – twice the first and once the second night – and it required no small [effort] to conquer my aversion and overcome the disgust of her person.
If true this extraordinary account – which I discovered in the Malmesbury Papers at Winchester – goes a long way to explaining the prince's violent antipathy towards his wife. Not only were Caroline's nether regions filthy and her body scarred, but, worst of all, she was not a virgin. As a result the prince was only able to make love to her three times before his repulsion got the better of his sense of duty. Within a year they were separated, though not before Caroline had borne a child, Princess Charlotte, who died giving birth to a stillborn son in 1816.
By 1797, thanks to overeating, overdrinking and no exercise, the prince's weight had ballooned to 17st 8lb (108kg). It was during this period that he came under the spell of the arch-dandy George 'Beau' Brummel. A fine-looking man – tall and fair with 'particularly well shaped hands', a high forehead and a rakish broken nose – Brummel's reputation was founded upon his preoccupation with dress. The cut of his clothes, the fit of his gloves and the shine of his boots were exquisite.
Brummel's daily toilet was legendary. Having cleaned his teeth and shaved, he would spend two hours scrubbing his body with a pig-bristle brush and plucking his eyebrows with tweezers. Only then would he embark upon the real challenge of the day – dressing. Mesmerized by the perfection of Brummel's appearance, the prince set out to emulate it. In July 1798, for example, the sculptor John Rossi, working on a bust of the prince, was kept waiting for three hours while his subject tried on 'at least forty pairs of boots' and conducted 'many trials of patterns and cuttings'.
The novelist William Thackeray, for one, was not impressed. He later wrote of the prince:
There is his coat, his star, his wig, his countenance simpering under it … I try and take him to pieces, and find silk stockings, padding, stays, a coat with frogs and a fur collar, a star and a blue ribbon, a pocket-handkerchief prodigiously scented … a set of teeth and a huge black stock, underwaistcoat, more underwaistcoats, and then nothing.
It was during the 1800s that Brummell introduced the two innovations in dress for which he was best remembered: starched neckcloths and Hessian boots. In the case of the neckcloths, Brummell replaced the loose, baggy circle of often-grubby material with the finest muslin, standing stiffly under the chin, meticulously tied and symmetrically creased.
The prince and Brummell may have shared the same tailors – Schweitzer and Davison in Cork Street – but only one of them was setting the style. Asked one time what cloth he recommended for a coat, Mr Schweitzer replied: 'Why sir, the prince wears superfine, and Mr Brummell the Bath coating; but it is immaterial which you choose. Suppose, sir, we say the Bath coating – I think Mr Brummell has a trifle the preference.'
Brummell was the most celebrated member of that exclusive cult of social discrimination known as dandyism. The fact that he himself did not come from the top drawer of society was less important than the clothes he wore. He was living proof that dandyism embraced both social mobility and rigidity. In their late nineteenth-century play Beau Austin, W.E. Henley and Robert Louis Stevenson described the dandy as 'a private gentleman by birth, but a kind of king by habit and reputation'. Brummell's challenge to the prince's leadership of high society tends to indicate that mockery and mimicry of authority was a distinctive trait of dandyism. 'That was his style,' wrote Virginia Woolf of Brummell: 'flickering, sneering, hovering on the edge of insolence, skimming the edge of nonsense, but always keeping within some curious means.
But Brummell had a tendency to go too far. He once remarked to someone about the prince: 'I made him what he is, I can unmake him;' although that the two gradually drifted apart was probably less due to the odd indiscreet remark than the fact that, beyond clothes and manners, they had little in common. Where the prince was an unashamedly decadent and hedonistic, the Beau was curiously ascetic – particularly when it came to matters sexual. He was the idol of women, but never had liaisons with them, rejecting one aristocratic suitor on the grounds that she ate cabbage.
Age did not temper the prince's spending. After finally becoming regent when his father suffered a second permanent bout of insensibility in 1811, the prince held a grand fete at Carlton House to celebrate. He invited 2,000 guests and on the top table had constructed silver fountain and a canal of pure water; he alone had seven footmen at his beck and call. An observer wrote: 'At the back of the Prince's seat appeared aureola tables, covered with crimson drapery, constructed to exhibit with the greatest effect, a profusion of the most exquisitely wrought silver-gilt plate, consisting of fountains, tripods, epergnes, dishes and other ornaments.'
Not everyone was impressed by the opulence. 'It is said,' wrote the poet Shelley, 'that this entertainment will cost £120,000. Nor will it be the last bauble which the nation must buy to amuse this overgrown bantling of Regency.' Sir Samuel Romilly, who was present at the fete, contrasted its 'great expense' with 'the misery of the starving weavers of Lancashire and Glasgow'.
Though most literary luminaries – including Moore, Shelley and Keats – were quick to condemn the regent for his abandonment of his former political allies the Whigs, some, like Lord Byron, were still susceptible to his charm. Shortly after the publication of his epic poem Childe Harolde in March 1812 and at the height of his fame, the 24-year-old Byron was presented at a ball to the man he had so recently lampooned in his anonymous verse, 'To a Lady Weeping.' He later gave an account of their conversation to his fellow poet Walter Scott:
He talked to me of you and your immortalities: he preferred you to every bard past and present … It may give you pleasure to hear that it was conveyed … with a tone and taste which gave me a very high idea of his abilities and accomplishments, which I had hitherto considered as confined to manners, certainly superior to those of any living gentleman.
Byron may have seen something of himself in the regent. As well as poetry, they shared a passion for wine and women; though even the regent at his dissolute worst was unable to compete with Byron's seduction of his half-sister Augusta and the alleged birth of their daughter.
In early 1815, despite the fact that his debts still amounted to £339,000, the regent commissioned the architect John Nash to rebuild the Marine Pavilion in Brighton. Nash had gained his first major commission in 1811 when he was chosen to design Regent Street, a new metropolitan thoroughfare to link Carlton House in Pall Mall with an extensive development in Marylebone Park (to be known as Regent's Park). By combining the features of Bath – crescents and terraces – with his new doctrines of movement and the use of grass and trees, Nash produced a brilliant blend of the formal and the picturesque. Some, however, decried the new 'town built in Regent's Park' with its 'plaister statues and horrid useless domes and pediments … which damp and smoke must destroy in a season or two'.
Nash's transformation of Holland's neo-classical Marine Pavilion into the magnificent Indian-style Royal Pavilion eventually cost £155,000 and took eight years to complete. Comparing the exterior with 'the Kremlin in Moscow', one observer concluded that the whole structure was 'an absurd waste of money, and will be a ruin in half a century or sooner'.
Harder to criticize, however, was the regent's patronage of the arts, and it is for his cultural achievements that he deserves the most credit. The rebuilding of Buckingham Palace and Windsor Castle, the purchase of the Elgin Marbles, the founding of the Royal Society of Literature, the donation of George III's magnificent collection of books to the British Library, the restoration of the Royal Collection of pictures and the inauguration of the National Gallery: all were – directly or indirectly – due to him. He also sponsored individual artists, scientists and musicians and was a patron of the Royal Academy and a President of the Royal Institution. No member of the Royal Family, before or since, has come close to matching these contributions to civilization.
When the George IV died in 1830, The Times remarked:
There never was an individual less regretted by his fellow-creatures than this deceased king. What eye has wept for him? What heart has heaved one throb of unmercenary sorrow? … If he ever had a friend – a devoted friend in any rank of life – we protest that the name of him or her never reached us.
That was perhaps a little unfair, and last word should go to the composer Dr Charles Burney, who wrote after dining with the prince in 1805:
I was astonished to find him amidst much constant dissipation, possessed of so much … knowledge of books in general, discrimination of character, as well as original humour. [He] may with truth be said to have as much wit as Charles II, with much more learning.
An example, then, of moral decay, but not cultural.
This essay originally appeared under the title A Very Decadent Prince in Decadence and Decay: Perspectives from the Engelsberg Seminars, Axess Publishing, 2019.