The great beauty of Donatello
Donatello, one of Florence's most distinguished sons, produced sculpture worthy of the ages.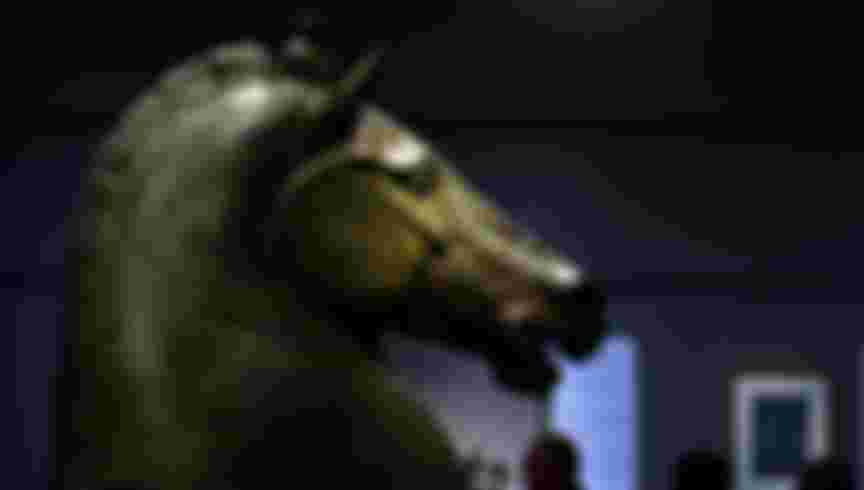 "Protome Carafa" by Donatello, part of "The Springtime of the Renaissance. Sculpture and the Arts in Florence 1400-60" exhibition is pictured in Florence on April 6, 2013. The exhibition proposes to illustrate, in theme-based sections, the origin of what is still known today as the "miracle" of the Renaissance in Florence. The exhibition can be see at the Palazzo Strozzi in Florence until August 18 and then at the Louvre Museum in Paris from September 26 to January 6, 2014. AFP PHOTO / GABRIEL BOUYS (Photo credit should read GABRIEL BOUYS/AFP via Getty Images)
Great art affirms our humanity, but also transcends it. From earliest days, Western and Byzantine art were bound up with iconography and faith. 'Ad maiorem Dei gloriam' was not just a conventional formula. In most cases, it was heart-felt. The achievements of the greatest masters were exercises in technique. They were also soul-deep.
That was never truer than in the case of Donatello. Outside the academy, Michelangelo has always enjoyed more fame. But considered purely as a sculptor, Donatello was at least his equal. Michelangelo might well have conceded that he was 'il miglior fabbro.' Marble, bronze, wood, terracotta; his range and technical mastery are unsurpassed. Donatello produced large statues whose size is appropriate to the subject-matter. From the early Saints and Prophets – St John the Evangelist is the most magnificent – to the Gattamelata, circa 1450, there are similarities. These are tough men with strong faces. They have known adversity but remain undaunted. They have earned the right to be portrayed as proud figures after a life of achievement.
In the case of the Gattamelata, Donatello also surmounted the considerable technical problems involved with bronze equestrian sculptures. These faces display Roman influences. But the Statues of St Francis and St Anthony from the High Altar in the Duomo at Padua have a positively modern look. The St Francis draws on Cimabue's portrait. But St Anthony Perhaps Donatello immortalised a friend. His work was by no means all large-scale. There is also the Feast of Herod, a relief for the baptistery in Siena. An essay in movement, perspective and horror, it is three inches deep. 'Movement' applies equally to the Singing Gallery in the Duomo.
Was this the first work to vindicate Pater's claim that all art constantly aspires towards the condition of music? Wagner said that Beethoven's Seventh was the apotheosis of the dance. That is especially applicable to the final movement, and to Donatello's pulpit. His emotional range is equally extensive, from power to pathos, grandeur to suffering – sometimes harmonised in the same work. His crucifixions express Christ's agony, but there is also serenity and transfiguration. As its name suggests, the Passion Pulpit in San Lorenzo (Florence), is principally concerned with Christ's sufferings and the depth of the faithful witnesses' pain. But Christ himself is a still point amidst the blood, the clamour and the weeping. This is religious art at its most profound. We assume that the same was true of the sculptor's faith.
Beyond that assumption, there is little evidence. Although Donatello was a prominent figure in Florence, there are hardly any written records. By the time Vasari was writing, almost a hundred years after Donatello's death in 1466, those who had known him were also dead and there were no Boswells.
He appears to have been a popular figure, who liked to portray himself as a man of the people. But he also enjoyed the company – and, no doubt, dinner-tables – of the well-off. He could also be difficult, especially with insensitive patrons. Donatello insisted on behaving like a modern artist. Until the Fifteenth Century, the distinction between 'artist' and 'artisan was not firmly established. Artists were paid for their time and reimbursed for their materials. Donatello demanded more. As he had a reputation for being uninterested in money, this may have been more to do with status than with avarice.
One suspects that he was the sort of artist, well-known in modern times, who would arrive from his studio in a paint-stained corduroy jacket, to a gathering where everyone else was in black tie.
He was fortunate in his greatest patron, Cosimo de' Medici. Again, if only there were a journal. But it seems that Cosimo recognised genius when he saw it. He looked after Donatello, not that there were serious problems. At least until Savonarola at the end of the Century, Renaissance Florence was a tolerant place. Donatello often employed pretty boys in his studio and It was widely assumed that he was homosexual. No-one seemed to care.
That brings one to his best-known work, the nude statue of David. The future ruler of Israel is not only portrayed as a beautiful boy, but also as one aware of his own looks. It is hard for us not to concentrate on the work's homo-erotic qualities. Earlier generations sought to side-step this by references to the neo-Platonists. According to them, beauty could be admired without descending to the indecencies of sex. But that does not sound like Donatello: too ethereal. There is another possible aspect to this complex work. David matured to become a warrior, statesman, psalmist and libertine who could behave badly in pursuit of pleasure. Could that beautiful boy have been father to the man? Could he also have been grandfather to Absolom, who inherited his father's self-indulgent qualities but not his formidable ones? How much did Donatello know about King David? It is impossible to know.
Over recent decades, Donatello's admirers have stressed his dramatic qualities, which are undoubted. Gaudier-Brzeska defined sculpture as: 'The vortex of will, of decision.' When they met in Heaven, Donatello would have agreed. But there was also gentleness. A favourite theme was the Virgin and Child. A gilded terracotta in the V&A in London is one of the most hauntingly beautiful of female portraits. This enchanting girl – she is ethereal – is wholly caught up in adoration of her delightful and life-like baby. Unto us, a child is born: Unto us, a son is given. The Mother of God is lost in Her love of the Christ-Child, with no hint of the terrors to come. That terracotta is a Dant-esque dream of gentleness. Which was not, one suspects, a quality which came naturally to Donatello.
In the Louvre, there is one portrait of him in old age, formerly attributed to Uccello. This is a fascinating, thoughtful face with no placidity and powerful eyes. There is antecedent suffering quotient. This man is not going gently into that good night. Pain and undauntedness contend for mastery, in a masterful painting. It is not clear why Uccello is out of the picture.
The qualities in that face may help to explain Donatello's last major work, a wooden statue of Mary Magdalen. Portrayals of her are always accompanied by the adjective 'penitent,' and this Magdalen has certainly suffered. Her body is ravaged. She looks like a living corpse. Working on that statue must have reminded the artist that he too was imminently mortal. It is often interpreted as a portrayal of austerity, of decades spent in repentance and self-flagellation, to atone for the sinful years. But might there be another aspect? Perhaps the Magdalen is saying: 'I have been a wicked woman and I bear the stigmata of sin. I deserve my fate. But I also know that my Redeemer liveth. As I succoured Him in His agony, He will succour me in mine. Once again, He will forgive his erring servant.' The sculpture was excessively strong meat for the denizens of Florence and was hidden away. It may have been too much of a memento mori.
But even if the ageing Donatello was declining into the ills of the flesh – he did live to be 80: not bad for the time. There were many reasons, and not just sexual tolerance, why 15th Century Florence was a marvellous place to live. Few cities have ever known such artistic riches, within neighbouring streets and workshops. The young Donatello was there at the quickening of the Florentine Renaissance. He went to Rome with Brunelleschi, worked for Ghiberti and was a friend of Masaccio's. Early Renaissance Florence only needed modern medicine to have been an earthly paradise. Donatello spent time in Siena, Padua and Venice, but remained in essence a Florentine, during the city's most glorious years. We suspect that he generally revelled in all that. Thus inspired, with Terence, he could have proclaimed: 'humani nihil a me alienum' (I am human, and think nothing human is alien to me) – and humanity is eternally in his debt.