The liberation of France made the modern world
Following the liberation of France in '44, Paris became a laboratory of ideas, a beehive of utopian projects and initiatives.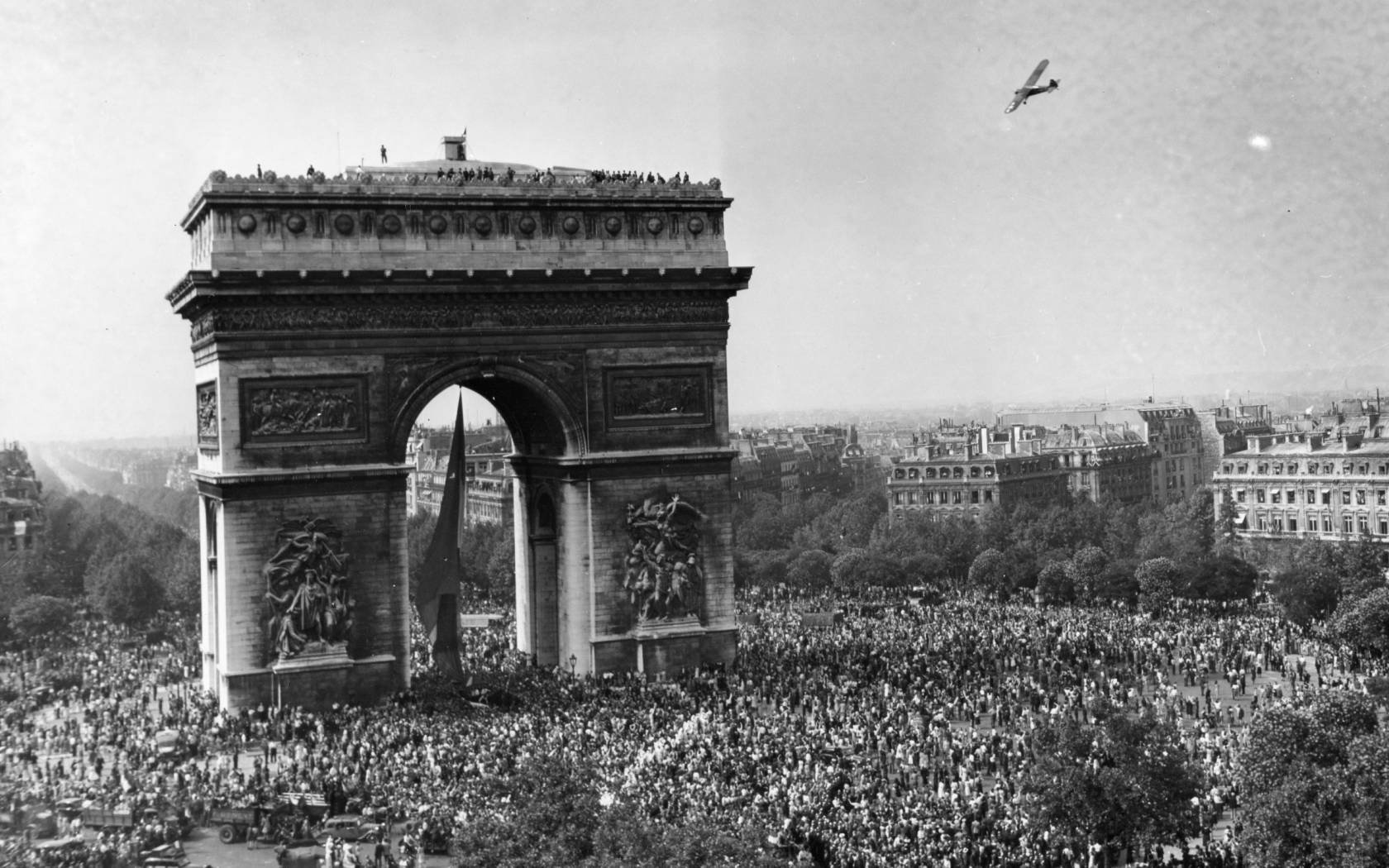 Parisians gather around the Arc de Triomphe as Allied forces liberate the city. Credit: RBM Vintage Images / Alamy Stock Photo.
In a conversation about liberty and freedom, there is often one crucial aspect missing, that of liberation, the moment one is being freed. It can be an act of emancipation, the end of tyranny; it is always a feeling of pure elation and a moment of foundation for the future. It is indeed difficult to understand what freedom is about without the memory and knowledge of this very particular moment and feeling. In France, La Libération is a defined moment in contemporary history that lasted weeks and months, starting one early morning on June 6, 1944, also known as D-Day, when 150,000 magnificent allies came to the rescue.
Friday, August 25, 1944. At dawn, the young composer Maurice Jarre, then 19, suddenly woke up in the two-room flat he shared with his aunt on the Avenue d'Orléans, the large boulevard linking the south gate of Paris to Notre Dame. He could feel tremors. The whole building was shaking. Jarre, who later became the celebrated film composer of Lawrence of Arabia and Doctor Zhivago, confided to me in April 2006: 'We thought it was the German Armored Division sent by Hitler to crush the Paris insurrection. We thought we were finished. We were petrified. The roaring sound became greater and greater. I opened the window and crawled onto the balcony. I looked. When I realised what it was, it took my breath away. Leclerc's 2nd Armored Division was entering Paris. There were no words to describe what we felt at that instant in time.'
A few hours later that day, Jean-Paul Sartre, leaving his room of Hôtel de la Louisiane on the rue de Seine, ran towards the boulevard Saint-Michel. The philosopher was one among hundreds of thousands of Parisians now crowding the pavements to get a glimpse of their liberators. The Free French and the Spanish Republicans enlisted with General Leclerc's 2nd Armored Division started pouring into the boulevards, coming from the south, while American, British and Canadian soldiers from the US 4th Infantry Division were entering the city from the east. Sartre watched Leclerc's Free French on their tanks rolling down towards the Seine. 'They looked, screamed, smiled. They waved at us with their fingers forming the V of Victory, and we could all feel our hearts beating as one. There were no civilians, there were no soldiers, there was one free people,' wrote Sartre, a week later on September 2, in an article for the resistant newspaper Combat.
The elation of liberation is not only in the feeling of emancipation but also in the myriad details that surround it. It is often those details that are the most moving because they are symbolic of the power of freedom. Every tank of Leclerc's 2nd Armored Division bore the name of a Paris street, a quartier or a Napoleonic victory such as Austerlitz, Jena or Wagram. One tank, baptised simply PARIS, had a live snow-white rabbit proudly resting next to the driver's hatch. On another was a portrait of Hitler with the word merde written across it. As for the Spanish Republicans, they had named their tank Guernica.
Now, what to do with the Libération and with this 'orgy of fraternity', as Simone de Beauvoir called it? Paris became, in the second half of the forties and early fifties, a laboratory of ideas to rebuild democracy, a beehive of utopian projects and initiatives. Many failed, others were more successful.
Philosopher Jean-Paul Sartre as party leader
In March 1948, the prodigiously prolific Sartre was now ready to cross the Rubicon: he would make the ultimate radical pledge and found a political party. With two well-known résistants, David Rousset and George Altman, Sartre created the RDR, Rassemblement Démocratique et Révolutionnaire (the Democratic and Revolutionary Alliance). Simone de Beauvoir summed up the reason behind it in La Force des Choses: 'The idea was to unite the non-communist left under one banner and to promote an independent Europe' as a bridge between the two blocs, the United States and the USSR. And to present as many candidates as possible at the next elections. The press conference to launch it was attended by more than a thousand French and foreign journalists, and was followed, just a week later, by the party's first public meeting. The communists, sensing the danger, increased their attacks against Sartre and Beauvoir. Many communist newspapers, such as Action and Les Lettres Françaises, published salacious stories about their private lives, alluding to orgies. This did not prevent the RDR from gaining in popularity. Albert Camus gave his support. The black American writer Richard Wright became a member, so did André Breton, the pope of surrealism. Even the Gaullist and conservative daily newspaper Le Figaro wrote favourably about the RDR. Le Monde chose to support it too and called it 'L'alternative', the alternative.
Only The New-Yorker correspondent in France, the great Janet Flanner, could not help being sarcastic:
Two of the best-known literary figures, Jean-Paul Sartre and David Rousset, have founded a political party, heaven help us. Sartre's political ideas are less clear, if more optimistic, than his novels. His talent, his scholarly mind, his French essence, and his hypersensitivity to Europe's dilapidation give momentary importance to his political hopes. The Sartre party declares that it expects to collect, in the next six months, a hundred thousand followers. If words were all, its followers should number millions, from all over this earth.
She was right. Tensions were simmering within the RDR: for how long could they still occupy the political middle ground? Some in the party were ever more ardently anti-communist, while Sartre was passionately anti-Gaullist. At the end of April 1949, during the party's congress, members were asked to vote on what direction the RDR should take. The party was split up. There was no Third Way – at least in practical political terms.
That night, Sartre wrote in his carnet: 'The RDR has imploded. Tough. New and definite lessons in realism. One doesn't give birth to a movement. It did correspond to an abstract necessity, defined by an objective situation; however, it didn't answer a real need in people. This is the reason why, in the end, they didn't support it.'
The end of the RDR was the end of a dream. Sartre would eventually take sides and embrace communism.
One government for one world
In November 1948, Garry Davis stormed the UN's first session in Paris to launch his movement, 'one government for one world'. The Paris correspondent Art Buchwald remembered him as 'a carrot-topped, pleasant, shrewd and slightly corny Air Force veteran'. At 27, Davis thought the solution to the Cold War was to create a world government in order to dilute nationalism once and for all. The UN needed to have its power extended. To preserve the peace was not good enough a mandate; the UN needed to be able to impose peace. To dramatise this, he decided to become the first 'world citizen' by giving up his American passport in front of the Palais de Chaillot, where the UN was meeting for the first time. In 1948, an American passport was the most cherished document on earth. Anyone who would give one up was regarded as crazy. Davis wanted to prove that any sort of identification paper was ridiculous. After he tore up his passport, the police arrested him for not having proper identification. A star was born.
On November 18, UN sessions were open to the public, and seats in the balcony were allocated to whoever made a request. Everything had been carefully plotted. When the Soviet Union's high representative took to the podium to speak, Davis got up and shouted 'one government for one world', while his young comrades threw leaflets on the UN delegates seated below. The military police arrived and the youngsters decamped, but three did not run fast enough and were arrested, among them, Albert Camus. A few days later, Camus, now freed and accompanied by André Breton, who delighted in the surrealism of Davis's concept, improvised a press conference in a café at the Trocadéro. It was followed by a public meeting attended by 20,000 people. Davis, Camus and Richard Wright spoke. The world media reported their every word in print and on the airwaves. There was no escaping this new Parisian utopia.
Albert Einstein sent a cablegram to 'Monsieur Davis'. It said: 'I am eager to express to the young war veteran Davis my recognition of the sacrifice he has made for the well-being of humanity, in voluntarily giving up his citizenship-rights. He has made out of himself a 'displaced person' in order to fight for the natural rights of those who are the mute evidence of the low moral level of our time. The worst kind of slavery which burdens the people of our time is the militarisation of the people, but this militarisation results from the fear of new mass-destruction in threatening world war. The well-intentioned effort to master this situation by the creation of the United Nations had shown itself to be regrettably insufficient. A supra-national institution must have enough powers and independence if it shall be able to solve the problems of international security. Neither can one nor has one the right to leave the taking of such a decisive step entirely to the initiative of the governments.'
A few days later, praising Davis's scheme, Eleanor Roosevelt wrote in her famous newspaper column: 'How very much better it would be if Mr Davis would set up his own governmental organisation and start then and there a worldwide international government.'
Letters from the whole world started pouring in, and soon Davis was renting ten rooms in his Left Bank hotel on Boulevard du Montparnasse to accommodate his staff, all volunteers. Again, the utopia did not last. Still, Garry Davis would dedicate his life to promoting the scheme. In January 1949, he opened an international registry of world citizens; 750,000 people from more than 150 countries registered. When he went back to the United States in 1950, he came back as an immigrant, without legal documents. Until his death in 2013, Davis kept issuing world citizens passports. In 2012, he issued and sent a world passport to Julian Assange, and then another to Edward Snowden, in the care of the Russian authorities.
An idea with a plan: a European union
If there was no stopping Cold War politics, a new project for Europe would nonetheless soon take form.
On a grey spring morning in 1950, the Paris based US journalist Theodore H. White had a meeting with a French senior civil servant called Jean Monnet. 'A full-chested, round-faced, acid Frenchman with a needle-pointed nose', as White described him, Monnet was among the statesmen he met in his career who impressed him the most:
Jean Monnet introduced me to a craft which I have since come to consider the most important in the world: the brokerage of ideas. Monnet was a businessman by origin, cool, calculating, caustic; but he did love ideas and could sell ideas to almost anyone. Ideas were his private form of sport – threading an idea into the slipstream of politics, then into government, then into history. He talked about how and when to plant ideas like a gardener. He coaxed people in government to think. There were few counterparts to Monnet in other countries.
White invented the phrase 'power broker' to describe Monnet, an expression that passed into general use.
Six weeks before the invasion of Korea, Monnet placed on the agenda of world politics the idea of a United Europe, an old idea but this time clothed with a plan. What Monnet was proposing was this: a new coal and steel community in which not only Frenchmen and Germans, but Italians, Belgians and Dutch, would share resources, facilities and markets. In other words, Monnet was suggesting the creation of a common market. He sold the idea to the French foreign minister, Robert Schuman, who in turn sold it to the US secretary of state, Dean Acheson. According to White, 'Washington recognised that Jean Monnet, this businessman turned dreamer, turned planner, was the most imposing, though officeless, leader in his country. Monnet's prestige in French politics was akin to that of George Marshall in American politics. He belonged to no political party and enjoyed the confidence of all (except the communists). Thus, only he had the temerity and prestige to present to both American and French governments the plan that would give flesh to an idea which, ultimately, both would have to accept as the substitute for a grand settlement of peace.'
The elation of Liberation always generates crazy ideas, which often fail but sometimes succeed. Creativity and freedom are feeding each other. All we need to do is keep on trying.