The new space race: Africa's cosmic ambitions
Many African countries have embraced the high-tech space sector with gusto. As a result, innovation and inspiration is on the rise. Allowing organisations the chance to innovate – and not simply follow the West – could have immense benefits for the continent, and neuter China's growing influence.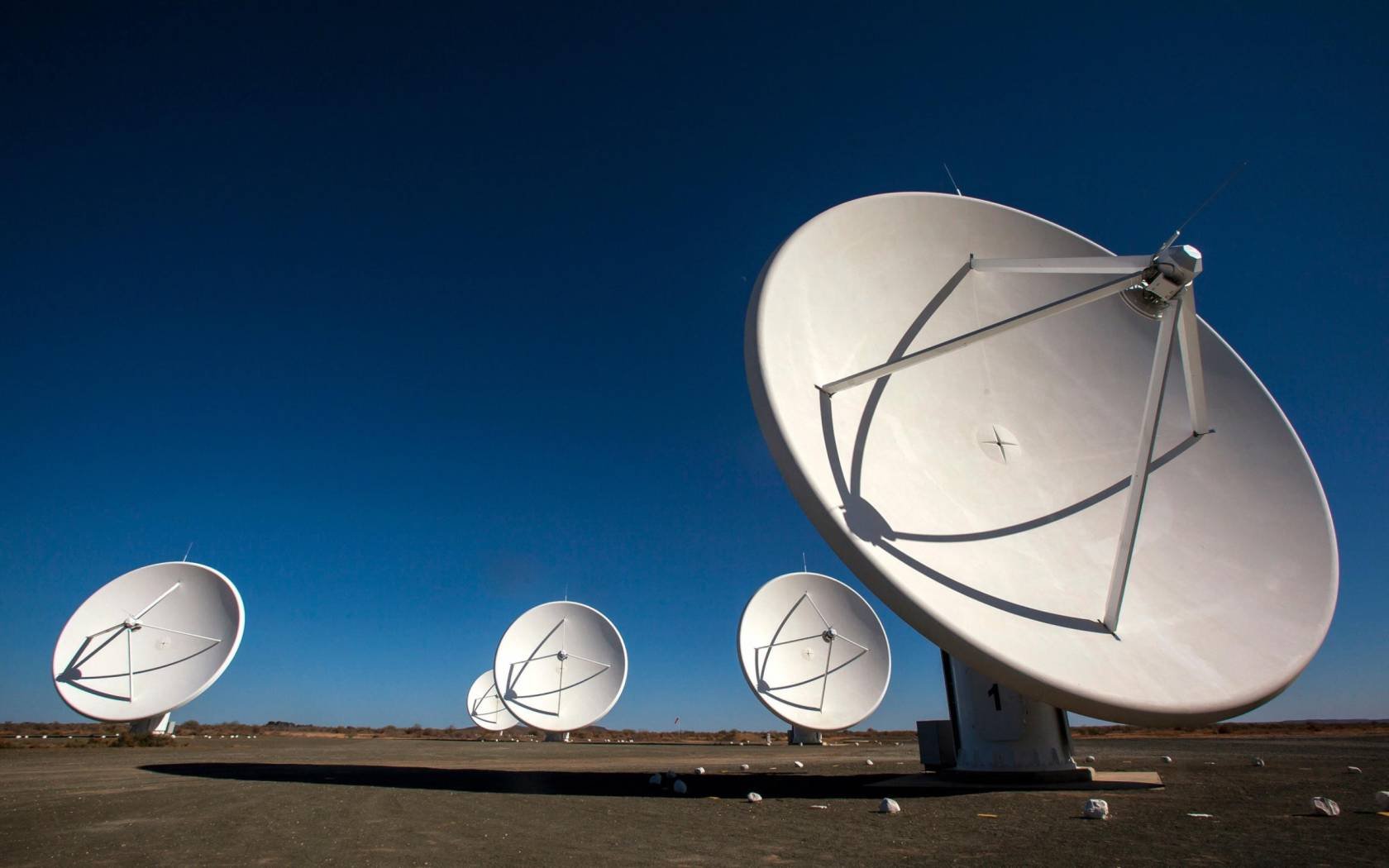 Satellite dishes in South Africa. Credit: Gallo Images / Alamy Stock Photo
African entrepreneurial innovation is growing fast. The rapid rise of countries such as Senegal, Ethiopia, Tanzania and Uganda in the 2022 Africa Industrialisation Index, issued by The African Development Bank, also means greater support by governments for burgeoning industries. In the high-tech sector, Africa is becoming known for the robust growth of its IT industry, which is more reliant on brain power than capital outlays or business networks, making it highly attractive to a new generation of African entrepreneurs. And while few may currently associate Africa with space programmes, the continent is booming with related activities. According to Chatham House, over the past five years, more than twenty national space agencies or institutions have been established. Space in Africa, a Nigerian consultancy, estimates that the sector was worth $19.49 billion in 2021. Last year, a total of $534.9 million was allocated to space programmes across the continent last year. South Africa, Nigeria, and Algeria enjoy not only their own space agencies and satellites, but advanced manufacturing facilities dedicated to the industry — as of 2023, more than 45 satellites have been made on the continent.
To put these numbers in perspective, the European Space Agency budget in 2022 was $7.15 billion, with a view to increase it substantially in the near future. NASA's budget in the same year was $24 billion. Still, compared to investments in other high-tech industries, African countries' involvement in space is substantial. There are practical reasons behind it: satellite communication is crucial for providing media and the internet over large swathes of land without cable infrastructure. Satellite-reliant internet, akin to what Elon Musk's SpaceX offers, has the potential to bridge Africa's connectivity gap, given that, according to statistics from the World Bank, only 22 per cent of African households have internet access at home.
Additionally, the continent is facing major challenges in food security, migration, rapid urbanisation, terrorism, and environmental sustainability — work on alleviating these problems can be supported with satellite-reliant telecommunication and earth observation technologies, such as AI-enhanced satellite imagery analysis. Due to the novelty of these, any experience gained in solving Africa's problems could be commercialised and exported — in short, allowing Africa to lead in innovation instead of follow.
Nevertheless, African countries' involvement in space technology is often criticised. Zimbabwe's participation in a satellite programme sparked a war on Twitter, for example, with some arguing that roads, hospitals, and schools are more crucial investments. This is hard to deny, particularly with respect to their urgency. Yet in the long run, development of knowledge-intensive industries can bring in revenue to build these roads, and stem the brain drain. As the BBC reports, a new survey of more than 4,500 Africans aged 18-24 found 52 per cent of respondents likely to consider emigrating in the next few years. Even though the African space industry alone cannot accommodate all the continent's STEM graduates, it plays an enormous role in inspiring young people to pursue such subjects in the first place. In the US, the Apollo Moon landing inspired countless children to study science and engineering. The African space programmes also have the potential to play a major role in improving the continent's image and increasing investor confidence in opportunities there. After all, nothing is harder than rocket science.
Africa's can-do attitude in space has been demonstrated on a number of occasions. The first satellites photos after Hurricane Katrina devastated parts of the south-eastern US in 2005 were provided to disaster relief services from Nigerian satellites. South Africa's ground station in Hartebeesthoek, with its advantageous location, has been instrumental in many NASA missions.
The extent of Africa's ambition in this area is manifested by a number of new, pioneering projects. South Africa is set to continue as a point of connection between space and Earth, with the creation of deep space ground station facilities in the semi-desert Karoo region, planned to become operational by 2025, and thus playing a crucial role in NASA's next moon landing. The South African National Space Agency also plans to extend its services from space operations and science and earth observations to space engineering, developing in-demand space technologies, components and sub-systems through centres of excellence. Meanwhile, Djibouti, known for its strategically situated port, plans to build the continent's first spaceport. The country's officials have signed a preliminary partnership agreement with Hong Kong Aerospace Technology to build a facility capable of launching satellites and rockets in the northern Obock region. To what extent it will be a Djiboutian spaceport or a Chinese one on Djiboutian soil is unknown. Even if it is the latter, Africa's gateway to space will open up. So far, its satellites have been launched from Russian, French, or US spaceports.
This will not be the first attempt to operate a spaceport on Africa's soil. Few remember Lutz Kayser's OTRAG, the SpaceX of the 1970s, a story perhaps even more colourful than that of Musk's operation. Kayser grew up in postwar Germany with misfired munitions for toys. His early experiences with things that blew up, along with the success of his compatriot Wernher von Braun, pointed the way towards rocket development. In controlled, demilitarised Germany, it was a difficult hobby to pursue. As a student, he needed to seek permission from the Americans to test model rocket engines in Stuttgart's suburbia.
Slowly his hobby grew into a fully-fledged business — the world's first private space company. Kayser's idea was to build cheap rockets to make space more accessible. He believed that while the Soviets and Americans used the equivalent of Rolls Royces to travel beyond the atmosphere, humanity needed trucks to deliver cargo into space. His charisma and sheer belief in the cause helped him to secure thousands of well-off individual investors, mainly lawyers, doctors and dentists, and he offered them clear tax benefits beyond promises of returns. As the venture grew, operating in densely populated Germany soon became an issue. He needed more space here on Earth.
A chance encounter in an aeroplane with Mobutu Sese Seko's financial adviser changed that. Mobutu was then the dictator-president of Zaire (today's Democratic Republic of the Congo), and he was happy to lease to Kayser 100,000 square kilometres of territory in the south of the country — an area the size of South Korea. His enthusiasm stemmed from the same reasons Africa's current governments could cite for such a project. First, the prestige. Back then, only Russia and the US launched rockets to space from their territory — an elite club. Second, the ability to send satellites independently to space meant the technology could also be used for the country's benefit, both in civilian and military domains. Mobutu envisioned Zaire as a spaceport for the developing world, opening satellite launch possibilities to other, poorer countries.
At first, the superpowers were sceptical about the project's success. But OTRAG (Orbital Transport und Raketen-Aktiengesellschaft – aka Orbital Transport and Rockets, Inc.) managed to build a working spaceport in the middle of the bush, overcoming formidable challenges. At the first successful test, a rocket took one ton of payload 10 km above the ground. The event gained the attention of France, too. Soviet satellite activity hinted at increased surveillance over Zaire's territory, while in the US the media started broadcasting conspiracy theories, painting OTRAG as an old Nazi plan to build a secret weapon in the middle of the jungle. The French were the most concerned — with their own Ariane rocket programme under development, they did not want the competition, particularly in Africa, a traditional area of influence. Soon the opportunity arose for the French government to pressure Mobutu to terminate the project. The Congolese National Liberation Front, a guerrilla group formed in Angola, whose only political aim was to retrieve Zaire from Mobutu's grip, threatened OTRAG with an invasion to recover their land. Angola, south of the country, was happy to support this ambition; along with Zaire's other neighbours, they felt increasingly threatened by the security implications of rocket testing. That fear was fuelled by the Soviets, who portrayed Zaire's space programme as a direct threat to Africa's 'progressive' countries, such as Ghana, Mozambique and Ethiopia. In the end, the Congolese National Liberation Front's invasion in 1978 culminated in the Battle of Kolwezi, won only due to French and Belgian support. OTRAG became a bargaining chip in relations between Mobutu and president Valery d'Estaing, with further French military aid conditional on the cancellation of OTRAG's lease. Mobutu's visit to the spaceport in 1978, which culminated in a failed rocket launch, tipped the scale. OTRAG's lease, contracted to run until 2025, was terminated. Kayser moved his company to Libya, where later it became nationalised together with the country's oil industry.
Africa's first spaceport may have sown division, but Djibouti's project comes at the same time as the inauguration of a pan-African space agency, a regional organisation established by the African Union in January with its headquarters planned to be in Egypt's space city, Cairo. The agency is seeking to promote cooperation between 55 member states, coordinate with space agencies outside of Africa, and market the continent's products and services abroad. Its existence underlines Africa's shared goal of space exploration and its expansion and export outside the continent – as well as China's increasing interest in Africa's space industry.
The head of China's mission to the African Union, Hu Changchun, said in 2022, at an event in Addis Ababa: 'African people are determined to explore space. In recent years under the guidance of the Belt and Road Initiative, space cooperation has become a highlight of China-Africa cooperation. We have seen fruitful results of satellite launches, space infrastructure, as well as sharing of satellite resources. We have also provided high-quality training for African researchers.'
Indeed, participation in developing the African space industry fits the Belt and Road Initiative remit. China has built six of Africa's 48 satellites. Furthermore, it has been responsible for launching Nigerian, Algerian, Ethiopian, and Sudanese satellites. Many missed the news that Tunisia has become the site of the first foreign ground station serving China's Beidou Satellite Navigation System — its response to GPS. China does not want to be reliant on a US positioning system, and its technology has a myriad of applications from finance and civil aviation to missile guidance.
China is also leading a charm offensive in Africa. In June 2022, during a session hosted by the China Mission to the African Union, students from eight African countries had a chance to speak in real-time to the taikonauts working on China's Tiangong space station.
While the US has more to offer to Africa in terms of space cooperation than either Russia or China,  only Rwanda and Nigeria have, so far, signed NASA's Artemis Accords. This is a broad, non-binding framework that lays out opportunities for international cooperation applicable to the exploration of the Moon, and beyond. The US can and should do more to help Africa in the development of its space industry, not least out of self interest; ceding ground to Russia and China may have risky geopolitical implications. The US could, for example, provide capital for the development of Africa's space infrastructure through a development finance framework. It could also propose a joint space development programme with the African Union. Small steps in this direction have already been taken. In December 2022, the US-Africa Leaders' Summit featured the first-ever US-Africa Space Forum.
Since its tenure began in January 2021, the Biden administration has put considerable effort into supporting the development of high-tech industry in the US, as evidenced by the Defense Production Act, the CHIPS and Science Act, and Inflation Reduction Act. There is no reason why other nations, especially developing ones, should not emulate this example. The world is becoming divided in two; between those that cooperate on tech with the US and those that work with China. Despite the temptations the Chinese market represents in terms of size and growth, most developed economies stick with the US if pressed to choose. It took some time and continuous pressure from Washington, for example, to convince the Dutch to stop selling advanced semiconductor production equipment to China. For emerging countries, the choice is not so simple. Access to Chinese investment, markets and technologies is enticing. China can manufacture a satellite for a developing country, train its engineers in the process, launch it into orbit and finance all of these activities with cheap debt. The US and its allies do not offer such solutions. They can, however, offer much more in terms of know-how, without any, or many, strings attached. And if there are strings, they may point to the rule of law, democracy and human rights on the continent, goals worth pursuing in their own right.