The swift death of Gorbachev's USSR set Russia on a path to chaos
Over a two year period, the Soviet leader's authority was slowly sliced away until his only choice was to resign with dignity in 1991. While the West may have thought this bloodless coup a blessing at the time, it didn't turn out that way.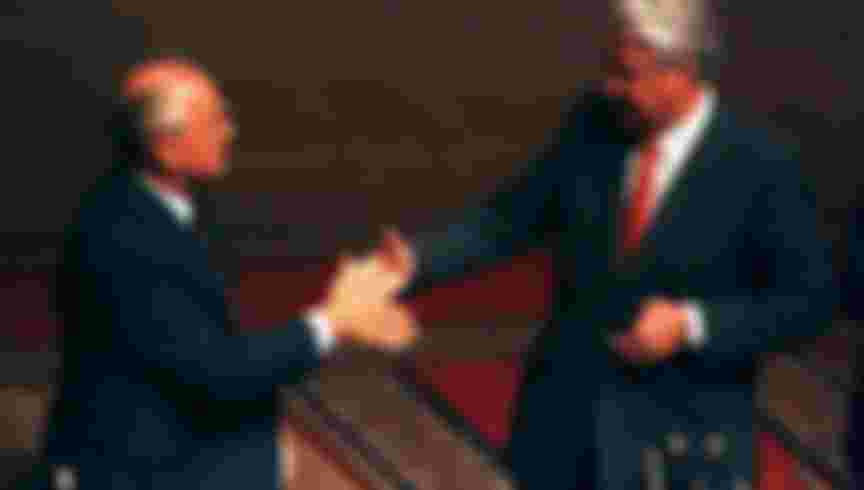 Soviet President Mikhail Gorbachev shakes hands with Russian President Boris Yeltsin in the Russian Parliament after failed coup attempt against Gorbachev in August, 1991. Credit: REUTERS / Alamy Stock Photo.
Mikhail Gorbachev, who died in Moscow on 30 August, 2022, had many lives. A smart peasant boy from Privolnoye, a Russian-Ukrainian village in the Northern Caucasus, who witnessed the Nazi occupation. A provincial student at Moscow University with ambitions to become a cultured urbanite. A young Stalinist shocked by revelations of his hero's crimes. An unusually curious and sober local apparatchik who attracted and befriended powerful KGB head, Yuri Andropov. A leader of a superpower propelled to the top by the death of its previous cohort of leaders. An exceptionally daring reformer, albeit one who simultaneously tried to overhaul the economy, politics, the constitution, and ideology, thereby opening every conceivable Pandora's box all at once. An avatar of a breathtaking new vision for his country and the world, where the use of force was not justifiable, and legitimacy was based on diplomacy and norms, not crass power and greed. And a sorcerer's apprentice, who unleashed destructive forces, including inflation, supply chain crises, and national separatism — which overwhelmed him and his project. His was a meteoric rise that had few precedents in Russian history and ended in a calamitous downfall. Gorbachev is also the subject of remarkably contrasting legacies. In the West, he won universal eulogy verging on a personality cult. In Russia and some other former Soviet quarters, he has earned negative reactions, even revulsion and venom. Westerners frequently ask the same question: why do Russians dislike the person we admire so much?
Gorbachev's reforms were meant to reshape socialism, and make the Soviet economic and political system an inspiring model for humanity — without private property, a capitalist market, and the use of force. His perestroika was aimed not only at his country, but at the world. Years later, some see his worldview as a beautiful mistake, others as a pipe dream. But by early 1990, his project was in a clear state of failure. Economic performance was disrupted by misguided reforms, which helped profiteers, but left stores without even basic goods, such as sugar and soap. Glasnost, freedom of discussion, was a wonderful gift, but this freedom was overwhelmed by chaos. The Soviet state was weakened and shaken. Russia was a multi-national country, without traditions of liberalism and tolerance, and the introduction of political liberalisation triggered separatism and ethnic violence.
From the Baltic to South Caucasus, 'the empire' suddenly was under attack. Gorbachev was forced to use Soviet military in Baku, Azerbaijan, to stop anti-Armenian pogroms and restore order; it led to hundreds of casualties. The use of force from above was sporadic, not systemic. It was not accompanied by economic and financial market reforms that could have made the rouble do what the gun could not. The combination of uncontrollable violence and a rapidly worsening economy created the image of impotence. Developments across the Soviet border added to this impression. In Eastern Europe, communist regimes fell like dominoes, and the Berlin Wall came down with thunder, opening a road for Germany's unification. People danced on the Wall; the future looked brighter than it had since before the First World War in 1914. Gorbachev did not use force, and accepted the end of the Soviet external sphere of dominance as a verdict of history. The West rejoiced at the historic failure of communism.
The Bush administration in Washington observed Gorbachev's rhetoric and reforms with rather different emotions. National security advisor to Bush, Brent Scowcroft had studied Russian history in the 1950s and was convinced that the Soviet Union could exist only as a military autocracy. 'Either Gorbachev was going to stop this [perestroika],' he said, 'or somebody would stop him.'  His deputy Robert Gates was also convinced that Gorbachev's reforms would fail, and the Soviet Union would return to its belligerent ways. Early in the autumn of 1989, even before the Berlin Wall came down, Scowcroft created a top-secret task force, headed by Gates. The group was to monitor the developments that pointed to a violent collapse of the Soviet Union. Among the most serious problems were loss of control over the Soviet nuclear arsenal and a rebellion of Soviet troops in East Germany. The group also expected a coup against Gorbachev.
By early 1990, Gorbachev's predicament became even more serious. He already faced the danger of collapse of the Soviet Union itself. The South Caucasus was engulfed by the flames of nationalism. Lithuania declared its intention to secede. In response, Gorbachev attempted to pressurise Lithuania by blocking some oil and gas supplies. Gorbachev's greatest challenge, however, came not from the non-Russian periphery, but from inside Russia: the largest republic of the fifteen republics of the Union, the Russian Federation, had a legitimate elected assembly that, to everyone's surprise, raised the symbolic flag of sovereignty and championed economic independence from the centre. Much of this unexpected Russian separatism was fed by people's growing frustration over a bad economy and chaos. During the celebration of the Bolshevik Revolution on the Red Square a frustrated person attempted to assassinate Gorbachev, who stood on top of Lenin's Tomb watching the procession. The KGB and the military pushed for a martial law and the use of raw force, to restore 'order' and improve economic discipline in the old Soviet ways. Gorbachev equivocated, he was against it, yet he did not inform the hardliners that this was out of question. He let his military intervene in Lithuania, allegedly to keep 'extremists' at bay. After a few casualties among civilians, however, he ordered the military to withdraw. Later he explained to President Bush, that he had to 'zig-zag' to avoid the worst: a Russian civil war. 
The American leaders watched Gorbachev getting ever more entangled between those Soviet elites who wanted to restore 'order' and those who wanted even more change. The latter included the Soviet intelligentsia, heady with sudden freedom, and national separatists, eager to capitalise on Moscow's unexpected weakness. Scowcroft wrote to Bush: 'The absurdity of the situation in the Soviet Union is perhaps best captured by the prospect of Russia — once thought to be synonymous with the Soviet state — seeking autonomy from the Kremlin under Yeltsin's leadership.' For Scowcroft, Boris Yeltsin, a popular Russian opposition leader, was a dangerous demagogue and a product of the chaos that Gorbachev's bizarre style of governance produced.
Gorbachev dreaded the idea of using an authoritarian solution to tame chaos. He did not want to take the Chinese road that, as the world saw, drove over the corpses of students in Tiananmen square in Beijing. The young boy in Gorbachev remembered and abhorred violence. The socialist and idealist in him rejected Stalinist methods. The graduate of law believed that constitutional reforms, backed by a referendum in favour of the union, would erect a barrier to national separatism. The ambitious reformer refused to admit he was no longer in control of the developments he had unleashed. Like all human beings, Gorbachev had fits of pessimism. He confessed to his closest aides that he had accomplished his task and had to go. His wife Raisa, his most trusted advisor, agreed.
In the end, his optimistic, extraordinarily large ego prevailed. He convinced himself that he was an irreplaceable shaper of historical events. And he decided his last stand would be to fight to the end to reform the Union by legal and peaceful means. The Soviet leader firmly believed the best way out of the crisis of perestroika was a constitutional devolution of power, not an imposition of law and order from the centre. In March, nine out of fifteen republics (the Balts, Georgia, Armenia, and Moldova boycotted the event), voted yes in referendums on whether to reform the Union. In April 1991, Gorbachev offered the leaders of those nine republics the chance to join a new Union, one that would be a new and voluntary federation bound by a new constitution, popular legitimacy, common history, culture, and economics. He hoped that while this transition lasted, he would keep the situation under control. His tools of authority were, however, all from the Soviet past: the Party, the army, and the KGB.
There were two key factors that bedevilled Gorbachev's project: the separatism of Russia and Ukraine. The Russian question became crucial for the future of the common state. Yeltsin drew on historical grievances and believed the Russian Federation had earnt the right to be a great power on its own, and should stop following Gorbachev's failed economic reforms. He did not, however, pose as a blatant nationalist. Rather he opposed Gorbachev from an anti-communist and democratic viewpoint, and argued 'Russia,' naturally under his leadership, could and would steer the whole bulky Union to radical reforms, market, prosperity, and cooperation with the West. Yeltsin also painted Gorbachev as a man of the past, a defender of the Party regime and 'the last totalitarian empire.' Nothing could be further from Gorbachev's motivations. In February, Yeltsin surprised everyone by calling for Gorbachev's removal as a political failure. When this did not work, Yeltsin decided to boost his legitimacy by running for the Russian presidency. He won the race in June 1991. Gorbachev did not oppose this, and suddenly there were two presidents in the Kremlin, the Soviet and the Russian.
Yeltsin lacked access to the real levers of power and hoped he would get them from the compromised and compromising Gorbachev. In public, Yeltsin did not call for the destruction of a common country. He knew the majority of Russians would not support it. In practice, however, the Russian leader did much to ruin Gorbachev's vision of a voluntary federated Union. His tactic was to slice back Gorbachev's authority as if slicing a salami. He acted as if Russian laws and his decrees took precedence over Gorbachev's. He urged enterprises on the Russian territory to stop paying taxes to the central budget. He dramatically resigned from the Party and demanded it be banned from control of all state institutions. After the bloodshed in Lithuania, he even appealed to the Russian military in the Soviet army to disobey Gorbachev. Gorbachev's closest aides were in despair: they feared that Yeltsin, when sufficiently entrenched, would pull the rug from under Gorbachev, and the Soviet president would end up a king without a country. The evidence from declassified archives of Yeltsin's entourage, and subsequent events, proved those fears to be on the mark.
Ukraine was another obstacle, although a smaller one. A jewel in the crown of the Soviet Union, industrialised and densely populated, with phenomenally rich soils, the Ukrainian Soviet Socialist Republic seemed to be firmly under Party control and anchored within the Soviet common economic space. Gorbachev's reforms, however, opened the gates to Ukrainian nationalism and historic aspirations of a separate statehood. In November 1990, Yeltsin openly catered to those aspirations. He came to Kyiv and proposed that leaders of the second largest Slavic republic make an alliance against the declining Party, the Union, and Gorbachev. The Ukrainian Party apparatchiks, still firmly in control over the republic, felt hemmed in. They preferred a weakening Gorbachev to an assertive, anti-communist Yeltsin and Ukrainian nationalists. They signed, however, 'a treaty' with Yeltsin that recognised territorial integrity of both Slavic republics within the Union.
Gorbachev believed if he offered Yeltsin a deal he could not refuse then a common front between the two presidents would solve all other problems. He thought that once 'Russia' was established as the core of a voluntary Union, 'Ukraine will have nowhere to go.' He came exceptionally close to achieving his goal, at least on paper. The signing of a new Union Treaty, with the willing participation of Yeltsin, the communist leaders of Byelorussia, and some other republics, was scheduled for 20 August, 1991. 
In the three months leading up to this, the Soviet leader counted on strong support of the West, especially from his new friend George H.W. Bush. His grand design was to pull the Soviet Union into a 'common European home,' a community of countries that included Western Europe, Eastern Europe, and North America. The Soviet leader could not believe that the West would refuse to give money for such a grandiose vision. If perestroika were to fail, he kept repeating to Western leaders, it would create a geopolitical calamity with unfathomable dangers for the world. And a Western financial package to jump-start a new Union would cost only a fraction of the money the Western coalition had spent in early 1991 on the Gulf War against Saddam Hussein.
In 1990, Western powers helped to financially tide Gorbachev over. Almost all of this money, over 50 billion Deutschmarks, came from West German banks, with the aim of smoothing the process of German reunification within NATO and maintaining Soviet consent for the reunification process. But by 1991, the German chancellor Helmut Kohl no longer wanted to extend this generosity. Gorbachev's economic advisor Grigory Yavlinsky and his ally, the political scientist Graham Allison, travelled from one Western capital to another, proposing a great bargain for the West: instead of putting actual money on the table for Gorbachev, Yavlinsky explained, the West would only 'use the promise of money in the future to make us [jump to a market economy].' The Bush administration, however, came up with a different quid pro quo: first Gorbachev should put on the table a credible programme of market reforms, then perhaps the West would help. Otherwise, only humanitarian aid, food, and medicine would be provided for the struggling Gorbachev and his country.
Bush explained to Gorbachev that the US budget was 'almost broke,' because of economic recession. There were, however, other motivations behind America's stance. Democratic politicians must always consider their image within national politics and keep the next round of elections in mind. Bush was unpopular in Congress and within his own party, and stood little chance to get their consent to a package to help his Soviet friend. Declassified US documents also reveal there was a Cold War strategy weighing on the decision-making process. Secretary of the Treasury Nicholas Brady, a close friend of Bush, spoke on the topic with rare candour: 'What is involved is changing Soviet society so that it can't afford a defense system. If the Soviets go to a market system, then they can't afford a large defense establishment. A real reform program would turn them into a third-rate power, which is what we want.'
At the G7 London summit in July 1991, Bush and his people did everything to dissuade other Western leaders from promising a major package of aid to Gorbachev. Still, Bush did not want Gorbachev's project to fail. A month and a half later, during a visit to Kyiv, Bush addressed the Ukrainian National Assembly and revealingly criticised Ukrainian separatism and supported Gorbachev's idea of a Union Treaty. He would later receive harsh criticism for this from both the Republican right and Democratic liberals.
On 19 August, when Bush learned about a coup in Moscow, he prayed for his friend Mikhail. Then-Canadian Prime Minister Brian Mulroney phoned Bush and mentioned the G7 meeting.  'Some may say if you people had been more generous in London, maybe [the coup in Moscow] wouldn't have happened.' Bush did not respond. It is not clear if he ever realised he only helped Gorbachev about half-way at the last and decisive moment for Gorbachev's project.
The August coup was the kind of historical event that some call divine intervention and others consider Russia's curse. For three days Gorbachev was under house arrest in Foros, Crimea: impotent and without any communication lines to the outside world. Then the coup-makers, contrary to any expectations, blinked and surrendered. Gorbachev returned from his captivity at best a Hamlet or a King Lear who had to play along to Boris Yeltsin, a new master of Moscow and Russia. Most Russian democrats suspected Gorbachev to be implicated in the coup — a suspicion he would never be able to fully dispel. The once-possible deal between the two presidents fell apart: Yeltsin no longer needed Gorbachev and his project of a federated Union. Just two days after Gorbachev returned from his Crimean ordeal, Yeltsin humiliated him in front of TV cameras, forcing him, in a fit of political triumphalism, to sign decrees to dismantle the Soviet government and to ban the Communist Party. Yet Yeltsin craved Western legitimacy and knew treating Gorbachev like a pariah would not help him. This was the principal factor that prevented Yeltsin from ousting Gorbachev right away.
At the time when everything seemed to be lost, Gorbachev told his trusted aide Georgy Shakhnazarov to return to preparations for a Union treaty. The aide wondered if the ship had already sailed. The Baltic republics declared independence from Moscow. Party elites in other republics distanced themselves from Moscow. On 24 August, a mini revolution took place in Ukraine: the Party apparatchiks led by Leonid Kravchuk, seeking to stay in power by any means necessary, hastily backed the Act of Independence proposed by the minority of Ukrainian nationalists. Kravchuk declared that Ukraine would not join Gorbachev's Union, and put the issue of independence on a referendum scheduled for 1 December. Then Kravchuk travelled to Canada and the United States, where he appealed to Western leaders and the United Nations, asking for recognition.
Gorbachev responded, telling Shakhnazarov the only way the republics would survive economically would be together — Russia included. It seemed obvious to him that Russia would always have an uncertain geopolitical future if it parted ways with Ukraine, given its millions of social, economic, and cultural ties to Russia. Gorbachev's mother was Ukrainian, his father Russian. Like tens of millions of Russians and Ukrainians, separation was inconceivable to him. Shakhnazarov went to Yeltsin's people and tried to convince them of the benefits of a new Union. A federation, he argued, would keep Ukraine, Belorussia, and Kazakhstan within Russia's zone of influence. Otherwise, they would drift away, to other blocs and alliances: 'It would be unthinkable to bring them back by force.' After Eastern European countries, Ukraine would make approaches to NATO: 'If this happens, we would get [NATO] on our borders.' What would then be the fate of Crimea? How would Russians react if the place they associated with their national pride and identity became part of another country, possibly with foreign bases on its territory?
Some of those scenarios proved to be uncannily prescient. Yet the apparent logic of those arguments could not sway the ambitions and illusions of Gorbachev's rivals. Power struggle and nationalism had their own implacable logic. Yeltsin was not afraid of those scenarios; he actually hoped Russia would be part of NATO as well. And throughout world history, the fear of economic collapse has never prevented the fall of empires. Neither Yeltsin nor Kravchuk understood even the basics of macroeconomics. In their imagination, the natural wealth of Russia or Ukraine would attract Western capitalism and investments and pull those countries out of their economic misery.  None of this, of course, happened after the Soviet collapse. Both countries, as well as other parts of the destroyed the Soviet economic space, would plunge into severe economic depression combined with savage inflation for years. 
Still, between September and October 1991, Gorbachev appeared to be in ascendancy, against all expectations. Yeltsin did not know how to reform Russia. Economists told him that this huge part of the Soviet Union could not go completely alone for many reasons. For instance, none of the republics had real borders or a single customs office between them. They could not enforce their economic and financial sovereignty. Economists also suggested the collapsing Soviet Union could be transformed into a version of the European Union — a common economic zone with one currency, the rouble, or the country would suffer an economic catastrophe of unfathomable proportions. Crucially, Yeltsin and his 'Russia' had no state apparatus to govern and regulate market forces. The only bureaucracy and structures, including the police and army, could be borrowed from the collapsing Soviet centre.
Gorbachev's last asset was his high status in the West. Between September and October 1991, the Soviet leader made a last pitch for Western money to plug holes in the Soviet budget. He did not, however, address the core reasons for the Soviet economic malaise: his misguided refusal to launch a real market reform, and the republics' refusal to send taxes to the Union's coffers. Gorbachev was promised a few billions. The Bush administration, once again, refused to throw a financial rope to the drowning Soviet leader. Gorbachev exhausted his credit line. Instead, G7 countries sent their financial experts to Moscow to make sure that all Soviet debts would be paid, down to the last dollar. This was a moment when Ukraine and all the other republics declared, to the consternation of Yeltsin and his people, that Russia should take responsibility for all debts. Other republics would not, because they had been 'colonised' by Moscow.
The last act of Gorbachev's drama began in late October, when Yeltsin became convinced that Russia could do without Gorbachev's Union and his Western connections. He invited a young Russian economist named Yegor Gaidar to plan and implement radical market reforms. Gaidar, in contrast to other Russian economists, was an advocate of IMF-type market reforms, that envisaged immediate liberalisation of prices and trade and termination of state controls. This reform promised quick macroeconomic 'stabilisation': a kind of therapy by intense economic shock. Crucially, Gaidar promised the doubtful Yeltsin that this could be done by 'Russia' alone, because the Russian people trusted Yeltsin and expected him to act with resolve. Other republics, including Ukraine, would have to get along or perish alone. There were no better alternatives. Yeltsin liked this plan. He no longer needed Gorbachev and his Union project.
Yet still Yeltsin hesitated. One point of uncertainty was Ukraine's referendum on 1 December. Another was Gorbachev's future: how would the US president and other Western leaders react to Gorbachev's removal? Yeltsin was eager to get rid of the Soviet leader, but also wanted the West to recognise 'his Russia' as a legal successor to all superpower assets, including the Soviet strategic nuclear arsenal and the permanent seat in the UN Security Council. At some point Yeltsin told Marshal Yevgeny Shaposhnikov, the last Soviet Minister of Defence (and loyal to the Russian government) to quietly deactivate Gorbachev's nuclear briefcase. The Soviet leader probably did not know that he had become the commander-in-chief in name only. Yeltsin also stripped Gorbachev of his economic powers; he took from his jurisdiction the Ministry of Finances, the State Bank, gold reserves and a diamond collection, as well as the facility to print roubles.
On 8 December, 1991, a week after the people in Ukraine voted overwhelmingly 'yes' in the referendum of independence, Yeltsin met with Kravchuk on the 'neutral territory' of Belorussia, near the Polish border. Kravchuk refused to join any union with Moscow, no matter who was in control there, Gorbachev or Yeltsin. He agreed, however, to join a new nebulous Commonwealth of Independent States (CIS). It was in reality a fig leaf to cover a divorce of the two Slavic republics. Yeltsin, however, entertained illusions that it would be a Russia-dominated confederation. The two leaders, and their Belarusian host Stanislav Shushkevich, signed a declaration that the Soviet Union was dead 'as a subject of international law and the geopolitical reality.' This contrived legal formula left the question of who would be successor to the powerful country open to interpretation. Yeltsin and his ministers, however, were convinced that it would be the Russian Federation, and they acted on this conviction. This only led the Ukrainian leaders to assert their sovereignty vis-à-vis Russia.
Gorbachev ended up as a King Lear without an army, money, or land. He still could have disavowed the move by Yeltsin and Kravchuk as extra-constitutional. He was a superstar of the international community. He could have demanded that an election of a new Soviet president be scheduled. His close associate Alexander Yakovlev, who had helped Gorbachev to introduce glasnost and political liberalisation, recalled: 'This was possible! One can only imagine where it would have left the country, and the embarrassment of the governments of foreign states.' Gorbachev, however, realised he had too few supporters in his own country. Russians took the declaration about replacement of the Soviet Union with CIS indifferently, as if it were a mere change of acronyms. Most of them did not even realise it was the end of the common state. They looked to Yeltsin to fill the empty shelves with goods and make the rouble work.
After a brief burst of strong words, the Soviet president accepted the inevitable and decided to resign with dignity. Gorbachev could not, however, deny himself a last small triumph: his resignation speech was broadcast live around the world by CNN and ABC. This was something previously absolutely inconceivable: the Soviet leader even signed his resignation with a pen lent to him by an ABC official. Russian television was there as well, but almost nobody in Russia cared to watch. People bustled around grim, dark Moscow and other cities in search of scarce food.
President Bush listened to Gorbachev's resignation at his house, late on Christmas day in 1991. He believed he had done his best to help his friend. The Americans asked Yeltsin explicitly several times to treat Gorbachev decently after his resignation. Then Bush got a phone call from the Kremlin. Gorbachev told him to have a quiet Christmas; there was no hiccup with the transfer of command of the nuclear forces. He had relinquished his nuclear 'briefcase' to Yeltsin. Apparently, he did not realise it was a dud. Bush was overwhelmed by the historic moment. After finishing his phone call with Gorbachev, Bush dictated into his personal tape recorder: 'God, we're lucky in this country — we have so many blessings.' He should have added that America's greatest blessing was to have Mikhail Sergeyevich Gorbachev in the Kremlin.