A Little History of Modern Russia
Western authors have contributed a vast range of insights into the state of contemporary Russia - here's a selection of the very best.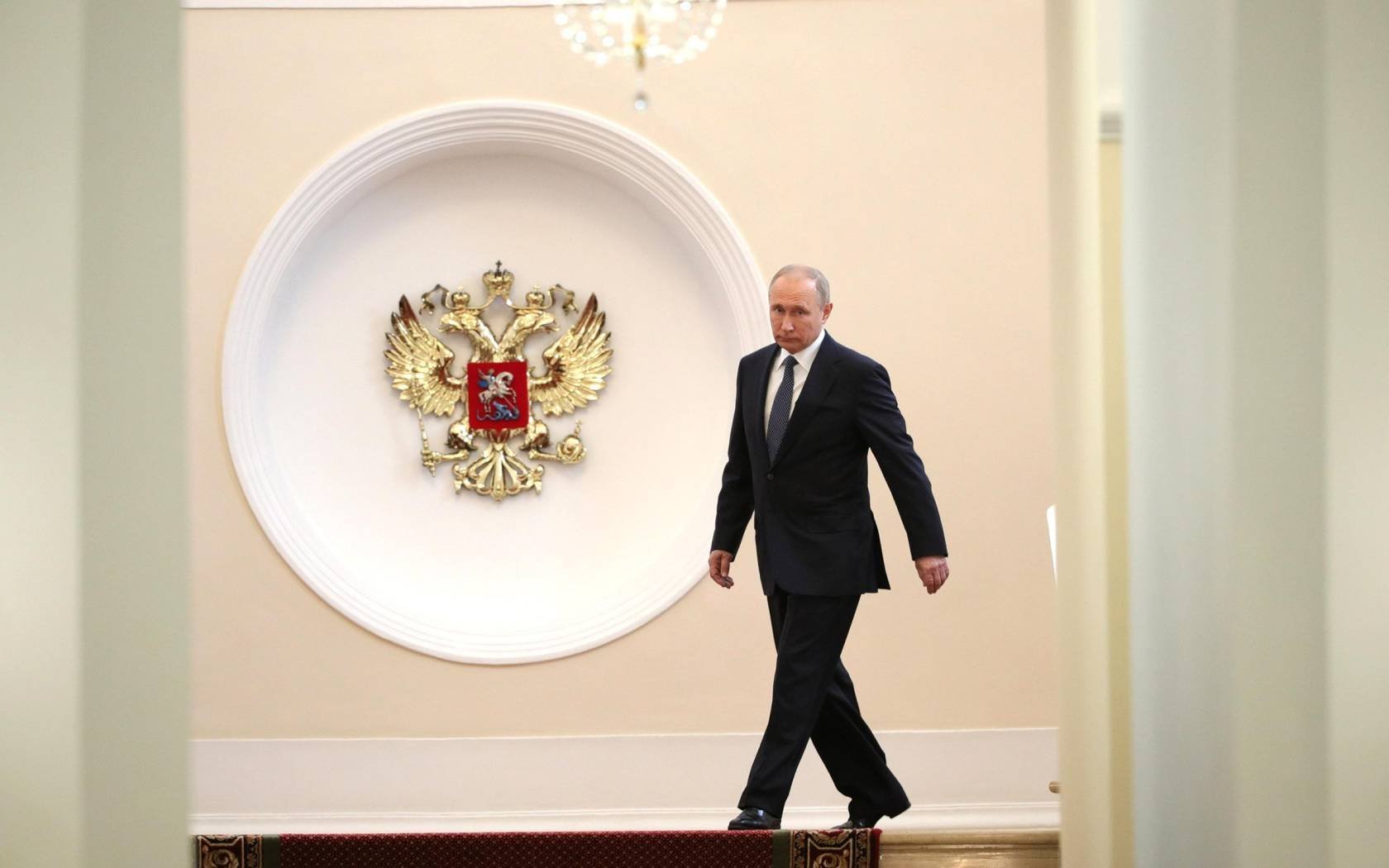 Russian President Vladimir Putin walks through the halls of the Kremlin on his way to be sworn-in for the as the President of the Russian Federation May 7, 2018 in Moscow. Credit: Kremlin Pool / Alamy Stock Photo / Planetpix/Alamy Live News
How should we interpret Russia today? Moscow's full-scale invasion of Ukraine in 2022, its explicit contest with the Euro-Atlantic community, and its wider activity building relations with China, India and across Africa all make this a critical question. Beyond the rush of daily headlines and social media reportage, some fine recent books stand out to help us think about what's going on. Jade McGlynn's Russia's War looks at domestic support for the war against Ukraine, and Marlene Laruelle has explored whether or not Russia is a Fascist state. Richard Connolly's work examines the strengths, weaknesses and resilience of Russia's economy in the face of sanctions.
We are well served, too, in terms of work on Russia's wider international activity. Two of the most important themes – Moscow's strategy to develop the Arctic, and the importance of Crimea – are examined respectively by Elizabeth Buchanan and Constantine Pleshakov. For Moscow, both the Arctic and the Black Sea serve as essential gateways to the wider world – the Northern Sea Route is to connect east and west, north and south, while Crimea is a gateway where European, Russian and Turkic worlds meet, a link between the Mediterranean and Eurasia. Equally significant, Vladimir Lukin puts the Russia-China relationship into a longer-term context of rapprochement, capturing Moscow's view of a changing world order, a twenty-first century gravitating towards the Pacific, and what cooperation in a 'post-West' world looks like.
All of these books inform, while stimulating and provoking the reader into thinking about the complexity of one of the most pressing challenges to Euro-Atlantic security today and tomorrow. But there is a rich history of thought about three big, pressing longer-term questions: the sources of Russian conduct, how Russia is ruled and how Russia fights.
Probably the most famous writing on the sources of Russian conduct is by 'X' – George F. Kennan – the US diplomat whose long telegram and 1947 article in Foreign Affairs at the outset of the Cold War set the foundation for US thinking and policy of containment. Kennan offered a concise but still expansive overview of soviet history, ideology (or the 'political personality of soviet Russia'), and the 'antagonism' between the USSR that remains necessary reading.
Others, including Frank Roberts, British Charge d'Affaires in Moscow at the same time as Kennan, were writing along the same lines, of course. Another, Edward Crankshaw, later wrote Putting Up with the Russians (among other fine books). The range and depth of his reflections on the 'sombre and tragic background against which we must see the Kremlin's foreign policy', the challenges of interpreting Moscow's signals (and the extent of their sincerity), and the difficulties of co-existing with Russia given the belligerence of its policy such that relations sat between 'Cold war or Hot' make it essential reading today.
On the question of how Russia is ruled, it is Merle Fainsod's 1953 work that set the tone for many years. Not everyone agreed with his interpretation of the USSR as a totalitarian state, but his attempt to conduct a forensic examination of each aspect of soviet political power, the instruments of rule, and 'controls and tensions' stands out as a distinguished exemplar, even if there are many more recent books on post-Soviet Russian politics.
Yet the sense of power, of rulers and ruled in Russia, is complex and multifaceted. Conventional assessments of political power often miss the cultural problems and idiosyncrasies of power. Sometimes, this is best reflected in literature, such as Mikhail Saltykov-Shchedrin's The History of a Town, for instance, or in journalism: (the elder) George Kennan's A Russian Comedy of Errors depicts the consequences, intended and unintended, of Russian authority. But better still is when it is depicted by the players themselves. In a concise text, the late Mayor of Moscow, Yuri Luzhkov, compellingly set out the difficulties of power in Russia, pointing to 'compulsory cheating', 'burying problems' and 'compulsory non-completion'.
Today, much of the wider debate about how Russia is ruled has evolved into reflections on 'Putinology': assessments of Russia through the lens of the president, his personality and how his rule has shaped Russian politics and society. Many books on Russian politics today are, in one way or another, reflections on Putin or opposition to him, from political and psychological assessments to fleeting conspiracy theories. Among the biographies, Philip Short's Putin: His Life and Times is the most recent and one of the best.
Again, however, it is a text by those involved that is the essential one, in this case the series of interviews conducted with Putin when he came to power, gathered together in the book First Person. A great deal has happened since, of course, but this book is rich in fascinating insights into Putin himself, how he understands Russian political culture and the relationships with those close to him on whom he has relied ever since he rose to power. The book also includes his millennium article setting out what he then saw as his agenda. One of the interviewers suggests that 'surely there are more details?'. 'Yes, there are,' Putin replies. But this is the place to start.
There was much discussion in the Euro-Atlantic community through the last decade about how Russia had developed a form of war in the 'grey zone' (though much of the Russian discussion was about high intensity combat, and looming military challenges). But with the full-scale invasion of Ukraine, the question of how Russia fights is again paramount, and although officially Moscow uses the term 'Special Military Operation' to describe it, there are evident undertones of a wider effort – senior officials talk of a 'people's war' and intimate that this is again a 'Fatherland War' situation for Russia. Important as a symbolic and political reference, senior Russian military figures often highlight the relevance of the Great Patriotic War for how Russia should think about war today.
If David Glantz is the doyen of living Western historians of the Russian military, and his book When Titans Clashed is the best concise introduction to the catastrophic war on the eastern front, it is John Erickson's magisterial two-volume work Stalin's War with Germany that truly stands out as a comprehensive, essential examination of this war. His thorough investigation of the Soviet style of war ranges over command and decision-making, military performance and economic effort behind the lines. There are many good books on the Soviet and Russian experience of war, but this is the exemplary marker.
Knowing our history, and Russia's, and recognising the global nature of the contest will be central to shaping policy for a new era in relations with Russia – one that for the foreseeable future appears to be one of contest. The sources of Russian conduct, how Russia is ruled and how Russia fights are three tightly interlinked questions, and the West's Canon on Russia gives a sense of the longer-term trajectory of these persistent questions.
Andrew Monaghan's Russian Canon:
Edward Crankshaw, Putting up with the Russians
George Kennan, A Russian Comedy of Errors
Yuri Luzhkov, Russian Parkinson's Law
John Erickson, Stalin's War with Germany (2 vols – The Road to Stalingrad, The Road to Berlin)
Vladimir Putin, First Person – an Astonishingly Frank Self-Portrait by Russia's President.