The rise of the AfD could be reversed if German politicians listened to the concerns of their electorate.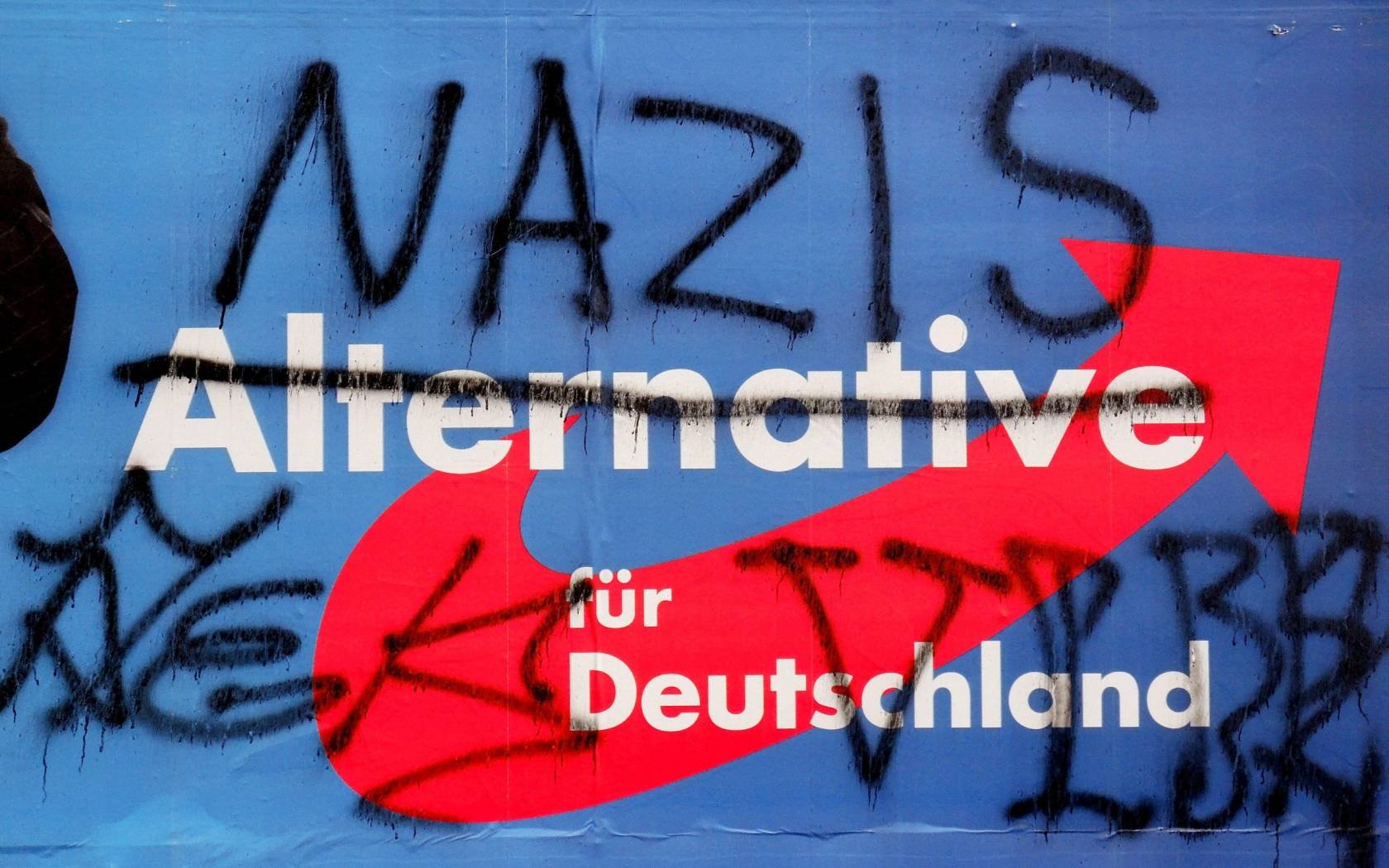 The term 'Nazi' sprayed on an election poster for the AfD (Alternative für Deutschland). Credit: dpa picture alliance / Alamy Stock Photo
'For the first time since the Nazi era,' headlines warn, the far-right is resurgent in Germany, the country from where fascism once unleashed war and genocide on Europe. While it is alarming that many German voters are turning their backs on mainstream politics, moral panic is not the way to deal with it. Writing off vast swathes of the electorate as extremists or treating this as an East German phenomenon is as defeatist as it is dangerous.
As it stands, the political momentum is squarely behind Alternative für Deutschland (AfD), a party that has been classified as potentially extremist by the German authorities. Founded in 2013, it is defined by its eurosceptic, nationalist and anti-immigration policies, combined with neo-liberal tendencies on economic matters. In line with trends elsewhere in Europe, the party has seen its popularity increase in recent months. It is currently polling at above 20 percent, placing it ahead of the ruling Social Democratic Party (SPD) of chancellor Olaf Scholz and in second place to the Christian Democrats (CDU/CSU), who are currently in opposition.
There is no doubt that this is deeply concerning. While the AfD was originally founded by members of the CDU and the Free Liberals (FDP) with the idea of providing a centre-right alternative to Angela Merkel's CDU, which had shifted left under her leadership, the party has since radicalised itself and moved further towards right-wing populism.
It now contains many far-right extremists, such as Björn Höcke, who leads the party in the state of Thuringia and has recently been charged with using a slogan that was also deployed by Nazi Stormtroopers. His faction of the party, known as 'Der Flügel' (The Wing), is under permanent state surveillance after the domestic intelligence agency designated it an 'extremist entity.'
It would be a mistake to assume that everyone who votes for Höcke's party is an extremist too. Such assumptions have too often prevented mainstream politicians from engaging with their voters. 'I don't have anything to offer those who have decided to vote for a far-right party,' said former chancellor Angela Merkel's minister for the areas that were once East Germany and where the AfD has its stronghold.
However well-meaning politicians think their policies are, conveying a sense that they have stopped engaging with voters is making much of the electorate feel marginalised. Last year foreign minister Annalena Baerbock caused outrage when she said that she would deliver for Ukraine 'no matter what my German voters think'.
Telling voters that they are wrong or too radical will only serve to fan the flames of anger. Basti, a highway engineer from a small town in the Thuringian mountains, married with children, told me that he deeply resented being 'branded a Nazi'. He intends to vote for the AfD not for any 'far-right' rhetoric but because their politicians 'listen to the people'.
Basti's wife is also an AfD voter because she feels the other parties have become detached and don't care about the concerns of ordinary people. 'Scholz couldn't even tell you the current price of petrol,' she says. To her, energy policy isn't a question of ideology but something that has a tangible impact on her daily life. When petrol prices go up, it is effectively a pay cut to her, as she needs to drive to the care home where she works shifts.
Most mainstream politicians are currently failing to communicate that they care about the impact their policies have on people up and down the country. And this is not a problem that began with the recent surge of AfD support in surveys. The growing political disaffection that has led to this situation has been simmering for some time. Asked ahead of the last federal election in 2021 which party they trusted to deal with Germany's problems, over half of the respondents to a survey answered 'none'. Perhaps even more worryingly, Germans' trust in their public institutions has receded at a rapid pace since then, as another survey found earlier this year. Only about a third of its respondents said they trusted the federal government, the office of the chancellor or the European Union.
Instead of confronting the difficult question of why they are losing entire communities, the established parties have been complacent, looking for ways to block the AfD from political power rather than draw away its support with arguments. Tactics have ranged from the so-called 'firewall', meaning nobody would enter into a coalition with the AfD – which, in Germany's electoral system, where no single party usually gets an absolute majority, is usually necessary to rule – to an outright ban of the AfD.
That threats to ban the AfD are not a foolproof way to keep it out of power was shown recently when the party won a local election in the small district of Sonneberg in the state of Thuringia.
The only way to break this cycle of mutual mistrust between voters and the established parties is by confronting it. National and local politicians should aim for dialogue even where this is uncomfortable. They need to be present and talk to voters directly. Local events, where politicians can speak to the public and in turn allow questions and comments, should play a role in this. Siegbert Müller, a 64-year-old AfD voter, says politicians 'should be seen out here. But none of them come. Herr Thrum of the AfD [the local district candidate] does that. He goes from village to village and talks to people.'
Another factor is that people who already suspect that politicians are self-serving and disingenuous will not be won back by finger-pointing and infighting in Berlin. The leader of the CDU, Friedrich Merz, says the governing coalition is to blame, with its focus on gender-inclusive language. By contrast, his party colleague and competitor Daniel Günther says his own party is responsible. Such squabbling reinforces the impression that 'politicians in Berlin live in a different world… They don't care,' as another AfD voter put it.
Communication also plays a big role in tackling this impression that politicians aren't interested in their voters. Take Robert Habeck, energy minister and vice chancellor. He was once the most popular member of the government despite having to manage Germany's energy crisis and its painful consequences. He made an effort, appearing on TV and travelling around the country, trying to explain his policies to people, even when that was often a deeply unpleasant experience for him as he faced booing and hostility from some.
But a corruption scandal and increasingly flippant rhetoric, such as his comments that he expected that small businesses might have to close for a while if they struggled financially, but might eventually reopen, made him seem increasingly out of touch. Small business groups criticised him sharply for this, accusing him of not comprehending the problems they are facing. Habeck's perceived detachment from the realities of the day-to-day struggles his voters face have seen his popularity plummet.
Voters in the east of the country also feel especially misunderstood and looked down upon by politicians and the media. As the AfD is particularly popular in the regions that once belonged to socialist East Germany, dismissive language has been used against the people there. Mathias Döpfner, CEO of one of Europe's largest media groups, claimed in leaked texts that former East Germans 'are either communists or fascists' and added that he found that 'disgusting'. Even under former chancellor Angela Merkel, who was herself brought up in East Germany, her minister for the east claimed that sections of the East German public were 'lost to democracy.'
But that is not how voters in the eastern states see it. Many argue that it is precisely their upbringing in a dictatorship that has made them acutely sensitive to a disconnect between the public and their government. Placards at demonstrations in the former East often make references to the Peaceful Revolution of 1989, which helped bring down a dictatorship. It is also worth pointing out that the AfD has grown a sizable support base in the former West with the biggest growth reported in the state of Northrhine Westphalia, Germany's industrial heartland in the far west of the country. The party has tripled its potential votership there over the last year. Accusations levelled squarely at certain regions merely increase the general sense of detachment of disgruntled voters from the political mainstream in Berlin.
It seems some politicians are beginning to understand these problems and take them seriously. Katrin Göring-Eckardt, the Green vice-president of the Bundestag, is currently on a political cycling tour through eastern Germany. The reception there has been hostile, even aggressive, as demonstrators shouted verbal abuse at her. Göring-Eckardt says this won't deter her from continuing the tour. While threatening behaviour was unacceptable, she said, her party will have to deal with criticism. She admitted that their recent policies had been too rapid, their communication too one-sided and social consequences neglected. This degree of empathy and willingness to compromise is commendable and necessary if the rising tide of disaffection is to be broken.
Lars Klingbeil, co-leader of chancellor Olaf Scholz's SPD, told the German press recently that the way to win voters back is through 'good politics', 'a political style that doesn't tell people how they should be but takes their concerns seriously' and 'leaving Berlin more often'. But whether his party will listen to these suggestions is another matter as he was heavily criticised before when he suggested sensible and popular policies such as a more robust defence policy.
All mainstream parties should make an effort to win AfD supporters and non-voters back because they all can. They need to do better in meeting voters where they live, taking them seriously, communicating effectively with them and show willingness to compromise. Ultimately, in a democracy all power derives from the people. If increasing numbers of voters are unhappy with the status quo, democratic politicians cannot just assume that they are wrong or stupid. That is what dictatorships do.