Beautifully made and well-chosen brick seems to be undergoing a quiet renaissance at the moment — as shown by the remarkable revival of Battersea Power Station.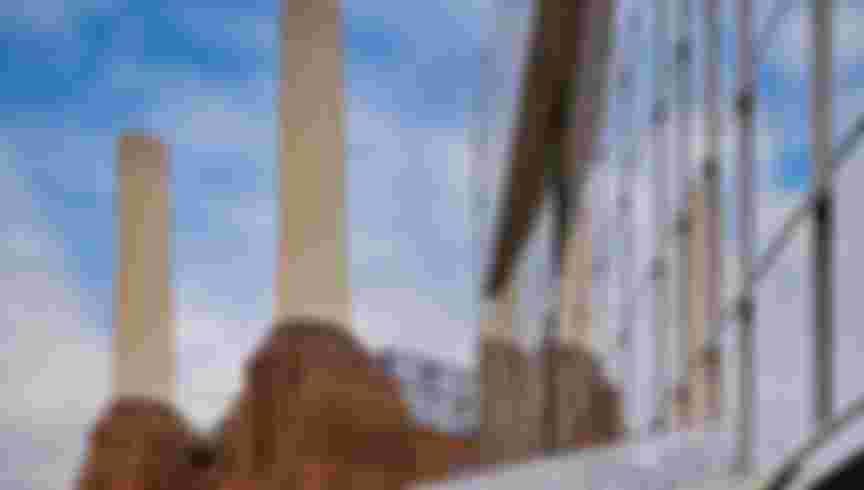 The new development at Battersea Power Station reflected in the windows of an adjacent skyscraper. Credit: Paul Hayward / Alamy Stock Photo.
The new Battersea Power Station is an incredible development for London. I used the word 'incredible' advisedly because for decades it seemed that this titan of a building would never regain its legs after electricity generation ceased in the 1980s. As one of those who had campaigned for it to be saved from demolition, I was disheartened. I came to regret having helped get the listing which provided statutory protection from demolition. Successive schemes to revive the 42-acre site collapsed and the fabric rotted, turning this London landmark into a gigantic symbol of civic failure. But now the impossible — as it had seemed not long ago — has happened. The colossus has been repurposed as a glamorous shopping mall, full of both luxury and not-so-luxury brands. Who would have thought it?
Of course, doomsters might say that this is a rum time to open a retail experience. Not only is the high street supposed to be dead but ordinary punters are unlikely to be whipped into a shopping frenzy at a time of inflation, when food, fuel and mortgage costs are all rising. I admit that on the day I visited the place, despite the recent razmataz of the opening, it was practically empty. Well, that's for someone else to worry about. For me, the absence of crowds made it easier to enjoy the architecture, which is why I had gone. I found it remarkable. The conversion of the colossal, Wagnerian-style turbine halls by the international practice WilkinsonEyre, architects of the Gateshead Millennium Bridge, had been done with aplomb, in a manner comparable to that of Battersea's sister power station — Bankside, now Tate Modern — along the river. It does not look as it used to when I visited soon after it had been decommissioned from its industrial use. But the work shows exceptional sensitivity to the building's character. Within the vast brick carapace, Battersea was really two power stations, side by side. Built in the 1930s, the first one had Art Deco detailing; the second, built after the Second World War, was sparer. The new interiors respect this distinction. The Malaysian sovereign wealth fund PNB, which owns the power station, even paid for the famous chimneys to be taken down — no mean feat, since the concrete from which they were built contained a myriad of tiny cracks. They were then reconstructed, just as they had previously looked.
Let's hope that the new shopping destination does turn out to be a success. For one thing, it would show that shops, despite competition from the internet, may have a future after all. Shops work when they don't just sell things but provide a chance to mingle with other people, in an event that could include a drink, a meal, some children's entertainment and, at Battersea, the buzz of wandering around the epic spaces of the old turbine halls. Anything that promotes human interaction is surely good. More broadly, Battersea Power Station shows a direction of travel for new architecture, which is also good. A generation ago, architects appeared to take a doctrinaire delight in designing structures made from industrial concrete and large panes of glass, which were often intensely unpopular with ordinary people. Old buildings that stood in their way were flattened where it was possible. Battersea Power Station is not the first old building to have inspired an imaginative reinterpretation that is both dazzlingly contemporary yet respectful of the existing structure; the Sackler Wing at the Royal Academy on Piccadilly by Norman Foster and Spencer de Grey is an example from the 1990s. But with other recent works, it shows that contextualism is now part of architectural DNA, at least in Britain.
Recently I visited the daring new footbridge at Tintagel, above a dramatic gorge on the North Cornish coast, designed by William Matthews Associates: an engineering marvel. Since Matthews began his career with Renzo Piano, architect of the Shard and the Paddington Cube, I was struck by the poetic approach to materials shown by the floor of the bridge is laid, which is laid with slates on end, in the traditional Cornish manner (interspersed with strips of shiny white silica suggested, apparently, by the then Prince Charles). This year's Stirling Prize for Architecture, run by that bastion of modernism, the Royal Institute of British Architects, has been won by Níall McLaughlin Architects' New Library at Magdalene College, Cambridge, with gables and tall chimneys that take their cue from the nearby seventeenth century buildings.
The principal material of the New Library is, as at Battersea Power Station, brick. Indeed, beautifully made and well-chosen brick seems to be undergoing a quiet renaissance at the moment. In the shadow of Southwark Cathedral, Borough Yards recently emerged from scaffolding to reveal a linear building of great extent, created out of ingeniously laid buff-coloured brick — a scheme which cleverly repurposes some adjacent railway vaults to dramatic effect. Elsewhere in London, Peter Barber Architects have been creating superbly blocky, even fortress-like new homes for housing associations, which are again made of brick. Wonderful. Developments like this led a friend of mine to remark that Modernism appears to have suffered a take-over from the Arts and Crafts Movement, with its intense awareness of place, veneration of ancient buildings and emphasis on well-chosen materials.
But that remains only half the story. Take Battersea again: the restored power station is the centrepiece of a weirdly un-Londonish new quartier by stellar architects which expresses an entirely different aesthetic. At least, though, the result is fun. Alas, numerous buildings are under construction around Britain and the world that are anything but. With no democratic mandate that I can remember, successive mayors have overseen the capital's transformation from a medium-rise city into one of skyscrapers.  Most of the new towers are of indifferent quality. Architecture critics says the effect of these duds will be improved as they cluster with others to form a skyline. That is like saying that a cocktail party at which only one tedious individual is present is made better when the room is crowded with bores.
Hundreds of towers have either just been built, are under construction or have been given the green light. They are widely resented, because the apartments in them are often bought by rich absentee owners from overseas: this exacerbates social divisions and stokes revolutionary feelings. They are also ugly. Battersea Power Station shows there is another way.