Dispatched to Donbas to honour frontline heroes
Brave and nimble Ukrainians are strongly resisting the Russian advance but more weapons are needed against Moscow's military might.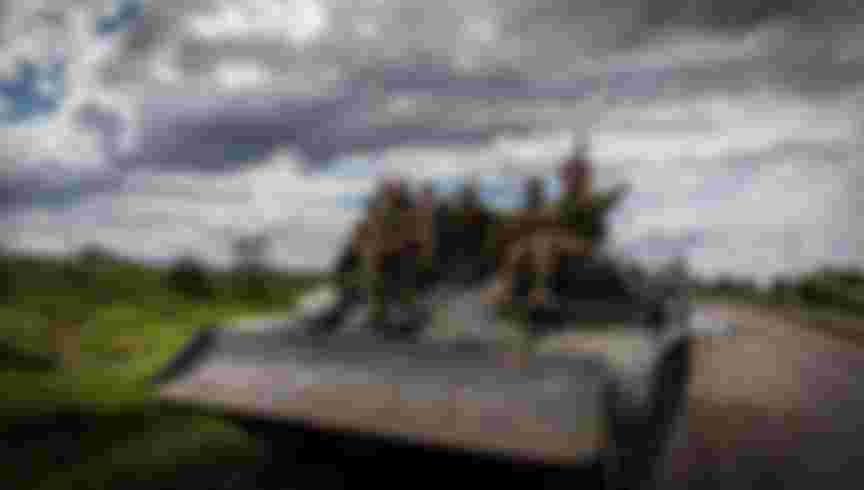 Ukrainian soldiers sitting on an armoured vehicle departing for battle on the outskirts of Donetsk close to the Russian frontline. Credit: SOPA Images Limited / Alamy Stock Photo.
I recently accompanied a trio of people sent by the Ukrainian president Volodymyr Zelensky and defence minister Oleksiy Reznikov to the frontline areas in Ukraine's eastern Donbas region, where the bloodiest battles in Europe since the Second World War are raging. Those battlefields — where it will likely be decided how long the conflict will last — have already produced countless heroes, and representatives are regularly dispatched to formally recognise the bravery of troops in the places where they are fighting.
This time, the task was entrusted to Andrii Gota, a presidential adviser, Alex Mochanov who works with the defence minister, and Serhiy, who asked me not to use his full name, an airborne colonel. We left Kyiv at 2am one May morning, my three companions armed with pistols and machine guns, but otherwise without an escort. It turned out that, among his many other colourful achievements, Alex had been a champion rally driver who competed around the world, so we sped along highways which, thanks to the curfew, were largely deserted, arriving at dawn at our first destination, a special forces base outside the city of Dnipro, some 170 miles from Kyiv.
The ceremonies were simple affairs. Alex, Andrii and Serhiy read out citations and handed the recipients semi-automatic pistols, regarded by warriors all over the world as a much prized and fitting token of recognition for martial deeds. I was asked not to reveal the fighters' identities as Kremlin propaganda eagerly exploits such information. Some had relatives trapped in Russian-occupied territory. The first awards went to the general in charge of that special forces division and two of his colonels who had risked their lives in combat, inspiring their comrades-in-arms.
In his early 40s, the spare-framed, bearded general in combat fatigues said he viewed the award as a recognition for all his men's sacrifices. The special forces are deployed to stiffen resistance or spearhead breakthroughs in the toughest spots, and the general's voice trembled with emotion as he described the horrific toll that Russian artillery and missiles had taken on the lives of his men. From Dnipro, we sped 200 miles east toward the Donbas region, the collective name for the two provinces, the oblasts in Ukrainian, of Luhansk and Donetsk. The sound of artillery being fired and shells exploding increased as we neared the battle zone.
Our four-wheel drive SUV was sometimes shrouded in smoke from exploding shells that set alight the forests on either side of the road. Moscow has partially controlled the Donbas since Vladimir Putin first intervened intruded and triggered war in Ukraine in 2014. After his forces were forced to retreat from around Kyiv and Ukraine's second largest city, Kharkiv, in April, Putin was desperate for a victory. So, his forces have concentrated in the east with more men and materiel on the way and with orders to take territory regardless of the cost in Russian lives.
And, indeed, Ukraine's forces say they have been inflicting huge losses on the Russians — claims usually verified by Western satellites and other intelligence. The fighting is happening in towns and villages whose previously obscure names — such as, Kramatorsk, Slovyansk, Lyman, Siversk, Druzhkovka, Andreevka, Bakhmat, Severodonetsk, Lysychansk, Bilohorivka, Rubezhnoye — briefly flare to prominence in the world's press.
Vastly outnumbered, Ukrainian fighters defend these places against a relentless and brutal onslaught, reducing their buildings to rubble and slaughtering inhabitants who have not yet fled. Often, they are killed in job lots while huddling for shelter in schools, hospitals and churches or, like the fifty people in Kramatorsk, waiting at the railway station to be evacuated. The soldiers we met on our trip are the men who are defending these communities against Russian attacks. Every one of those who received citations were modest, almost shy, when their citations were read out in dugouts and bunkers in fields, or the basements of buildings that have been their home for weeks.
In Siversk, the unit commander, Vedmid, whose nom-de-guerre means Bear, and one of his men received citations and pistols in their basement shelter. While shells exploded somewhere above ground, a Russian helicopter headed towards us before changing course, perhaps detecting that it was itself being targeted by a Ukrainian missile.
Vedmid described how his unit had taken part in a fierce battle to stop an attempt by the Russians to cross the Siversky Donets River on pontoons to encircle Ukrainians defending Severodonetsk and Lysychansk. Ukrainian artillery and mortars hammered the Russians who, nonetheless, repeatedly resumed their fruitless attacks. Satellite images, which went viral in the world's press and social media, indicated that some seventy armoured vehicles and at least five hundred Russian soldiers were destroyed. Vedmid said his men were amazed at the Russians' suicidal attacks. He said: 'Russian commanders don't care how many lives they waste because they are either callous maniacs or petrified of punishment for failure. So, they are using traditional Soviet tactics of sending waves of soldiers directly into enemy fire in a way we would never do.'
Thousands of Ukrainian soldiers have gained battlefield experience over the past eight years of conflict. Western military training has not only taught them how to operate new weapons, but also changed their mindset, instilling confidence in soldiers of every rank to use their initiative and, if superiors are unavailable, to take command themselves.
That has so far allowed the more creative and nimbler Ukrainian forces to cancel out some of Russia's military advantages. Yet the sheer weight of numbers has allowed Moscow's forces to slowly make some gains. And Russia's mass of Soviet-era artillery, despite being notoriously inaccurate, has nevertheless prevented the Ukrainians from advancing. To nullify Putin's advantage, Gota says the West must flood Ukraine with sophisticated artillery and long-range missile systems that are beyond Russian reach and which will allow Ukrainians to advance under protective barrages of accurate artillery and missile fire, and to push Russians back to, at least, pre-February invasion lines.
Without the timely arrival of weapons in sufficient quantities, the Russians could gain new territory and war may become a fixture on the European continent for many years to come.