Albrecht Dürer felt that he had to prove his ability as a painter to Italian audiences. His time in Venice left an indelible imprint on Italy's culture and on the great artist's legacy.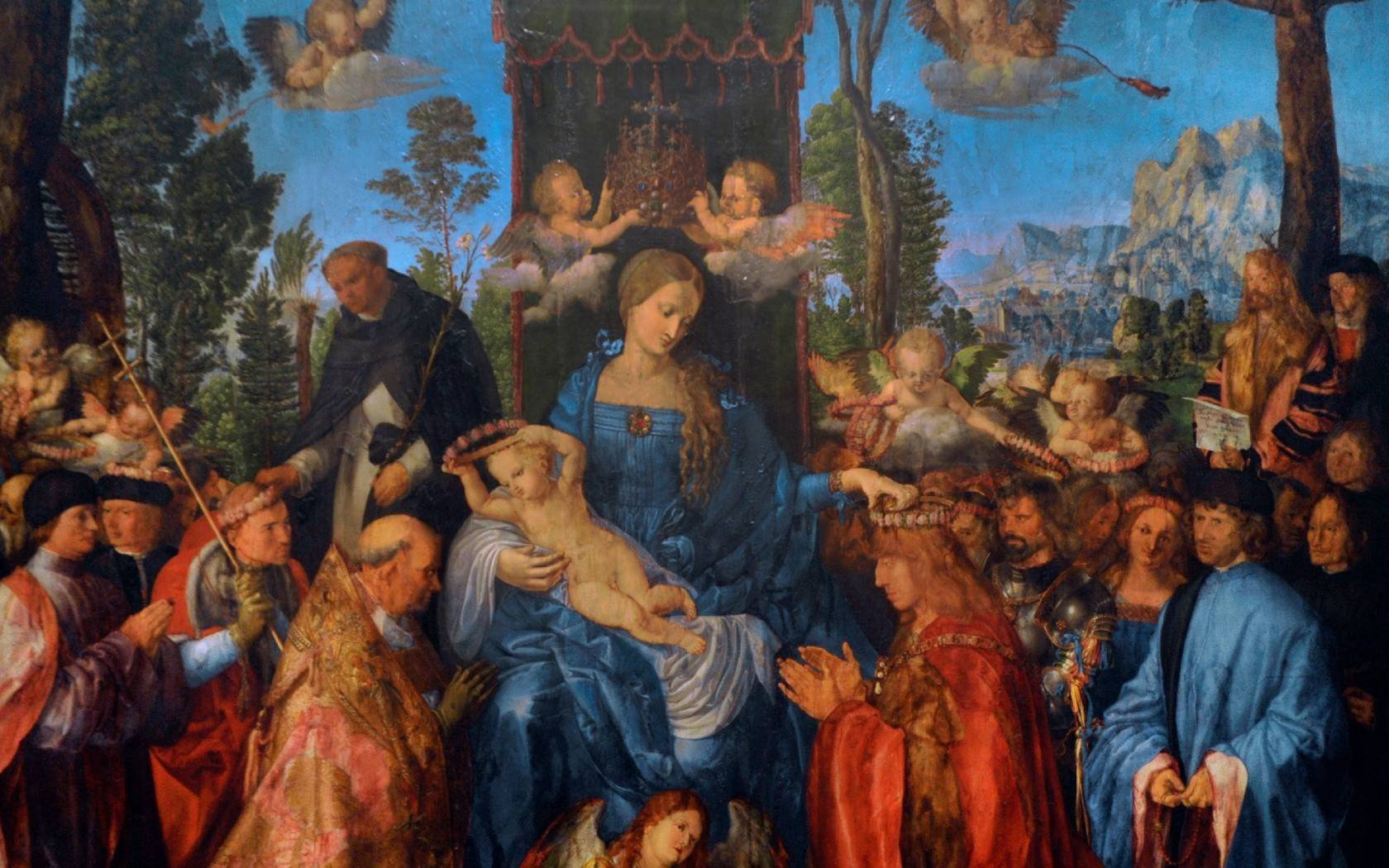 Albrecht Durer's The Feast of the Rosary, 1506. National Gallery, Prague, Czech Republic. Credit: Prisma/Universal Images Group via Getty Images
When Albrecht Dürer arrived in Venice in 1505, he found himself mesmerised by the exoticism of the clothes, the markets, the dancing and, most of all, the peculiarly high honour in which artists were held. 'Here,' he wrote to his friend Willibald Pirckheimer back in Nuremberg, 'I am a gentleman; at home, a parasite.' Staying at an inn favoured by German royalty on Campo San Bartolomeo, just by the Rialto Bridge, the artist spent his days seeking fine feathers for Pirckheimer's beloved hats and dropping in on the workshops of the city's favourite painters.
Aged thirty-four, Dürer was already well known across Germany, the Netherlands and Italy for his engravings and woodcuts, but had come to Venice ravenous for wider recognition. It especially bothered him that the Italians had until now considered him a master of the line – but unproven in his skill as a colourist and classicist.
The battle between disegno (design and drawing) and colorito (the use of colour), fiercely contested by artists of the Renaissance, had a personal dimension for the young printmaker. Like his father and Hungarian grandfather, Dürer had initially trained as a goldsmith. While no one could deny his genius with a burin, it would require a greater leap of the imagination to recognise a former metal-worker – and a Northern one at that – as a painter as well. Dürer had to show Italy what he could do.
He set out in late summer, with plague once again beginning to sweep Nuremberg, just as it had the last time he embarked on an extended trip. His travels then – the subject of an exhibition opening at the National Gallery in London next month – are thought to have taken him to Strasbourg, Basel and Colmar in the early 1490s and then across the Alps to Venice; although it's possible that the Italian influences in his early work came about instead through trade links. At the time, Nuremberg was an important city of the Holy Roman Empire and home to many wealthy merchants, including Pirckheimer's father, who owned a house on the Winklerstrasse where Dürer himself, the third of eighteen children, was born in 1471. Nuremberg merchants cultivated strong connections with the Venetian Republic.
During his early Wanderjahre, Dürer had agreed to illustrate an edition of one of Italy's most celebrated ancient playwrights, Terence. Although by no means fluent in Latin, Dürer must have studied it at school (he once wrote of the importance of artists learning the language) and often wove lines of it into his letters and captions. As an adult he owned several classical books, including the de Architectura of Vitruvius. Whether he was familiar with Terence's work or not Dürer evidently took great delight in depicting the comedian in his woodcuts wearing a traditional ancient laurel crown in a contemporary Germanic landscape.
By the time he travelled to Venice in 1505, Dürer had produced a number of other classically themed works, including engravings of Nemesis, inspired by a Latin poem by Poliziano, and Diana with Apollo, the idea for which came from a similar piece by the Italian artist Jacopo de' Barbari, whom he idealised. He had also made copies of works by the leading Venetian artists, Giovanni and Gentile Bellini, as well as their brother-in-law Mantegna, whose dynamic engraving of a Bacchanlia evidently made a strong impression on him. Even so, Dürer's commitment to classicism remained open to question and it was this – and his knowledge of colour – that he was most anxious to assert.
One of his greatest undertakings during his stay in Venice was the piece now known as the Feast of the Rosary. While painting on poplar – a typically Italian support – Dürer chose a Germanic theme, drawn from the cult of the rosary, featuring the Virgin enthroned with child. Often compared to Giovanni Bellini's Barbarigo altarpiece, the painting looks decidedly Italian, bursting with warm blues, reds, and golds. Studies beneath the painting's surface have revealed that, in contrast to his earlier period, Dürer made use of little in the way of under-drawing, preferring to paint, like the Italian masters, directly onto the board. Doge Loredan was among those to come and see the painting whilst it was still on the easel. Most importantly for Dürer, the painters of Venice were impressed by it, and told him so. Finally, he proclaimed, he had silenced the critics who questioned his ability with colour.
Dürer was soon inundated with commissions. Just as he absorbed Italian ideas, Italian artists drew inspiration from his work, ensuring that part of him would remain forever in Italy even after he returned to Nuremberg in 1507. The flora and fauna in the foreground of paintings by Titian, for example, owe an important debt to his engravings. It has been said that Dürer's contact with Italian artists and classicism led to him taking the leading role in changing the course of painting in the Northern territories. In 1528, the year Dürer died, Erasmus hailed him 'Apelles of the black lines' in a nod to his classical leanings as well as his ingenuity as an engraver.
But international fame had its drawbacks. In 1506, while still in Venice, Dürer lodged a legal complaint against the Italian printmaker Marcoantonio Raimondi for copying his prints, even down to the unique monogram he used to sign them. To Dürer's irritation, it was ruled that copies were permissible if the monogram was left out. That these helped to spread Dürer's reputation even further than he could travel on foot must have been of only small consolation.
The Credit Suisse Exhibition Dürer's Journeys: Travels of a Renaissance Artist is at the National Gallery, London, from 20 November 2021 to 27 February 2022.