Estonia's Musical Miracles
Estonia's musical entrepreneurship is just as impressive as its famous tech scene.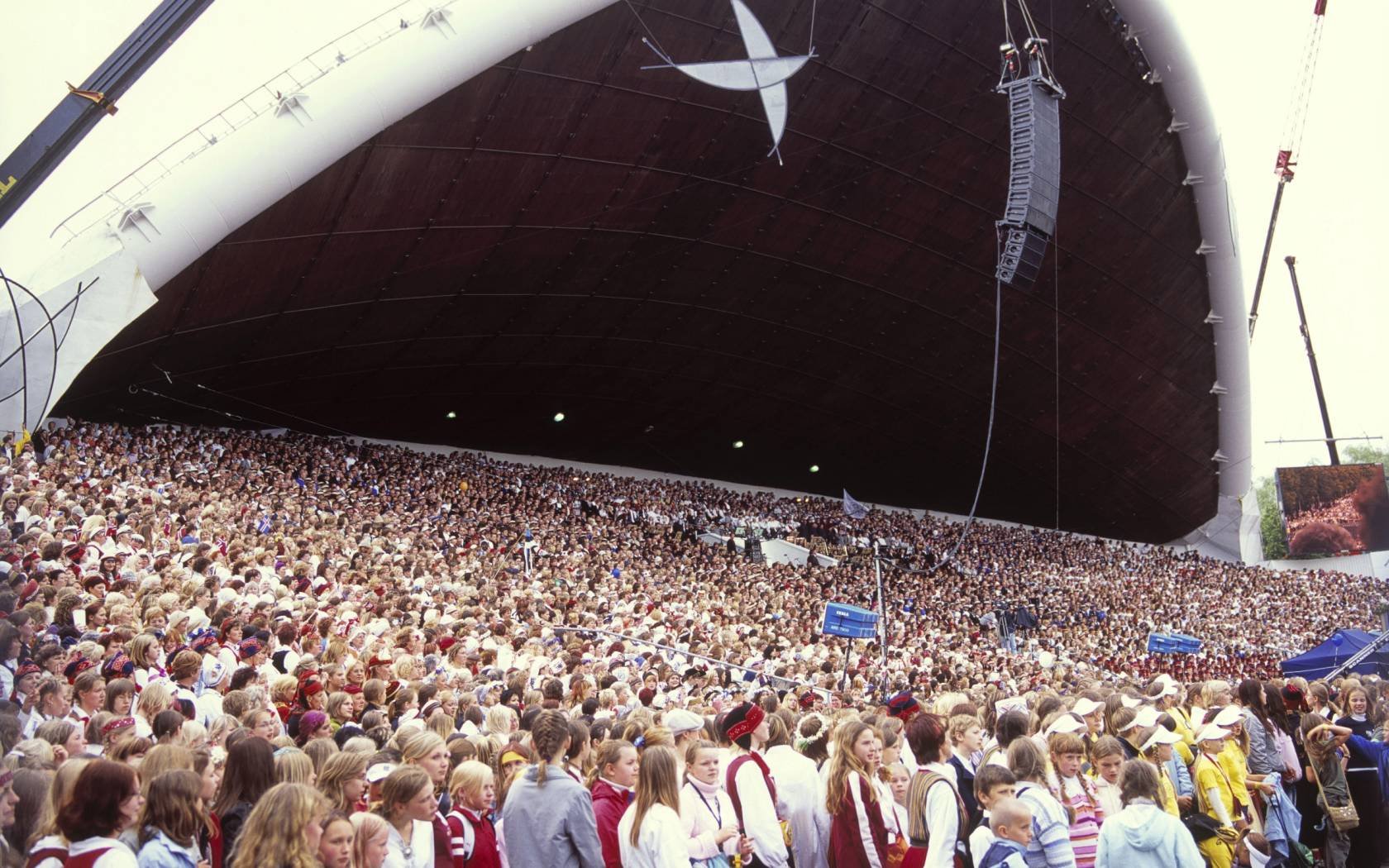 The singer's meadow at Tallinn. Credit: mauritius images GmbH / Alamy Stock Photo
Estonia became famous for bringing down Soviet rule through a 'Singing Revolution'. But music didn't stop playing a central role in Estonia when freedom and democracy arrived. On the contrary, Estonia has developed an impressive system of musical education — and a populace that keeps creating new musical outfits. The country's musical entrepreneurship is, in fact, just as impressive as its tech scene.
Estonia's transition following independence is extraordinary. By 2005, it ranked fourth in a global ranking of economic freedom, behind only Hong Kong, Singapore and Luxembourg — a feat for a country of only 1.3 million people. 'Estonia has made remarkable economic progress since independence, tripling per capita income in 30 years and steadily narrowing the income gap with advanced economies. Estonia enjoys solid institutions, strong public finances, high educational outcomes, a flexible job market, business-friendly regulations and world-class digital governance and innovation,' the OECD writes in its most recent assessment. No fewer than ten unicorns — privately held start-up companies valued at over US$1 billion — have Estonian co-founders. So successful is the country's tech community that its biggest problem seems to be finding enough qualified staff.
And in the shadow of the unicorns, musical innovation is flourishing too. That's because even during Soviet occupation, with a planned economy imposed by Moscow, many Estonians maintained a liberal and entrepreneurial mindset. That mindset was present during Estonia's time under imperial Russian rule, when its companies played a crucial role in the Russian economy, making Estonia's economy more productive than Russia's itself. During Estonia's independence in the 1920s and 1930s, some 60,000 people worked in large or medium-sized companies — but some 20,000 other firms employed one or two people each. After re-establishing its independence in 1991, Estonia headed full steam towards a free-market economy.
Estonia's musical life presents another extraordinary reality. 'Ten years ago, I was at a classical music concert in Tallinn. I was sitting next to a Swedish conductor. And he turned to me and waved his hand around us and said, '"Look at this!" I said, "What do you mean?" And he said, "Young people! When I give a concert, the entire hall has white hair. You have so many young people!"' Toomas Hendrik Ilves, Estonia's president between 2006 and 2016, told me. 'There's a huge opportunity offered to Estonians of different ages to study music at very cheap rates. It's not part of the regular curriculum, but people put their kids into music class.'
While the country has 505 regular schools, it also has 87 music schools, where pupils study instruments, singing and ensemble performance. Such instruction has created a phenomenally active musical scene. Over 40,000 Estonians sing in choirs, of which there are over 1,000. 'Everyone is involved,' Ilves said. 'When my daughter was seven, I put her in music school, and she was taught solfège [a musical sight-reading method] straight away, so she quickly learnt to read music. Today she's 20 and goes to classical concerts because she enjoys it, and she and her friends get together and play classical music. It's not considered elite at all – it's just what you do.'
Many of the ensembles perform at the beloved Song and Dance Festival, invented  in 1869. The Song and Dance Festival was soon adopted by Latvia and Lithuania, too, and today, the event, held every five years, remains so popular that participation isn't guaranteed. The most recent, in 2019, had 100,000 participants with 784 ensembles performing.
Combine a tradition of entrepreneurship and musical literacy and you get musical innovation at least as impressive as Estonia's famed tech community. In 1981, the respected choral conductor Tõnu Kaljuste decided he wanted to launch a new professional-level choir. Today, the Estonian Philharmonic Chamber Choir, is known for its extraordinary musicianship and experimental programming alike, and has won two Grammys. The Hapsalu Early Music Festival is in its twentieth year. The Estonian Music Days have been showcasing contemporary Estonian classical music since 1979. Estonia's orchestras tour in most Western countries. Estonia features a staggering range of recently established classical music ensembles, including the Nordic Symphony Orchestra created in 1997, the twelve-year-old Estonian Festival Orchestra, the string quartet Prezioso, the early-music ensemble Floridante and the contemporary ensembles Ansambel U:, Ansambel YXUS, Una Corda and Resonabilis. The Grammy-winning Vox Clamantis performs both Gregorian chant and new compositions.
Another prime example of musical innovation is on show this month: the Tallinn Music Week, which began this week. The festival, which features jazz acts, rock acts, experimental acts, some classical music, discussions about the music industry, mentoring sessions and much else besides, was launched by Helen Sildna — a local musically-trained entrepreneur — fifteen years ago. Back then, there was nothing quite like it, but Sildna had spotted a niche for music festivals that do more than offer performances. The Tallinn Music Festival is as much about education for participants new to the music scene and professional development for seasoned musicians as it is about hearing music performed.
Perhaps other countries should follow Estonia's lead and invest in more music education. Yes, most who learn to play instruments and read music won't become professional musicians. But as Estonia demonstrates, they'll use those skills in myriad other productive ways.