This year marks the 400th anniversary of the publication of one of the most important books in English literature: William Shakespeare's First Folio. Yet the history of the Folio involves as much fiction as fact.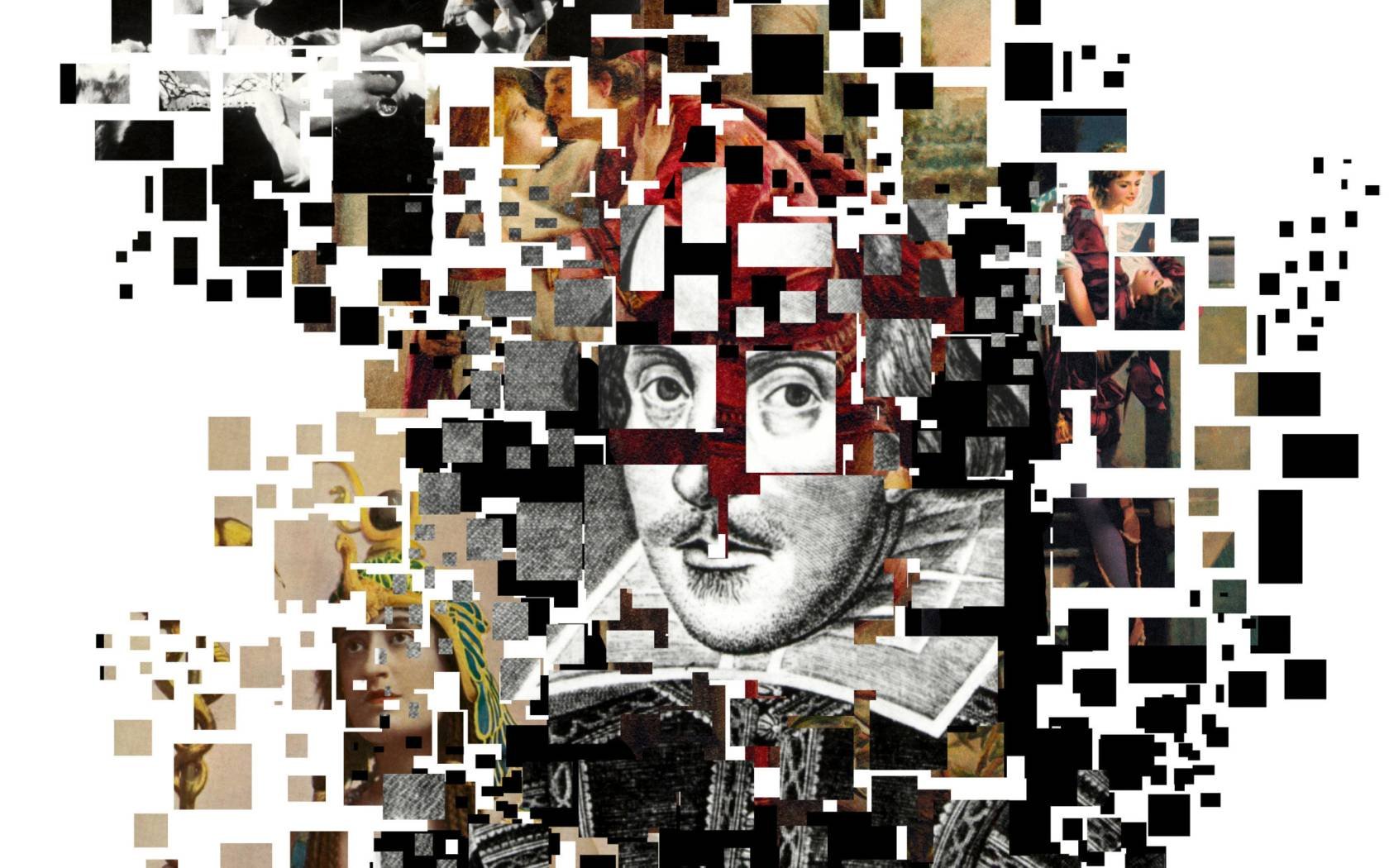 William Shakespeare collage. Credit: Lebrecht Music & Arts / Alamy Stock Photo
All year, theatres, universities, libraries, and authors have been commemorating the 'First Folio'. On 5 October, the British Library published a luxurious facsimile edition, celebrating 'the only contemporary source of eighteen of Shakespeare's plays', without which The Tempest, Twelfth Night and Macbeth would be lost. Oxford professor Emma Smith published a new edition of Shakespeare's First Folio: Four Centuries of an Iconic Book, and delivered the Folio 400 Sam Wanamaker Fellowship Lecture at the Globe Theatre in April, extolling the First Folio's enduring importance.
Greg Doran has produced every play from the folio during his 35-year career as artistic director of the Royal Shakespeare Company, culminating in Cymbeline in 2023 – a journey documented in his recent book My Shakespeare. Charles Dupré's Bruntwood prize longlisted play Compositor E (Omnibus Theatre, 19 September–7 October), set in London in 1623, dramatised the story of a young typesetter cutting his teeth on 'Shakespeare's first-ever complete works'. During 'Folio Season' (March–November), copies will be on display at museums, libraries, colleges, and galleries across Britain and Europe. And on 8 October, the BBC released Shakespeare: Rise of a Genius, a three-part docudrama celebrating Shakespeare's life and commemorating 400 years of 'the greatest literary work ever created'.
But there is an alternative history of the Bard, forgotten among the celebrations: that of Shakespearean forgeries. Literary forgery has a long history, of course, from Pseudo-Dionysius the Areopagite, who claimed to be a disciple of the apostle Paul and duped scholars for five hundred years, to the scandal of the 2020 Bodley Head/FT Literature Prize, which was revoked after the winner turned out to be a scammer posing as a disabled writer.
Indeed, some forgeries have been crucially important in the development of European culture. The Italian humanist Lorenzo Valla's realisation in 1440 (confirming earlier medieval suspicions) that the fourth-century Donation of Constantine was an eighth-century fake – contrived to buttress the papacy's spiritual and territorial ambitions – is seen by some as a watershed moment in modern historical consciousness.
Thomas Chatterton, the poet and founding figure of Romanticism, made his name with a series of medievalist forgeries. The Scottish writer James Macpherson claimed to have 'discovered' the ancient Gaelic poet Ossian's epic poems Fingal (1761) and Temora (1763). His 'translations' did not fool Samuel Johnson but inspired Goethe, Herder, Brahms, Mendelssohn and even Napoleon.
Other forgeries have had profoundly destructive consequences. The Protocols of the Elders of Zion, translated into English in 1919, fabricated the myth of an international Jewish conspiracy that directly influenced the Holocaust. But if, as Oscar Wilde said, 'imitation is the sincerest form of flattery', Shakespeare stands alone. So vast is the pseudo-Shakespearean corpus that there is a hierarchy of forgeries, fakes and dubious cases, from obvious hack-jobs to the so-called 'Shakespeare Apocrypha': that murky, parallel collection of plays of contested authorship that threatens the near-biblical sanctity of the canonical First Folio.
By 1598, 'honey-tongued Shakespeare' had established his reputation as one of London's best writers. A year later, the London printer William Jaggard published The Passionate Pilgrim, a collection of 20 poems attributed to 'W. Shakespeare'. Two were genuine and three were lifted from Love's Labour's Lost (1598) – but the rest were by other poets (including one by Christopher Marlowe) or forged in imitation of the Bard's style.
The London Prodigal was printed under Shakespeare's name in 1605, whilst The Tragedy of Locrine (1595) and Thomas Lord Cromwell (1602) were advertised as written by that shadowy figure 'W.S.'.
In 1619, Jaggard was at it again. He printed ten plays attributed to Shakespeare in the so-called 'False Folio', among them Sir John Oldcastle (now believed to be a collaboration between Anthony Munday, Michael Drayton, Richard Hathwaye and Robert Wilson) and A Yorkshire Tragedy by Thomas Middleton. The official Third Folio (1664) claimed all these plays, as well Pericles (since controversially attributed partly to Shakespeare) and The Puritan (probably by Middleton), as Shakespeare's, thus forming the core of the Apocrypha.
By the eighteenth century, Shakespeare's immortal reputation was secure. But the few surviving biographical details – including the infamous bequest of 'my second best bed' to his wife Anne – seemed far too grubby to explain the genius behind the play.
While the great Shakespeare scholar Edmund Malone searched in vain for some neglected collection of papers 'illustrative of the history of this extraordinary man', a young William Henry Ireland, son of an avid collector of Shakespeariana, embarked on the most infamous forgeries of them all.
Apparently found in the collection of a mysterious country gentleman known only as 'Mr H.', Ireland's 'discoveries' – including Shakespeare's Protestant 'Profession of Faith', a love letter to 'Anne Hatherrewaye' and a lost manuscript of King Lear – astonished Georgian England.
The documents fooled scholars Joseph Warton and Samuel Parr, as well as Samuel Johnson's biographer James Boswell. In 1795, Ireland announced more incredible discoveries: including Shakespeare's autobiography 'in his own hand'. Eventually, Malone – presumably with glee – demolished the claims in An Inquiry into the Authenticity of Certain Miscellaneous Papers (1796).
But the desire for details about Shakespeare's life persisted. In 1811, Richard Fenton's Tour in Quest of Genealogy claimed to have discovered Shakespeare's diary. But that was nothing compared to the young scholar John Payne Collier's deceptions.
After researching the papers of Sir Thomas Egerton, who served as Lord Keeper of the Great Seal to Elizabeth I and then Lord High Chancellor to James I, Collier published a series of sensational forgeries in the 1830s and 1840s, including a letter from the earl of Southampton – Shakespeare's patron and, perhaps, the beloved 'Fair Youth' of the sonnets – to his 'especial friend'. Most importantly, he had discovered a heavily 'annotated' Second Folio, and began work on a new edition that would 'correct' the sacrosanct 1623 collection.
The trouble was, some of Collier's finds relating to Shakespeare's business dealings were genuine. As James Shapiro said in his book Contested Will: 'scholars would spend decades going over every biographical claim' to sort fact from forgery.
From the twentieth century, it became more difficult to dupe scholars, though new fakes continued to be exposed. In 2005, experts declared the famous Flower Portrait of Shakespeare (signed and dated '1609') a fake painted 200 years later.
Writers began to turn Shakespeare's life and work into fictions rather than forgeries. Anthony Burgess's imagined biography Nothing Like the Sun: A Story of Shakespeare's Love Life (1964) mixed fact with fantasy, whilst Shakespeare in Love (1998) won seven Academy Awards (including Best Picture) despite egregious anachronisms, inventions and historical inaccuracies.
More recently, Maggie O'Farrell's critically acclaimed historical novel Hamnet (2020) invented a story for Shakespeare's son who died aged 11, three years before Shakespeare wrote Hamlet.
As the First Folio quatercentenary commemorations reach a climax, it is worth remembering that Shakespeare is not only the most celebrated writer of all – 'not of an age but for all time', as Ben Jonson famously put it – but perhaps also the most faked, forged and fictionalised writer in history.