Fear and loathing in East Anglia
The deceptive tranquility of Norwich's Mousehold Heath was the setting for the first documented case of the anti-semitic 'blood libel' myth.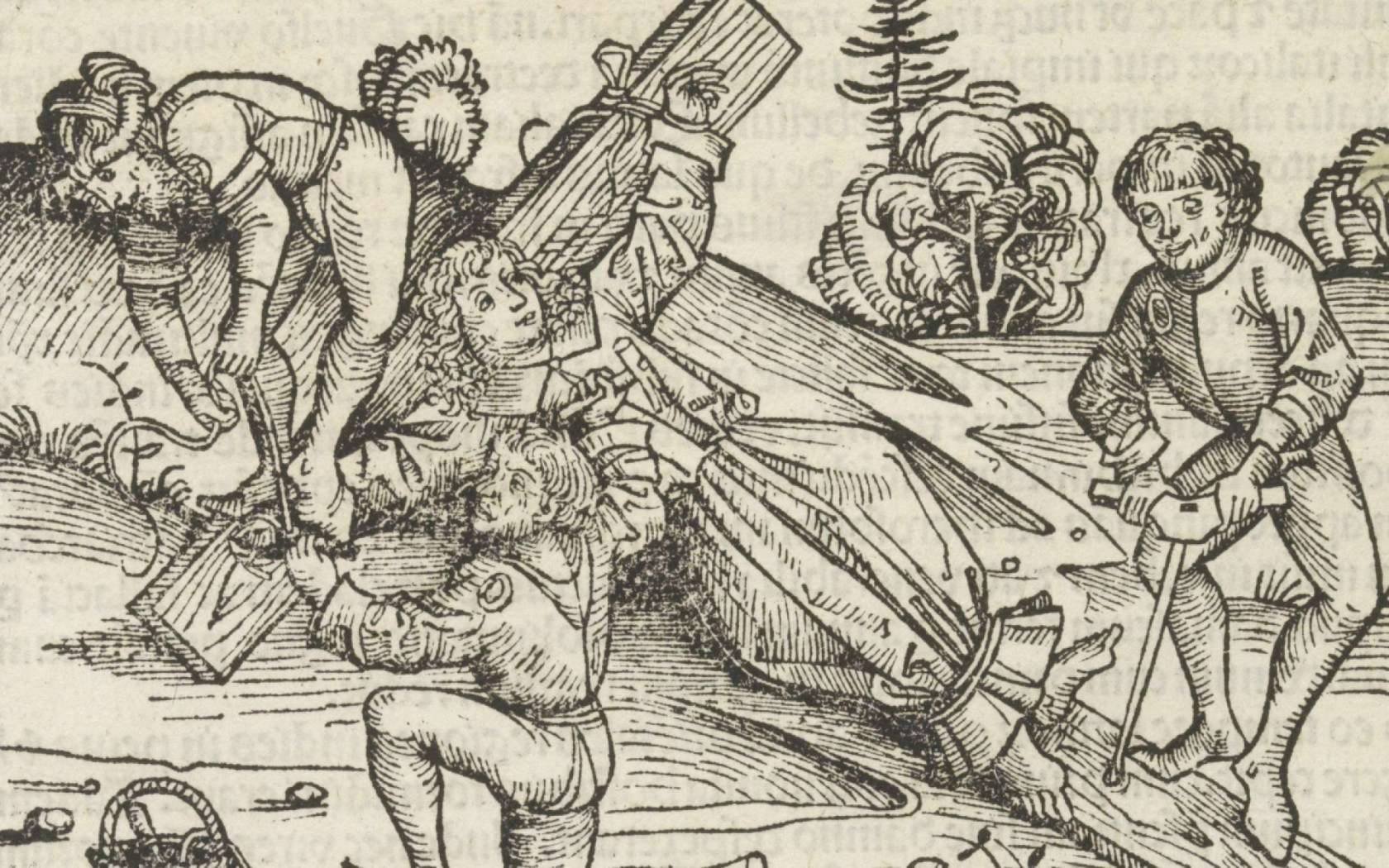 A 15th century woodcut made in Nuremberg of the crucifixion of William of Norwich. Credit: Rijksmuseum, CC0, via Wikimedia Commons
Mousehold Heath, an area of wood and heathland north-east of the city centre of Norwich, has played host to its fair share of history. An uprising of a faction from the Peasant's Revolt gathered there before its assault on the city in 1381. Robert Kett's army of 15,000 set up camp in the wood in 1549 in the run-up to a short-lived rebellion. During the World Wars, a part of it was used as a prisoner of war camp, another as a US Air Force base. Its sprawling 184 acres remain an unkempt haven to wander around, as captured by John Crome and John Sell Cotman, leaders of the Norwich School of painters – Britain's first provincial art movement. Admittedly the spell breaks quickly at its perimeter, marked by new housing, a large Homebase, and the Norwich branch of Her Majesty's Prison.
During the first of many lockdown-induced explorations of Mousehold Heath (a fresh landscape for me, being newly resident in the city), I spotted an information board, the type that tells you to look out for great spotted woodpeckers between the months of April and August. However, this particular information board told me I was standing on the site of St William's Chapel, built in honour of a 12-year-old Christian child tortured and crucified by Jews in 1144.
It was one of those discoveries that seemed too bonkers to be true… a crucifixion took place here, in this idyllic corner of East Anglia? A quick Google led me to The Life and Miracles of William of Norwich by Thomas of Monmouth, written in seven volumes and published between 1150 and 1172. The manuscript was rediscovered in Suffolk, and was translated by author and medieval scholar M.R. James and clergyman Augustus Jessopp, and published in 1896.
Thomas of Monmouth (fl. 1149-1172) was born, as his name suggests, in Wales, but ended up a monk at Norwich Cathedral. Despite his protestations of ill-education ('Since I am, indeed, but slow in skill and untutored in eloquence'), he is a deft and wily writer, and the book offers a lively glimpse of life in 12th-century Norwich. The Life and Miracles centres on the experiences of regular city folk — merchants, tithemen, craftsmen, monks; by no means the knights, bishops, kings, or homogenous peasantry of well-known medieval historical record.
Although 'record' may be a stretch, however, as Thomas is a far from reliable guide. He began writing the account six years following William's demise, and it seems he was not even present in Norwich at the time of the murder, arriving later in 1150. Inspired by visitations from Herbert de Losinga (the founder of Norwich Cathedral who died in 1119), Thomas chronicled his version of the circumstances that led to William's entrapment and killing, the public reaction, and the wave of tombside miracles that followed. He recounts upwards of seventy-five astonishing cases of healing and deliverance, from 'the youth who vomited live serpents' to 'the falcon of Albert Gresley, which was miraculously cured'. And while he proffers testament from relatives of the murdered boy, an eye-witness of the torture (a one-eyed maid), and the first discoverers of the body, witnesses are presented inconsistently, detail is often scant and highly sensational, and he regularly interjects or even imagines dialogue on their behalf.
The crux of Thomas's record rests on virulent anti-semitism, setting out what is now recognised as the first case of so-called 'blood libel'. He imagines a murderous group of Jews saying: 'Just as we have condemned Christ to a most shameful death, so we condemn a Christian, so that we punish both the Lord and his servant in the punishment of reproach; that which they ascribe to us we will inflict on them'. Thomas presents his chronology of events with such conviction that he is able to insert any number of outlandish rhetorical flourishes that would not have raised an eyebrow at a time in which Jews struggled to integrate into society.
At the time of the murder itself, Norwich Jews were protected from retaliation by sheriff John de Chesney, who sheltered them in Norwich Castle, and King Stephen later intervened to quash the case following a lack of evidence. Thomas's serpent-tongued words travelled far, though, and subsequent claims of blood-libel emerged in England and France in years following, creating the historical precedent asserted as justification for massacres of Jews, including in Norwich. The case of William, as told by Thomas, has been pointed to throughout history as evidence of the inherited guilt of Jewish communities right up to the Nazi era.
William's killer was never brought to justice. Long after this time, Norwich became a symbol of social cohesion and integration. The Elizabethan Strangers—immigrants from the Low Countries escaping religious persecution—established a mighty weaving industry in and around Norwich, and were welcomed and celebrated, at one point making up a third of the population. Austrian and German Jews fleeing persecution in Europe found safe haven in East Anglia in the 1930s and 40s, including ninety children housed by Norwich families.
I'm drawn back to the site at Mousehold Heath regularly, and re-read the unassuming information board each time, just to check I've got it right. The few visible signs that a chapel once sat there have all but disappeared; a few grass-covered mounds mark what were once walls. And whilst peasants, soldiers, and weekend ramblers have tramped their way through the woods oblivious, a very physical manifestation of violence, hysteria and tribalism lay just below their feet.