Finding the God in Godard
Jean-Luc Godard's vast legacy as an exponent of pure cinema stands the test of time.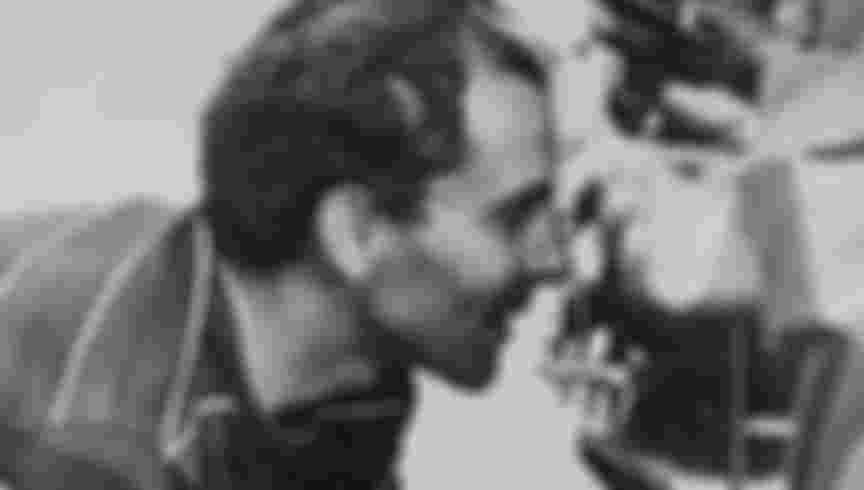 Jean-Luc Godard. Credit: Album / Alamy Stock Photo
French-Swiss filmmaker Jean-Luc Godard, who has died aged 91 after making more than 40 feature films, came to prominence in the 1960s as a core member of the Nouvelle Vague of French cinema. In the context of the Nouvelle Vague, a form of irreverent protest by younger, often self-taught directors, against the existing tradition of French cinema – characterised by reverential historical dramas and literary adaptations filmed in elaborate studios with lavish budgets – Godard stood out as a particularly disruptive figure, committed to experimentation.
The opening sequence of A bout de souffle (Breathless,1960) is a sort of distillation of what would become the tropes of the Nouvelle Vague. The camera follows Jean Seberg crying out: 'New York Herald Tribune!' as she strolls down the Champs-Elysées selling the newspaper. Jean-Paul Belmondo, dressed like a Parisian idea of an American grifter, swings jazzily into the frame, asking Seberg: 'Will you come to Rome with me?' Out with the old, in with the new: the scene is filmed in the street (with a camera concealed within a postman's tricycle) and in natural light; the dialogue was written that very morning, while the actors had a coffee. The film features long takes and jump cuts, digressions and private jokes. The editing is jerky. The aim is to achieve a sense of immediacy, of capturing life on the hoof, a new realism as opposed to the fake truth of the French 'tradition of quality'.
In his Nouvelle Vague period, Godard expressed his revolutionary artistic approach, declaring that 'all you need for a movie is a girl and a gun' and that 'a film should have a beginning, a middle and an end, but not necessarily in that order'. With a cobbled-together shoestring aesthetics (especially its predilection for cut-and-paste collage), these works were in some ways a premonition of punk. This went hand in hand with Godard's eccentric mixing of different genres: A bout de souffle is an experimental film that takes the American gangster B movie as its framework while Une femme est une femme (A Woman is a Woman, 1961) marries elements of Neo-Realism and the Hollywood musical.
With Le petit soldat (The Little Soldier), an existentialist thriller, Godard's cinema became consciously — and even dangerously — political. The film was produced in 1960 but not released until 1963 since, as it evoked the Algerian War and featured torture scenes, it was banned by both De Gaulle's government in France and internationally. Forestier, the protagonist in Le petit soldat, a photojournalist who becomes roped in to the terrorist activities of the OAS (Organisation Armée Secrète), spoke nostalgically of the 1930s, a time when 'the young had the Revolution, for example, Malraux, Drieu, Aragon. We no longer have anything.' Godard possibly hadn't quite found his cause.
Over the course of his long career, Godard was often beguiled by political ideology. And yet, perhaps because he was above all a great cineaste, his most beautiful and enduring film, and one of his more painterly, Le mépris (Contempt, 1963), is one that stands as a pure piece of cinema. A big-budget international co-production, Le mépris, adapted from a novel by Alberto Moravia about a woman who suddenly stops loving her husband, was the result of many pressures and compromises, starting with the casting of its star.
The film's American producer Joe Levine had wanted Kim Novak, while the Italian producer, Carlo Ponti, was keen on Sophia Loren. It was Godard who pushed for Bardot. Levine insisted on nude scenes with the French actress; Godard, forced to give in, made the bedroom scene between husband and wife Paul (Michel Piccoli) and Camille (Bardot) distinctively Godardian, colouring Bardot's body with red and blue filters and overlaying her lines ('Do you like my knees?') with the tragic strains of the score composed by Georges Delerue.
Le mépris is also the story of a film-within-the-film, a doomed adaptation of Homer's Odyssey by a fictitious director named Fritz Lang played by Fritz Lang ­(with Godard himself playing his assistant) under the scornful eye of an American producer (Jack Palance) more interested in naked mermaids than in the meaning of Odysseus's journey. The making of the Le mépris was filled with conflict, but with the passing of time what remains is a remarkable evocation of the ineluctable breakdown of a marriage: the scene in which Paul and Camille argue in their apartment, wrapped in towels that suggest the draping of Greek chitons; the chilling uncanniness of the shots of Greek statues, their inscrutable faces as pitiless as that of Bardot; the mysterious emotional power of primary colour.
As befits an artist who unflaggingly explored the making of images that he felt to be authentic and surprising, Godard's legacy is considerable and multi-faceted. It is discernible, for example, in the playful freedom of tone of the opening scene of Quentin Tarantino's Pulp Fiction, in which two contract killers (one of them played by a much-altered returning star, John Travolta, in a very Godardian piece of casting) enjoy a light-hearted conversation about European fast-food vocabulary. It lives on in the sudden irruption, in Hal Hartley's deadpan indie film Simple Men (1992), of a line dancing routine which is a tribute to the one featured in Godard's Bande à Part. It is echoed in the ambivalent ending of Blade Runner (1982), eerily reminiscent of the ending of Godard's futuristic poetic thriller Alphaville (1965), in which a hard-boiled detective drives off into the Outlands, away from tyranny, with a traumatised and not quite human woman.
It may be that Godard's attempts at being revolutionary in the political sense were, at heart, incompatible with his artistic temperament. Vivre sa vie (1962), starring Anna Karina as a young woman who falls into prostitution, was one of his attempts at making a political statement about exploitation while using Brechtian techniques of alienation (such as a voiceover reading out statistics). Yet what is most striking about the film is, ultimately, the quality of its cultural hinterland, its layering of references, from Zola to Renoir and Edgar Allan Poe, and, in Karina's affecting performance, from Louise Brooks to Falconetti. Driven by the idea that film is 'l'abri du temps' — the refuge of time, Godard hankered for eternity.