The assassination of Count Folke Bernadotte seventy-five years ago, robbed the world of one of its great humanitarians, and did early and lasting damage to the Middle East peace process.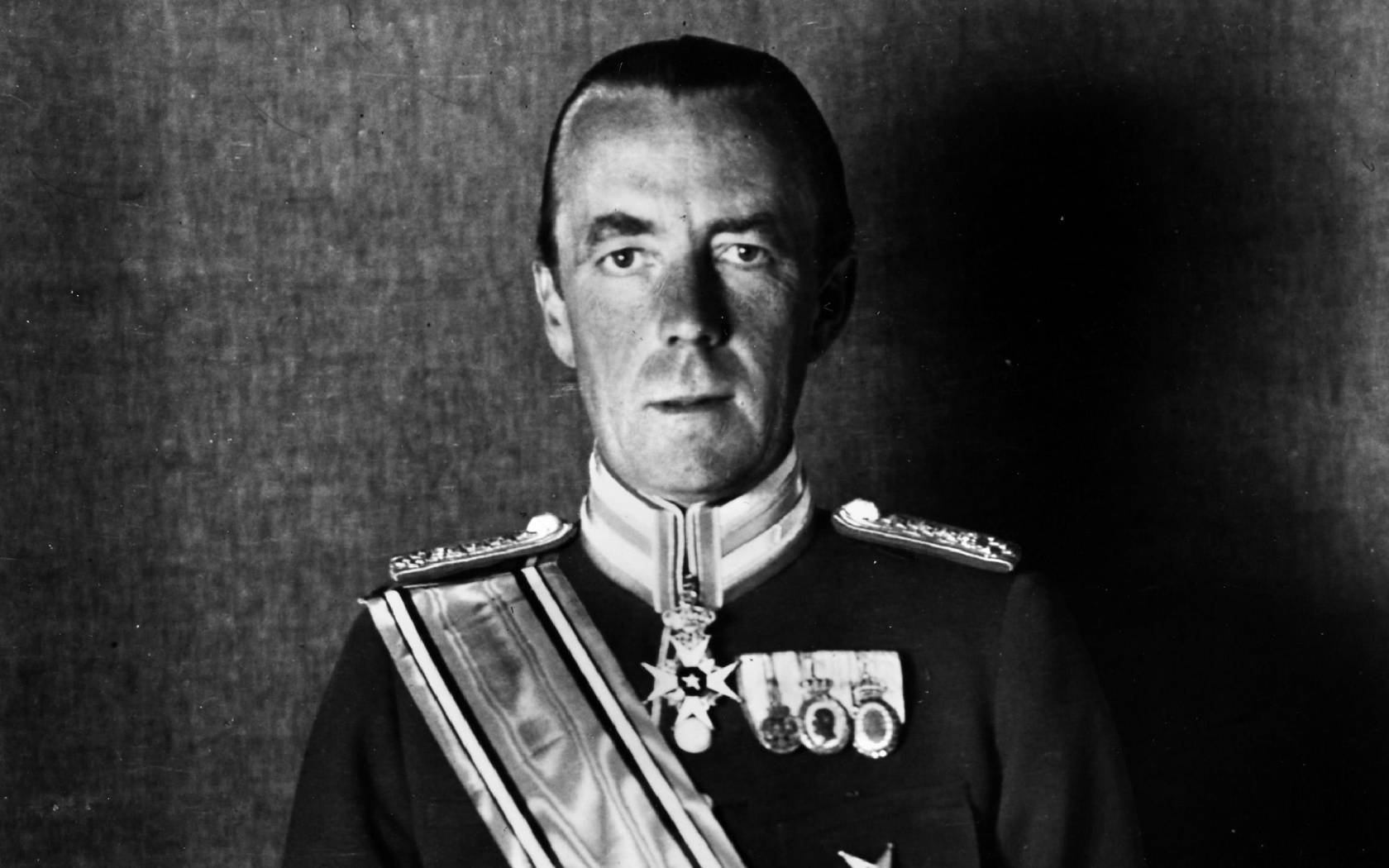 Folke Bernadotte (1895-1948). Credit: GRANGER - Historical Picture Archive / Alamy Stock Photo
Imagine if Folke Bernadotte had been allowed to live. Already during the Second World War, the Swedish count and humanitarian had achieved near-miracles getting tens of thousands of concentration camp inmates to safety on his White Buses. After the war, the United Nations appointed him its first-ever negotiator, with the task of solving the erupting Israel-Palestinian conflict. Yet some people firmly opposed his efforts. On 17 September 1948, 75 years ago, armed men stopped Bernadotte's car and shot him in cold blood. Part of the hope for an Israel-Palestine settlement died with Bernadotte. His assassins were never tried, let alone convicted, but his name lives on.
Count Folke Bernadotte could have lived his life in the safety of representative duties on behalf of the Swedish royal family. Indeed, by the late 1930s the nephew of King Gustav V had spent years doing not just representation but wide-ranging charitable work. When Adolf Hitler invaded country after country in Europe, Bernadotte – who was head of Sweden's Boy Scouts – developed a programme to teach Boy Scouts auxiliary defence tasks in case Hitler invaded Sweden, too. In 1943, Bernadotte was appointed head of Sweden's Red Cross.
He wasted no time using his contacts and his humanitarian platform to try to help some of those most in need: prisoners of war held by Germany. By the beginning of 1945, Bernadotte had managed to secure the exchange and safe passage to Sweden of thousands of Allied POWs. But rather than withdrawing after a mission successfully accomplished, Bernadotte dramatically upped the ante. Contacting Heinrich Himmler, he proposed that the Swedish Red Cross be allowed to bring concentration camp inmates to Sweden, too.
It was a brazen suggestion – but it worked. Himmler gave Bernadotte permission to retrieve some 8,000 inmates, primarily Danes and Norwegians, from German concentration camps. To ensure that Allied bombers didn't target the evacuees, Bernadotte secured permission for the inmates to travel in 36 buses (donated by Volvo), which had been painted white with a red cross on their roofs. Because incarceration had left the inmates in perilous health, the buses also carried medical equipment. Some 250 Swedish Red Cross helpers accompanied Bernadotte and the concentration camp evacuees in what soon became known as Bernadotte Convoys.
With these evacuations underway, Bernadotte presented Himmler with another humanitarian rescue scheme: he wanted permission to free non-Scandinavians – Jews and others – from concentration camps and bring them to Sweden. On 21 April, Himmler agreed. Bernadotte Convoys managed to bring some 12,000 other concentration camp inmates to Sweden, including 7,000 women from Ravensbrück, around half of whom were Jewish. When the war ended, Bernadotte had rescued at least 15,500 concentration camp inmates.
After the war, the newly established United Nations had to tackle an urgent problem: the war in Israel-Palestine. The UN had mandated a split of Palestine into one Jewish area and one Arab, which perhaps unsurprisingly didn't please Palestine's Arab neighbours. When Britain ended its mandate of Palestine and Israel declared statehood, war broke out between Israel and a coalition of Arab states , which rapidly turned vast numbers of Palestinians into refugees. (To this day, Palestinians commemorate this mass displacement, which they call Nakbah – 'catastrophe' in Arabic.)
With its first crisis on its hands, the young UN appointed its first-ever negotiator: Folke Bernadotte. He wasted no time. By late May, only a couple of weeks after taking on the mission, he'd persuaded the warring parties to agree to a four-week truce that took effect in early June. Backed by this short reprieve, the Swedish nobleman developed a proposal for a political solution to the war. He also instituted a body to look after what was later to become millions of Palestinian refugees, the United Nations Relief and Works Agency for Palestine Refugees in the Near East (UNWRA), and assigned monitors to observe the truce, which became the UN Truce Supervision Organization.
Neither of the warring factions liked Bernadotte's proposal for a political solution. The truce expired, fighting resumed, and Bernadotte negotiated another truce, albeit one that – like the first truce – saw violations on both sides. Meanwhile, Bernadotte kept working on a revised proposal for a political solution. On 16 September, he'd completed the thankless task and his report was presented to the UN General Assembly. The plan was very much the kind of plan a fair and objective negotiator would present: give and take for both sides.
But the Israeli Stern Gang, an extremist armed gang (which counted Yitzhak Shamir among its leaders) that had been fighting the British authorities in Palestine, objected to the proposal, which it feared the Israeli government was about to accept. The group had been making its views widely known: members 'had been telling correspondents that they intended to deal with Count Folke Bernadotte. Posters appeared showing Bernadotte's gaunt figure, his hair flying, being kicked out of Israel by a huge boot. The caption read: 'Advice to Agent Bernadotte: Get out of our country!', TIME reported in 1948. And the Stern militants were not the only ones ill-disposed towards the Swedish negotiator. 'The Communists (whose line the Sternists follow) called Bernadotte a "traveling agent of American business." Foreign Minister Moshe Shertok accused him of partiality to the Arabs, and Prime Minister Ben-Gurion himself snapped: "The truce is an act of war designed to break our will,"' TIME magazine explained.
Bernadotte was acutely aware of the danger to his life posed by the Stern Gang and other outfits in the inflamed environment. Even so, the day after his report was submitted to the UN, Bernadotte insisted on conducting the same inspection routes as the monitors under his supervision. That took him through the Katamon neighbourhood, which had been Palestinian but was now held by Israeli forces. In its magazine ten days later, TIME reported what happened next: 'The Count's cream-colored Chrysler was stopped at a roadblock. From a jeep stepped two men in Israeli army uniforms, carrying Sten guns. While US Colonel Frank Begley (a UN observer who drove the Count's car) grappled with one of the men, the other looked into the car, recognised the Count, shoved his gun through the window and started shooting. The bullets went straight through the ribbons on Bernadotte's uniform.' He died in hospital. 'For hours following the assassination, there was only stunned silence. Then Sternists were heard from: "We executed Bernadotte, who served as an overt agent of the British enemy . . . Such be the end of all enemies of Jewish freedom . . .",' TIME reported. The Swedish nobleman's body was flown home, to Bernadotte's American-born wife Estelle, two young sons and a grieving nation.
In Israel-Palestine, Bernadotte's monitors lost not just their boss but some of their belief in the mission. 'I'm in the country where Christ was born, and I wish to Christ I was in the country where I was born,' an American officer told TIME. Even though Israeli authorities arrested a large number of Stern members, none were tried for the murder.
Bernadotte's deputy and successor, American Ralph Bunche, did succeed in negotiating a ceasefire, an achievement for which he was awarded the 1950 Nobel Peace Prize. But a part of the hope the world had held for a divided Palestine died on 17 September 1948. Forty years later, when Shamir was prime minister, two former Stern members told Israeli television that they'd been involved in Bernadotte's murder.
While Bernadotte's final mission cost him his life, his name lives on as a symbol of diplomacy and dedication to human rights. On 23 February 2012, Crown Princess Victoria and Prince Daniel of Sweden welcomed their first child, the second in line to the Swedish throne. They named her Estelle.