Germany's 1960s slide into political violence is a warning
Today's disruptive protests are non-violent, so far. The West German experience of the late 1960s shows what can happen when marches and sit-ins escalate.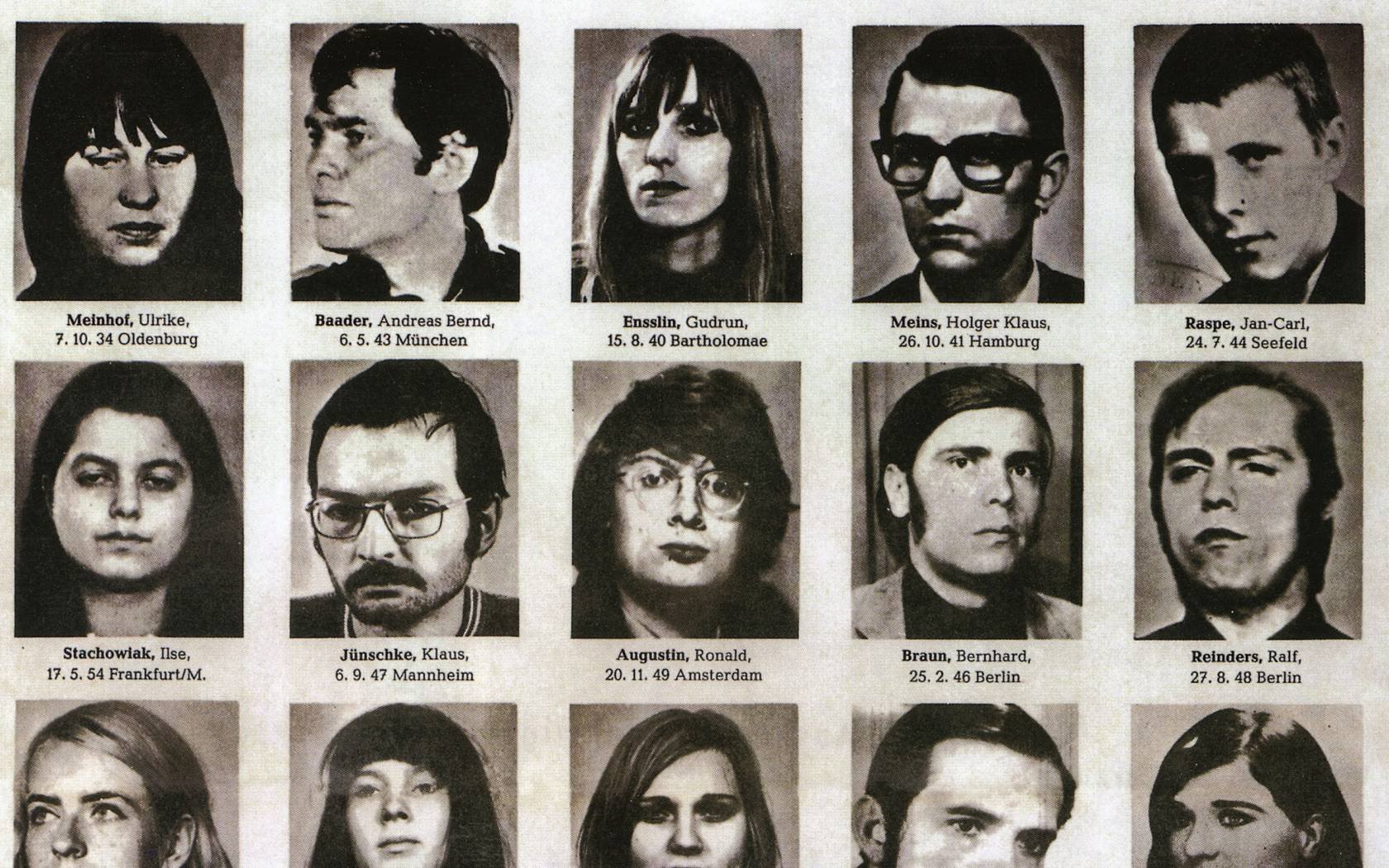 A poster of the Red Army Faction from the German Federal Criminal Office. Credit: INTERFOTO / Alamy Stock Photo
The Last Generation, a Germany-based movement primarily composed of students and young people, is tired of decision-makers' lack of urgency in combatting climate change. Members of the loose grouping register their dissatisfaction not through protest marches but through radical measures like gluing themselves to highways, thus blocking traffic.
In early November, a Last Generation activist named Michael W, who had glued himself to a Berlin street, faced a judge in the German capital. At 59, he's far older than most of the Last Generation's other members, most of whom are students. But like them, he's alarmed at the snail-like pace at which Germany and other Western countries reducing their harm to the environment. After The Last Generation was formed last year, its members proceeded to dumpster-dive for edible food, which they handed out to the public. Dumpster-diving is illegal, but it's hardly a serious crime.
But like many other Last Generation activists, W (German defendants are identified by their first name and the first letter of their surname) quickly advanced to gluing himself to streets and roads, thus blocking not just regular cars but ambulances and fire engines as well. Earlier this month, a Last Generation protester in Mainz used such sturdy glue that rescue services had to drill a hole in the road to free him, a process that kept the road blocked for one and a half hours.
But at the court arraignment, W hadn't arranged for a lawyer to accompany him. Or rather, he'd arranged for someone to accompany him as his legal counsel – but that person was simply another Last Generation Activist, Miriam H, who has also glued herself to various objects and thrown soup at paintings. She faces a prison sentence herself after having participated in an Autobahn blockade. Last Generation activists don't think highly of Germany's legal system or indeed its laws. Indeed, they view the legal system as a tool of oppression. 'First step taken, the people in Munich are no longer being politically detained. !! As a second step we expect the danger situation for the whole population to be contained: We need security measures in the climate emergency!', The Last Generation's German chapter tweeted on 26 November above a picture of 19 Last Generation activists who had been released from custody ahead of a court date.
'Politically detained': that's language reminiscent of 1968. On 2 April that year, four young West Germans – two students, one actor and a career criminal, Andreas Baader, who fancied himself a political intellectual – set fire to two department stores in Frankfurt am Main. Just before they did so, a woman called the DPA press agency, declaring that 'soon there will be a fire at Schneider and at Kaufhof. This is a political act.' Until earlier that year, Gudrun Ensslin and Thorwald Proll had merely been far-left students, while Horst Söhnlein had been a far-left actor. But unlike most of West Germany's – and the western world's – countless far-left students and activists, who kept marching and conducting sit-ins, the quartet had been sliding into illegality. Perhaps their department store arson was motivated by a department store fire, and suspected arson, in Brussels the previous year, which had killed 325 people. Following that fire, some members of West Germany's increasingly radical student movement became more extreme still. 'When will you burn, consumer? A burning department store with burning people brought, for the first time in a major European city, that crackling Vietnam feeling (to be there and to burn) that we've been missing in Berlin,' one of these new groups had written in a 1967 leaflet. In 2018, Proll told an interviewer that the arson was 'a reaction against the Americans' violent policies in Vietnam'.
At their trial that autumn, the quartet made a point of demonstrating their contempt of the court. Baader wore sunglasses, smoked cigars, and engaged in PDA (public displays of affection) with Ensslin, his girlfriend. Proll too smoked cigars, pretended to be consulting Mao's Little Red Book and declared that he'd like to set fire to the court building in the name of 'revolutionary justice'. Ensslin told the court that 'I don't want an opportunity to pretend that you're listening to me'. The Red Army Faction (often incorrectly referred to as the Baader Meinhof League) was born two years later, when Meinhof, a prominent left-wing journalist, organised an interview with the still-incarcerated Baader, during which militants shot and seriously wounded a guard. In the name of a self-proclaimed worker revolution, the RAF and their fellow radicals-turned-terrorists proceeded to assassinate senior officials, with police officers, pilots and other bystanders accidental victims, and terrorise the population.
The Last Generation has, of course, not committed any murders. But by gluing themselves to motorways and thus preventing ambulances from reaching sick people and hospitals, they're edging increasingly close to that red line. So are similar groups in other countries, including Just Stop Oil in the UK, the group that has blocked the M25 and thrown tomato soup at Vincent van Gogh's Sunflowers at the National Gallery in London. And like Ensslin, Baader, Proll, Söhnlein and the dozens of other German (and Italian, Japanese and other) young people who in the late sixties slid into illegality for political reasons, members of the Last Generation, Just Stop Oil and similar groups view the harm they cause individual people as the price that has to be paid for the revolution they consider necessary. During Michael W's trial, the judge turned down his request to be represented by Miriam H. She joined two other activists in the court room, from where the three proceeded to loudly comment on the proceedings and snicker at the judge's intercession. 'Normal protest marches are not enough anymore,' W informed the judge. On 29 November W was sentenced to a 1,900-euro fine. On 13 December, German police raided properties occupied by Last Generation activists in eleven cities on the grounds that the activists were in the process of forming a criminal organisation.
W is old enough to remember the fate of Ensslin, Baader, Proll, Söhnlein and their fellow 1968 activists. 'With the department store arson, we just wanted to challenge the establishment, and that was going to be it,' Proll – who left the group after the arson – said in the 1968 interview. 'But then the whole thing took on a life of its own. It doesn't stop at robbing banks or stealing passports. There are shootings; people die. And at that point, there's no return. You can't undo the shots you've fired.' It is worth remembering the terror that spread across West Germany in the years after the department store arson, as Ensslin, Baader and their new fellow revolutionaries killed and maimed in the name of oppressed workers.
In the end, the self-proclaimed revolutionaries achieved nothing except fame of a dubious nature, just as the Reichsbürger conspiracy theorists that, for different reasons, tried to overthrow Germany's government earlier this month achieved nothing except infamy. Even radicalised friends edged back towards the mainstream. In 1998, a former militant became foreign minister of Germany: Joscka Fischer. The same year, another far-left activist from those days was appointed interior minister: Otto Scholy, who had made his name as a lawyer representing Ensslin and the Red Army Faction's other leading members. The Last Generation would do well to think about what it wants to achieve with its radicalism before it's too late.