God Bless America: A Short History of the Super Bowl Halftime Show
The wildly-popular twelve-minute performances are a fascinating microcosm of the country's wider political issues.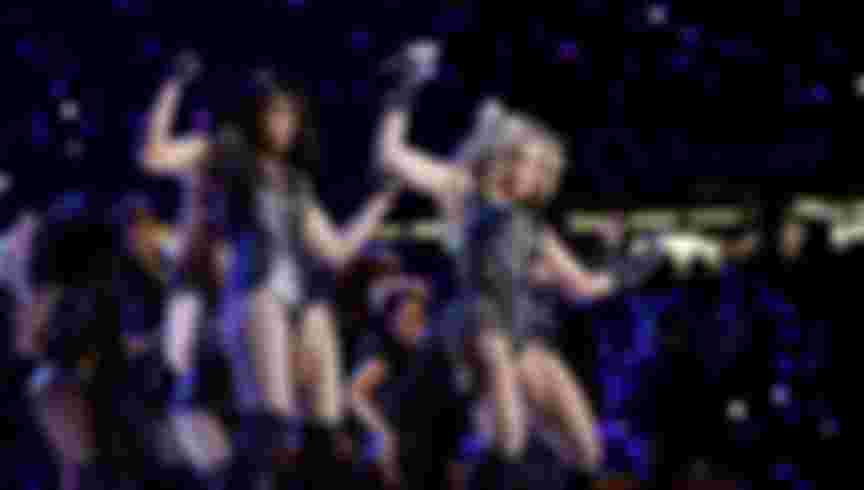 Beyonce performs at the half-time show at Super Bowl XLVII in New Orleans, Louisiana. Credit: Francis Specker / Alamy Stock Photo
This Sunday (February 13) marks the National Football League's annual championship game  – the Super Bowl LVI.  For many outside America, and those unenamoured of American football, this fact is largely meaningless, despite the game being the world's second-most popular televised sporting event, the runner-up only to the Champion's League Final.
But if you're not in it for the sport, stay for the halftime show. It's easy for America's cultural critics to say the country lacks pomp and circumstance, but if you've watched Diana Ross singing 'I Will Survive' while lashed to the open door of a helicopter in mid-flight, you may want to rethink your stance. Ross's 1996 Super Bowl halftime performance was just 12 minutes long but it set the bar for the sort of dramatic musical spectacle rarely seen outside award shows – and even then, what really can compare to some of the biggest egos on the planet trying to capture the attention of a gigantic stadium of sports fans – who are most definitely not there for the show – and a huge audience at home who most probably are? The mixture of sports, entertainment, snacks, and of course, capitalism (those famed commercials, which each year smash records for their eye-watering cost) is a heady brew for Americans, and the game frequently draws the largest audience among all US television broadcasts in any given year.
It wasn't always so. The Super Bowl began in 1967, replacing the NFL Championship Game after a 1966 merger between the former and the rival American Football League. Halftime shows in early games featured marching bands from local high schools or colleges – a traditional, if not exciting, pairing for American football (although Carol Channing, Ella Fitzgerald, and Walt Disney's Mouseketeers all made appearances in the 1970s)  – but as the game's popularity grew, the NFL changed tack. Troupes of dancers were brought on. An Elvis Presley impersonator was given a try. But in 1991 boy band New Kids On The Block changed history when they took to the stage, the first contemporary pop artists to do so.  Sadly, both for them and their fans, their performance wasn't actually shown live on TV – it was bumped in favour of Gulf War news. And if that wasn't bad enough, amongst that year's fevered atmosphere of patriotism, only one performer stood out – Whitney Houston, whose emotive rendition of the Star Spangled Banner – the traditional pregame opening – still makes lists of all-time best live TV performances. It was later released as a charity single for Gulf War soldiers and their families (and was re-released after the September 11 attacks), soaring to the top of the charts. It's hard to imagine any other country's national anthem doing the same. So much for Joey, Jordan, Donnie and their pals. It took until 1993 for the halftime show's reputation to be cemented as a bastion of pop culture with Michael Jackson's performance.
Since then, the shows have got bigger, although not necessarily better.  For every Prince singing Purple Rain in a Miami rainstorm (2007) there is a Justin Timberlake singing a duet with a video of the star (2018) expressly against Prince's wishes  (or exposing Janet Jackson in 2004 in the 'nipplegate' controversy that tanked her career but, in the casual misogyny of the era, cemented his reputation as a bad-boy solo artist).  For every Katy Perry there is a Maroon 5, and I really wouldn't recommend watching Madonna's 2012 performance unless of sound mind as it is very confusing. For an all-time great, ranking up there with Ross, see Lady Gaga's 2017 show, opening with her rendition of 'God Bless America' – surely a prescient audition for her performance at President Joe Biden's 2019 inauguration – an event so confusingly like the Superbowl halftime show that Jennifer Lopez slipped a few lines from her 1999 hit 'Let's Get Loud' into her medley of 'This Land Is Your Land' and 'America The Beautiful.'
But it's not just music per se that has come in for criticism over the years. The Rolling Stones perfomed in Detroit in 2006, for example, and the decision to showcase an all-white British band in the home of Motown was widely castigated for its cultural tone-deafness.
Like most sports, there are wider controversies around race within the NFL which feed, inevitably, into the halftime show. In 2016, the-then San Francisco 49ers quarterback Colin Kaepernick became famous for kneeling during the national anthem at NFL games in protest against police brutality. Although other players followed suit, since 2017, Kaepernick remains unsigned by any NFL team.  Of the NFL's 32 teams just two are owned by people of colour, while the teams are comprised of roughly 70% Black players, many scouted from colleges where sport scholarships for Black students reign supreme.
In 2020  – the year Maroon 5 were on display in Atlanta, an epicentre of hip-hop culture – Jay-Z gave an interview to The New York Times where he lambasted the NFL for sidelining black culture: 'The problem with the N.F.L. is you all think hip-hop is still a fad when hip-hop has been the dominant music form around the world for 20 years,' he is quoted as saying.
But in a plot twist, Jay Z's Roc Nation, the entertainment and sports company he set up in 2008, has run the halftime show for the NFL since 2020, when Shakira and Jennifer Lopez did the honours in Miami in a widely-praised performance that celebrated local Latinx culture – even if J.Lo had to shed most of her clothes to so do.
This was followed in 2021 by The Weeknd, who tried to sum up Covid in a sort-of socially-distanced performance that involved masks (which may also have been a nod to his ode to cocaine 'Can't Feel My Face' depending on your point of view).
And so to this year, when the Los Angeles Rams and the Cincinnati Bengals will battle it out at the SoFi stadium in Inglewood, California. In a defining nod to West Coast hip-hop, southern California natives and rap veterans Dr. Dre, Snoop Dogg and Kendrick Lamar will perform alongside Mary J. Blige and Eminem – to the delight of Generation Xers everywhere.
It remains to be seen whether their show will rival the most politically-charged performance in Super Bowl halftime history: Beyonce striding into the stadium in 2016 to perform 'Formation,' a song whose lyrics re-frame African-American stereotypes, with backing dancers whose berets referenced the Black Panthers, forming an 'X' shape and raising their fists in the air.  After the show images circulated on social media showed dancers paying tribute to Mario Woods, a 26-year-old Black man killed by the San Francisco police (The game location, Levi's Stadium, is in the San Francisco Bay area).
A demonstrable display of Black, female power, referencing Black history, and cementing the Black Lives Matter movement – and completely upstaging Coldplay to boot. It sounds unbeatable, but if anything, the Super Bowl halftime show is the gift that keeps giving.