Seamus Heaney's poems are a valuable, moving register of individual intimacy and national pain.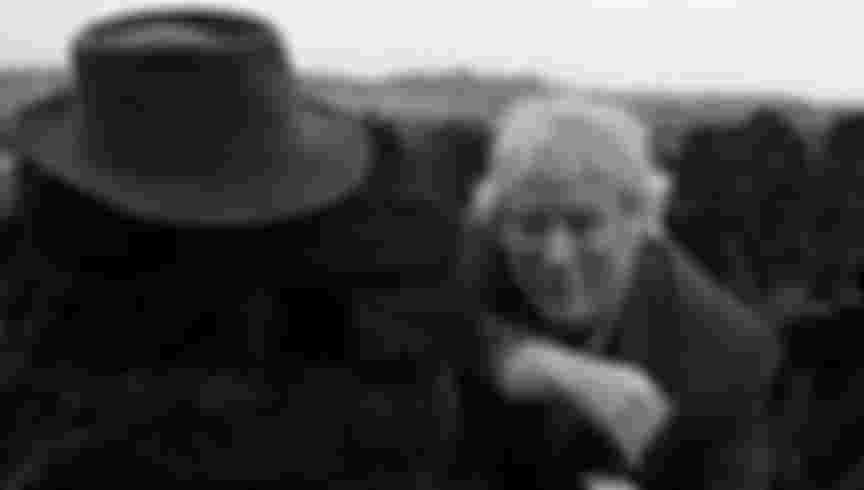 Seamus Heaney at a turf bog in Bellaghy wearing his father's coat, hat and walking stick and additional shots in the Bellaghy bog, 1986. Bobbie Hanvey, photographer. Image bh002815, Bobbie Hanvey Photographic Archives, John J. Burns Library, Boston College.
For much of the last six odd months, I've had fragmented, unmoored sentences and lines of text living in my head. Back in April, Julian of Norwich's 'all will be well, and all manner of thing will be well' became a sort of repeated mantra. Its presence was unexplained – the only time I was told to read Revelations of Divine Love I failed miserably – but undeniably comforting.
Much more worrying has been the continued company of the last stanza of Sylvia Plath's 'Lady Lazarus': 'Out of the ash / I rise with my red hair / And I eat men like air'. It is not a poem I remember becoming overly preoccupied by, and nor have I ever felt particularly like an all-vanquishing-Plath – yet I seem to have latched on to it.
A turn to the written word in the face of external uncertainty has been widespread. Countless readers, writers, and poets have noted how distant lines of text became life-lines in a time of isolation and difficulty. From early articles listing which poems to read to deal with loneliness and confusion, to poems and anthologies written about the pandemic itself, a desire to write and read has seemed a natural response to all that has occurred. Simon Armitage – the British poet laureate – wrote 'Lockdown' in March, a poem which sets our current predicament in its 'long and slow' historical context.
This creativity is not new: it is more than a cliché to declare that great art often comes from moments of great crisis. Andrew Graham-Dixon's essay for Engelsberg Ideas about the convulsive birth of the Renaissance is a brilliant exposition of the 'art of pain'.
In recent decades, there has been no more accomplished poet of pain and difficulty than Seamus Heaney. Born in 1939 in Co. Londonderry, Northern Ireland, Heaney published his first major collection Death of a Naturalist in 1966. It includes perhaps his best-known poem: 'Digging' is a self-conscious comparison of the poet's 'squat pen' and his grandfather's turf-cutting 'spade'.
But, for all his manual anxieties, Heaney was and is a physical poet. In North (1975), Heaney refracted the violence of the Irish Troubles through a historical, anthropological focus on preserved Viking 'bog-bodies'. The resulting poems are unbelievably uncomfortable. In 'Punishment', the speaker describes the 'shaved head' and 'naked front' of a victim of paramilitary tarring and feathering. The woman – the 'little adulteress' – is all but elided with an Iron Age discovery, but the speaker is insistent upon casting a near-lecherous eye on both: he declares 'I almost love you' before admitting that 'I am the artful voyeur'. All who read those lines, aloud or silent, become complicit in the woman's treatment.
Heaney's later sonnet-sequence written for the death of his mother Clearances (1986) is the most blistering exposition of grief and intimate domesticity. Simple vignettes of the 'little pleasant splashes' of potato peel dropping into a bucket and 'the cool that came off sheets just off the line' rub up against liturgy and 'formal incensation'. As much as it is a sequence about death, sacrament, and finality, it is also a sequence about the unending repetitions of familial life.
Yet it is neither the painful violence of North or the multiplying sadness of Clearances that I have continually thought about recently. 'Triptych' was published in Field Work (1979). As the name would suggest, it is a set of three poems, each about the Ireland's future. In the middle poem, 'Sybil', the speaker asks of the prophet, 'what will become of us?'. The reply, 'I think our very form is bound to change' has become something of an unending echo: we are entering a new, sadly changed, normal.
But, for all of my overwhelming fixation on this poem, it is becoming clearer and clearer that Heaney's described situation of 'Dogs in a siege. Saurian relapses. Pismires' is not our own. Whilst 'our very form' may be 'bound to change', we are not – despite persistent rhetoric suggesting otherwise – fighting a war or battle. There is no physical enemy or civil conflict to render our landscape 'flayed or calloused', only overwhelming facts of life: sickness and mortality.
'Sibyl' may well continue to roll back and forth in my head, but I'm left with the tentative recognition that not all literature has to be relevant – and nor does it have to be an escape. Heaney's poems are a valuable, moving register of his responses to individual intimacy and national pain. And as flawed as some of his poems may be, his response to a period of intense public difficulty was to read, write, and record. With instant online publication, we may not have to wait too long to read a creatively-rendered version of our own moment in crisis from poets inspired by Heaney.