Elizabeth II's playful sense of humour brought us fleeting glimpses of her unguarded private side. No wonder we clung to them.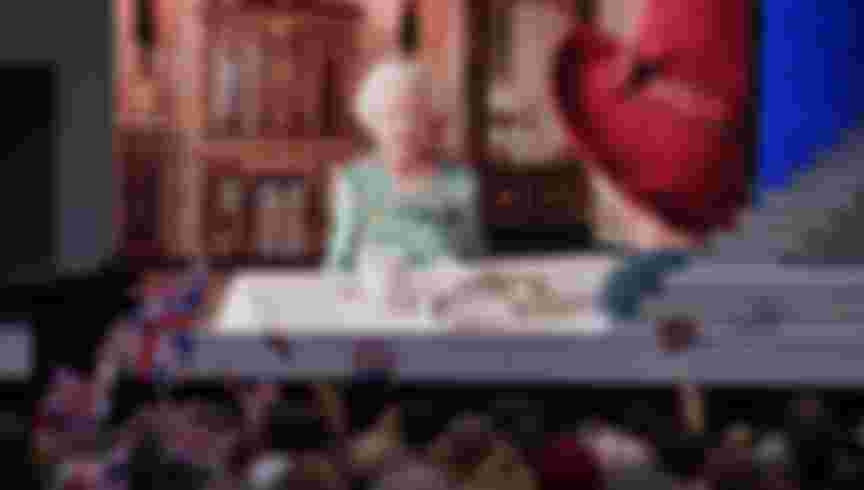 Elizabeth II's playful sense of humour brought us fleeting glimpses of her unguarded private side. No wonder we clung to them.
When Her Majesty appeared in a short film with Paddington Bear earlier this year as part of her Platinum Jubilee celebrations, many expressed surprise at her masterful comic timing. Every look, every line, delivered with aplomb. A decade earlier, she had featured in an equally playful sequence, in which James Bond actor Daniel Craig called upon her at Buckingham Palace before the launch of the London Olympic Games. Our astonishment at seeing the Queen turn from her bureau to welcome 007 was almost secondary to the admiration we felt at her leaving him waiting — just a few moments — while she finished off her correspondence.
As well as bringing joy at a time of deep division and uncertainty in Britain, scenes such as these revealed Queen Elizabeth II at her most humorous and unguarded, captivating viewers with her exquisite candour and smile.
This was a side of her that relatively few had had the chance to appreciate until the final years of her reign. For a woman who always placed duty first, it could not have been easy to engage in scenarios in which she was the centre of attention, however humanising the effect of doing so could be. When people hailed her as the 'nation's grandmother' they did so in acknowledgment of respectful formality, as well as the affection that often characterises relationships between generations. Her position rendered the gap larger than most. As monarch, she stood aloof, which was why we clutched so greedily at those moments when the screen between us appeared to fall away.
This happened with increasing frequency in recent years owing in part to the outbreak of the Covid pandemic. Ironically, the necessity of addressing her subjects through a screen — Princess Anne was recorded teaching her how to use Zoom — often transformed what would have been private meetings into occasions for the public to witness her from what felt, deceptively, like close quarters. It was a thrill to watch her reward David Constantine with The Queen's Gold Medal for Poetry 2020 with the comment, 'I don't know what you do with it — do you put it in a cupboard?' And to hear her describe the din outside her window in a video call to Australia.
What came across most palpably in these screen-calls was how at ease she was in speaking to individuals even while others eavesdropped. Lags caused by differing internet speeds and connections can make it difficult to sustain a fluid conversation online, free from interruption and over-talking. The superiority of royal WiFi could not fully account for the smoothness with which these meetings proceeded. It was, once again, the Queen's rare sense of timing that ensured they were far from second-best.
Her Majesty's willingness to embrace technology in many forms — Zoom, the radio and television broadcasts, an official royal website, a camera crew trailing her family life for a documentary as early as 1969 — has indeed been characterised by its timeliness. Her broadcast promising the nation 'we'll meet again' could not have been more welcome when it aired during the first UK lockdown, in April 2020. The Queen always appeared to be one step ahead of the curve, especially in her advancing years.
People who met her were often astonished by the time she gave them in spite of her full schedule. Britain's late Chief Rabbi, Jonathan Sacks, memorably described her meeting with Holocaust survivors in 2005 on the 60th anniversary of the liberation of Auschwitz. 'When the time came for her to leave,' he wrote, 'she stayed. And stayed.' She wanted to hear each person's story and would not go until she had. It was characteristic of her to give her undivided attention to whomever she was talking to regardless of how quickly the clock ticked.
From her earliest youth she seemed aware of the limitations her mortality would place upon her. In 1947, at the age of 21, she declared that her whole life, 'whether it be long or short,' would be devoted to her people's service. Many obituaries published today open with these words and the fact that her life proved to be very long indeed. (Many of us, nonetheless, fooled ourselves into thinking her immortal). Until the abdication of her uncle, Edward VIII, the young Elizabeth could not anticipate what kind of life lay ahead of her. The early death of her own father forced her onto that path even sooner than she had imagined. For a woman whose career was shaped by the unpredictability of circumstance and timing, she did something extraordinary in making a virtue of both.
Much has been said of the stability and constancy she has provided throughout our lives. It is also true she encapsulated the passage of time over the course of a century in a way no one else could. A life as richly documented as hers was able to carry us from the 1920s, and an apparently simpler age, to the complexities of the present, in which she readily engaged. The span of her life connected us with events that would otherwise feel historically remote.
It is no exaggeration to declare her death marks the end of the second Elizabethan Age, but also of Briton's place in a narrative that links them to the pre-war years. In her, we have lost a truly great monarch, as well as a means of looking back, both sombrely and humourously, against the march of time.