In praise of Rembrandt's ruffs
In Rembrandt's ruffs, past and present are woven into linen and lace.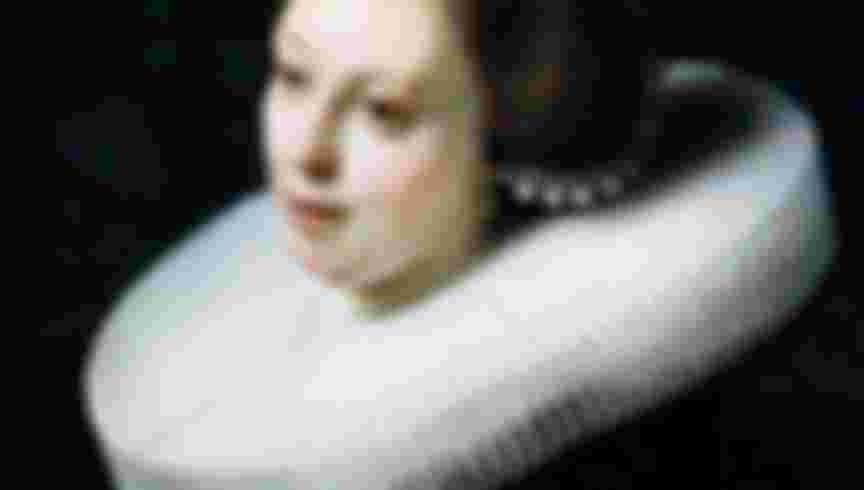 Detail of Woman with Collar from A Lady and Gentleman in Black by Rembrandt Harmensz van Rijn. Credit: Burstein Collection/Corbis/VCG via Getty Images
Rembrandt cared about clothes. With a brush in his hand they were essays in curve, texture, shadow and highlight. Arnold Houbraken, Rembrandt's first major biographer, reports that according to his pupils, the master 'could spend a day or two arranging a turban to suit his taste.' Holding his purse he would have seen in the fabrics and fashions of his clients an indicator of who was, and wasn't, able to afford being upsold on a commission. How clothes looked on canvas mattered – to both painter and client.
In his first self-portraits, like this charismatic early etching from 1628, the young artist is dishevelled, frizzy-haired, stooping, his face scrunched into a deliberate pose as he bends towards us. A few years later, his name established and his star rising, he appears in another etching much as he would have done in daily life, affecting a gentlemanly sprezzatura to suit his prospects, albeit one that's worn a little stiffly. Crucially, he looks the part, in an embroidered cloak, soft felt hat and a falling ruff of the most fashionable kind spread out across his shoulders.
'Of many Arts, one surpasses all,' wrote Jacob Van Eyck in 1651. 'The issue is a fine web, which feeds the pride of the whole globe […] and shows grandly round the throats and hands of kings.' We think of ruffs and cuffs as formal attire, but they are intimate too, brushing the pulse points of the body. Their manufacture was labour intensive: twenty to thirty metres of linen might be required for the 200-plus pleats of a cartwheel ruff, the kind that extends straight out. It could take five hours to produce one square centimetre of fine lace, woven in damp, dark cellars, conditions that helped (apparently) to preserve the extraordinarily fine thread it was made from. This was miserable work. Girls were trained in the art from as young as age nine; some were blind by thirty. A virtuoso collar-and-cuffs might cost as much as an average annual wage. One doubts the women who produced it ever wore any.
Like the lacemakers, Rembrandt could work to order, and the size of the painting you wanted might well depend on the clothes you wore. Head and shoulders, with a new ruff? Head and hands, with cuffs? Full length, to show off your expensive black furs? In his 1641 portrait of Agatha Bas – a painting of incredible allure, currently on display at the Queen's Gallery in London's Buckingham Palace – we see a woman at the cutting edge of fashion. Her lace-fringed shawl sits crisp and light on her narrow shoulders. It hangs slightly lower on her left side, as that arm rests with unassertive confidence on the edge of the picture, a trompe-l'oeil thumb reaching into our space. The gesture opens her body up by an infinitesimal degree as she showcases the black ties criss-crossing her sternum. In her right hand, held furthest forward of all, is a newly modish folding fan, held open over the frame. She is, definitively, a woman of her time and place, in the prime of her life at the beginning of the 1640s.
If you leave the Queen's Gallery and walk down Pall Mall to the National Gallery, you can see another striking Rembrandt outfit, from twenty years later: Marguerite de Geer, whose magnificent portrait finds her wearing a huge millstone ruff. She looks down, slightly, from her eminence, at the viewer, her head topped by an inexplicable croissant of dark grey hair.
Rembrandt's contemporary Constantijn Huygens called painting 'the full sister of poetry, which to put it sweetly and simply may be called the art of seeing.' What we seem to be seeing in this portrait is a strong, elderly woman. Her large left hand clutches a handkerchief, which strikes you at first as an emblem of grief – one that matches her sombre apparel. Yet Rembrandt would have seen other things, too. That cartwheel ruff with its hundreds of pleats is almost forty years out of fashion, a relic from the high society of Rembrandt's youth. So is the handkerchief – a must-have accessory of the twenties and thirties that Agatha Bas, at the time of her portrait might have thought rather passé. As for black, it was the grandest and most expensive colour available. Dutch brides wore black on their wedding day. By refusing to change her dress with the tide of fashion, De Geer was demonstrating a pious constancy in a changing world. At 79, she must almost have been a museum piece.
And yet just when you think you've explained all feeling away, vanitas grabs your ankle. The lambent, enveloping faces of these women feel too vividly at odds with their snowy neckwear. Seen in person, the flesh and the cloth appear to exist on different planes of reality. I thought of an aphorism by the poet Don Paterson. 'Almost everything in the room will outlive you. To the room you are already a ghost: a pathetic soft thing, coming and going.' That is what these women look like to me, in their linen and lace: ghosts of the flesh, their skin lit with the mysterious warmth of Rembrandt's pallet, an inner brightness only paint can keep.