J.M. Coetzee's absence without leave
The Nobel Prize winner's readers need him to aim the sharp point of his pen at the current state of South Africa, the country that drove him away.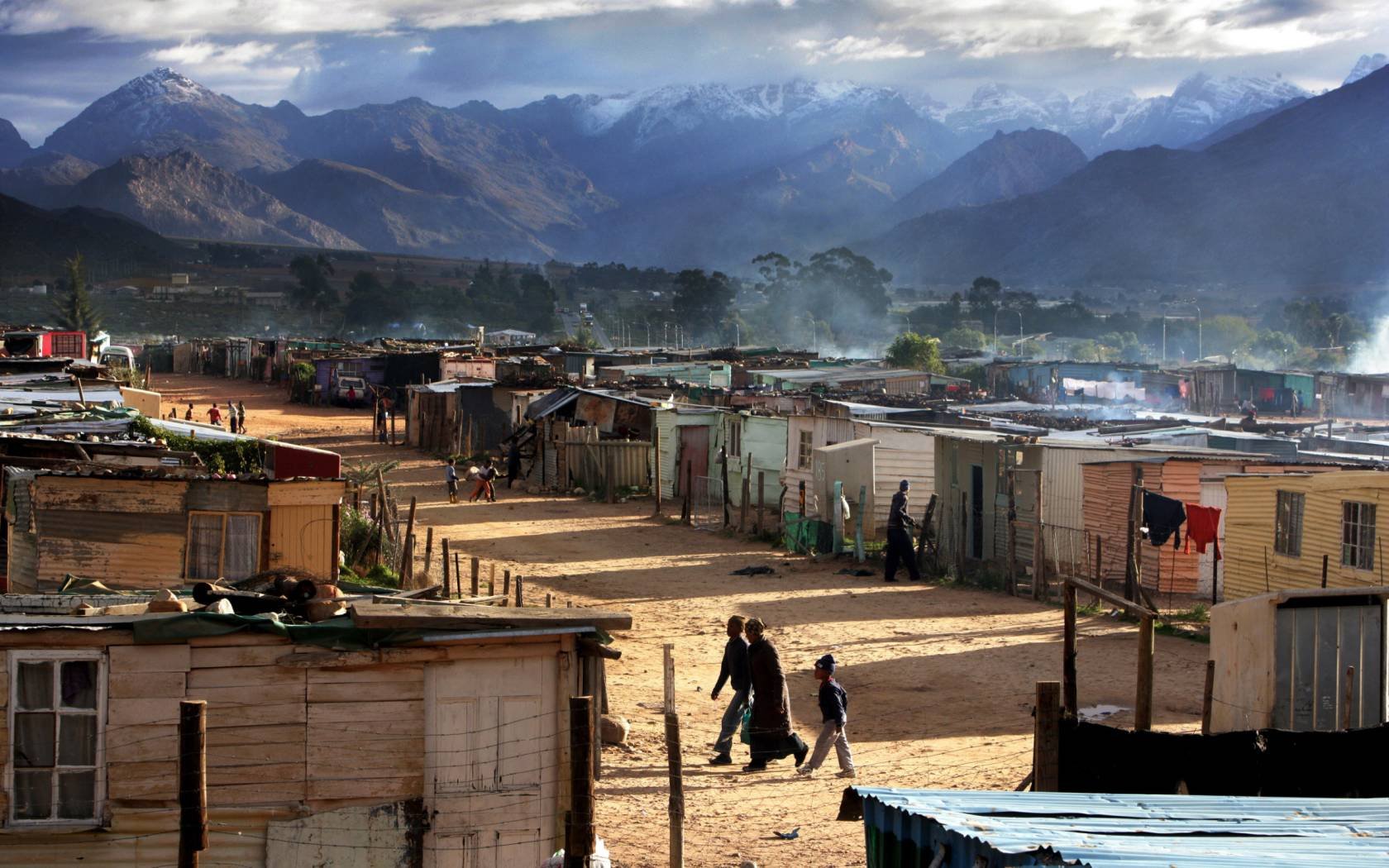 A township in the wine region of Western Cape Province, South Africa. Credit: Friedrich Stark / Alamy Stock Photo
J.M. Coetzee's latest protagonist wants to be Dante but keeps being mistaken for Max von Sydow. The titular figure in The Pole, published in Britain last month, is a septuagenarian Polish pianist who falls for a Spanish woman 25 years his junior. He pursues her; she rebuffs him, then relents; they have a sporadic affair, defined by his ardour and her indifference. The misunderstandings and double-meanings that arise from two people communicating in a third tongue provide the South African author with the opportunity to play on the deceptions and power dynamics of language. All the while, his own country of origin is absent.
Coetzee, winner of two Booker Prizes and a Nobel laureate, is the great chronicler of South Africa and the post-apartheid settlement. Early novels like Waiting for the Barbarians and Life and Times of Michael K used allegory to highlight state abuses, with Age of Iron tackling the country's racial segregation head-on. Disgrace, his best-known work, was published in 1999 after the end of white rule and the resulting Truth and Reconciliation Commission, and was thereby able to ask the more uncomfortable question of how far South Africa had healed in the wake of apartheid.
Then Coetzee left. In 2002 he moved to Adelaide, and since then South Africa's national writer has eschewed setting his fiction in the 'Rainbow Nation'. Barring two autofictional novels about his early life, he hasn't written a book about South Africa since the last century. The Pole, while more accessible than his recent Jesus trilogy, continues Coetzee's 21st-century trend of probing abstract philosophical questions rather than addressing the chaos still engulfing his home country.
Thirty years after the end of apartheid, South Africa is on the verge of becoming a failed state. Under the ruling African National Congress (ANC), it has the highest unemployment rate in the world, with over 70 per cent youth unemployment and an overreliance on state welfare grants. An estimated nine million people live with HIV, four times more than any other country, and a United Nations report from July describes the nation as 'a ticking time bomb'. Two years ago, as former president Jacob Zuma was jailed, South Africa saw some of its most destructive riots in decades.
And yet it was not so long ago that the country had reason to be optimistic. When Cyril Ramaphosa became ANC leader at the end of 2017, Western commentators hailed South Africa's 'chance to recover its moral authority'. I was living on the Western Cape for a few months when Zuma resigned the presidency on Valentine's Day 2018, and witnessed the jubilation and sense of a new beginning when Ramaphosa took his place. Stocks rose and large swathes of the media suggested this was a comeback for democracy in the country. The last five years have proved them tragically wrong.
Amid this strife, Coetzee has largely kept out of current affairs. Such is his stature as an oracle of racial politics, readers still mine his work for references, however oblique, to his birth country. The problem is, he simply doesn't write about South Africa anymore. Though the author gave no singular reason for his emigration two decades ago, it is notable that, a couple of years earlier, the ANC condemned Disgrace as racist in its depiction of black South Africans. Further, Coetzee's compatriot and fellow Nobel laureate Nadine Gordimer claimed in an interview that 'there is not one black person who is a real human being' in the novel.
Disgrace is, in many respects, a braver novel than his earlier anticolonial efforts. Waiting for the Barbarians depicts a bureaucrat in an unnamed country, who witnesses the brutal repression imposed on the native people by the empire of which he is a part. As the line between order and savagery is obscured, he decides that 'where civilization entailed the corruption of barbarian virtues and the creation of a dependent people […] I was opposed to civilisation'. In Disgrace, the white protagonist, David Lurie, witnesses his daughter's rape at the hands of several black South Africans. Not only does she decline to prosecute, largely due to colonial guilt, she also chooses to keep the baby which results from the assault.
When Lurie weakly suggests of the perpetrators that 'it was history speaking through them', he is acknowledging the revenge of the 'barbarians', as the earlier novel would have them. It is history which resurfaces so violently in Coetzee's South African books, and which is so comparatively muted in his more cosmopolitan recent work. In 1983's Life and Times of Michael K, one character observes that 'we have all tumbled over the lip into the cauldron of history'; in The Pole, the wealthy and cosseted Spanish woman asks herself, 'Why should I want to end up in history? What is history to me?' She, like Coetzee, has insulated herself from social breakdown.
The South African writer's position calls to mind that of the Irish poet Seamus Heaney. In 'Summer 1969', which appears in the 1975 collection North, Heaney expresses his guilt that in the midst of the Troubles he is in self-imposed exile from Ireland, and so unable to fulfil his duty as a national poet. As terror reigns in his homeland, he is 'suffering/ Only the bullying sun of Madrid'. In his 2020 critical biography, Roy Foster argues that Heaney became Ireland's national poet 'through the kind of watchful independence expressed by the personae in so many of his poems'. Despite his own occasional moral stands, Coetzee has specialised in protagonists who maintain such a 'watchful independence'.
Where Heaney felt the burden of Ireland on his pen, however, Coetzee has been largely more reluctant to take up the mantle of national writer. In the autobiographical Youth, his fictionalised self flees the violence of 1960s South Africa for Belsize Park. The character doesn't feel guilt, as such, because he has no broader responsibility: he is only an aspirant writer, rather than an established one, and describes South Africa as an 'albatross' of which he must rid himself.
Similarly, in an interview forty years ago Coetzee cited the 'wholly ideological superstructure constituted by publishing, reviewing and criticism that is forcing on me the fate of being a "South African novelist"'. His decision to publish The Pole in Spanish before releasing it in English was a clear challenge to any assumption that he might be tied to his national identity. In this new novella a character acknowledges that 'we live in fortunate times. In fortunate times it is not hard to be good', a striking change from the statement in Life and Times of Michael K that 'in times like these a man must be ready to live like a beast'.
South Africa has changed in the two decades since Coetzee left for Australia, and not for the better. Disgrace in particular went some way in challenging the simplistic narrative that, just because the bad guys – the stewards of segregation – had lost, the good guys had won. While the evils of the apartheid system had been overcome, the new ANC regime was still guilty from its early days of gross corruption, its rotten core hidden below a palatable surface embodied by the saintly figure of Nelson Mandela. Jacob Zuma might have been a central-casting kleptocrat, but his successor Ramaphosa was himself implicated last year in the 'farmgate' scandal, in which he was accused of concealing the theft of large amounts of foreign currency from one of his properties. The cycle shows no sign of stopping.
Coetzee is clearly still capable of speaking out about politics. His published correspondence with the American writer Paul Auster is largely unremarkable, but occasionally interesting in its explication of Coetzee's views on subjects like the Israel-Palestine conflict and the ethics of vegetarianism. Yet commentary on South Africa's current struggle remains elusive. Mandela said after Coetzee's Nobel victory that 'he might have emigrated but we shall continue to claim him as our own,' and referred to the author as 'an intellectual hero in the history of our country'. This latter observation is certainly true, and perhaps spares Coetzee from any further intellectual heavy lifting, but it is not clear whether he wants to be claimed as one of South Africa's own anymore.
Roy Foster writes about Heaney's 'determination to abstract himself from too close a tribal identification' in Ireland. Coetzee will no doubt remember that the same ANC which denounced him as racist attempted to claim his Nobel Prize as a national effort. The international literary community has been good to him, festooning him with baubles and honorary doctorates, but his home nation, where his books are not widely read, frequently hasn't.
The contemporary politics of South Africa still provides fertile ground for fiction — Damon Galgut won the Booker Prize in 2021 for The Promise — but its greatest political novelist is missing in action. The Pole, for all its structural elegance, has done nothing to change this. J.M. Coetzee has certainly earned his retirement from the whirlpool of the present but his readers, and perhaps even South Africa itself, would benefit from him redirecting the sharp point of his pen at the current state of the country which formed him, and which drove him away.