Jane the Virgin: Metafictional telenovela par excellence
Netflix show Jane the Virgin's deep engagement with Latin American and Spanish literature and the telenovela form makes it one of the most intellectually interesting TV series in recent years.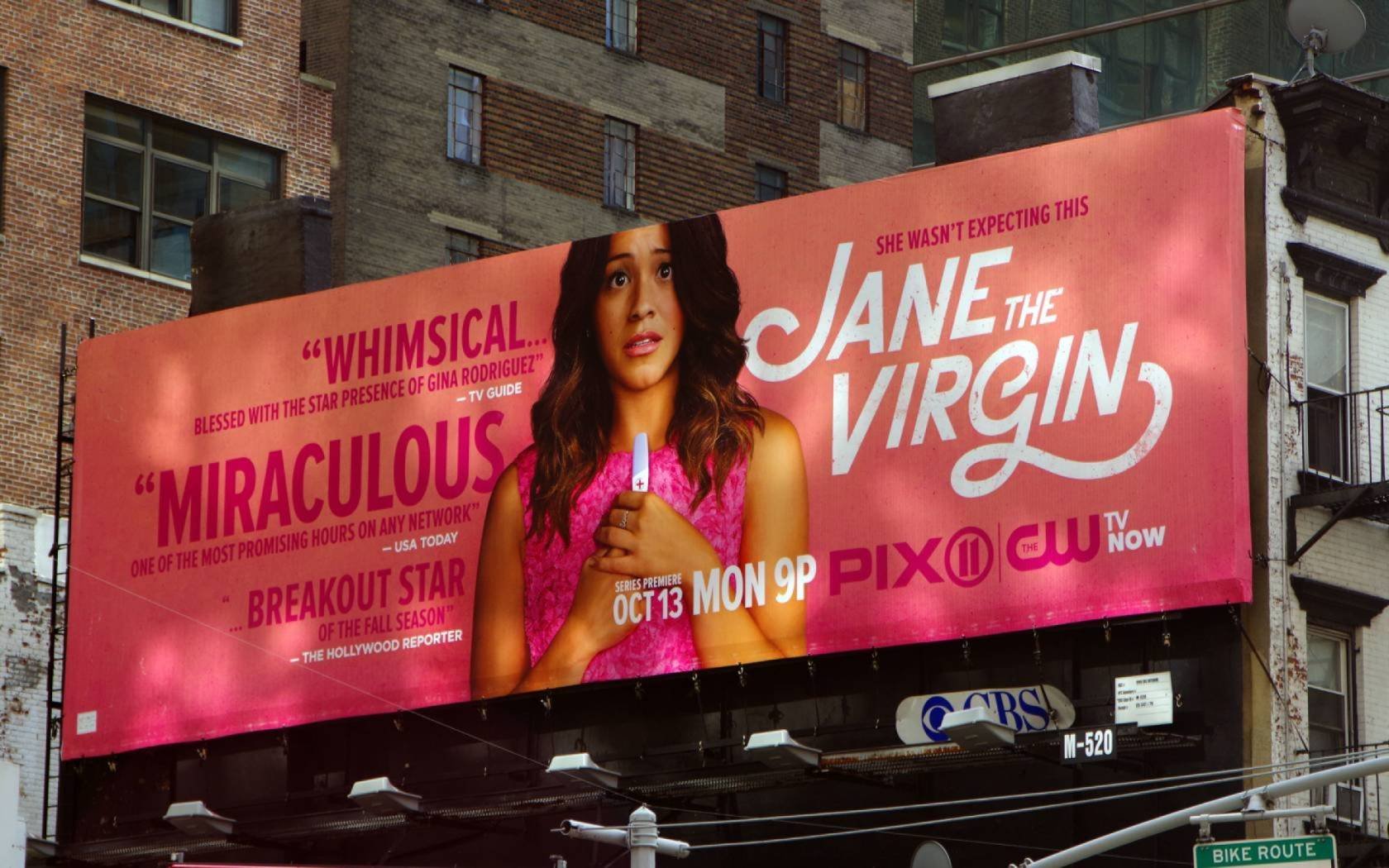 Billboard of Netflix show Jane the Virgin. Credit: Mike Steele / flickr
On the face of it, Jane the Virgin (2015–19) is just another formulaic rom-com: girl meets boy, implausible accidents keep them apart for five seasons, and they finally marry in a spectacular, happy ending.
But the series is built on sophisticated literary and cultural foundations. Beneath a facade of syrupy commonplaces, stock characters, and generic aphorisms, the show is constructed from a set of complex engagements with Latin American and Spanish literary and televisual forms, making it one of the most intellectually interesting TV series in recent years.
Set in Miami, it tells the story of four generations of the Venezuelan-American Villaneuva family, headed by illegal immigrant matriarch Alba. Her studious and devout granddaughter Jane is, implausibly, accidentally artificially inseminated during a routine gynaecology appointment. The father turns out to be Rafael, the playboy owner of the hotel where Jane works. A mysterious voiceover narrates the action, ultimately revealed as their son, Mateo, telling the story long after the fact.
With its family saga structure, Jane the Virgin nods to the intergenerational storytelling of Gabriel García Márquez's One Hundred Years of Solitude (1967), which tracks the fortunes of successive generations of the Buendía family in nineteenth-century Colombia. Formally, however, the show's foundation is the telenovela, a soap opera form originating in 1950s Brazil, and still hugely popular today across Latin America.
With pacy, 30-minute episodes stuffed with absurd twists, turns, cliffhangers, and revelations, telenovelas differ sharply from their plodding Anglophone counterparts. Unlike the slow-burn humdrum of Coronation Street, say, telenovelas dramatise a single major narrative, centred on a few core characters, told with unwavering, increasingly hysterical, dramatic intensity, over months or a year at most. Jane the Virgin is itself based on Juana la Virgen (2002), a Venezuelan telenovela created by Peria Farías – but it is no straightforward adaptation.
Whereas telenovelas are mostly lighthearted and earnest, if highly improbable melodramas, Jane the Virgin is self-reflexive, ironic, and satirical. The show parodies many of the tropes of telenovelas: mistaken identities, warring families, fake deaths, outrageous coincidences, and uncertain parentage. But these twists, more incredulous with each episode, are flagged up by the omniscient narrator as scarcely believable, all-too-predictable products of derivative scriptwriting. As the show stakes out a parodic yet parasitic kinship with the telenovela through this distancing device, Jane the Virgin reveals its own tangled literary ancestry, stretching back to Miguel de Cervantes' Don Quixote (1605, 1615), the sine qua non of metafiction.
Cervantes himself satirised sentimental Spanish romances such as Diego de San Pedro's Cárcel de amor (1492), as well as the heroic fiction hugely popular in early modern Europe, like Rodríguez de Montavlo's Amadís de Gaula (1508) and Ludovico Ariosto's Orlando Furioso (1532). At the heart of Don Quixote is a roguish manipulation of the boundary between romance and 'real' life. The narrative is presented as 'history', drawn from the 'archives of La Mancha' but one the reader is expected to treat ironically. In part one, Don Quixote goes mad after reading too many romance novels and imagines himself the hero of a book of chivalry, aesthetic and moral codes that were obsolete by the seventeenth century.
In part two, his romantic fantasy becomes 'reality' as new characters appear, already familiar with Quixote because they've 'read' part one. When a writer calling himself Avellaneda published an unauthorised sequel before Cervantes could finish the second Quixote, Cervantes responded by fictionalising the event in the 1615 text. Cervantes' fiction cuts across and compounds reality and romance, world and text, truth and fiction.
In 1957, Spanish philosopher and writer José Ortega y Gasset said '…every novel bears the Don Quixote within it like an inner filigree in the same way that every epic poem contains the Iliad within it like the fruit [at] its core.' Jane the Virgin's gleeful tangling of reality and fiction bears all the hallmarks of Cervantes' metafiction. Jane earns a master's degree in creative writing, honing the manuscript that will become her debut novel Snow Falling: a slice of historical fiction based closely on her own tangled love life. The border between fiction, reality, and intertextuality blur. Jane's long-lost father, Rogelio de la Vega, turns out to be a telenovela star trying to break into the American market – like Jaime Camil, the Mexican telenovela actor playing him. Xo, Jane's mother, who gives birth to Jane aged 16, is played by Andrea Navedo, a second-generation New York Puerto Rican and the daughter of a young single mother. Matriach Alba, played by Puerta Rican former telenovela actor Ivonne Coll, adores watching telenovelas, above all The Passions of Santos – starring none other than Rogelio.
These casting choices speak to a wider preoccupation in Hollywood with exploiting the uncertain border between fiction and truth. Alejandro Iñárritu's Birdman (2014) stars Michael Keaton, best-known for playing Batman, as a washed-up actor struggling to achieve critical acclaim after playing the superhero 'Birdman.' In British-Irish screenwriter Martin McDonagh's Seven Psychopaths (2012), Irish actor Colin Farrell plays a screenwriter named Marty, struggling to finish a new script called 'Seven Psychopaths'. But there is a Latin American key to Jane the Virgin's metacinematic play. The Villanueva family's issues – anxieties over citizenship; tradition versus assimilation; the pressure on second-and third-generation immigrants to succeed – mirror those of the Suarez family in another TV series, Ugly Betty (2006–2010). Based on the wildly popular Colombian telenovela Yo soy Betty, la fea (1999–2001), Ugly Betty dramatises a Mexican-American family (the father Ignacio, like Alba Villaneuva, is an illegal immigrant), who are never far from a TV set beaming – you guessed it – the latest telenovela into their home in Queens, New York.
Like Don Quixote, Jane the Virgin's metafictional tangles deepened following its initial release. In 2017, Simon & Schuster published Snow Falling, the novel Jane 'writes' in the show. The book is attributed to 'Jane Gloriana Villaneuva,' who has an 'about the author' page on the publisher's website, describing her as 'a lifelong fan of romance novels and telenovelas' and selling the book as 'a sweeping historical romance based on Jane's now-notorious true story.' The novel was actually written by Caridad Piñeiro, a bestselling romance author who supplies an impish blurb for the back cover: 'Jane's novel is so much fun I wish I'd written it myself!'
Like the best fiction, Jane the Virgin operates on multiple levels. But its relationship to other narratives on page and screen, to fiction that seeks to incorporate reality (and reality increasingly invaded by fiction), places it in a more complex bracket: the grand tradition of metafictional and metanarrative storytelling going all the way back to Cervantes.