John le Carré: the timeless allure of a true literary great
The master storyteller chronicled the Cold War and revealed powerful truths about the human condition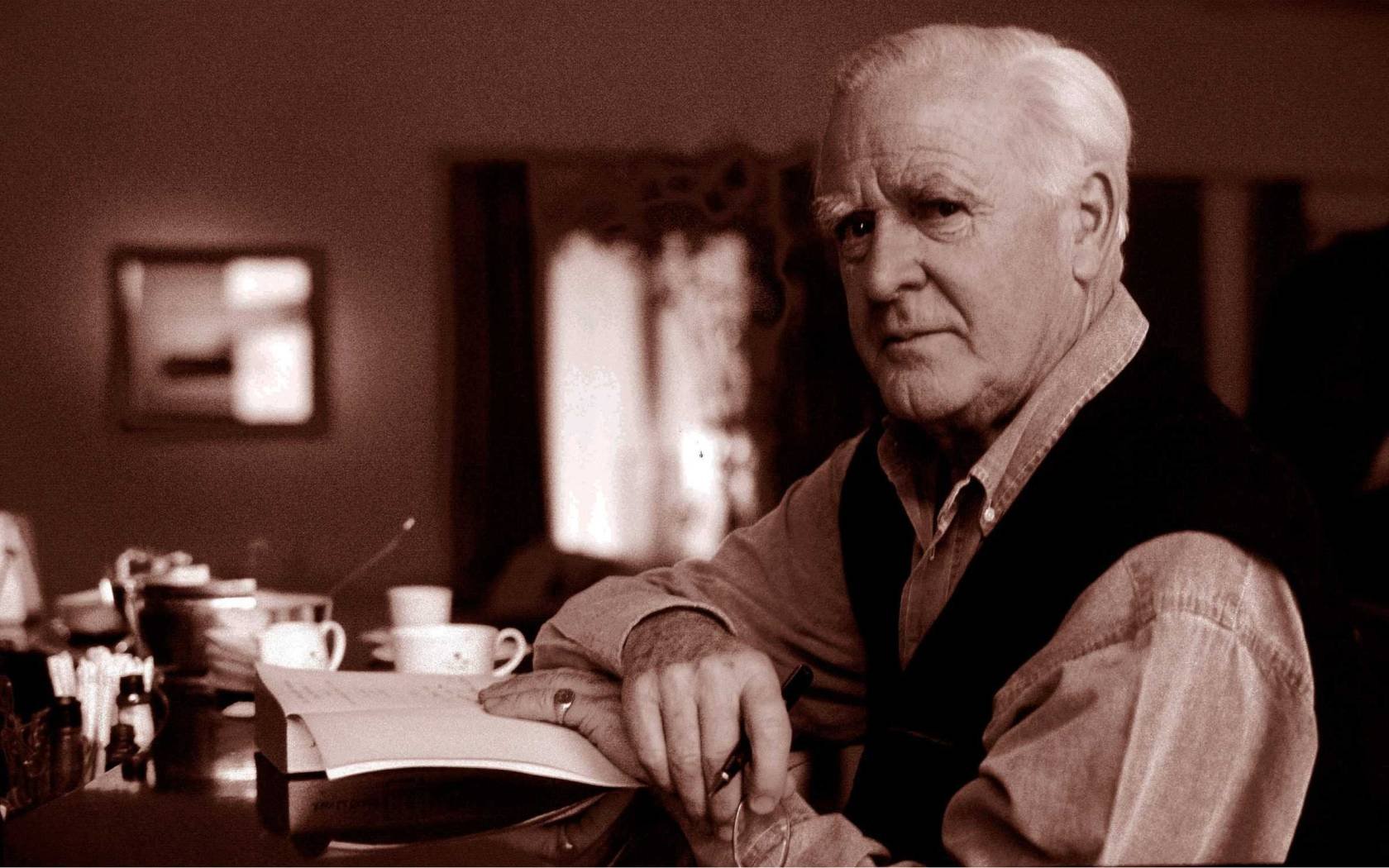 The late John Le Carré on December 12, 2001. Credit: Leonardo Cendamo / Getty Images.
One mark of a monumental author is his or her ability to immortalise the predicament of their present. Milton allegorically contained his age in Paradise Lost. Tolstoy enshrined his era in War and Peace. And in his century-defining poems, TS Eliot painted a comprehensive portrait of modern man's sensitive psychology. In a similar way, after the two world wars, no other writer can compare to John le Carré. His description of the spiritual, intellectual and moral mentality of the Cold War remains eerily relevant.
Le Carré was a deeply misunderstood writer who chronicled the cultural fatigue of his time. A man who artfully transmitted the revealing peculiarities of secretive people. An author who served his age, as Homer served the Greeks. Often clumsily stuffed into the questionable category of spy fiction, scholars and critics have long argued about the true status of his oeuvre. Some saw him as a second-rate stylist with a talent for intricate plots. Others believe he was the last great artist in an apostolic succession of existential writers.
John Le Carré was born David Cornwell in the town of Poole, Dorset in 1931. His parents Ronnie and Olive failed to fulfil their familial roles by any standards, with Olive abandoning her husband for mysterious reasons when David was only five and Ronnie leading a life of dubious dealings and uninterrupted legerdemain. After Olive absconded, Ronnie would frequently depart for protracted trips, leaving David in the care of relatives. When he asked his aunts and uncles where his father and mother were, he was told that Ronnie was making money to send him to public school and that he should never inquire about his mother. He didn't meet her again until he was twenty one years-old.
Ronnie's total detachment from the real world taught his son the difference between truth and appearance. His unorthodox childhood was the perfect training for his future career in intelligence and it would later enrich the themes of his literary endeavours.
Despite his unreliable nature, Ronnie was able to amass enough wealth to send David to Sherborne School. There he dabbled in poetry and did his best to endure the draconian dreariness of private education during the Second World War. In 1948, a teenage Cornwell studied German in Switzerland and began to develop a love of European literature. He believed in Goethe's maxim that acquiring a new language lets a person acquire a new soul, and he consciously cultivated that strange process of generating contrived personae.
When he attended Lincoln College, Oxford, Cornwell offered his services to the intelligence services and assiduously spied on communist students. By this time, he was convinced that the belligerence of Bolshevism should be repulsed robustly by the West. Nevertheless, his ultimate desire was to satisfy his 'immortal soul' by indulging an artistic inclination. Like Evelyn Waugh, the first steps of Cornwell's creative journey were directed toward painting, however his love of language quickly drew him to writing. In 1956, he graduated with a first class degree and started teaching German and French at Eton College. Less than two years later, he was officially employed as an officer in MI5.
The convincing descriptions of day to day espionage in the novels were derived from his professional experiences, lending a potent verisimilitude to his fantastical plots. Like his father, he craved the social confirmation an association with prestigious institutions confers, but that craving was often eclipsed by a desire to dissent. This dissonant combination of outer conformity and inner revolt was to become a central theme in the stories he would soon write.
Fellow spook, Lord Clanmorris, had published crime novels under the name 'John Bingham', showing Cornwell how to pursue his creative destiny while confined to his clandestine career. He randomly chose the name John le Carré and published his first book 'A Call for the Dead' in 1961. A year later, while stationed in Germany, he wrote a second,   'A Murder of Quality'. This was followed in 1963 by his first masterpiece – The Spy who came in from the Cold. The worldwide acclaim it received catapulted le Carré out of the dark society of spies and into the glittering swirl of modern celebrity.The Spy who came in from the Cold is a tale of defection, betrayal and disillusionment, unashamedly underlining the immorality of western espionage. Its protagonist, Alec Leamas, played by Richard Burton in the film version of 1965, was applauded as the tragic hero of Cold War fiction. Leamas's lamentable fate starkly depicts the private strain such geo-political tensions engender. It is this stressful state of life that le Carré explores throughout much of his work.
In the 1970s, more critical and commercial success followed with the Karla trilogy – a complicated triptych charting the course of intercontinental chicanery conducted between the eponymous villain of the collection and le Carré's most ubiquitous character, George Smiley. Two of the three were adapted into popular television series, with Alec Guinness playing Smiley. Smiley is depicted as demonstrating the best and worst qualities in contemporary man. Afforded extraordinary knowledge by his unique intelligence, he is painfully aware of his inability to act. He sees more than he can ever master and stolidly accepts the chaos that quietly stirs beneath an appearance of normality.
As the Cold War came to an end, the author who made art out of its hidden warriors, turned his attention to new settings and scenarios. Books such as The Constant Gardener, The Night Manager and Our Kind of Traitor dealt with themes of international corruption and crime. They have continued to initiate new generations into le Carré's work.
What is his core appeal? It is rare for such a sophisticated author to be so commercially successful. What did he do differently? Knowing the writers who influenced him might help unravel this riddle. Joseph Conrad and Graham Greene were regularly cited by le Carré as major inspirations. Their lonely characters wearily seek moral reassurances and clearly provide the prevailing mood of le Carré's spies. It is easy to imagine le Carré's Leamas replacing Fowler in Greene's A Quiet American or Smiley showing up as a policeman in The Third Man. A device he borrowed from Balzac was the recycling of characters. This adds a natural atmosphere to a fictional environment.
There is also an ambitious aim to match the rich symbolism and ethical posturing of writers such as Thomas Mann and Franz Kafka. The Magic Mountain made use of realistic narratives to relay an interaction of symbols and naive or mistaken individuals are always coerced by absurd institutions in Kafka's work.
More directly, le Carré's books are intellectually honest. He is not afraid to reveal the fallibility of the side he supports. The West is presented as a moral failure in his Cold War classics, with at times few positive distinctions over its Communist opponent. More basically, his treatment of the spy subject is unusual and enlightening. Bear in mind that the spy novel is the domain of James Bond – a figure of pure materialism and carnality. Le Carré called his Smiley an 'antidote' to Bond. Smiley is a good man weakened by the strength of his morality and insight. Bond is a care-free hero emboldened by his libido. One is depressingly real, the other joyously fake. The realism of le Carré also allowed him to encompass more poignant themes than you are likely to encounter in any Bond book. By inculcating existential dilemmas into an intriguingly truthful story of a furtive profession, he makes a cultural mirror from the requisite opacity of espionage.Finally, almost all of his Cold War characters are conformists struggling to express their individualism. These are the experiences of many members of society and perhaps this point best explains his commercial stature.
He leaves behind a collection of highly original books that beautifully communicate the saliences of our time. Ben Johnson wrote in praise of Shakespeare 'Thou art a monument without a tomb/And art alive still while thy book doth live/And we have wits to read and praise to give'. Without doubt, le Carré is owed a rhyme of comparable gratitude and equal eloquence.