Kazakhstan's Russia problem
Central Asian state leaders have been visibly unnerved by the invasion of Ukraine, and China has been all too happy to comfort them. However, should Russia succeed, its former allies in Central Asia will likely pay a heavy price.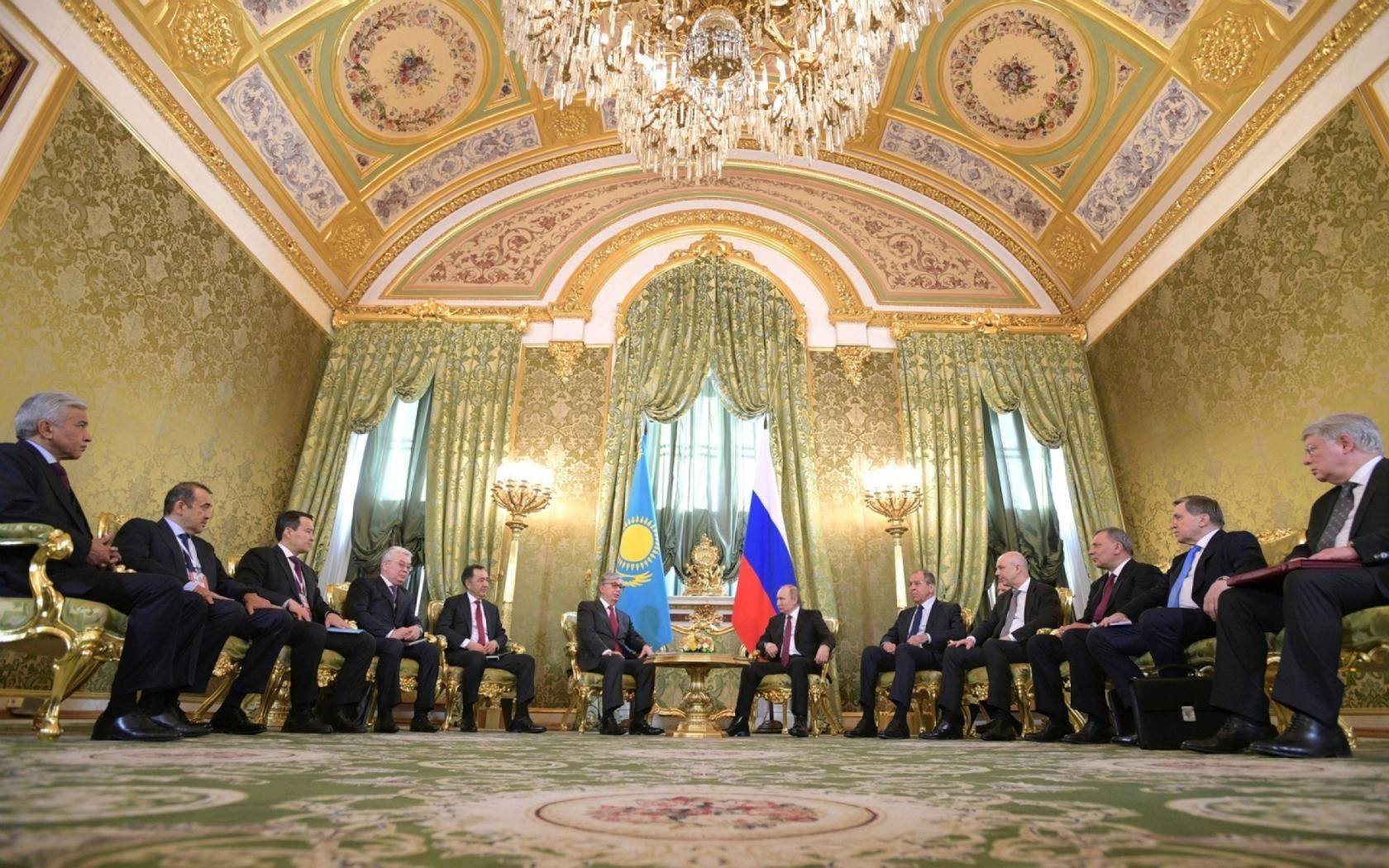 Russian President Vladimir Putin during a bilateral meeting with Kazakh interim President Kassym-Jomart Tokayev at the Kremlin April 3, 2019. Credit: Russian Government / Alamy Stock Photo.
The city of Samarkand has suffered many invaders. Conquered under the name of Μαράκανδα by Alexander the Great in 329 BC, and put under siege by Genghis Khan 1,500 years later, today the Uzbek city still pays host to competing world powers attempting to use its status as the road bridging east and west for their own ends. The Bibi-Khanym Mosque stands in the centre of Samarkand's Registan square, commissioned by (and named after) the favourite of Timur's forty-three wives. The mosque can hold 10,000 worshippers, is decorated in intricate Islamic geometry and calligraphy, and hosts an entrance that stretches 35 metres into the sky. It was this magnificent tribute to Central Asian culture that greeted the Eastern world leaders for the recent Shanghai Cooperation Organisation (SCO) Summit in Samarkand on 15-16 September. Over the course of the summit, Vladimir Putin attempted to hold court with the leaders of India, Turkey, Iran and Pakistan — but it was his meeting with Xi Jinping that was accorded with 'particular importance' by his foreign policy advisor, Yuri Ushakov. Recent developments in Ukraine may have tested diplomatic relations between Russia and China, but the two maintain some shared strategic interests in Europe — in stark contrast to their respective aims concerning Central Asia.
Central Asian state leaders have been visibly unnerved by the invasion of Ukraine, and China has been all too happy to comfort them. Kazakhstan, Russia's closest ally to the south, has openly refused to voice even the mildest note of support towards Russia regarding the invasion, and has been particularly targeted by a conciliatory China. In late March, the deputy chief of staff to President Kassym-Jomart Tokayev stated that whilst 'Russia wants us to support them […] we don't recognise Crimea, or Donbas. Yes, we are in a union with Russia, but it doesn't apply to this situation.' Shortly afterwards, Russian media reports suggested that Kazakhstan had supplied arms to Ukraine, a claim rejected by Astana. Nevertheless, at this year's St. Petersburg International Economic Forum, an emboldened Tokayev stated that the country did not intend to recognise any Russian 'quasi-state formations' in Ukraine — whilst sharing a stage with Putin. The Russian president could do little but respond with an echo of his justification for the invasion of Ukraine: 'What is the Soviet Union? This is historic Russia […] You are part of historic Russia.' In contrast, at the SCO summit, Xi Jinping told Tokayev that China would 'resolutely support [Kazakhstan's] independence, sovereignty and territorial integrity […] and strongly oppose interference by any forces in the domestic affairs of your country.'
Putin's comments on Kazakhstan's years of joint history with Russia are not without merit: the knowledge of which has left both states bitter. Russian expansion into the region was fuelled in part by the competition for dominance engendered by the Great Game — as the British Empire expanded its influence in the area upwards towards the Caucasus, the Russian Empire expanded its influence southwards towards Afghanistan. Soon after the Russian Empire's first outpost was positioned in Orsk in the early eighteenth century, the Russian language was implemented in all schools and governmental organisations at the expense of the native Kazakh. Competition for scarce resources between the Kazakhs and Russian emigres led to tensions between the groups, and the conscription of Muslims to fight in the eastern front of First World War culminated in a violent Central Asian revolt in 1916 — and a resulting exodus of hundreds of thousands into China. Bolsheviks swiftly disestablished the brief autonomous provisional government that followed the collapse of the Russian Empire, and Kazakhstan remained a Soviet Republic until the collapse of the Soviet Union in 1991. Kazakhstan — the last republic to secede from the USSR — has slowly but surely seen a distancing of itself from the Russian state, but the level of such discourse over recent months has shocked Moscow.
Russia notably helped the Kazakh government put down violent protests in their country earlier this year, an act which Kazakhstan has since downplayed. In a recent speech, Tokayev insisted Russian commentators were inclined to 'misrepresent the whole situation,' by imagining that Russia had 'saved' Kazakhstan, insisting that Kazakhstan must therefore 'serve and bow at the feet' of their neighbour. Relations deteriorated further with the news that Tokayev had declined the Russian Order of Alexander Nevsky.
Kazakhstan has been of a particular focus to Russian men fleeing extended conscription, with reported fifteen hour queues to enter the country, and warm welcomes from Kazakh volunteers greeting fleeing Russians with food and accommodation. The state's Internal Affairs Ministry has estimated that 98,000 Russians have entered the country over the past week, with President Tokayev stating that Kazakhstan will 'take care of them and ensure their safety [as] a political and humanitarian issue.' Kazakhstan has already stated that it will not recognise the possible annexation of eastern Ukraine through the discredited referendums currently being held in the area. 'Kazakhstan proceeds from the principles of territorial integrity of states, their sovereign equivalence and peaceful coexistence,' a ministry spokesman stated.
Kazakhstan's pragmatic — even brazen — attitude towards Russia's war has permitted it to ease itself out of a weakened Moscow's grip, well aware that a closer relationship with Beijing is not merely possible, but might even be significantly more beneficial.
Concerns regarding international sanctions against Russia have spooked its neighbours, who would rather risk frayed ties with Moscow than miss the chance to lure investors seeking to relocate out of Russia. Kazakhstan in particular has courted foreign investment for years, and has enjoyed significant economic benefits from Beijing's Belt and Road Initiative. Astana typically stands to receive around $5billion per annum after developing infrastructure to connect China to Western Europe through the state and towards Russia — a figure under threat following Western sanctions against the latter. Other Central Asian states have taken note: Kyrgyzstan and Uzbekistan announced that the former would begin construction on a new rail line to Europe that would bypass Russia — and its sanctions.
Fear of the Kremlin has rapidly declined in the post-Soviet states, creating instances of Russia lashing out at allies it could previously take for granted. Kazakhstan relies heavily on the Caspian Pipeline Consortium, which transports almost all of its oil exports across Russian territory to Novorossiysk. This flow was halted over the summer in the face of degrading diplomatic relations.
If Russia manages to succeed in Ukraine and overcome Western sanctions, it is likely that Putin will seek to punish allies who deserted him. Kazakhstan in particular will worry that an emboldened and vindictive Russia may seek to intrude upon its sovereignty or territory. China is still pursuing a zero-Covid policy, and the recent summit was Xi Jinping's first trip abroad in over two and a half years. That it was to Kazakhstan was no coincidence. China has been courting the post-Soviet republics for years now — Russia's focus in Ukraine might just have unintentionally accelerated the estrangement of an ally they previously took for granted.