Derelict bandstands are a symbol of a lost age of Victorian optimism. It's time to recapture their zeal in improving civic life.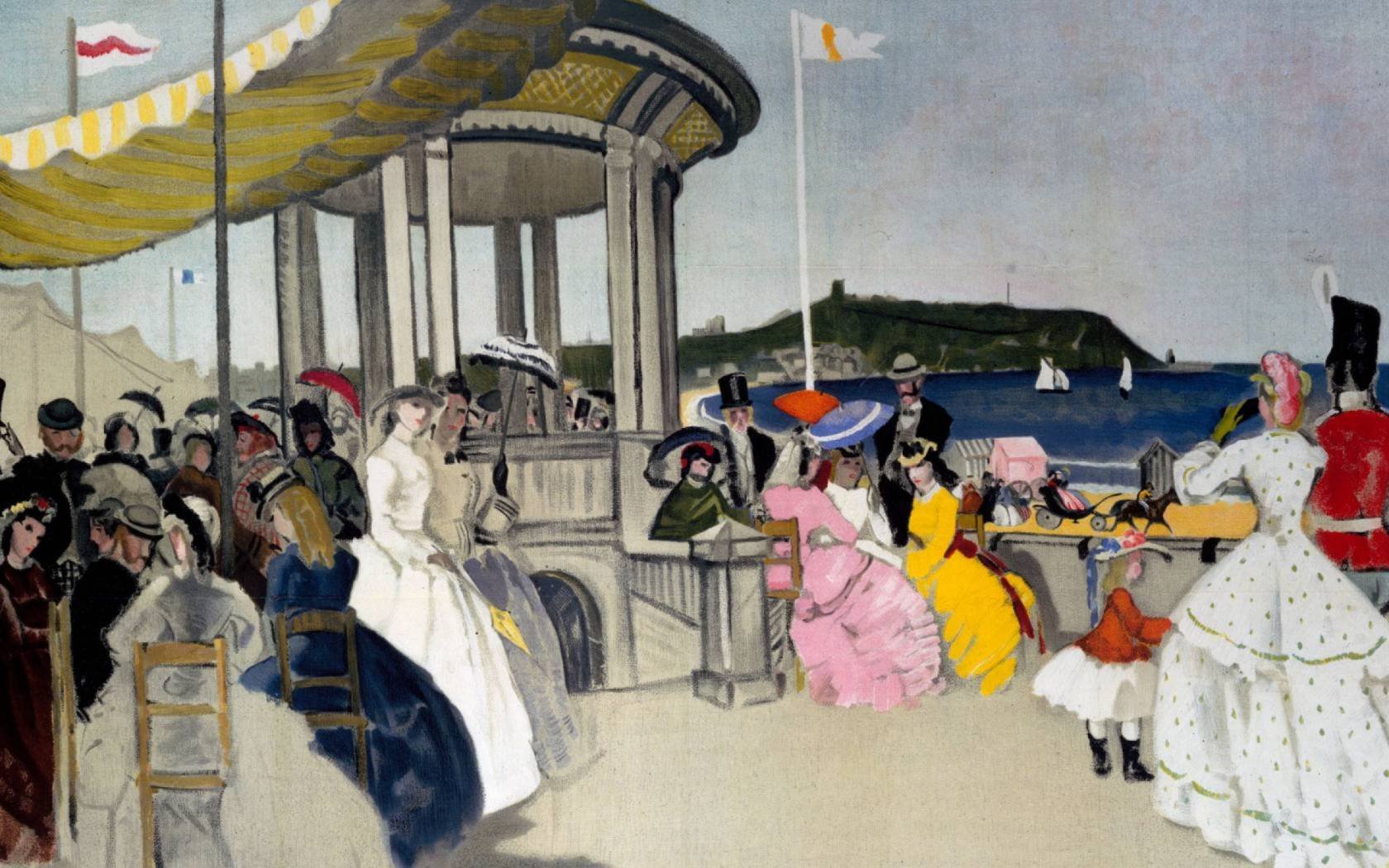 Poster produced by London & North Eastern Railway (LNER) to promote rail travel to Scarborough. Credit: SSPL/Getty Images
Walking through Pittville Park in Cheltenham, England, the other day, its majestic Regency Pump Room a towering backdrop, I spotted the sorry sight of a bandstand fenced off: 'Construction Site – Keep Out.' Only a temporary measure, I hope, but to see this wonderful icon of community and creativity encaged prompted a pang of sadness.
Mind you, at least it's still standing. As many as 900 of the 1,200 bandstands built between 1860 and 1940 in Britain are not. The Victorians, with their great zeal for providing improving opportunities for the working classes, started building bandstands all over the country, drawing crowds of thousands. They were soon considered a necessity – the city of Leeds alone had eighteen (it now has one). During the Second World War, many were deconstructed and their iron pilfered and melted down to make munitions, while others suffered neglect and abandonment with the ubiquity of cinemas and televisions.
In recent years, restoration projects have taken place, thanks in part to funding from the National Lottery, and there are stunning examples across the country. The bandstand in Wilton Lodge Park in Hawick, Scotland features ornate wrought iron painted in brilliant blue and gold, topped with a crown. In England, the gilded columns of Lincoln's Temple Gardens bandstand still shine – always popular, the site drew 40,000 people to concerts in 1889 alone. And on the south coast, Eastbourne's bandstand (which claims to be 'The Busiest Bandstand on Planet Earth') breaks the mould with a semi-circular stage, topped with a copper dome.
Edinburgh's Ross Bandstand is an altogether grander offering, set in Princes Street Gardens in the shadow of the Castle atop its volcanic plug. Built in 1935 for £11,000 (£800k in today's money) it boasts amphitheatre seating and a proper stage that was praised by bandmasters for its fine acoustics. I passed it every day on the bus to school, and it always looked a sorry sight, largely abandoned, with its flimsy blue plastic chairs blown all over by the wind. Plans are afoot to upgrade it: The Quaich Project will feature an 'undulating promenade, sculptural seating and dynamic open views,' a glass-fronted pavilion, and will cost £25 million. Modern-day Edinburgh has to have an expensive and architecturally-ridiculous solution to everything.
Bandstands have enjoyed a renaissance during the pandemic, with plenty of ventilation and ideal acoustics for an off-the-cuff gig. I work at the Norfolk & Norwich Festival, where this year, forced to rethink how music is presented for audiences in these times, there were nightly performances on the wonderful bandstand in Chapelfield Gardens, a park in the heart of Norwich. We had jazz, folk, Americana, beatboxing, pop, disco, post-hardcore and much more besides. Its position slap bang in the middle of the park allowed the committed to take a seat, the curious to perch on the fence, and the busy to hear a snatch as they hurried on by. It even serves as a focal point for the perpetually discontented, like the man who waved from his balcony daily to complain about the noise. A free, front row seat to see Moses Boyd live from the comfort of your own home? Some people don't know how good they have it.
Bandstands are more than just stands for bands, though. They're picnic spots, or shelter on a rainy day. They are a stage for curious infant actors, and a roof over head for rough sleepers. Clapham Common's bandstand was the site of the vigil following Sarah Everard's death.
While generations since have derided the high-minded ambitions of the Victorians, it's clear that similarly modest interventions to provide public space and community focal points are sorely lacking in our towns and cities today. As more land is privatised, public space as necessity is sadly no longer the status quo. City-dwellers pent up in box rooms with Juliet balconies will surely realise now: we must cherish the spaces we have, fill them with bands, parties, and people, and keep being noisy.