As it looks to the future the essential intergovernmental security alliance should draw inspiration from its founding.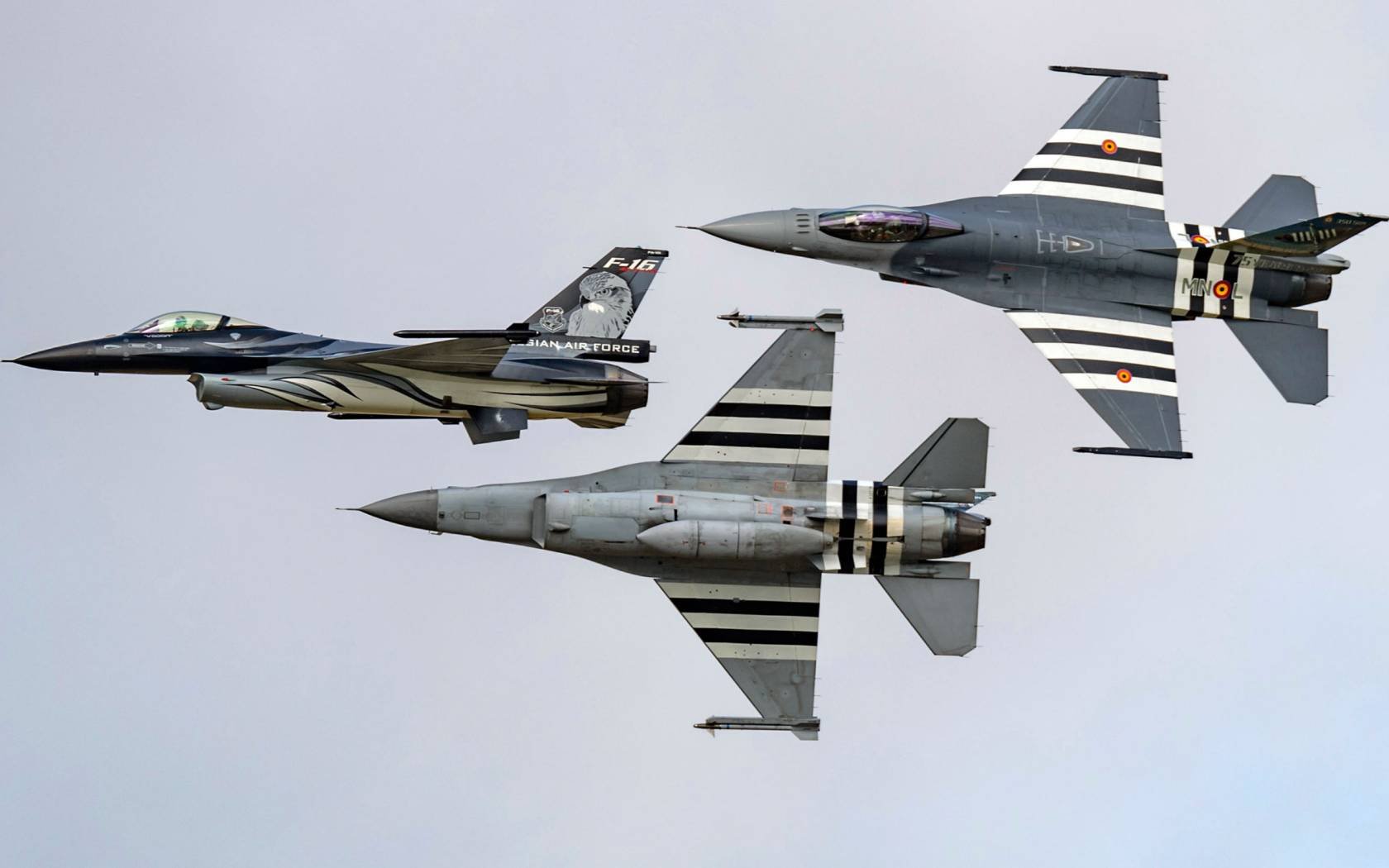 F-16 airfraft featured in the NATO 70th Anniversary flypast. Credit: www.jetphotos.co.uk / Alamy Stock Photo
Russia's large-scale invasion of Ukraine last year had many unintended consequences for the Kremlin. Far from capturing Kyiv and installing a puppet government in three days, Russia is now mired in a quagmire entering its second year. Meanwhile, the people of Ukraine have never been more united over a shared Ukrainian identity—something Russia hoped to erase. After decades of enjoying lucrative access to European energy markets, Russia is now forced to look elsewhere to export its oil and gas. After years of Russian complaints about NATO and EU enlargement, Sweden and Finland are on the cusp of entering the alliance and Ukraine is an official EU candidate country.
One of the most significant consequences of Russia's invasion of Ukraine has been to instill cohesion and restore a sense of purpose to NATO. Coming after NATO's failures in Afghanistan, Russia's aggression has given new momentum to the alliance. Across the capitals of Europe, NATO has not felt so relevant since the days of the Cold War.
Russia's invasion of Ukraine has also exposed some serious shortcomings across the alliance. Even though Europeans are now spending more on defence, they are still playing catch-up after years of chronic underinvestment.  During the early days of the invasion, some European countries were scrambling to find weapons and military equipment that had been maintained properly so it could be sent to Ukraine. Many were discovering that the stocks of equipment in their inventories were expired, obsolete, or unfit for combat due to years of budget cuts. Stockpiles of key munitions across Europe, and even in the US, are running dangerously low after supplying Ukraine. Policymakers are only now discovering that the defence industrial base lacks the ability to ramp up production quickly.
NATO needs to use its newly found momentum to get its members back on track. To do so NATO needs to look back to its origins for inspiration. A good place to start is the 1949 North Atlantic Treaty which serves as the Alliance's founding document. In particular, there are four articles in this treaty that are just as relevant today as they were in 1949 and throughout the Cold War. They should serve as guideposts for NATO's future.
As an intergovernmental security alliance, NATO is only as strong as its member states. Article 3 states that members, at a minimum, will 'maintain and develop their individual and collective capacity to resist armed attack.' Only a handful of NATO members can say that they are living up to their Article 3 commitment. Weak defence spending on the continent has led to a significant loss of capabilities and embarrassing gaps in readiness for NATO members. With Russia's invasion of Ukraine, many NATO members have pledged to spend more on defence. The challenge will be turning these spending pledges into additional funding and real military capability.
Article 5 of the North Atlantic Treaty is probably the most well-known and serves as the cornerstone of the Alliance's mission. Article 5 serves as NATO's mutual defence clause based on the principle that an attack on one member is an attack on all members. At present there is only one military threat to the alliance in the North Atlantic region: the Russian Federation. For some countries in Eastern Europe, Russia even poses an existential threat. NATO must ensure it can live up to its Article 5 commitments and be prepared to counter Russia. Everything else that the alliance does should be secondary to this mission.
There are many observers advocating for NATO to take a greater role around the world. Particularly, in the Indo-Pacific region in response to the rise of China. However, Article 6 of the treaty states that Article 5's mutual defence clause applies to 'the territory of any of the Parties in Europe or North America…on the territory of Turkey or on the Islands under the jurisdiction of any of the Parties in the North Atlantic area north of the Tropic of Cancer.' NATO doesn't have to be everywhere in the world doing everything, but it does have to be in the North Atlantic area able to defend the territorial integrity of its member states. NATO should keep a close eye on China but until Beijing poses a military threat to 'the North Atlantic area north of the Tropic of Cancer' Russia must remain the number one focus for the Alliance.
NATO needs to reenergize the debate about adding new members. NATO has underpinned Europe and North America's security for more than 70 years, so it is no surprise that many countries in the transatlantic region that are not already members want to join the Alliance. Article 10 of the founding treaty states that any European state that is 'in a position to further the principles of this Treaty and to contribute to the security of the North Atlantic area' can be invited to join the Alliance.
The alliance needs to start thinking creatively about how to best add future members—including Ukraine, Georgia, Kosovo and Bosnia. In the early 1990s after the collapse of the Soviet Union, the idea of countries like Poland or Estonia joining NATO seemed unrealistic, if not crazy. More than 30 years later, many of the countries of the former Warsaw Pact or those under Soviet occupation during the Cold War are now some of NATO's most steadfast members. The door must always be kept open, and policymakers must keep an open mind.
NATO has done more than any other organisation, including the European Union, to promote democracy, stability, and security in the Euro-Atlantic region. While Russia's invasion of Ukraine highlighted some shortcomings inside the alliance, steps are being made in the right direction to get the alliance back on track.
NATO should look back to its founding document to serve as a guide to its future.