On mothers and politicians
Letizia Bonaparte, Napoleon's so-called Madame Mère, loomed large in the emperor's life instilling in him the tenacity and force of will which led him to conquer much of Europe.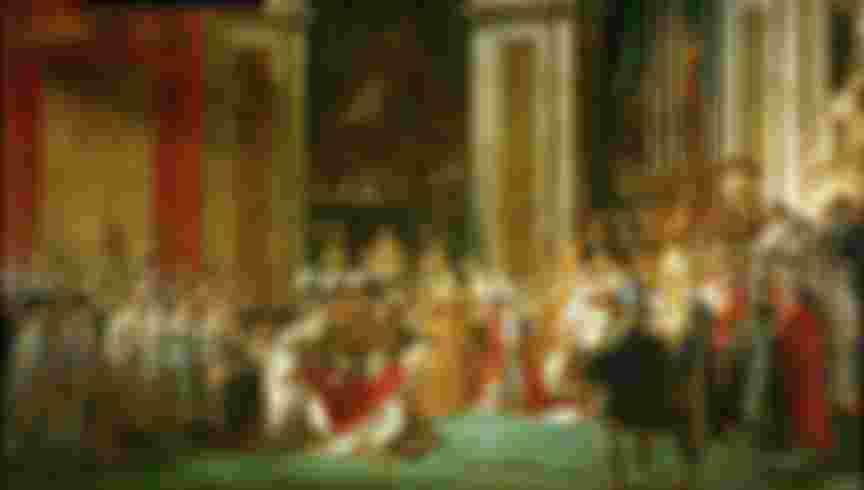 Letizia Bonaparte in The Coronation of Napoleon by Jacques-Louis David. Napoleon's mother was not in fact present at the coronation but was a later addition. Credit: Wikipedia Creative Commons
'She was on her way home from church when she felt labour pains. She had only time to get into the house, when I was born, not on a bed but on a heap of tapestry'  Napoleon Bonaparte later said of his birth just before noon on Tuesday, August 15, 1769. Married at the age of fourteen to the eighteen-year-old Carlo Buonaparte, the pretty Letizia became pregnant with Napoleon while campaigning for the independence of Corsica after the city-state of Genoa, which had ruled the island for two centuries, sold it to France in January 1768. At first, Napoleon's parents supported and fought for independence but when faced with exile they chose to take an oath of loyalty to Louis XV of France, a few weeks before Napoleon's birth. An independent and rebellious spirit, and a loyalty to both Corsica and France, seem to have been built into his DNA.
In fact, mother and land loomed large in the making of Napoleon. Of his father, the handsome Carlo Buonaparte, or rather Charles Bonaparte, who died of cancer aged 38, his son later confided that he was 'a loving father but a weak man, often impecunious and somewhat frivolous.' However, Napoleon could not praise his mother enough. 'To my mother, I owe my fortune and all I have done that is worthwhile.' That, and the strongest of wills.
The first nine years of Napoleon's life spent with his family in Ajaccio were 'uncomplicated and happy' according to his British biographer, Andrew Roberts. A solitary child who did not seek the company nor the games of his peers, he would spend hours reading books, especially historical and philosophical works. His elder brother Joseph and his mother Letizia would let him read for as long as he pleased. Life radically changed when it was decided he would be sent to the royal military school of Brienne le Château in France. He was eligible for a scholarship dedicated to the children of the less affluent nobility, and his father did everything he could to obtain it. In just three months, the nine-year-old Napoleon had to learn French. He then spent the next three years getting a fine education during which he would not see neither his parents nor siblings.
While he studied, among other disciplines, mathematics, geometry and the art of war, his mother became a widow at the age of 35 with small children to look after and educate. Overnight, Letizia became the head of an impoverished family, with a pile of debts left by a self-indulgent husband. However, as Napoleon would later say, 'She was a matriarch. She had plenty of brains!' And Napoleon, her second-eldest son, would do everything he could to help her, and protect and promote his siblings. And throughout his life, he often did so to the detriment of his own interests. In total, Letizia had had fourteen pregnancies and eight surviving children. As a young widow, she embraced frugality with her usual determination, keeping her noble principles intact.
'My mother was a superb woman, a woman of ability and courage,' Napoleon told General Gourgaud, a close General of his who saved his life twice and was with him in exile in St Helena. 'Her tenderness was severe; here was the head of a man on the body of a woman.' No higher praise coming from Napoleon. In fact, it seems that her son feared and loved his mother in equal measure. And she certainly could make life difficult for him. Letizia Bonaparte never liked Josephine de Beauharnais, for instance, and disapproved of his relationship and marriage to her. On the coronation of Napoleon as emperor at Notre-Dame Cathedral in Paris on 2 December 1804, her absence was keenly felt. She had chosen to be in Rome instead.
To right this wrong, the painter Jacques-Louis David inserted 'Madame Mère,' as she was soon to be addressed, in his famous depiction of the coronation, the second largest painting hanging in the Louvre. What Napoleon particularly enjoyed in David's work was both the attention to detail, and therefore historical truth, and the reinvention of the event with the presence of characters in the painting who had been so visibly absent in Notre-Dame. In the painting, Maman Letizia is overlooking the scene of the coronation from a central box, smiling kindly at her son. This was as it should be, Napoleon must have thought, and thus how the event should be recorded for posterity. A year later, in June 1805, Napoleon gave her the Château de Pont near Brienne. And over the years she built up a fortune of forty million francs (approximately eighty-five million pounds in today's money). As the grateful and loving mother she was, she accompanied her son in his first exile in Elba in 1814. They dined and played cards every Sunday evening. He would cheat, she would scold. A routine he would no doubt terribly miss during his second and finale exile in St Helena.
Letizia had wished to join Napoleon in exile again but this time was barred from doing so; instead, she was kept under strict surveillance in Rome with scant news from Napoleon. As she sank into mysticism, her son slowly died of cancer. Far away from both mother and land.