Remembering Wilhelm Furtwängler
The conductor was a radical whose approach to music was singular and unorthodox, bequeathing audiences with a scintillating treasure trove of unique concerts and recordings that do not entirely belong to the composer who conceived them.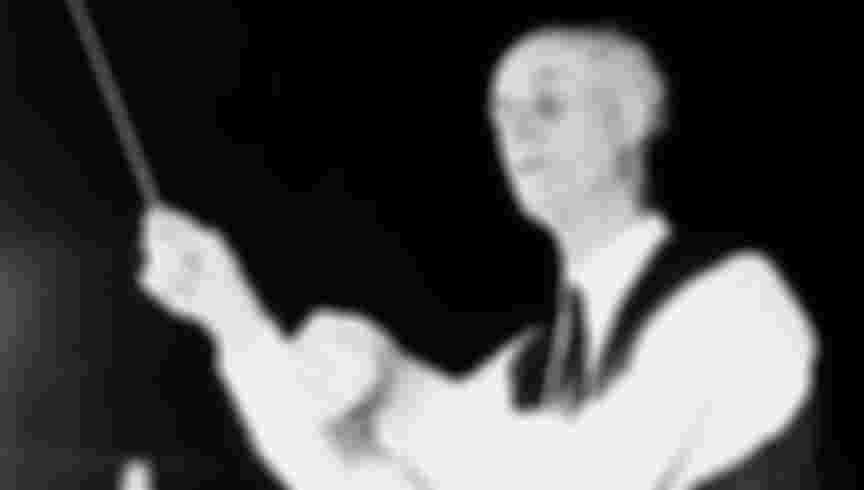 Wilhelm Furtwangler Conducting, 1940. Credit: Bettmann via Getty
Three months before his death on 30 November, 1954, at the age of sixty-eight, Wilhelm Furtwängler conducted a glamorous production of Don Giovanni in Salzburg. As with every Furtwängler performance, the tempo and emphasis of Mozart's opera was controversially interpreted to suit the proportions of the venue and the size of its audience. Despite his increasing frailty, the great magician of modern conducting displayed all the insouciant authority that characterised his earlier experiences at the podium. After the cold and colossal Commendatore dragged Mozart's anti-hero down to hell, the Austrian crowd erupted with enthusiastic applause. No one, including Furtwängler, knew this would be the last occasion he would wield his lissom baton. It made for an epic, albeit unintentional, farewell to the concert hall circuit that had made him a legend in his own lifetime.
Furtwängler was perhaps the most unorthodox and authoritative interpreter of classical scores in the history of twentieth-century conducting. Dividing critics and enlivening audiences with his seemingly enlightened interpretations of classical standards, he never shied away from exploring his subjective appreciation of a great work during his time as principal conductor of the Berlin Philharmonic Orchestra between 1922 and 1945. His extraordinary intellectual confidence, a confidence that led him to the equivocal conclusion that he alone understood the emotional intentions behind a Beethoven symphony or Wagner overture, infuriated rival conductors but inspired almost every musician who worked with him.
Born into a prominent Munich-based family, Furtwängler's father was a noted scholar, archaeologist and museum curator. His mother, to whom he owed his natural aptitude for vivid expression, was a gifted painter and celebrated copyist. Whereas for most nineteenth-century European families the arts were seen as a fascinating distraction from the drudgery of daily life, for the Furtwänglers, it was a constant reality and their prevailing vocation.
Furtwängler's father encouraged his son's autodidactic investigations into painting, philosophy, literature and music, pulling him out of formal education when his prodigious musical talent became apparent. Untraditional but highly capable tutors were employed to teach the boy at home, whose commodious memory consistently impressed every adult he met. He developed a deep love and comprehension of Goethe, Nietzsche, Wagner and Beethoven and was often seen walking the streets of Munich as a youth with his button nose buried in a book of Beethoven's sonatas. His obsession for Beethoven and unconventional education arguably engendered his unique conducting style and incomparable approach to interpretation.
In Furtwängler's inimitable mind, musical scores were not holy texts all performers were obliged to adhere to. To him, notes printed on a page simply represented the composer's aesthetic and sensorial intentions in terms of colour, emphasis and ultimately, effect. According to Furtwängler, this was certainly true of the German composers he had voraciously studied in his youth. He was utterly convinced that the classic and Romantic Germanic composers were not concerned with literal meanings so much as with symbolic significance. When asked by the journalist H.N Brailsford about his contentious choice of tempi for a production of Beethoven's Symphony No. 9, Furtwängler responded: 'I should not take these tempi, if I was not convinced that these were the true tempi of Beethoven. The long and the short of it is, that an interpreter can only render what he has first lived. A formula of a correct rendering of everything, which can become a universal law, applicable to every case, no, there is no such a thing.'
In an essay he penned in order to exculpate and expatiate his artistic aims, Furtwängler wrote: 'A score cannot give the slightest clue as to the intensity of a forte or piano or exactly how fast a tempo should be, since every forte every fast or slow tempo has in practice to take account of such things as the size and composition of the orchestra and the characteristics of the hall in which it is playing.' As a result of this musical philosophy, each of Furtwängler's 3,500 concerts were entirely distinct. He never conducted a piece the same way twice.
Towards the end of the twenties and start of the thirties, like TS Eliot in literature or Pablo Piccasso in painting, Furtwängler bestrode the cultural world like a colossus. Though radical in his outlook, his dissenting view of how best to perform revered repertoires quickly became creed to many. Undeterred by his enormous differences with equally notorious conductors, his obdurate temper gained him an ever-growing cult following. The rise of Nazism in Germany tarnished his pristine name. Recognising his cultural authority, Hitler and Goebbels sought to gain the imperious conductor's support for their programmes of cultural reform. He was offered a baronial hunting lodge, a large pension and numerous medals and prizes, all of which he refused. His decision to stay in Germany, as other famous creative figures like Thomas Mann had done, was based on his belief that the artistic realm should not be affected by any changes in a political climate. Accusations of Nazi inclinations hounded him to the end of his life, but he regularly spurned orders to salute Hitler and did everything he could to assist talented Jewish composers and musicians. One member of his orchestra said after the war: 'I was married to a Jewish woman before the outbreak of war and played in Germany for the entire duration of the conflict. This would have been impossible without Furtwängler's intervention.'
Towards the end of the War, in early 1945, the conductor fled to Switzerland. The Allies then put him through a denazification process following the fall of the Nazi regime, and he was acquitted to resume his career.
Some critics, such as David Hurwitz, have decried the insidious influence Furtwängler may have exerted, but many of his bitterest rivals, including Herbert von Karajan and Toscanni, conceded that the maestro was at the very least an 'amateur of genius.' In one of his polemics on interpretation, Furtwängler used the metaphor of arranging flowers in a vase to illustrate the task conductors face when bringing a masterpiece to life. The arranger can only use what the composer has provided, but they are free to intensify the lustrous appeal of the bouquet. After hearing his renditions of Mozart, Bach, Gluck, Wagner, Beethoven and Brahms, it is hard to find another conductor's interpretation that matches the magisterial beauty of Furtwängler's music.
It is difficult to say what makes a great conductor. Perhaps one symptom of a consummate conducting career is the ability of a maestro to make a famous and beloved piece their own in the ears of an adoring audience. When we listen to Kleiber conducting Beethoven, we hear a version so unique we can only ascribe the brilliance of that particular rendition to the man waving the baton. Furtwängler bequeathed a glorious and scintillating treasure trove of recordings that do not entirely belong to the composers who conceived them. It is comparable in some ways to translations of poetry. The translation ceases to solely belong to the original author; it is also adopted by a surrogate parent. Every Furtwängler concert and recording is as much his as the credited composer because they could only have been produced by a visionary blessed with his insight and awareness.