Resisting the saccage of Paris
Mayor Anne Hidalgo's push to 'green' Paris is turning one of the world's most beautiful cities into an urban wasteland.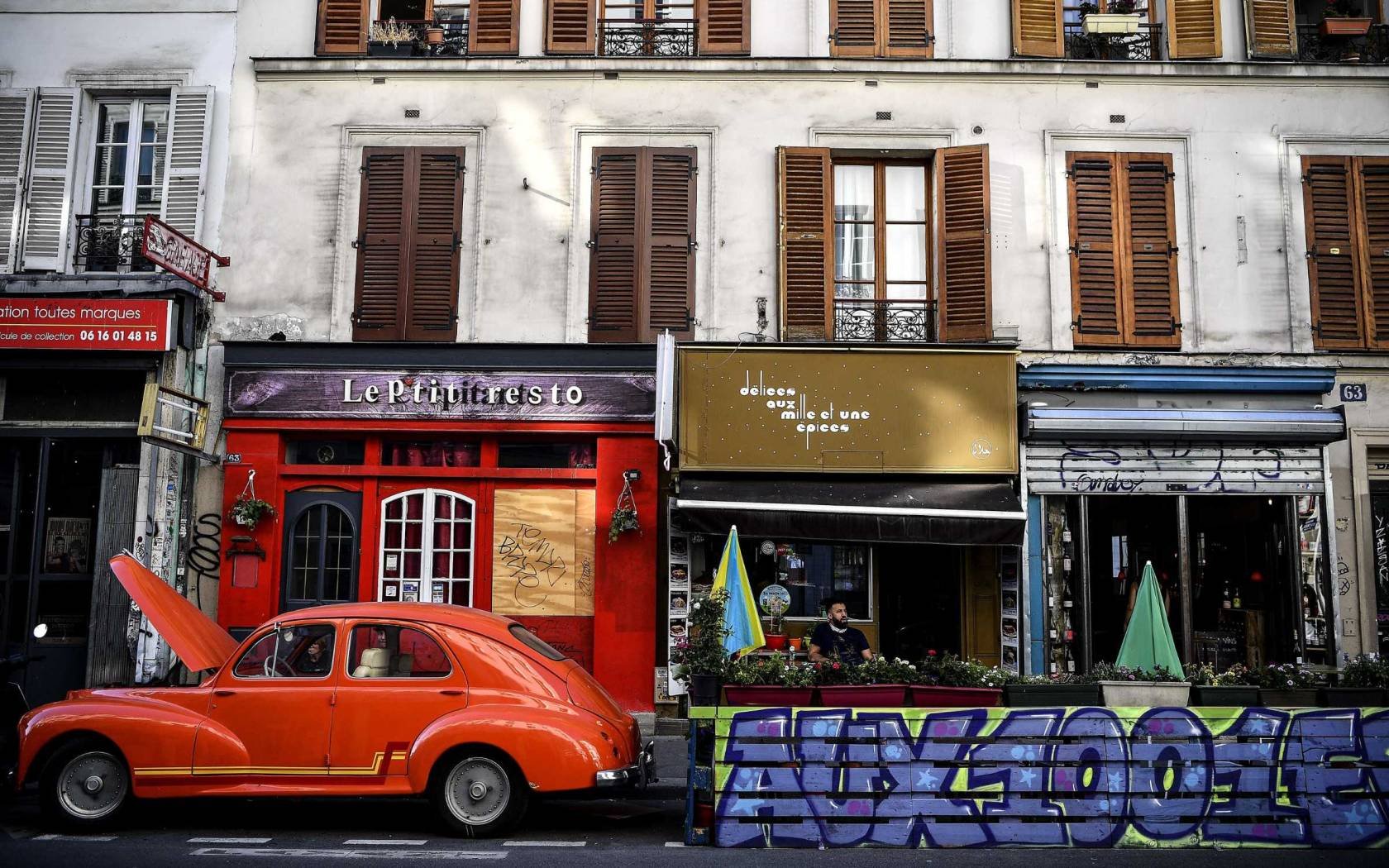 A man sits on an extended terrace made of wooden pallets in Paris. Credit: Christophe ARCHAMBAULT / AFP
On 21 March, a 53-year-old Parisian man who presents himself as a white-collar worker who despises political extremes lamented on Twitter the 'saccage' of one of Paris's most beautiful parks, Parc Monceau in the leafy 17th arrondissement. In the late nineteenth century, the Rothschilds, Camondos, Pereires, Cernuschis, bankers and wealthy art collecting families, had their hôtels particuliers built all around the park so they could enjoy the views over this marvel of a twenty acre-wide garden. Filled with architectural fragments salvaged from the past, here a neo-classical rotunda by Claude-Nicolas Ledoux, there a Renaissance colonnade designed by Catherine de' Medici, it had long been a hidden gem, known only to Parisians and Paris lovers from all over the world, as well as to Marcel Proust's readers. Today, however, promenading in Parc Monceau has become a painful affair, given its dilapidation and neglect in a city known, in the past, for looking after its cultural and architectural heritage.
A few days after this first tweet, the hashtag #SaccageParis was born. Saccage? Saccage as in rampage, as in pillage, as in ravage, as in damage. In just a week, 21,700 Parisians shared pictures on the social network showing the painful truth of the French capital city's fast dilapidation. They hardly needed words; the pictures spoke for themselves, telling a story of filth, abandonment, disrepair, decrepitude, laissez-faire attitudes, ugliness and ecological disaster.
If this story started years ago, Covid has made it much worse, and has quickened Paris's demise. Last year, yellow bollards sprung like mushrooms in the middle of every street to, we were told, allow cyclists to share roads with cars (this on top of the already existing cycle paths). But why? Cycling is great, but disfiguring Parisian streets with tens of thousands of plastic bollards? Yellow road markings would have done the job easily. Then, concrete road-blocks, now all graffitied, appeared at every corner 'to protect pedestrians from cars.' Isn't it what pavements are for?
This is not all. To help restaurateurs, brasseries and café owners cope with Covid, even though they currently enjoy one of the most generous furlough schemes in the world, they were allowed to occupy public spaces as they wished and build their own private terraces on pavements and parking spaces. This would last, we were told, three months. No problem, we love cafés, don't we? However, it has been more than a year now, and Parisians have just learnt they are in fact here to stay. This alone means noise pollution of an unbearable degree for many Parisians but also, and perhaps more importantly, ugliness of a sort Paris had mostly been spared in its long and tumultuous history.
The main problem with café terraces, as with most things in Paris at present, is that there are no rules, no plans, and no pre-approved aesthetics or style. The current municipality seems to constantly improvise, launching grand ideas without organisation or consultation.
Terraces of all hues, material, and size now cover half the streets of Paris. What predominates, even in chic arrondissements, is the shanty look: plastic tarpaulin, plastic plants, fake grass, painted pallets, and straw huts. These 'terraces' sometimes sprawl over a space three times that of the original restaurant or café.
There is more. Re-elected only thanks to her last-minute alliance with The Greens, the mayor of Paris, Anne Hidalgo, has let their pseudo-ecological follies run amok. On paper, Green party initiatives often look good. One of their many ideas has been, for instance, to give out 'licences to vegetalize.' They love jargon, the way only ideologues do. The idea means that anyone can privatise a tree and … do whatever they like to it: build a barbed-wire fence around it, plant whatever they like at its foot, even paint the trunk pink or purple as I have seen in Montparnasse. Furthermore, for the Paris townhall's ecologists, weeds are sacred. The more the merrier. Paris's pavements, squares and buildings are now covered with them. In French, weeds are called herbes folles. It is indeed madness. This makes Paris looks unkempt and filthier than it already is. Hideousness is clearly the price to pay to feel morally superior.
First as deputy and then mayor, Anne Hidalgo will have been at the helm of the French capital for 25 years when her current mandate ends in 2026. This, by any democratic measure, is far too long. Such a length of time contributes to the creation of a system with cronies, sycophants, and delusions of grandeur. When Hidalgo was asked on 9 April what she thought of the thousands of Parisians who had shared their anger at seeing their cherished city in a state of dilapidation, she replied that it was a far-right conspiracy.
Marine Le Pen's extreme right party is notoriously unpopular in Paris. She won just 1.5 per cent of the votes at the last local elections. All Hidalgo achieved by insulting Parisians was to pour oil on their anger – which will not be soothed anytime soon if drastic measures are not taken. All Parisians need to do is to walk the streets, take pictures, and share them for the world to see. In the last forty days, #SaccageParis has generated between 10,000 to 20,000 tweets a day. Parisians love their city too much to leave the care of it to sanctimonious amateurs.