Robbie Robertson: presiding genius of the New Americana
Guitarist and lead songwriter of The Band died this week at the age of eighty, his greatness assured.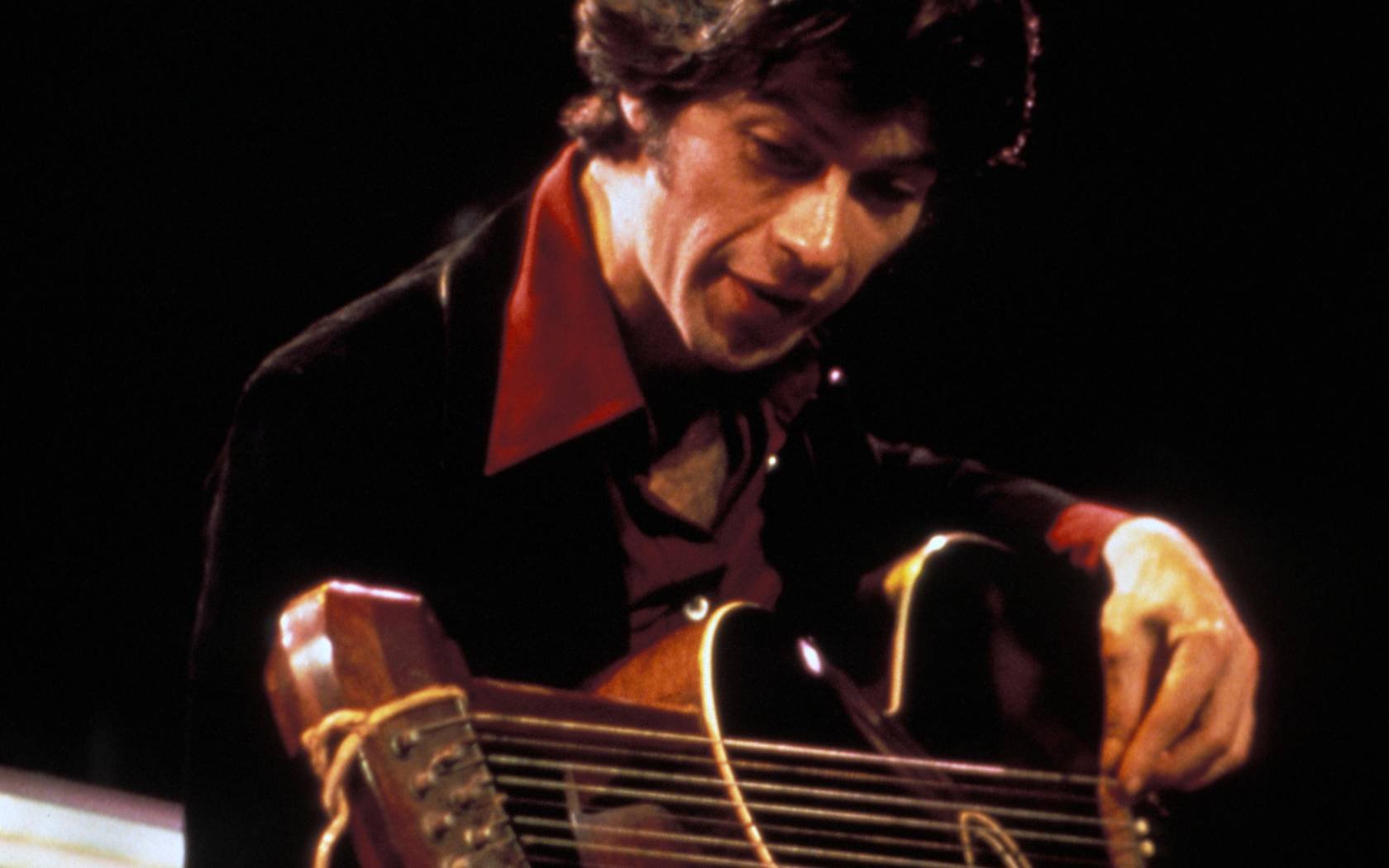 Still from The Last Waltz. Credit: PictureLux / The Hollywood Archive / Alamy Stock Photo
There was revolution in the air in Cambridge in 1969. Of course, they were just kids playing at it. But there really was a revolution and the kids missed it. I and a select few sensitives did not. For we had gazed in wonder at a brown LP sleeve with a monochrome photograph of five hairy guys looking serious, not to say threatening.
The LP was called The Band and it was by a group called, er, The Band. The hairy guy on the right of the picture was the band leader and founder – Robbie Robertson. He just died, aged 80, in Los Angeles.
Now I am not one casually to use the term GOAT – greatest of all time – but I have done, much too often, about this album and about Robertson, its presiding genius.
'It was like nothing we had ever heard,' says a friend. After The Beatles' Sgt. Pepper's Lonely Heart Club Band and Cream's Disraeli Gears, both in 1967, this was something unironic, unhippy-dippy and alarmingly serious.
There was, most famously, 'The Night They Drove Ol' Dixie Down', about the defeat of the South in the Civil War. Virgil Caine, the protagonist, is a broken man – 'You can't raise a Caine back up when he's in defeat.'
There was the apocalyptic 'Look Out Cleveland'…  in fact, it's pointless to list any more. The album is one thing, not many. Every song is a development in subject matter and, most importantly, in 1969, every one sounded new. This was a unique mix of folk, blues, country, rock, jazz and R & B that became known as the New Americana.
The Band, the group, had been formed in 1967 and it lasted until 1976. It was resurrected in 1983 without Robertson. They had worked as Dylan's band and their music helped form his middle period style – listen to 'Never Say Goodbye' on the album Planet Waves. Robertson inserts his guitar a little too much, but too much is okay by me.
The Last Waltz, The Band's farewell concert in 1976, included Bob Dylan, Joni Mitchell, Van Morrison, Neil Young, Eric Clapton, Neil Diamond, Emmylou Harris – almost everybody worth listening to, in fact – and it was filmed by Martin Scorsese. Pharmacologically it was a nightmare. Scorsese had to have the traces of cocaine from Young's nostrils digitally removed, and heroin seemed to be circulating freely.
'If there was anything wrong that night', Robertson later said, 'it was that the cocaine wasn't very good. It was wet and lumpy. I couldn't indulge anyway, I had too much to be responsible for. I couldn't mess around with trying to keep my head on straight. Neil didn't have that problem at all.'
He tended to keep himself sufficiently aloof to keep on working. He went on to make the music of many of Scorsese's films, including Killers of the Flower Moon, due out in October. His influence on Dylan – especially the underlying idea of Americana – was enduring.
This relationship had begun before The Band was formed. Robertson was in a group called The Hawks. In 1966 Dylan hired them to go on the weirdest tour ever. He had just decided to abandon his acoustic folk music and go electric, a move that was not welcomed by his folky fans. Every show inspired a chorus of boos. Levon Helm, the drummer of The Hawks and then The Band, couldn't take it and dropped out. Dylan couldn't understand why people would buy tickets to boo. Years later Robertson said, 'It became a ritual, I guess.'
Without Robertson that great album and all that followed could not have happened. He was always more gripped by the work and the music than the lifestyle and that kept him on his job as leader.
Perhaps he preserved an outsider's view of it all. Though he created the New Americana, he wasn't, in fact, American. He was an only child, born in Toronto in 1943. His mother was native American, part Mohawk and part Cayuga, and he was brought up on the Six Nations of the Grand River. After his death, people were asked not to send flowers but, instead, money to the Six Nations.
His parents broke up when he was a teenager. His 'father' turned out not to have been his father who, in reality, had been a professional gambler who died in a hit-and-run accident. As an upbringing for a music star it could not have been improved.
His later music could not match the wonder, shock and awe induced by The Band album, but it was all born from the idea of America rooted in that album.
'The Band's music', said Scorsese after his death, 'and Robbie's own later solo music, seemed to come from the deepest place at the heart of this continent, its traditions and tragedies and joys.'
Robertson wanted the sound of that album to be 'woody-thuddy'. He wanted and achieved a rawness and authenticity, not the careful studio sound of that rock era.
'We wanted to avoid the formality of normal studios', he said, 'where they have these particular surfaces in there. Music From Big Pink [a previous album] came out pretty good, but we took it a step further on The Band, because there was no recording engineer and no studio at all. Again, when that record came out it didn't resemble anything in the world. So it became something with its own identity and character.'
This is what sends a shiver down the spine when Levon Helm, a southerner from Arkansas, sings 'The Night They Drove Ol' Dixie Down.' It's a raw lament for the Civil War dead. Rick Danko's voice in 'Rockin' Chair' – another lament, this time for sailors leaving the sea – magically sounds as old as the protagonists. It is the track from the album I have played more than any other. The lyrics alone…
'The Flyin' Dutchman's on the reef
It's my belief, we've used up all our time
This hill's too steep to climb
And the days that remain ain't worth a dime.'
Less tragically, Robertson seemed to love carnivals. At fourteen he had summer jobs in carnivals in the Toronto suburbs and, later, as an assistant at a freak show. He wrote a song called 'Life is a Carnival' and, in 1980, produced and appeared in the film Carny.
This, to me, says something about the man and his ability in that great album that reached into 'the deepest place at the heart of this continent, its traditions and tragedies and joys'. There was an inclusivity about his imagination combined with his desire to keep things true and pure in his bare studios. His America comes across in the album as a tragic and struggling land, relieved by the life of the carnival, the urge to celebrate. This surely is why the LP ends with 'King Harvest', a Steinbeckian story of the Dust Bowl. It's a solemn and beautiful evocation of hardship and hope…
'A scarecrow and a yellow moon
Pretty soon, the carnival on the edge of town
King Harvest has surely come.'
Like many of my generation, I find it hard, very hard, to leave 1969 behind. That, too, was a carnival of sorts.