The brief re-opening of the Rodin Museum's gardens gave Parisians a bewitching respite from their everyday cares.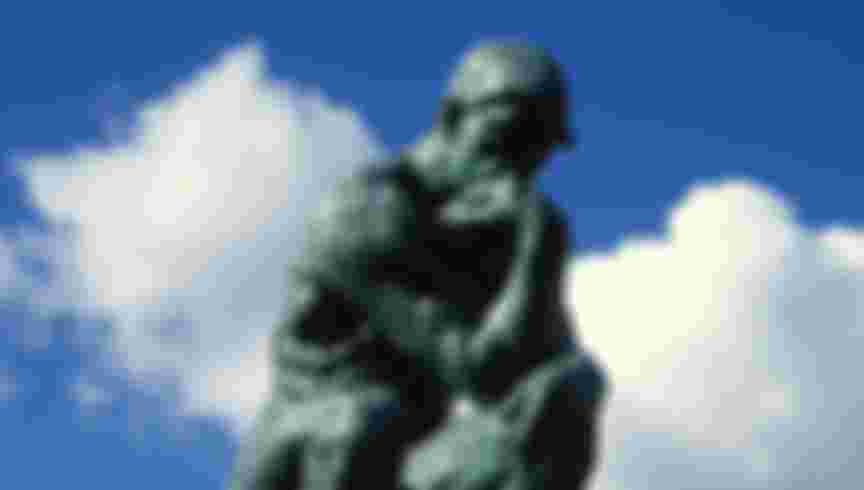 Rodin's bronze sculpture The Thinker at the Rodin Museum in Paris. Credit: Schnürer/ullstein bild via Getty Images
For art famished Parisians, who haven't been able to visit a gallery in five months, the news that the Rodin Museum's gardens (with its many sculptures) were re-opening to the public felt miraculous. They have now shut again due to the latest restrictions imposed on Paris but while it lasted, they offered a "bower quiet' for us, away from Covid and the tumult of our times.
Once through the majestic doors, it takes a few minutes to imagine a time when the museum, the beautifully restored Hôtel Biron, was a derelict mansion occupied by the congregation of the Sacred Heart of Jesus and its boarding school for jeunes filles. The effort, however, is worth the try and guarantees the most poetical spell of time-travelling.
Built between 1727 and 1737, the townhouse and its 7.5 acres of gardens, standing at the corner of Rue de Varenne and the Invalides, was once a fine example of rocaille architecture. Sold in 1753 to Marshall Biron who gave it his name, the estate was then occupied by different owners and tenants from the French Revolution onwards. Once rented out for festive events, leased to the Holy See and then to the Tsar of Russia, it finally fell into the hands of three nuns, founders of the Sacred Heart of Jesus in 1820. The front courtyard, today restored to its original vastness and emptiness, was gradually covered with buildings, almost barracks, of classrooms and studios of all sorts.
A new era began in 1905 with the law of Separation of Church and State. The congregation was dissolved, the sisters evicted, and the estate became public property. It was left to rot. Would it be demolished? The French state was in two minds about it. During the following six years, the place, looking both grandiose and in ruins, became a secret cultural beehive. The rental of a room or two was so cheap that artists would pass on the tip in hushed tones. In 1907, the German sculptor Clara Westhoff set up her studio there and told her estranged husband, the poet Rainer Maria Rilke, of her amazing find. A year later, Rilke could not resist the urge of living in this 'paradise.' The day of his arrival, 31 August 1908, he immediately wrote to his former employer and great friend, Auguste Rodin to share his joy: 'You should come, dear great friend, and see this beautiful building and the room I have moved into this morning! The three French windows prodigiously give out onto an abandoned garden where I can see rabbits jumping through the trellis just like in a Medieval tapestry.' Such enchantment was not lost on the young Jean Cocteau who, the same year, only aged 19, rented a tiny room there without telling his parents. His alcove sheltered his brief and intense affair with a woman, Christiane Mancini, a pupil at the Conservatory whose passion apparently freaked the young poet out for years to come. The penniless and ardent American in Paris, Isadora Duncan, also rented a few rooms for her dance school: a perfect observatory for her co-tenant, the 40-year-old painter Henri Matisse, who was fascinated by dancers and movement.
Needless to say, within a few months Rodin had joined the clique. He moved his studio into a suite of four south-facing ground-floor rooms opening onto the terrace and garden. The daily spectacle of this vast and wild flora and fauna soon inspired him not only to stay, but to envisage this place as his artistic mausoleum. What more perfect stage for his monumental sculptures, from La Porte d'Enfer to his Bourgeois de Calais and, of course, Le Penseur which had awed the public when it was first unveiled in the spring of 1906, prompting George Bernard Shaw, a friend and admirer, to undress and strike the pose for photographer Alvin Langdon Coburn.
The 71 year-old Rodin, considered both a genius and a maverick in his own country, had to fight hard. In 1911, while French officials were pondering using the Hôtel Biron as a governmental building, he obtained a reprieve and while every other occupant was evicted, he was the last tenant authorised to stay. An intense campaign thus started. With the public support of, among others, painter Claude Monet, playwright Edmond Rostand, and politician Georges Clemenceau, Rodin announced that he was formally donating all his works, in plaster, marble, bronze and stone, all his drawings and all his collection of antiquities to the nation in exchange of the assurance that he could continue to live at Hôtel Biron until his death, and that his works be kept and exhibited right there. Met by the government's silence, Rodin went further. Through three different donations, he bequeathed all of his possessions to France, everything he ever owned and made as an artist: 6,000 sculptures, 7,000 drawings, 200 paintings, 6,500 antiquities, his personal archives and library, his private correspondence with 8,000 people, 10,000 photographs, and his house in Meudon, just outside of Paris. If Rodin could have sold his soul to retain this place in eternity, he would have done it.
In front of such selfless determination, such commitment, France thankfully bowed to the great man's plea and wish. Rodin lived another six years in this dream of a place, until his death in 1917. And on the 4 August 1919, Hôtel Biron opened its doors to the public for the first time as Musée Rodin.
Although 77 rue de Varenne has since been restored and the wild gardens and rabbits have somehow been tamed, visitors only need a little imagination to go back in time and feel the elation of 1908. Can you see Isadora naked under her white tunic dancing near the pond while Rodin quickly sketches, never looking down at the paper? I can.