Shakespeare's Sisters: a women's canon
The landscape of women's literature is far older, more extensive and much richer than is often acknowledged.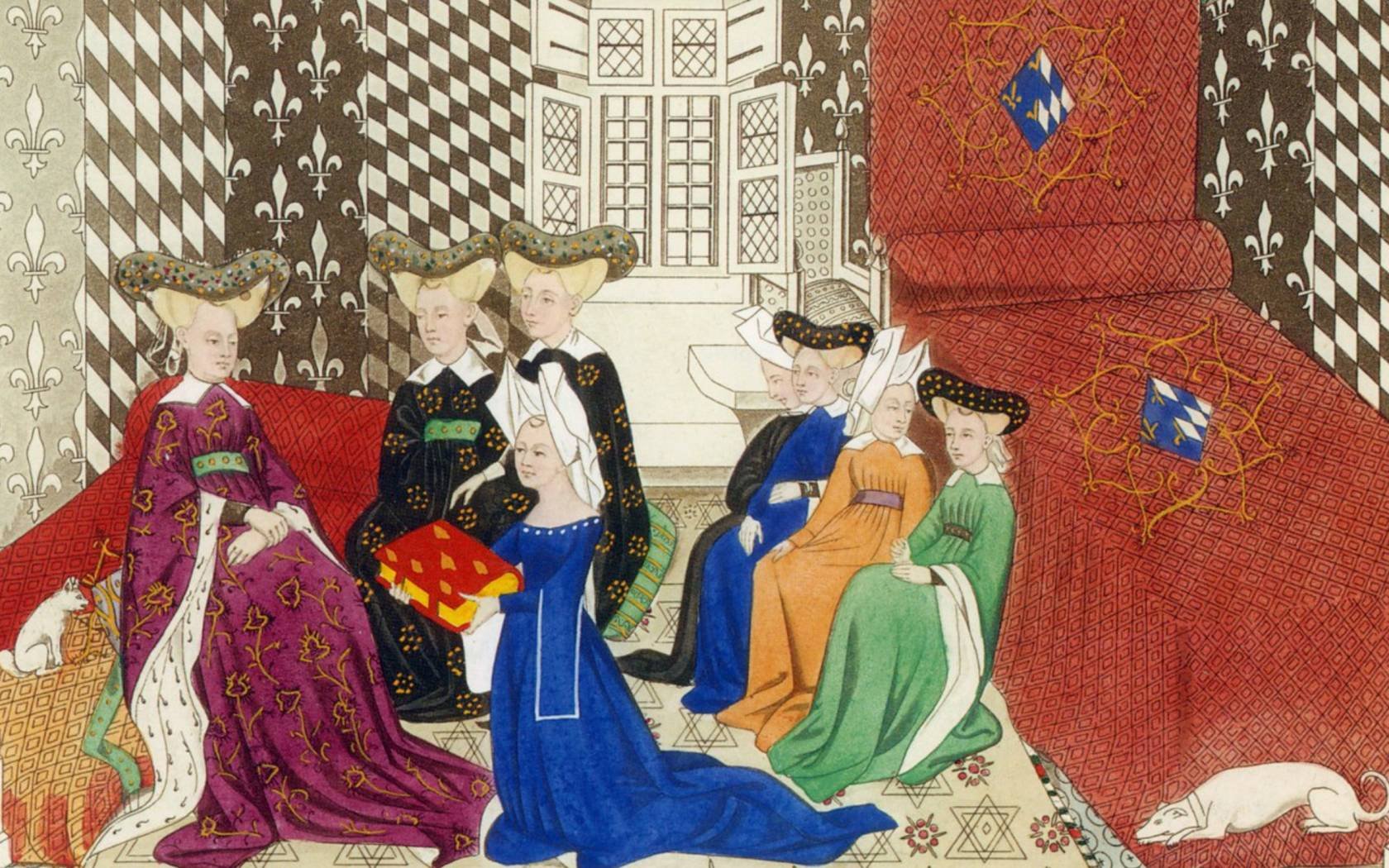 Christine de Pizan presenting a book to Queen Isabeau of Bavaria. Credit: Science History Images / Alamy Stock Photo
In August 1599, Mary Sidney, Countess of Pembroke – sister to the poet Sir Philip Sidney – was preparing for a visit from Elizabeth I to her house in Wiltshire. As a part of the preparations (dusting the rooms, cooking a feast, summoning the entertainment), Mary Sidney set about organising something rather different. On her orders, a special presentation copy of a psalter — the Psalms of King David, found in the Old Testament — was copied out by a scribe, and bound in leather.
There was something special about this psalter: the elaborate hand that stretched across the pages wasn't written in the original Hebrew, or even a copy of the most common English translation (the Sternhold and Hopkins version, whose popularity was undimmed for two centuries). Instead, this translation of the 150 psalms was the work of Mary and her brother Philip: after Philip's death in 1586 – by which point, he had translated 47 of the psalms – Mary had continued the project, and "weaved this web to end". In dizzyingly innovative metrical forms, she had translated the other 103 psalms. It was this feat of literary creation she wanted to present to the queen.
It is hard to overstate just how impressive Mary Sidney's literary endeavour was: she and her brother were hardly au fait with Hebrew and had, instead, worked with the multitude of voices found in the 1539 Coverdale Great Bible, the Geneva Bible, and French and Latin translations. But, when faced with these polyphonic, conflicting sources, they had managed to make their translation their own: choosing a new metrical construction for each and every psalm was proof of the literary capacities of the English language — and deserves a place in any literary canon — as much as it was a religious document.
But, after the death of her brother, Mary Sidney also made the psalter a proof of the literary richness of women's lives. She wrote eloquently about the 'pangs of childbed' and the delicate lives of 'embryo[s]'; she added asides on how to raise aristocratic daughters and how they are taken away from 'the house and folk' where they grew up; and she reinterpreted biblical passages to be able to comment on the restrictions placed upon women. Mary Sidney was not alone in translating psalms — it was the most modest form of writing for women to partake in, beloved by everyone from Katherine Parr to Elizabeth I — but she made the genre, and the divine voice, her own. She was praised far and wide, lauded by her fellow poet John Donne and, with her decision to make stanzas in one poem appear like the wings of a dove, even influenced George Herbert's poem 'Easter Wings'.
Sidney's choice of religious material would be shared by many other early-modern women writing their way into the literary canon: it was a way to write — and potentially even publish — without inviting accusations of immodesty.
It was this veneer of religious respectability that Emilia Lanier, the first woman to publish non-anonymously in English, stood behind with her 1611 work Salve Deus Rex Judaeorum. Boldly, she argued in one poem that it was Adam, instead of Eve, who should be blamed for the fall – and pleaded her case to over half a dozen wealthy women she hoped might become her patron.
Five decades earlier, the Calvinist Anne Locke also used her piety as a defence when she published her translations of John Calvin's sermons in 1560, alongside the first sonnet sequence written and published in English; a loose translation of the penitential Psalm 51. Its authorship is debated, but some academics have attributed it to her – despite her use of a modesty topos, which affirms it was the work of a 'friend'. Could the first English sonnet sequence have been written by a woman?
Whatever answer academics arrive at, it is clear that women writing in the early modern period were standing behind a far longer history of women's contributions to literature than any misogynistic critic in the sixteenth and seventeenth centuries would like to believe.
When Mary Sidney translated one of her psalms into Sapphic metre, she was nodding to the Greek poet from the sixth century BC, whose work now exists only in elusive, captivating fragments. The best translation is by another woman who deserves her place in the canon of women's writing: the Canadian poet Anne Carson. In her hands, Sappho's fragments of Greek read with bristling, unnerving modernity:
not one girl I think
who looks on the light of the sun
will ever
have wisdom
like this
A fair few centuries after Sappho, medieval women's writing is a period which has, historically, been all but ignored in favour of a persistent, insidious fallacy of women's wholesale illiteracy in the period. The existence of the Findern Manuscript – a 'scrapbook' shared between families, with women's writing about marriage, children, and courtly love written into the pages – goes some way to disproving this. But more famously, there's the story of Christine de Pizan, the fourteenth-century French-Italian poet who wrote Le Livre de la Cité des Dames: a revolutionary call for a 'city of women', built to keep them safe from the men on the other side of the thick walls. When describing her purpose, she wrote:
The female sex has been left defenceless for a long time now, like an orchard without a wall, and bereft of a champion to take up arms to protect it.
De Pizan was writing in middle French in the fourteenth and fifteenth centuries, but she influenced a woman writing in English some three centuries later: the wonderfully eccentric poet, philosopher, and scientist Margaret Cavendish. The first English woman to write professionally – that is, as a career, and in exchange for money and standing – Cavendish, too, wrote works which established and defended the rights of women, and railed against a society that seemed to conspire to denigrate their efforts (in one of her plays, one of her characters declares 'let us sit and rail against men'). But, her most famous publication – and the work which deserves an entry into a women's canon – is her 1666 The Blazing World.
In this early work of utopian science fiction, which takes place in a world beyond the North Pole, Cavendish also, radically, imagines a world in which women have control and intellectual fulfilment: her semi-autobiographical 'Empress' directs her subjects in scientific and philosophical inquiry (and also indulges in moments of Sapphic embrace).
Not everyone is so sure of Cavendish's place in the literary hall of fame, though: Virginia Woolf, the titan of twentieth-century letters, decried her as nothing more than a 'giant cucumber' in her feminist literary history A Room of One's Own (1929).
But even if Woolf was wrong about Cavendish, her own position in the canon – with her groundbreaking modernist novels, and endlessly perceptive literary essays – is hardly up for debate. Her 1927 work To the Lighthouse is a sharp send-up of the 'triple decker' structure of Victorian novels, but that doesn't mean its original female practitioners – George Eliot and the Brontës – should be denied a spot.
For Eliot, her contribution has to be Middlemarch (in Woolf's words, 'one of the few English novels written for grown up people'), but what about the Brontë sisters? Charlotte's Jane Eyre (1847) gave birth to a whole school of 'mad woman in the attic' feminist criticism (alongside, of course, Jean Rhys's Wide Sargasso Sea). But, it has to be Emily's Wuthering Heights (1847) that earns a place in the canon, with its Russian-doll narrative structure and dark, twisted story of love, revenge, and despair.
In more recent years, the necessary exclusions of choosing a canon become ever-more difficult. Should important works of feminist criticism be included? Like Kate Millett's Sexual Politics (1970), or Simone de Beauvoir's The Second Sex (1949)? Or what about women writers who have (unfairly) become as remembered for grubby details of their lives as they are for their writing, like Patricia Highsmith, Anne Sexton, and Emily Dickinson? Luckily enough, there is enough space in the city of ladies – and single-occupancy rooms all of their own – to accompany far more women than I have space to cover here.
But, nevertheless, it seems only fitting to end with a poem from a collection that more than deserves its spot in the canon, Sylvia Plath's posthumous Ariel (1965). Writing from Brontë-country in North Yorkshire, Plath borrowed Emily Brontë's title of 'Wuthering Heights' to write of her own feelings of terror in the harsh landscape:
The horizons ring me like faggots,
Tilted and disparate, and always unstable.
From innovative psalm translations to an American girl walking her way through the Yorkshire Moors and thinking about the Brontës, the literary landscape of women's writing is far richer – and longer-lived – than many would give it credit for.
Francesca Peacock's personal canon:
The Sidney Psalter, (pre 1596 – 1599)
Margaret Cavendish, The Blazing World, (1666)
If Not, Winter: Fragments of Sappho, trans. Anne Carson (2002)
Christine de Pizan, Le Livre de la Cité des Dames, (1405)
Virginia Woolf, A Room of One's Own (1929)
George Eliot, Middlemarch (1871 – 2)
Emily Brontë, Wuthering Heights (1847)
Sylvia Plath, Ariel (1965)