Show goes on for Ukrainian opera
Ukrainian artists are bravely defending their heritage, tradition and culture against an outside aggressor.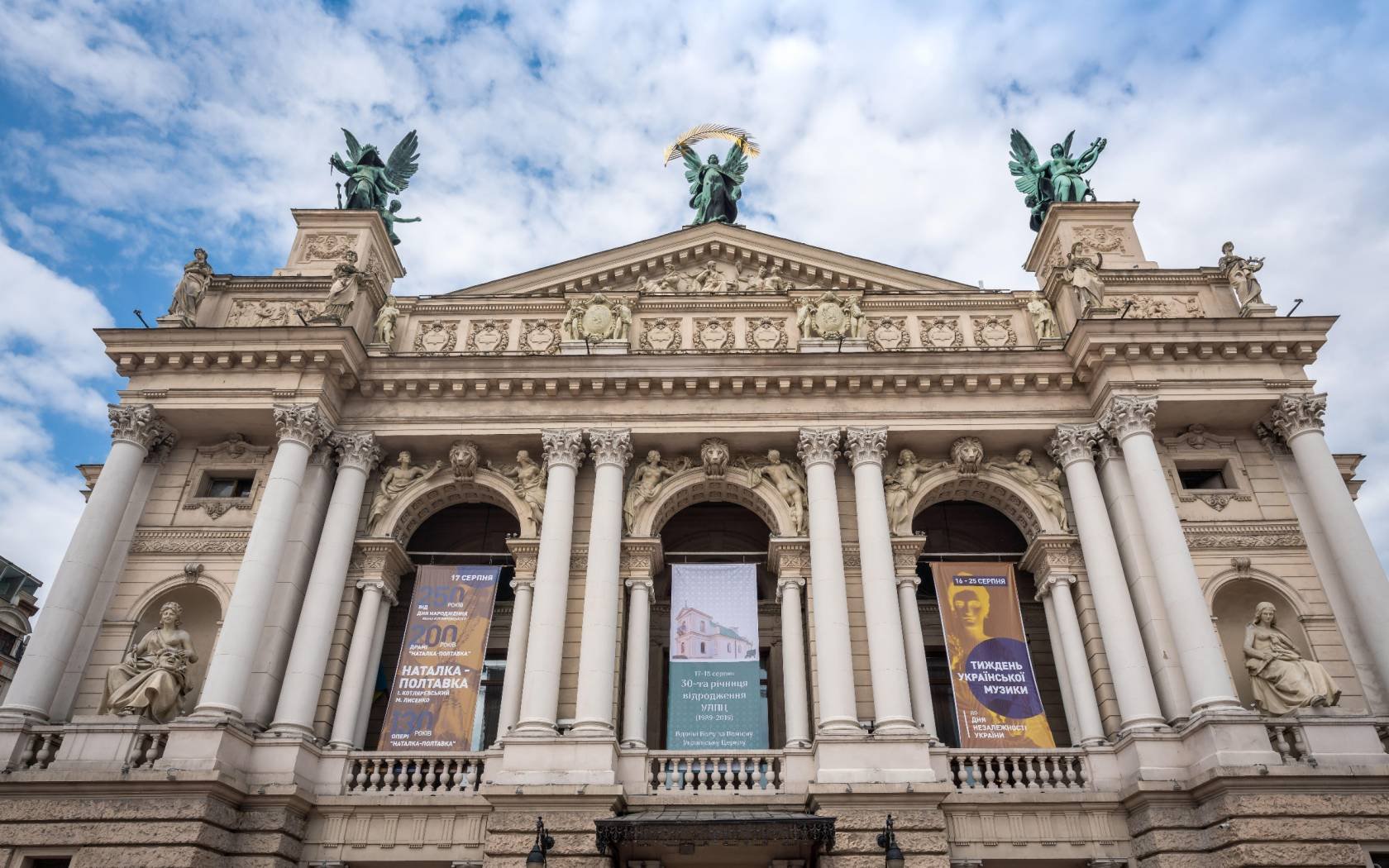 Lviv National Opera and Ballet Theatre. Credit: Diego Grandi / Alamy Stock Photo
Why should a country at war waste time bothering about opera?
Because that country is fighting to assert its national identity, that's why. And what better shop window than nationalistic opera for Ukraine to display to the world the country's rich historical tapestry, folk traditions, well-loved folk songs, popular lore and pure animal spirit – all that Vladimir Putin is determined to erase from the earth.
Lviv Opera has always been a champion of Ukrainian composers. Within days of Russian forces striking deep into the country, Professor Vasil Vokun, director general of Lviv Opera, decided his beloved opera house was a dog in this fight. He was determined that, in spite of the physical danger, none of his team of artists and technicians was going anywhere, let alone into some Putin-imposed dark night.
Vokun understood the symbolism of not bowing to force, and pledged to keep buggering on. Like Churchill.
In Madrid at this year's International Opera Awards ceremony, held in November, his courage and that of his colleagues at Odessa Opera, who took a similar stand, was recognised when the two companies jointly won the Opera Company of the Year category. They collected the award in person.
Back in April, on the stage of the 120-year-old Renaissance Revival-era opera house, the shows went on. There were some inevitable changes. The audience was restricted to the space available in the hastily constructed underground air raid shelter – just 300 people, to be reviewed upwards if the sirens remained silent. London's West End grit in the Second World War Blitz springs to mind.
On the weekend of October 15-16, I had planned to visit Lviv. I particularly wanted to see a performance of When the Fern Blooms, by Ukrainian composer Yevhen Stankovych. It is a folkloric faerie tale about a mythical Ukrainian past, with a libretto by Alexander Stelmashenko. It had been banned by the Soviets.
I was to meet a car at the Polish border that would whisk me to Lviv. There were risks – no British diplomatic cover if things went awry – but they seemed risks worth taking. Sadly, the resumption of random missile strikes saw the little courage I had evaporate in excuses about possible power cuts.
My Bulldog Drummond plan to be slipped across from Poland to Ukraine to be met by my Ukrainian George Smiley fizzled to nothing.
A long Zoom meeting with Vokun and his team was arranged instead. The director comes across as grimly determined. He was clearly miffed I had abandoned my plan to pitch up in person.
'Our opera underpins our Ukrainian culture. It was vital to keep that alive,' said Vokun. It was in search of Ukrainian culture that I had decided to accept the offer to visit the war zone in the first place.
Ukraine's history is complex. Many powers – Russia, Poland, Austria, even Sweden – can claim to have bitten lumps out of the country over the last 300 years. It has become all too easy to indulge the Putin line that Ukraine is a sham country and all he is doing is bringing it into line with its 'real' past.
During my distanced briefing – no substitute for the real thing – I also conducted an informative dialogue with Dr Luba Kyjanovska, born in Lviv, currently musicologist, professor and head of the department of history of music at National Lysenko Music Academy in Lviv.
She is a doughty crusader in the battle of cultural affirmation: 'Lviv Opera and Ballet Theatre – named after Solomiya Krushelnytska – the country's soprano superstar of the early twentieth century – not only continues to work, inspiring the audience, but, in my opinion, demonstrates real spiritual heroism,' she said.
Almost incredibly, the theatre had only one month of downtime. From April 1, performances resumed. Initially, concert programmes were held on stage, special programmes for children took place in the Mirror Hall, and, in recent months, the theatre's activities have grown.
Kyjanovska encourages the creation of new repertoire: 'I know that the premiere of the opera with the symbolic name Terrible Revenge by Yev. Stankovych is being prepared. The celebration of the patronage of the theatre of the famous singer Solomiya Krushelnytska took place very solemnly.'
I asked about the elephant in the room, identity. International perception is that Russian and Ukrainian cultural identities are a joint tapestry, woven by history. But look closer and those appearances become superficial, imposed by government diktat. Of course, Ukrainian composers, singers and musicians played a fundamental role in the formation and development of Russian professional music. But that does not neuter their Ukrainian identity.
In the eighteenth and nineteenth centuries, the famous Court Singing Chapel in St Petersburg, admired by Hector Berlioz, consisted of almost 100 per cent Ukrainian singers, gleaned from the highways and byways, often forcibly exported from Ukraine. Ukrainian born composers such as Dmitry Bortnyansky and Maxim Berezovsky gained inspiration from the chapel. Ukraine was a crucible of music. Famous composers' ideas were formed there, often polished, in line with European classical tradition in Italy. They presented a repertoire of haunting choral spiritual works, in which the influences of Ukrainian folklore are very noticeable.
Kyjanovska regrets they these highly original works were carelessly attributed as Russian music for decades, 'forgetting' about their national origin. That said, in the Soviet era, everyone, whether from Ukraine or elsewhere, who wanted to make a world career had to start in Moscow.
Ukrainian singers were imported into the Soviet Union because it was accepted that they were excellent. Yet despite population ebb and flow, not all Ukrainian artists necessarily left the country. Kyjanovska cites the famous Jewish teacher Peter (Pinchas) Stolyarsky, who taught violin in Odessa. Others, such as violinists David Oistrakh, Nathan Milstein and Leonid Kogan, left for Moscow. Kyjanovska is pragmatic: 'If they stayed in Odessa, who knows if they would become famous all over the world?' It didn't stop them being Ukrainian when they became global idols.
Ukrainian composers of the twentieth century were treated despicably by Moscow. The Soviet authorities deployed a policy of physical destruction, moral humiliation and, most disconcertingly, silence.
Mykola Leontovych (the author of the famous Shchedryk, known in the English version Carol of the Bells) was killed, as were banduryst (a Ukrainian plucked instrument, not a balalaika)writer and composer Hnat Khotkevych, traditional folk composer Vasyl Verkhovynets and many others. The leading symphonist Boris Lyatoshynsky was constantly harassed in the press, and Levko Revutsky, Lysenko's last student, was silenced vicariously by the horrifying killing of his brother, Dmitry.
Post Second World War, after the death of Stalin, things took a turn for the better. In the so-called 'Khrushchev thaw', Lyatoshynsky brought up a number of young composers – representatives of the aptly dubbed Kyiv Conservatory Avant-Garde. Among them, Valentin Silvestrov, Yv. Stankovich, Ivan Karabits, Oleg Kiva and Vitaly Godzyatsky. It is noteworthy that they were also subjected to political persecution until well into the 1970s.
I asked Kyjanovska to give me a flavour of what life was currently like in Lviv, having been too frit to experience it myself. This is her response in full:
We hoped that after the end of the lockdown (Covid), it would be possible to study with students live. But the war has erased all our plans. Now again, group lectures are given only online. The academy does not have such large bomb shelters to accommodate several hundred students.
The main problem is when electricity and the Internet are knocked out due to bombing. However, students have now received a special motivation to study, they can sometimes connect even from bomb shelters, from any premises.
They can break away from the terrible reality for a short time and move into the ideal world of music history. And I also realised how talented and intelligent my students are; I love them very much and wish them to be successful and happy in a free Ukraine.
As well as inspiring performances at home, Ukrainian artists have also taken every opportunity to fly the flag for their country and culture abroad.
This summer, Canadian conductor Kerri-Lynn Wilson, who has Ukrainian heritage, organised a blue and yellow triumph in London's Royal Albert Hall, helping to pull together a scratch youth orchestra of young Ukrainian musicians. In the space of four weeks, they were transformed into an ensemble that marched confidently onto the Albert Hall stage during the BBC Proms. They also toured Europe and the US.
The heartbeat of a nation at bay can be measured in many ways. The courage of its armed forces. The success of its generals in facing down a superior foe. Defying the narrative that denies it the right to be called a nation at all.
Perhaps the surest and strongest measure of all – and the guarantor of ultimate success – is the will to defend at all costs a heritage, tradition and culture that shall never be steamrollered by aggression. Ukraine's musicians have proved they have that will, in spades.
Wilson's Freedom Orchestra took that message to Europe and the US over the summer. Now, Lviv and Odessa opera houses have been jointly hailed as opera companies of the year in Madrid.
This will be a harsh winter for the people of Ukraine. As the power of Shostakovich's Leningrad Symphony kept hope alive in 1942, thrusting a fist of defiance at Hitler, so the refusal of Ukraine's musicians and artists to meekly accept Putin's script of their cultural inconsequence will remind the world that this nation is defending its history.