Showing technology the Red Card
Themes:

Sport, Technology
Sport filtered through cameras, however precise, however well-positioned, is stripped of the suggestive qualities that make it so attractive to the human eye. It is also stripped of the nuance that divides fair from foul play, shoulder charge from accidental collision.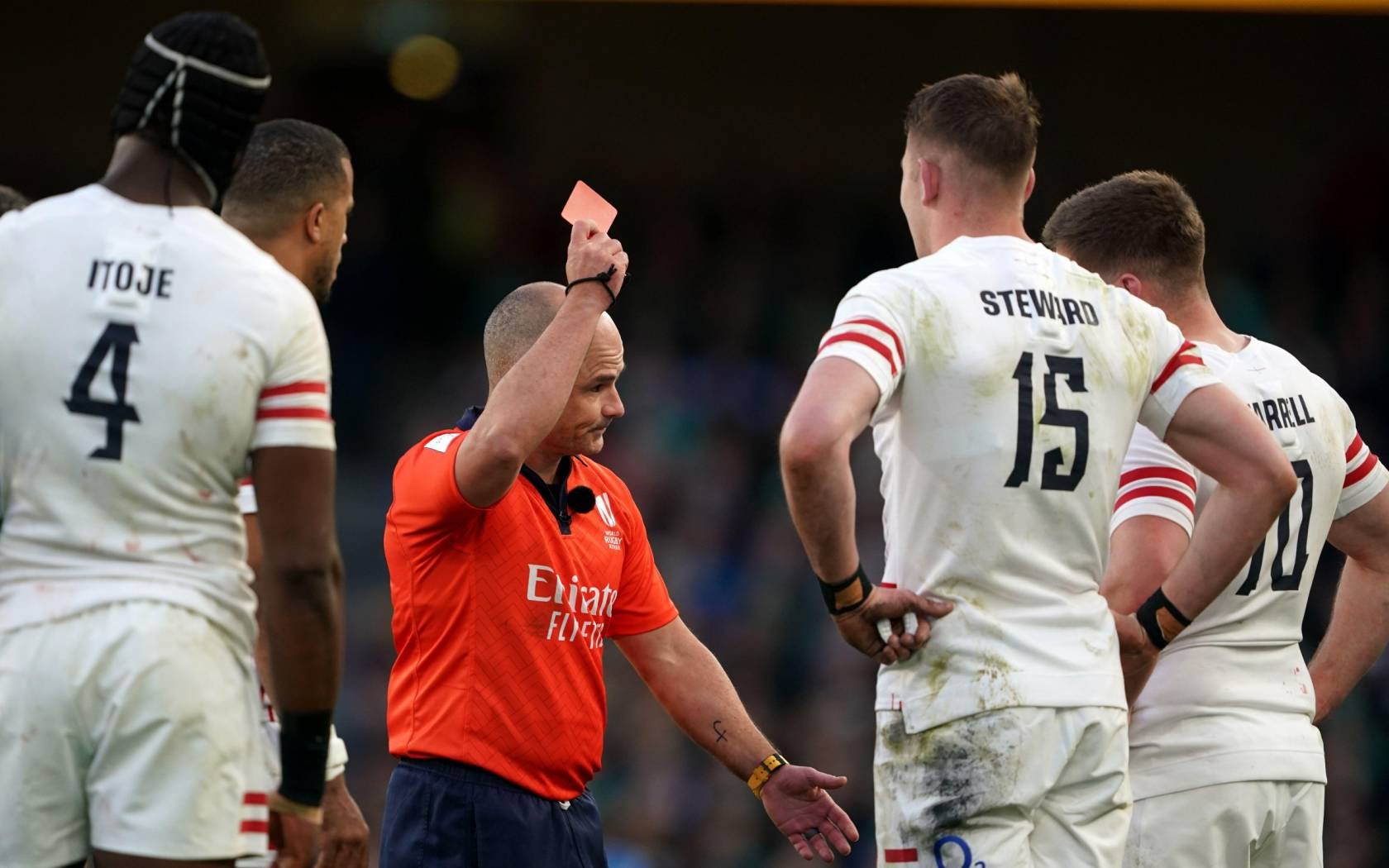 England's Freddie Steward is shown a red card by referee Jaco Peyper during the Guinness Six Nations match at Aviva Stadium, Dublin. Credit: PA Images / Alamy Stock Photo
In the final match of this year's edition of the Six Nations, between Ireland and England, England's full back Freddie Steward was sent off for 'dangerous foul play'. During a flowing Ireland attack just before half-time, his opposition number Hugo Keenan had stooped to collect the ball. Steward had attempted to pull out of a tackle. As he turned his body away from contact, Keenan's head collided with Steward's elbow. Keenan was left crouched over in some strife. In real time, it looked like nothing more than an accident.
Red cards tend to determine the result in Rugby Union more often than they do in Association Football. A football team which has had a player sent off loses on average 59 percent of the time. In rugby, a red card can yield a win probability of over 90 per cent for the team with the numerical advantage. Success in modern rugby is geared around power and defensive organisation. A red card to one of the forwards – the physical enforcers – tends to affect the game more immediately and dramatically. Forwards are usually positioned in the first line of the defenders who attempt to defuse an attacking move run by the team with the ball by rushing up in a line. Steward plays fullback and usually patrols the backfield as the last line of defence. But one fewer player means more space. Good teams can exploit space, wherever it emerges. Following the red card, England effectively played with two players in the backfield rather than the usual three (the fullback generally operates in a pivot system with two wings). Ireland's veteran playmaker Johnny Sexton cannily exploited the advantage by placing clever kicks behind the first wave of the English defence, yielding several scores.
The entire championship came down to its final game. England had had a catastrophic campaign and were not competing to be the overall winner. However, if Ireland had lost by some margin, France would have been crowned the winners. A panel later ruled that Freddie Steward should not have been sent off for foul play, rather that he should have been awarded the sanction of a yellow card. In that circumstance, he would have been removed from the field of play for ten minutes and then allowed to return for the rest of the match. The result of the game might well have been different.
Every second of a modern rugby test match is filmed by multiple cameras from just about every conceivable angle. In pauses in play, broadcasters fill every moment with slow-motion replays, telling close-ups and extraordinarily detailed stats. Fans at home and referees on the field have ever more comprehensive sets of images at their disposal to replay and review the game. Referees can rule a try out of order because of a sliver of a player's heel grazing the boundaries of the field of play, captured by an expertly positioned camera.
The television viewer can see attacking moves slowed down by a factor of a hundred, can see every expression, every glancing blow, every delicate shift in a player's balance. High-speed collisions which look innocuous in real time, when slowed down, one frame after another, shock the eye. The slow-motion video of the Steward-Keenan incident is deceptive. It creates the (false) impression that he has jumped into contact and that his elbow has zeroed towards Keenan's head. Writing for the Daily Mail, France's defence coach, Shaun Edwards commented: 'Everything's getting slowed down into millisecond freeze frames but these things happen in the blink of an eye.'
If it is now possible to watch sport at home in so much more detail, with so much more clarity, why do the punters fork out hundreds of pounds to attend live games? There is the social value, the sense of an occasion shared with friends and family, but primarily the fan wants to get closer to everything that does not translate onto the screen. Whenever I have gone to see a rugby game in the stadium, I am hyper-aware of how extensive breaks in play are. Much of the experience of watching rugby live is made up of scanning the hubbub of the crowd and spectators diving up and down to get a drink. At home, the action never stops.
Just as I am aware that rugby watched live is at times more boring than rugby curated by television professionals, it is also so much more magnificent, almost indescribably so. It is flow. A backline in motion is an alchemy of shirts flitting to and fro, a ball hanging suspended between them – a melding of raw speed and skill.
Sport presents scenes which replicate the majesty of animals in motion better than anything else we see in daily life. The sight awakens something elemental in the human heart. Indeed, the earliest works of human art were inspired by the natural world. Around 30,000 years ago, in the underground cave system at Chauvet in southern France, Cro-Magnon Man painted the wild horses he would have encountered out on the tundra and the forests that covered Europe all around its walls. Drawing flickering torches towards the ceiling, before his eyes, the horses would have begun to dance, canter, stampede into life. His imagination would have been drawn back to all the horses he had ever seen and to the places in which he had known and loved them. A horse in full flight delights the human eye. In the late Bronze Age, the Celts carved a white horse into a hill at Uffington, England. Its hooves are outstretched, head down, legs poised to leap forward.
I remember watching the Scottish fly-half Finn Russell's 'pass of the century' in a match against England in 2018. I was in the stands parallel with Russell's flick of the wrist, the ball swinging thirty yards, straight into his playmate Huw Jones' hands. Television gives us image upon image, but none of them tells the full truth. Writing in 2020, Brendan Gallagher commented on the brilliant running skills of the English winger David Duckham: 'For some reason there are very few photographs that do Duckham justice. You can look endlessly through various archives and there is virtually nothing there that proclaims the genius of the man.'
The human eye cannot do what a photograph can do. We cannot keep life still. We cannot magnify it. We cannot zoom. In 1939, the French poet Paul Valéry was invited to give an address at the Sorbonne in Paris to mark the centenary of the invention of photography. Photography, he said, 'has rectified our errors … It shows us what we would see if we were uniformly sensitive to everything that light imprints upon us, and to nothing but its imprints.' The imagination is always ready to shape the things we see. The eye is not 'uniformly sensitive' to light like a camera. As Robert Louis Stevenson observed in his essay On The Enjoyment of Unpleasant Places: 'We see places through our humours as through differently coloured glasses … and make discord or harmony almost at will.' The eye is just a single step in the total equation of human consciousness, and a precarious and faulty one at that. The past may brighten our waking hours or cast its shadows, here and there, where it will. Gusts of memory tug and tease at the margins of sight.
The journalist Frank Keating recalls watching David Duckham live, 'fair hair streaming like a pre-Raphaelite angel, winged boots always no more than an inch from the touchline till he ducked inside with no more than a shrug of his hip'. 'Angel' derives from the Ancient Greek ἄγγελος , which means 'messenger'. In the case of sporting genius, the message is the messenger. Duckham's elusive feet, Finn Russell's poetry in motion – they have to be seen and experienced and absorbed in real time.
Sport filtered through cameras, however precise, however well-positioned, is stripped of the suggestive qualities that make it so attractive to the human eye. It is also stripped of the nuance that divides fair from foul play, shoulder charge from accidental collision.