The enduring spirit of Cannes
The Cannes Film Festival offers a unique perspective on the world and what it thinks and fears.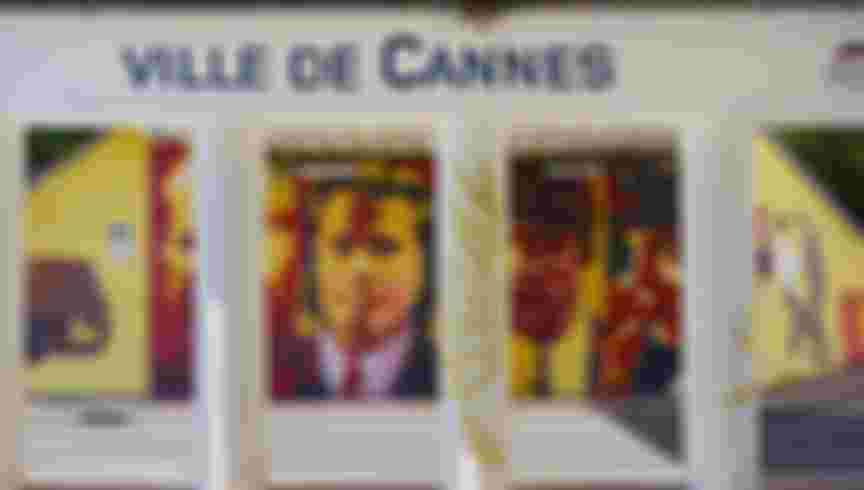 Cannes underpass with Pulp Fiction wall paintings celebrating the Cannes Film Festival. At the Southern End of La Croisette. Credit: Chris Hellier / Alamy Stock Photo.
When a man is tired of the Cannes Film Festival, he is tired of life, for there is in Cannes all that life can afford. It is tempting for a cinephile to paraphrase Samuel Johnson, who was, of course, speaking of eighteenth-century London. However, the feeling will be familiar to many festival goers who have had the chance to take part in the Croisette experience, La Croisette being Cannes' two-mile long promenade facing the sea, which film folk walk up and down, day and night, among the crowds of locals and tourists.
I have been attending the Cannes Film Festival since my mid-twenties, first as an ardent film lover, queuing for hours to win the most precious of treasures, a ticket for a screening, any screening, as long as it was in the official selection, that sacrosanct ranking for films. I then attended the festival as a critic, still queuing, but as a professional, part of a peculiar tribe, les adorateurs du cinéma. I have since only missed one edition, due to Covid.
I remember veterans telling me each year that it would be their last Cannes, disenchanted as they were, or so they claimed, by what the festival had become, a circus for some, hell on earth for others. Those veterans, who had known the Palais (the festival centre), a modernist building of intimate proportions, before it was demolished in 1982, had many epic stories involving cinema's greatest directors and stars, an era before bodyguards and today's all-devouring security and publicity machine. They had been stuck in a lift with Monica Vitti, got drunk with Lars Von Trier and a horde of Danes at Hôtel du Cap, ended up in the swimming pool, exchanged fags and late-night philosophy with Takeshi Kitano, and a few X-rated anecdotes too lurid to repeat here.
In 1983, festival life transferred to the 'bunker' — in other words, to the newly built mammoth of a festival centre on the sea-front, blessed with impressive facilities. Its 2,400 seats make the Lumière Theatre one of Europe's biggest cinemas. The Debussy, with another 1,000 seats, is my favourite, and there is ample space for press conferences, a media centre, and for one of the biggest film industry markets in the world. This is the Cannes I have known, less elegant, more industrious, but still as magnificent. Luxury hotels on the Croisette provide the decorative background to the festival, with their suites for press interviews, work meetings and improvised TV studios, the camera on the balcony pointing at the Mediterranean. I, too, could now provide some anecdotes: buying shoes next to Arnold Schwarzenegger who was trying on electric blue crocodile leather boots; engaging in a two-hour tête-à-tête with Clint Eastwood; jogging on the Croisette at dawn and coming across a lonely Jack Nicholson, in a tuxedo, strolling back to his hotel after a long night; or spending some time with Ken Loach just before he was awarded his Palme d'Or for The Wind That Shakes The Barley. I will always remember coming face to face with the great Swedish actor Max Von Sydow, Ingmar Bergman's favourite, at a corridor's turn. Those three seconds felt like an eternity.
Trivia, though, is not the reason cinephiles flock to Cannes. And we could do without the tiresome and invasive security, unhelpful publicists, extortionate Cannes prices, to name but a few annoyances. Films are the only reason we return each year. Much more than a World Cup or Olympic Games of Cinéma, Cannes offers a unique perspective on the world and what it thinks and fears through the eyes of young and old cinéastes of all origins, faith, colour, and gender. The fact that each one of them, either absolute beginner or Hollywood star, is treated equally, with the same respect, seriousness, and fervour speaks volumes about this cathedral of cinema.
Cannes is not only a place where aesthetic visions compete, it is a hemicycle of the United Nations. This is where cinephiles were alerted to the violence of the Russian annexation of Crimea and occupation of Donbass through the eyes of Sergei Loznitsa, and to the darkness of life under Putin by Andrey Zvyagintsev. And this is where we shall see, this week, the edited images of Mariupolis 2, filmed by the Lithuanian film director Mantas Kvedaravicious before he was murdered by Russian forces, and next week Loznitsa's The Natural History of Destruction, edited while the Russian army was marching towards Kyiv. The Russian dissident Kirill Serbrenikov's latest film, 'Zhena Chaikovskogo', was featured too. It takes many voices and many languages to get the full picture.
Cannes is this concentrated humanity, both radical and elitist, that meets for twelve days every year in order to make the world more visible to itself. Vive Cannes!