The enduring spirit of Christmas
From pagan rituals to paper hats, the tradition of the festive season has always evolved with the times.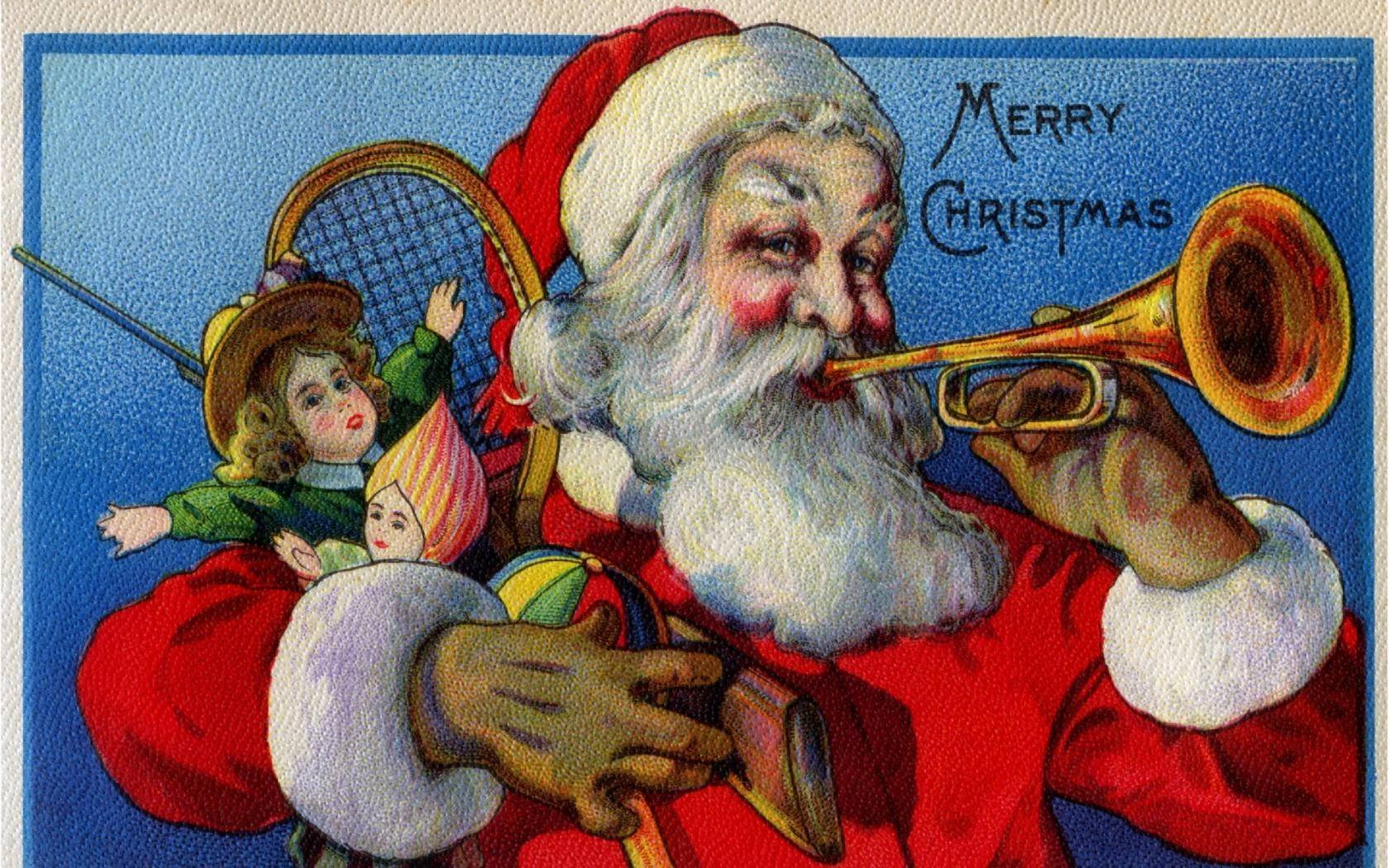 Father Christmas in an American advertisement, c.1900. Credit: Buyenlarge / Getty Images.
This will be a strange and, for some, fraught Christmas, during which the old, familiar traditions will be no doubt be adapted to the circumstances of the hour.  Miserable.  Who wants change? I don't take quite the view of the dyspeptic leader-writer of a 1902 edition of Country Life, who regarded the annual family get-together as inherently melancholy because it served to remind those present of the deaths that had taken place since the previous festivity… compounded by the 'ingenuity of long generations of cooks…directed to the object of producing at Christmas the most indigestible food which it is possible for the human stomach to receive.'  Wouldn't all of us rather have the Christmas we were used to, rather than the slimmed-down, socially distanced version it will be this year?
And yet Christmas does change.  Just  as it means different things at different stages of a person's life – wonder in childhood, partying in adolescence, frantic present-wrapping, stocking-filling, Nativity Play-watching and turkey-basting for parents, to be succeeded by the liberation of old age when the celebratory burden has been passed to the next generation – so the nature of the festival has altered over the centuries.  Father Christmas was not always the jolly, white-bearded old man we see him as today.  There's an early Christmas card that shows him, not dispensing presents, but stuffing a presumably naughty boy into his sack – children could take nothing for granted in the 19th century.  Christmas cards are a Victorian invention: they could not have existed before the arrival of the penny post in 1840.  But the common idea that today's rituals were all introduced to Britain by Queen Victoria's German husband is wrong.  Christmas was underway long before that.  Like Easter, it gave medieval monarchs an occasion to wear their crowns, providing – as sometimes happened – they had not been pawned.  Boughs of evergreen were brought into the hall, plays were acted, stories told, mummers welcomed and heaps of luxurious food consumed.
With few fresh ingredients to be had, diners places a premium on dried fruit from sunnier climes, like currants and raisins, mixed with spices and set alight by brandy – behold mincemeat and Christmas pudding, the latter boiled in a muslin bag so that it emerged spherical: 'a speckled cannonball,' as it was called in A Christmas Carol.  Bag puddings made with suet were nothing very remarkable, appearing at the end of numerous meals in Victorian fiction.  But the taste of the Christmas pudding remained strange, medieval – and so it does, which is why many children only suffer it in the hope of being served the coin that is traditionally concealed inside.  In the mid-17th century, Oliver Cromwell clearly thought that mince-pies retained something of the misbehaving, if not pagan, about them, since he banned them along with other Christmas rituals.  The very word 'mincemeat' is non-conforming, since it contains no meat; but originally meat meant any kind of food (hence sweetmeats, or confectionery).
Christmas trees were made respectable by George III's wife Queen Charlotte, another German spouse, who had been brought up to decorate branches of greenery but went the whole hog and bedecked complete trees.  (Trees had previously been hung, often upside down, outside poorer homes to provide somewhere for the anarchic woodwose – a forest spirit covered in hair, with an alarming sense of mischief – to inhabit, other than the house.)  But Georgian Christmases were on the whole a tame affair, limited, in the novels of Jane Austen, to heavy dinners and the occasional dance.  A revival came marginally before the Victorian period with A Book of Christmas, written by Thomas Hervey but chiefly remarkable for the enchanting illustrations by Robert Seymour – the mentally troubled first illustrator of Dickens, who sadly killed himself.  It appeared in 1836, as part of the same movement that caused the building of pseudo-medieval great halls in country houses – their fireplaces were suitable for the burning of enormous yule logs, dragged to the hearth amid rejoicing and kept burning until the New Year.  (In India, imperial families performed the same ceremony with blocks of ice.)  Seymour shows Old Christmas as a Silenus-like figure seated on a goat.  The chimney descents came later.
But that's Christmas – revival, evolution, a birthday party for the baby Jesus, interwoven with folk institutions, some (like mistletoe) pagan, others (like pantomime) baffling.  This Christmas may be a washout, leaving it open to a full-blown revival in 2021.  Or we'll find we quite like the slightly less consumerist experience of 2020 and the celebration will forever wear a subtly modified face.  Which is why traditions last.  They never stay the same.