The Ettrick Shepherd stands watch
The pioneers of Enlightenment believed a new spirit of human sympathy could provide a lasting basis for political association - the Ettrick Shepherd, James Hogg, satirized that ethic in grand style.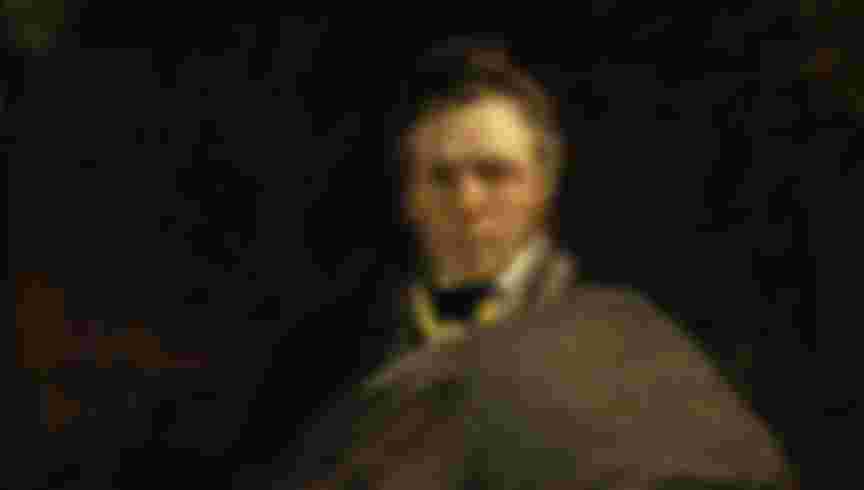 Portrait of James Hogg as the Ettrick Shepherd. Credit: Scottish National Gallery / Public domain
In my childhood home in Edinburgh, I remember a portrait hanging in the dining room of a dour looking man swathed in a tartan plaid with a crook balanced in his left hand. A little description underneath it read: 'The Ettrick Shepherd'. I never thought much of it at all, believing him to have been a little-known rural poet of the Borders (Ettrick is just south of Selkirk). Little did I know that the Ettrick Shepherd was the pseudonym of one James Hogg – poet, novelist, and author of one of the most scurrilous and disturbing novels ever written by a Scot: The Private Memoirs and Confessions of a Justified Sinner (1824). For those unacquainted with Hogg, it's rather akin to having a portrait of Arthur Rimbaud or the Roman poet Lucan in pride of place.
The son of a tenant farmer, Hogg, after a career as a shepherd, became a close associate of Walter Scott and was deeply involved in the literary circles of post-Enlightenment Edinburgh, which enjoyed a golden period from 1800 to the 1830s with magazines like Blackwood's Edinburgh Magazine (to which Hogg often contributed demotic material, including satires) enjoying a large international audience.
A Justified Sinner is a powerful contribution to the Scots tradition of 'dualism' most famously taken up by Robert Louis Stevenson in The Strange Case of Dr Jekyll and Mr Hyde. Both novels culminate with a 'confession', although the telling of it is not straightforward – Jekyll / Hyde's suicide note, discovered after his death by his lawyer (also the narrator) John Utterson, and the 'confession' of Robert Wringhim, discovered and published by an anonymous 'editor', who calls the writer 'a deluded creature' whose narrative has the quality of mere 'allegory'.
Wringhim is a fanatical Calvinist, obsessed with the notion of divine predestination. In his youth, he encounters another young man, strange in countenance, who calls himself Gil-Martin. He is a devil in the style of Faust's Mephistopheles, having great eloquence and skill in argument. He urges Wringhim into awful deeds, including murder, telling him he has nothing to fear – God has chosen him as his representative.
For the pioneers of Enlightenment, a new spirit of sympathy, founded in shared human experience, could provide a lasting basis for political association – beyond the imperatives of tribe or church. 'By the imagination we place ourselves in [the other's] situation', Adam Smith wrote in The Theory of Moral Sentiments (1795): 'we enter as it were into his body, and become in some measure the same person with him, and thence form some idea of his sensations.'
Hogg satirizes that ethic – a 'meeting of minds' in A Justified Sinner comes about in conditions of fanaticism – in this case, the Calvinist true faith. If one becomes two here, it is also paid for in the effacement of one soul by another. Gil-Martin is a shapeshifter, and he eventually takes on Wringhim's face and body. Wringhim finally becomes delirious, unable to distinguish between his own actions and the devil's work.
The argument for human sympathy articulated by the Scottish Enlightenment appears to be as much in the background to American progressive patriotism (which articulates again and again the search for 'a better union') as it is to the way Germans talk about the fall of the Berlin Wall, and the reunification of East and West, as Wiedervereinigung, or 'coming together'.
But there is no reason why Hogg's vision should be incompatible with a naïve view of progress. What else can explain the enormous release of energy of 1989? Or the force of the mythos that gave the American experience of the 20th century so much power? When two becomes one, especially in politics, there is ecstasy and a sense that history has some direction, but a glimpse too, however brief, of the fanatic mind at work, while in Edinburgh dining rooms the Ettrick Shepherd stands watch.