The Kremlin has its eyes on Gagauzia
Gagauzia, one of Moldova's poorest and most pro-Russian regions, is ripe for geopolitical meddling.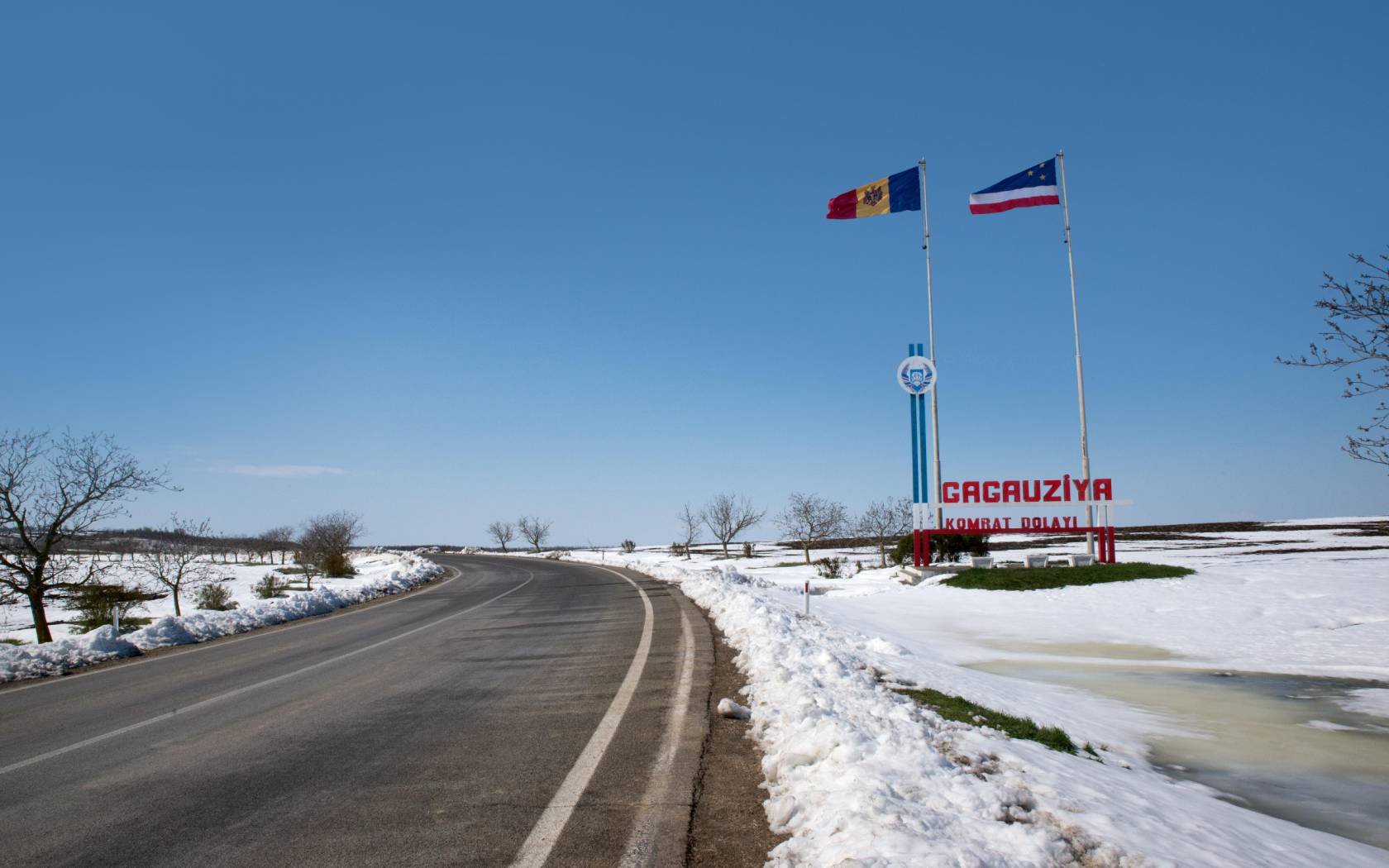 Moldovan and Gagauz flags fly at the 'Welcome to Gagauzia' sign at the border of the autonomous region of Gagauzia. Credit: Roberto Cornacchia / Alamy Stock Photo
Now that Moscow's war against Kyiv has entered its second year, all eyes are on eastern Ukraine where fighting is starting to ramp up as spring arrives. However, 450 miles to the west in the Republic of Moldova, Russia is creating additional problems. This week local authorities in Transnistria, the breakaway part of Moldova considered to be under Russian occupation, announced that they had foiled a plot by Ukraine's intelligence services to assassinate the de facto leaders of the region. Of course, Russia has a track record of using propaganda to sow discord inside Moldova and the allegations were strongly denied by Kyiv. Even so, this incident serves as an important reminder that the Kremlin has its eyes set beyond Ukraine.
Moldova, a small country in Eastern Europe, has always maintained a delicate balancing act between east and west since gaining independence after the collapse of the Soviet Union in 1991. Moldova has traditionally avoided shifting its geopolitical orientation too far in one direction and is mindful of its delicate position between a growing and prosperous Euroatlantic community and an increasingly imperialistic Russia.
However, the current government has carefully started to lean a little closer towards the West. The presidential elections in 2020 resulted in the staunch Euroatlanticist Maia Sandu winning after defeating her pro-Russia opponent. Parliamentary elections the following year also resulted in pro-Europe parties winning a majority. Last June, Moldova was formally granted candidate status for the EU. Moldova's military neutrality is enshrined into its constitution, but this has not stopped relations with NATO from getting closer in recent years.
Much of the recent focus on Moldova has been centred around Transnistria — and for good reason. Since Moldova gained independence in 1991, this small slither of territory east of the Dniester River declared independence and became home to thousands of Russian troops. Today, no country in the world recognises Transnistria as an independent country. In 1999, Russia agreed to remove all of its troops and weaponry from Transnistria by the end of 2002. This did not happen. Today, an estimated 1,500 Russian troops, along with one of the largest weapons and munitions depots in Europe, remain in Transnistria. Russia has used its presence there to exert influence in the region. When Russia wants to turn up the heat, Transnistria offers a good platform for Moscow to do so.
However, as Russia looks for ways to cause problems for the West, there is another pro-Russian region in Moldova that deserves more attention: the Autonomous Territorial Unit of Gagauzia.
Gagauzia is a geographically small region in southern Moldova about the size of Surrey that borders Ukraine's Budjak region. The 160,000 Gagauz people living in the area are ethnically and linguistically Turkic, but religiously Christian Orthodox. In addition to Gagauz, the other main language spoken is Russian. The region is a byproduct of imperial rivalry between the Ottoman and Russian empires typical in the Black Sea region in the nineteenth century. Like Crimea, it was taken by Russia from the Ottoman Empire. In this case, Russia acquired Gagauzia after the Russo-Turkish War (1806-12) as part of the 1812 Treaty of Bucharest.
Even though Gagauzia is formally part of Moldova the region has never fully integrated into the republic. During the messy collapse of the Soviet Union, a referendum was held in March of 1991 which resulted in a large majority of Gagauzians wishing to remain as part of Russia. Meanwhile, a similar referendum the same year in Crimea resulted in the majority voting to stay with Ukraine. Later that year, the so-called 'Gagauz Republic' was declared. But unlike neighbouring Transnistria, Gagauzia had peacefully returned to Moldova by 1994.
In February 2014, as Russian troops were entering Crimea and stoking a crisis in the Donbas region of Ukraine, the local government in Gagauzia held a referendum asking voters to decide their preference between closer relations with the European Union or the Russian-backed Eurasian Customs Union. With a 70 percent turnout, 98.5 per cent of the voters supported Moldova's integration with the Eurasian Customs Union. At the time, Moldovan authorities said that the referendum was unconstitutional, calling it an attempt to undermine the country's foreign policy. Unsurprisingly, Moscow took a different view. Russian media widely reported the results. Less than 24 hours after the voting ended, the then-Russian Deputy Prime Minister Dmitry Rogozin welcomed the turnout and the outcome.
Today, Gagauzia is one of the poorest regions of Moldova and remains very pro-Russian. Gagauzians blame the Euroatlantic orientation of the central government for many of their local problems. The current Bashkan (or governor), Irina Vlah, is a constant and vocal critic of President Sandu. Local politicians regularly use pro-Russian slogans to drum up local support. During the last parliamentary elections in Moldova, the pro-Russian Bloc of Communists and Socialists party got some of their best results in Gagauzia.
Russia's large scale invasion of Ukraine in 2022 has only made this situation worse. There is a perfect geopolitical storm brewing in Moldova that Russia will try to take full advantage of. On 30 April, Gagauzians go to the polls to elect their next Bashkan. Gagauzian officials have also been ramping up their anti-Sandu rhetoric in recent weeks. Russian disinformation has been in overdrive falsely accusing both Romania and Ukraine of mobilizing troops along their respective borders with Moldova. Of course, there have also been the recent allegations made by the de facto Transnistrian authorities accusing Ukraine of trying to destabilize the region. The sum of all this is a Moldova ripe for Russian meddling and interference.
For the West, Russian destabilization efforts in Moldova presents another strategic problem to address at a time when all the focus is on Ukraine. For Ukraine, the situation in Moldova is also a concern. During imperial times, what is today Transnistria and Gagauzia in Moldova, and the Budjak region in Ukraine, was once collectively known as Bessarabia. In the same way there are many around Putin who fantasize about re-creating Novorossiya (the Tsarist-era name for southern Ukraine) and who would like to see the historical region of Bessarabia brought back under Russian control. Ukraine shares a 280 miles long border with Transnistria. Russia's 1,500 troops, and the several thousand local 'Transnistrian' troops, located there cannot be ignored. The last thing Kyiv needs is fighting to flareup in western Ukraine when it needs to concentrate its military forces in the east.
So as fighting ramps up in eastern Ukraine do not ignore Moldova. It might be time for Western policymakers to get out a map and locate Gagauzia. One thing is certain, Russian policymakers know exactly where Gagauzia is. They also know how they can use Moldova to undermine Ukraine's security and Euroatlantic stability.
Ignoring Moldova would be geopolitical negligence.