The many meanings of Georgia O'Keeffe
We should take inspiration from Georgia O'Keeffe's high-minded approach to art and morality. Her life story is a lesson in the importance of deeply felt principles.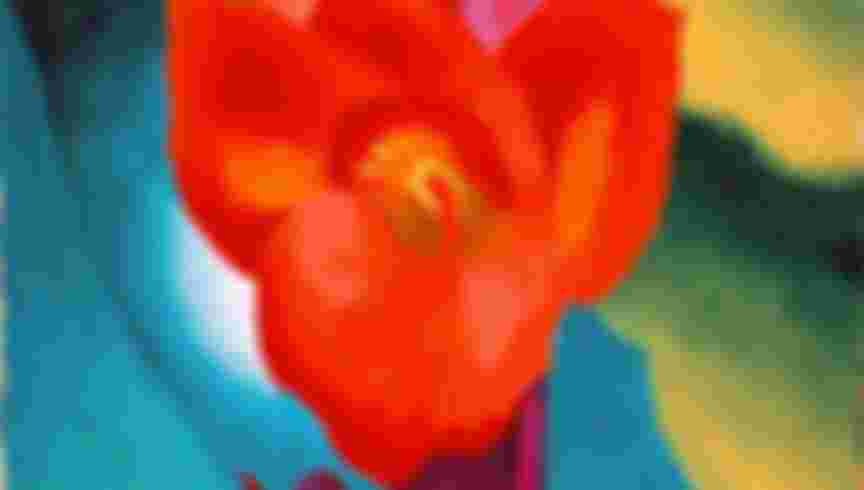 Georgia's O'Keeffe's Red Canna, 1924. Credit: Public Domain
In 1915 – early in her career – Georgia O'Keeffe wrote a letter to her friend Anita Pollitzer about the struggle to make her art resemble what she meant it to look like:
Did you ever have something to say and feel as if the whole side of the wall wouldn't be big enough to say it on and then sit down on the floor and try to get it on to a sheet of charcoal paper – and when you had put it down look at it and try to put into words what you have been trying to say with just marks – and then – wonder what it all is anyway – I've been crawling around on the floor till I have cramps in my feet […] Maybe the fault is with what I'm trying to say.
O'Keeffe's commitment to rendering her meaning 'with just marks' was the driving force of her life: it led her to break friendships and relationships, start others, and move across the country in search of big skies and big colours.
Mention her name to anyone nowadays, and responses to her 'marks' tend to be somewhere on the flower-vagina axis; her reputation is often limited to the sensual colours and forms of her most famous petunias, roses, and poppies.
This criticism is not just a product of our own time; whereas in the nineteenth century, flowers were a symbol of a woman's domestic, decorative purity, by the twentieth, Freudian theories of sexuality abounded. As Roxana Robinson notes in in her brilliant biography of O'Keeffe, one critic responded to one of her exhibitions with the statement that 'the show is strong: one long, loud blast of sex'.
Yet O'Keeffe's paintings are far more than imposed Freudian ideals: seeing them in person – or, given current circumstances, on a page or screen – the first thing you notice is the purity of their colour. There are so many shades present, but each is so delicately placed next to the others that they give the impression of being 'true' colour as it is experienced in person, not a second-hand rendering. In 'Oriental Poppies' (1928), the contrast between the red-orange petals and the blue-black stamens is so intense that if you look at it too long it appears as if the darker insides of the flower are growing up the insides of the petals.
It is easy to see how such paintings became oddly divorced from their original subjects; whilst the shape on the canvas is so clearly a flower – after looking at it for a few seconds, it seems to be more of an invocation of light and dark and colour and space than anything else.
Critical and cultural fixation upon O'Keeffe's flowers risks side-lining her other works: from her stay in Texas in 1917 to her paintings in the 50s and 60s of the New Mexico landscape she made her home, there is colour and drama beyond her petals. 'Canyon with Crows' (1917) and 'Red Mesa' (1917) are striking demonstrations of O'Keeffe's rare talent at balancing abstraction and realism: it is clear that it is the Texas landscape on the page, but the bright colours and oddly-scaled birds, bushes, and trees create a final product which is as emotionally as it is spatially descriptive. The same could be said of her 'Nude Series' (1917): the figures are so clearly nude bodies, but with the intensity of the changing colours in the forms, and the blurred, overlapping limbs, it is clear that O'Keeffe is painting something more than just realistic representations on a blank page.
Perhaps the only thing as impressive as O'Keeffe's artwork is her moral commitment to producing it: her brilliant, intense colours and the emotions on the page are no accident, but the product of her intense, stringent, moral philosophy. She was a solitary figure – and in each community she lived in, she tended to upset, shock, and delight the residents in equal measure. In 1930, she debated the author Michael Gold about the purpose of art. In the face of Gold's belief that all art should reflect the struggles of the oppressed, O'Keeffe argued that her art did not have to be explicitly political to have a purpose, and that its politics should not impinge on a painting's appearance. Robinson quotes her as saying
The subject matter of a painting should never obscure its form and color, which are its real thematic contents … So I have no difficulty in contending that my paintings of a flower may be just as much a product of this age as a cartoon about the freedom of women – or the working class – or anything else.
Her belief in the power of art places it above politics; it is something politics could be reflected in, or subsumed by. For O'Keeffe – art was everything.
It was a period in which moral philosophies were widely debated, new ideas aired and old ones re-evaluated: Alfred Stieglitz, O'Keeffe's husband, tried to prevent O'Keeffe painting a mural in the ladies bathroom at New York's Radio City Music Hall. His belief was that art should not be involved with institutions, and that the involvement of public money somehow sullied it. While Stieglitz was somewhat overbearing, it is hard not to respect the strength of his – and O'Keeffe's – beliefs.
O'Keeffe is a woman on whom many ideas and ideals have been projected: she's the unconventional beauty of Stieglitz's nude portraits, the supposed forerunner of feminist, sexual art, and a chronicler of death and decay in her paintings of skulls and bones. All of these definitions are ones O'Keeffe might well rail against; she famously said she did not associate her bones with death. And yet, she lives on vividly in our imagined interpretations. And in this case, some good might come of finally listening to her.