The miracle of refugee musicians
Countless musicians have been uprooted by war or persecution — to the benefit of conservatoires, orchestras and concert halls around the world. A newly formed Ukrainian refugee orchestra is set to follow in their footsteps.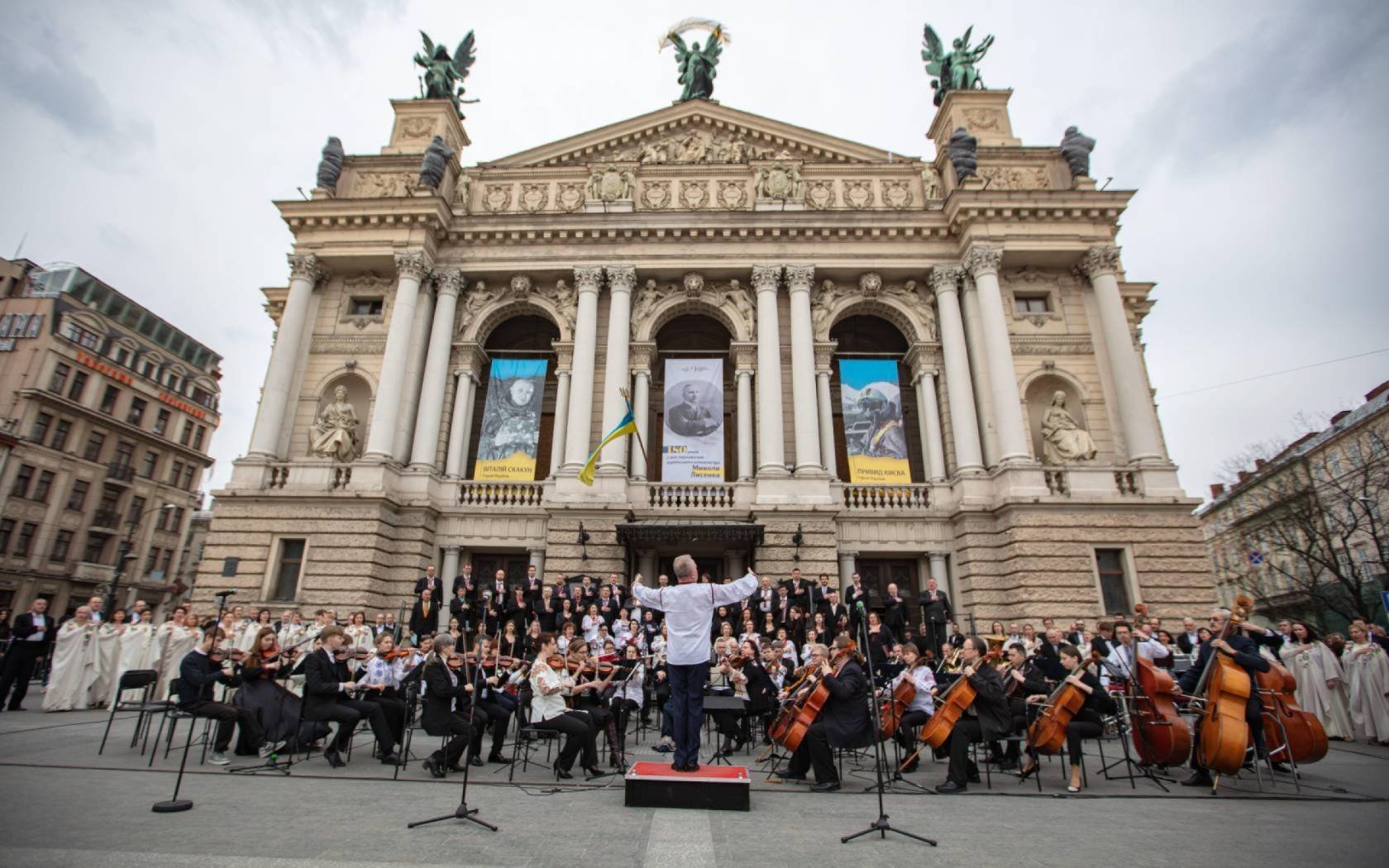 Concert near Lviv National Opera a month after the Russian invasion commenced. Credit: Ruslan Lytvyn / Alamy Stock Photo.
One day in 1939, a 16-year-old named Menahem Pressler from the German city of Magdeburg arrived with his family in Israel after having escaped the Nazis' persecution of Jews. Seven years later, the piano prodigy was a famous soloist in American and European concert halls. To this day, the now-99-year-old remains a venerated professor of music at Indiana University and continues to teach the piano. He's just one of countless musicians who have been uprooted by war or persecution — to the benefit of conservatoires, orchestras and concert halls in other countries. The most recent entry: a newly formed Ukrainian refugee orchestra that will perform at the BBC Proms this summer.
When, in 1955, Pressler decided to scale back on his soloist career and joined the music faculty of at Indiana, he became part of a conservatoire that was already home to several other refugees from Nazism. The European refugees, in fact, helped raise the Jacobs School of Music to such heights that it was often said that the conservatory should thank two men for its success: IU's President Herman Wells and Adolf Hitler.
By the 1950s, virtually every American conservatoire and symphony orchestra, and many British ensembles had received highly skilled musicians from countries ravaged either by the Nazis, the Soviets or both. Among them: Jewish-German cellist Anita Lasker-Wallfisch (a former member of the Women's Orchestra of Auschwitz), Jewish-German conductors Bruno Walter and Otto Klemperer, Jewish-Austrian composer Arnold Schönberg, Jewish-Austrian violinist Max Rostal, Jewish-German violinist Maria Lidka, Jewish-German cellist Eva Heinitz, Austrian composer Hans Gál, Jewish-German conductor Peter (Hans Fritz) Gellhorn, German composer Paul Hindemith and Soviet composer Igor Stravinsky. Many other exiled musicians were far less famous, serving as orchestral players or instrumental teachers.
But all brought a phenomenal skill and verve to orchestras, conservatoires and teaching. Heinitz, for example, went on to teach generations of cellists at the University of Washington and elsewhere. In the early 2000s, I was privileged to attend one of the closing passages of this remarkable chapter of world history. It was a concert by the Chicago Symphony Orchestra, conducted by music director Daniel Barenboim at the orchestra's home in Chicago. After the concert ended, Barenboim announced that three of the musicians were retiring that night. He asked them to stand up, and three elderly (but, as ever, musically first-rate) players arose. All three were, as it turned out, European refugees who had arrived during or just after the Second World War. The visibly moved audience gave them a rousing ovation.
Those Second World War refugees have been followed by others. In 1978, for example, a new US-based orchestra called the Soviet Emigré Orchestra – 'comprised of the finest of recently arrived Soviet emigré musicians from the Bolshoi and Kirov Theaters and the Moscow and Leningrad Philharmonics' — made its debut. More recently, refugee musicians have been fleeing new countries for safer ones around the world. In Chile, the Música para la Integración Foundation provides a home for musicians fleeing Venezuela, a country previously known as an extraordinary hotbed of classical-musician training but today making the headlines mostly for corruption and authoritarian rule. In 2015, Syrian musicians founded the Syrian Expat Symphony Orchestra in Germany.
And today, yet another wave is arriving — from Ukraine. This summer, many of these musicians will assemble in the new Ukrainian Freedom Orchestra. The ensemble, supported by New York's Met Opera and the Polish National Opera and comprising recent refugees, Ukrainian members of European orchestras and musicians from Kyiv National Opera and other Ukrainian ensembles, will make its debut this July and perform at the BBC Proms, followed by tours to various other European cities and New York's Lincoln Center. Ukraine's Ministry of Culture has given male musicians qualified to play in the orchestra special permission to leave their military posts for the tour.
Most of the musicians who fled Europe during the Second World War knew that they wouldn't be able to return very soon, if ever. By contrast, today's Ukrainian refugees are counting on a somewhat swift return to their home country. The military-age male members of the Ukrainian Freedom Orchestra are, of course, only on a very temporary furlough from combat duties.
It took Menahem Pressler many years — decades, in fact — to perform in Germany, but in 2008 he did so. And in 2014, the 91-year-old Pressler was invited to do what he, under other circumstances, might have been invited to do as a rising star in 1944 or 1945: he made his debut with Berlin's celebrated Philharmoniker. Angela Merkel was in attendance. After his and the orchestra's performance of Wolfgang Amadeus Mozart's Piano Concerto No 23, the Chancellor and the rest of the audience rose to their feet.