The Rhinegold, Wagner's other comedy 
The ENO's new production of the prelude to the Ring shows British opera houses can raise a chuckle, but they can do serious, too.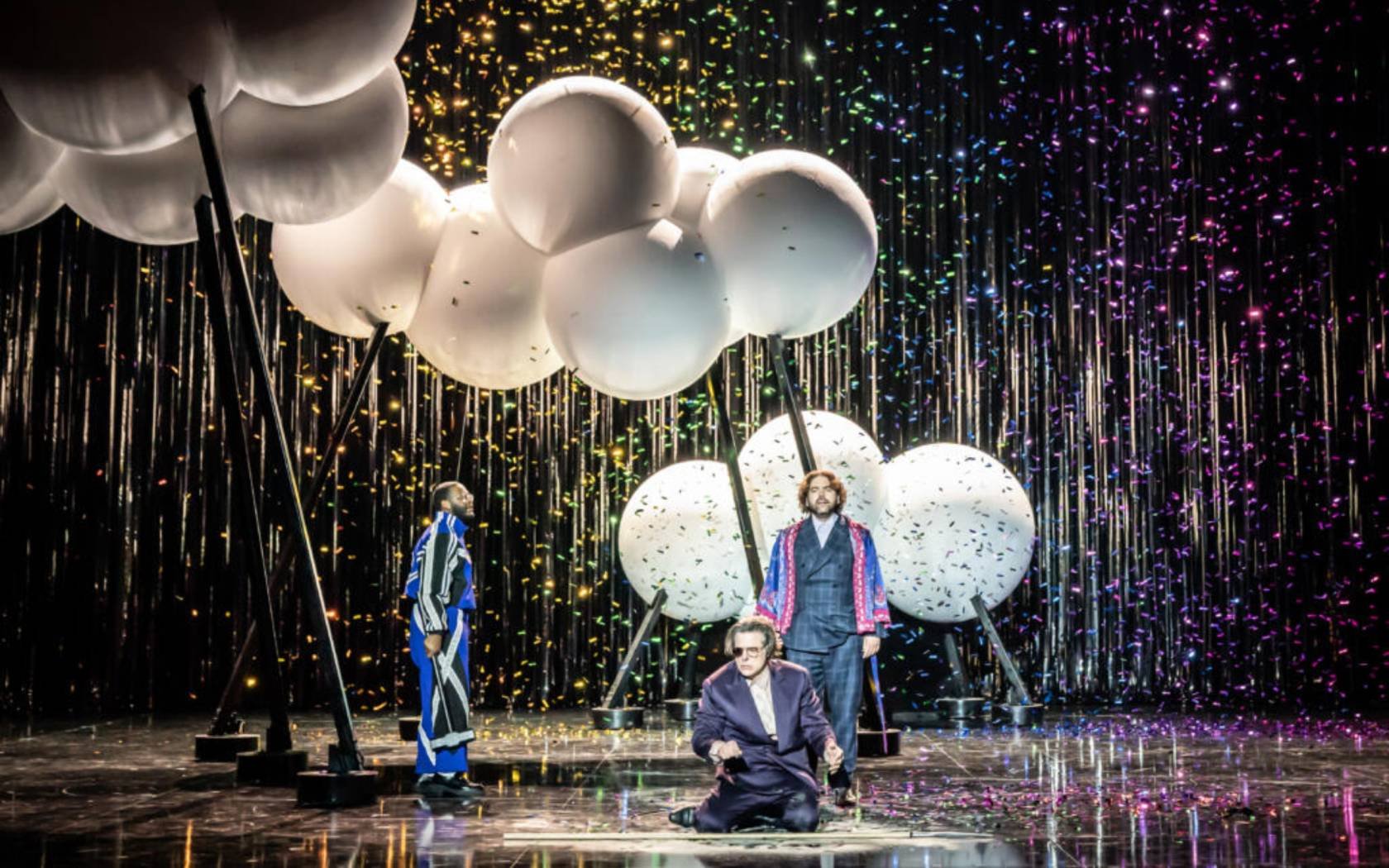 The Rainbow bridge, the English National Opera's production Wagner's The Rhinegold, 2023. Credit: The English National Opera.
Die Meistersinger von Nürnberg is usually regarded as Wagner's only 'comedy' – though bar the arguably antisemitic lampooning of Sixtus Beckmesser, Nuremberg's pedantic town clerk, this may be apparent only to the connoisseur. Perhaps a more suitable candidate for the title of 'comedy Wagner' is Das Rheingold – or The Rhinegold, as it is billed in John Deathridge's translation, currently being performed at English National Opera.
Last year's Bayreuth production of Das Rheingold, the 'preliminary evening' of the Ring cycle – 'constructively disrespectful' in its aims, according to its creator, Valentin Schwarz, and was widely panned – took a comedic turn, though whether wittingly or unwittingly is a moot point. It began in a paddling pool of Rhinemaidens and ended up in a Valhalla of nouveau-riche Trumpians, offering neither insight nor laughs. It met not with laughter, but with the most violently vociferous booing I have heard in a theatre.
The ENO's Rhinegold, by contrast, received rapturous applause from a notably youthful and diverse audience – what a time for this beleaguered company to come out with a critical and commercial hit – though it began with sniggers from the audience, as a naked hominid tramped across the stage, becoming more erect and clothed with each crossing.
Maybe British producers are just better at getting a giggle. Wagner, who loved the comedies of Shakespeare, claimed, rather surprisingly, to have a 'profound lack of seriousness', a description that might also be applied less surprisingly to The Rhinegold's veteran producer, Richard Jones.
Jones' opening Hominid prank proved a rare, if forgivable, misstep in an otherwise successful evening. The titters it induced clashed unforgivably with the 'primeval cell', that first, barely audible E flat of the double bassoon with which Wagner's Ring cycle – and, indeed, the world – begins. It is primordial geology as much as it is music, the physical creation of all things, 'long latent within' the composer's being. It deserves silence.
From then on, though, the audience at the London Coliseum was rapt, with Jones' camp aesthetic rarely over-intruding on the increasingly serious drama played out on stage – the crowd's youthfulness may also have played its part in keeping coughs and splutters, if not sniggers, to a minimum.
ENO cannot call on the kind of Wagnerian talent that Bayreuth and Europe's major houses might entice: no likes of Lise Davidsen or Georg Zeppenfeld. But its cast was more than accomplished. Leigh Melrose was a manically vulnerable Alberich, the Nibelung dwarf. John Relyea's richly toned Wotan, father of the gods, was by turns vulnerable and cruel, not least when he tore the Ring from the entrapped Alberich. While Frederick Ballantine's Loge – in many ways the conscience of the entire cycle, though post-Rheingold only a leitmotif – was appealingly cunning and cocksure, an ironically detached observer of the gods to whom he only half belongs. He perfectly encapsulated Thomas Mann's ideal of a Loge combining 'elemental incalculability and treacherous charm'.
Mezzo-soprano Christine Rice provided the one bit of luxury casting, as Erda, the all-seeing earth mother and 'cosmic gossip', whose brief intervention from the bowels of the earth to urge Wotan to give up the Ring signals the moment when comedy turns fully to tragedy. From now on, the fate of the gods is one of destruction.
Jones' glittery ending, which saw Donner swing his hammer to reveal the Rainbow Bridge to the gods' mountaintop fortress of Valhalla – a cleverly colourful concoction of tinselly tickertape and curtains – was nevertheless deeply moving, the ENO band by then almost out of control – as it should be – freed from Martin Brabbins' previously steady, even Klemperish tempo.
'It gets even better', I said of the Ring to my companion, a Wagner virgin, though it's unlikely we'll get to judge how this particular cycle develops (in true ENO fashion, it began, out of synch, with The Valkyrie). A mix of Arts Council philistinism – or, more accurately, inverse snobbery – and the understandable reluctance of New York's Met to commit to a co-production means that it has almost certainly reached its premature end.
Those British operagoers who seek a complete Ring will, however, only have to wait till 2024 for a repeat of Longborough Festival Opera's cycle – arguably the finest in existence at the moment – a serious affair, which invokes the spirit of the minimal, chamber-like Bayreuth productions of the 1950s: Clemens Krauss and Wieland Wagner would be proud of it. British opera houses can raise a chuckle, but they can do serious, too.