While the activities of many agents in the First and Second World Wars have been known, the stories and legacies of the 'secretaries' of MI6 are only just beginning to be revealed.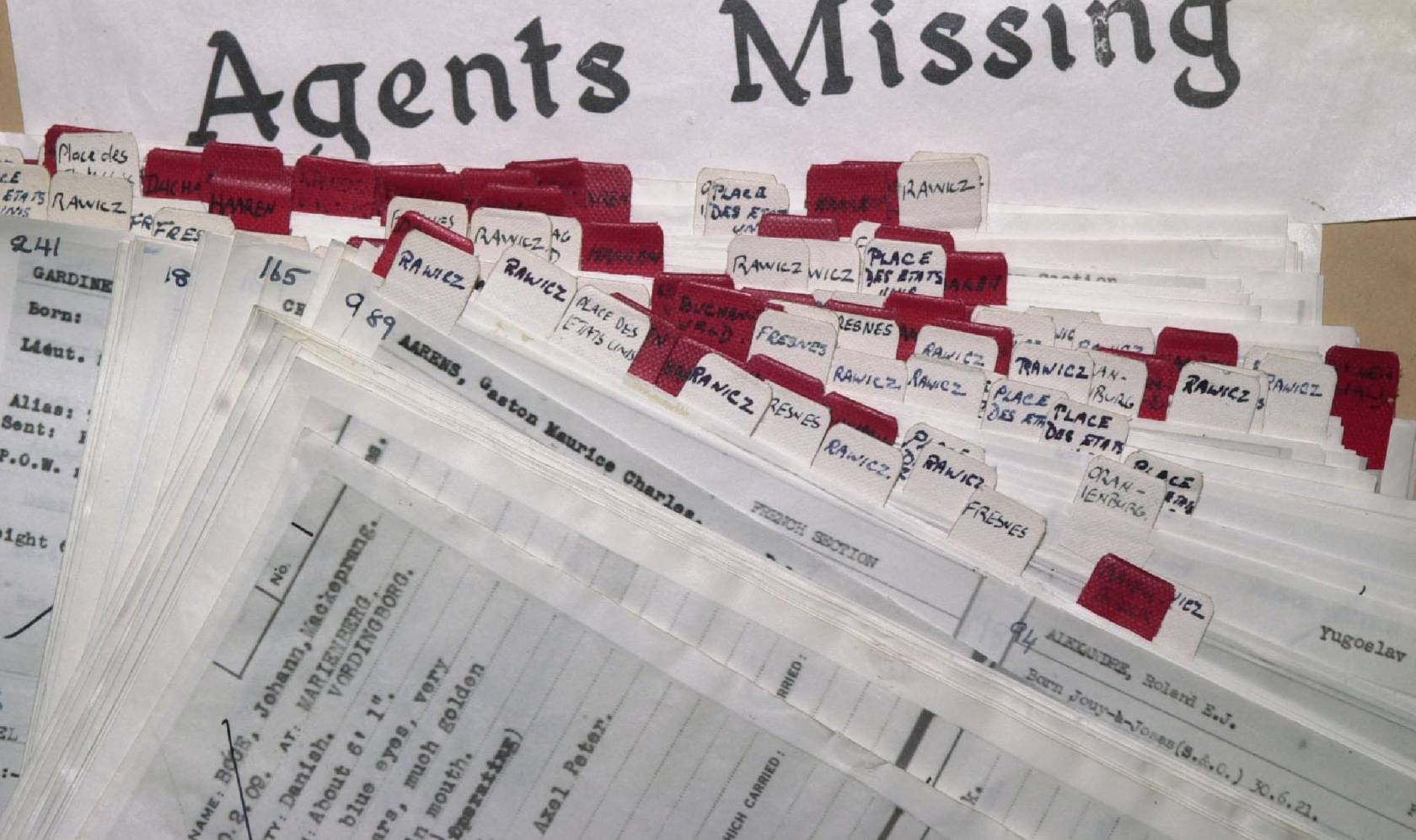 Missing agents documents. Credit: PA Images / Alamy Stock Photo
Bletchley Park has become synonymous with intelligence successes during the Second World War. This is in part due to the film Imitation Game featuring Dominic Cumberbatch and Keira Knightley. Although the codebreaking site, located deep in the Buckinghamshire countryside, is today widely acknowledged for its achievements in cracking the German enigma machines, it took over 50 years for the stories of its cryptanalysts and code-breakers to be declassified into the public domain.
One of its centenarian veterans, Betty Webb, has commented on her war, 'I wanted to do more for the war effort than bake sausage rolls.' Betty went on to break the Japanese codes before moving across the Atlantic to work out of the Pentagon during the Pacific war.
The achievements of women like Betty Webb have gained much attention in recent years, and rightly so. Yet this history only scrapes the surface of what women in intelligence achieved across the twentieth century – and beyond. It is no exaggeration to state that women have been the missing dimension in our histories across two world wars and the inter-war years. They made a hitherto hidden contribution to some of the most important intelligence operations in war and in peacetime. My latest book Women in Intelligence seeks to uncover the roles and achievements of women across two world wars, whose roles have been hidden for so long by official secrecy. Recovering those achievements, even now, remains challenging because of the top secret nature of the organisations at which  they worked.
There is one particular group of secret women whose contribution is beginning to emerge for the first time. They are the 'secretaries' of the Secret Intelligence Service (SIS/MI6). This very secret service does not declassify its files, nor confirm the names of its officers and operatives. Much of what women (and men) of SIS have achieved remains publicly unavailable.
Now, a picture of their work is emerging via documents to be found in declassified files originating from the War Office and Foreign Office. This has enabled a glimpse into the true role of the so-called 'secretaries' of SIS who worked in British passport control offices or embassies abroad during the 1920s and 1930s, and beyond. Far from being ordinary secretaries who typed memos and reports, they recruited agents, ran networks across Europe, the Middle East and other parts of the world and corresponded with their agents and contacts using invisible ink.
Like their (often male) head of station, they received no formal intelligence training, but had to learn on the job and develop their own modus operandi. They worked on an equal level with the head of station in a symbiotic relationship that shaped and developed MI6's methodology across the twentieth century. These women became experts in their field and were indispensable to MI6's intelligence gathering and the controlling of spy networks. During the 1920s and 1930s they gained an expertise in the particular countries where they were stationed that, as we will see, proved indispensable when another world war broke out in September 1939.
The most comprehensive insight comes from the careers of the secretaries who worked for Captain Thomas Kendrick, the British passport control officer and MI6 head of station in Vienna from 1925 and 1938. They were Clara Marguerite 'Bill' Holmes, Evelyn Stamper and Betty Hodgson. Well educated, highly efficient and feisty characters, fluent in languages, they had served in intelligence in the First World War and continued their work afterwards. Being stationed in Vienna in the 1920s and 1930s they became experts on the countries of Austria, Eastern Europe, Germany and Italy.
They were tracking Communist and Soviet spies who threatened to destabilise the democracies of western Europe and spread the communist idea. By the 1930s and the rise of Adolf Hitler in Germany, they monitored the new threat posed by Nazism. They travelled extensively through the region, were regular visitors to the ski resorts and took trips to Italy, Czechoslovakia, Hungary and other parts of Eastern Europe. Their specialist knowledge and expertise, not only of running agents but also of particular regions of Europe geographically, became indispensable to SOE, MI5 and MI6 in the next war.
Holmes, Hodgson and Stamper were fluent German speakers and MI6's most experienced specialists on Austria who became the driving force and the sole agent handlers for Section X, the German and Austrian section of SOE. Their primary role was to recruit, organise, train and oversee the whole penetration of agents and SOE operations into Austria via Switzerland or Italy, as well as missions into Slovenia and Yugoslavia. Sub-sections in the field were run out of Istanbul, Cairo and Sweden.
Ahead of these missions, Holmes provided important briefings to British intelligence on her extensive knowledge of reliable and unreliable elements inside Austria, to establish whom they could trust once the agents were behind enemy lines. Her work was described as being 'of the greatest value for this organisation [SOE] in a difficult task of penetrating Austria from neighbouring countries.'
In 1941 Hodgson was sent undercover to Switzerland as a 'secretary' in the British consulate in Zurich, a front for her clandestine work for SOE. She organised the smuggling of Black Propaganda literature to her contacts for distribution in Austria and Germany, and a number of sabotage operations in the Ruhr region of Germany. By 1943 she was gravely compromised by the indiscretion of a member of her network. Hodgson had to make a dramatic and hazardous escape from Switzerland, and was tried in absentia for espionage.
As preparations were being made for D-Day (June 1944), the invasion on the beaches of Normandy, Section X increased its operations into Austria for the final stages of the war. The three 'secretaries' built up resistance groups, secured reliable contacts and established safe houses for the time when Allied forces moved into Austria. In the final year of the war, they orchestrated and oversaw the despatch of over 25 ex-Austrian refugees (Jewish and anti-Nazi) behind enemy lines into Austria. This included Walter Freud, a grandson of the famous psychoanalyst Sigmund Freud.
Penetrating Austria remained a challenge for the duration of the war and, although the work of Section X was beset by difficulties, the persistence of its three senior women (Holmes, Stamper and Hodgson) brought some success in the toughest of circumstances behind enemy lines. I argue that this was down to their expertise. The most experienced experts were required with extensive knowledge of Austria and the region (geographically) and Austrians (politically) because the challenges SOE faced in organising missions behind enemy lines here were amongst the hardest in any region during the war. This was compounded by the lack of an existing subversive network within Austria. SOE's missions into Austria would not have been possible without the expertise of these three women.
Expertise in the field during the 1930s was a factor in the recruitment of another SIS woman; this time to the French Section (F Section) of SOE. She was Vera Atkins (deputy head of F Section) who worked out of headquarters at Baker Street and recruited and despatched male and female agents into France. Her duties as an intelligence officer included advising on the current political events in France, as well as having responsibility for passing to the BBC the various messages upon which action was taken in the field. Atkins believed in the talent of women and their ability to be highly suitable agents, as well as being able to move more freely in occupied territory than the men.
F Section sent around 470 agents into France by Lysander or ashore in boats. They formed circuits behind enemy lines, ran couriers who carried messages for the network, and radio operators who communicated with London. On 25 September 1942, Vera Atkins sent the first female agents into France. They were Andrée Borrel and Lise de Baissac.
Among her other well known female agents were  were Noor Inayat Khan, Violette Szabo and Odette Sansom. Inayat Khan (aka Madeleine), of Sufi Indian origin, was the first female wireless operator sent from Britain to link up with the French Resistance. She was betrayed and executed in Dachau concentration camp. Odette Sansom, codenamed Lise, worked as a courier behind enemy lines in France with the Spindle circuit. She was arrested by Hugo Bleicher, the brutal Abwehr officer, and transported to Ravensbrück concentration camp and survived. Sansom became the first woman to be awarded the George Cross by the UK. Cecile Pearl Cornioley (née Witherington) was a courier behind the lines in France who went on to command 3,000 men after D-Day, and survived to tell her story years later.
While the stories of these SOE agents has been known for a number of years, the legacy of the SIS 'secretaries' who took on new roles of responsibility, based on their expertise, has been obscured by official secrecy. Holmes, Stamper, Hodgson and Atkins are good examples of this. A closer examination of the roles of these particular women has given a deeper appreciation of the value of their intelligence work for both SIS /MI6 and SOE.
Declassified files now reveal that women were at the heart of SOE, not only the courageous agents, but agent-handlers and intelligence officers. In so far as can be known about the highly secret organisations of MI6 and SOE, it is true that some of the women had major, not incidental roles, within those organisations. This gives us a glimpse, albeit small, into an exciting legacy about which so much more must still inevitably remain hidden. Even so, it engenders respect and awe for the women in intelligence.