The tragic tradition of Ukraine's Sviatohirsk Lavra
The burned-out rubble of a centuries-old Ukrainian monastery will likely be a stark reminder of war's many horrors for years to come.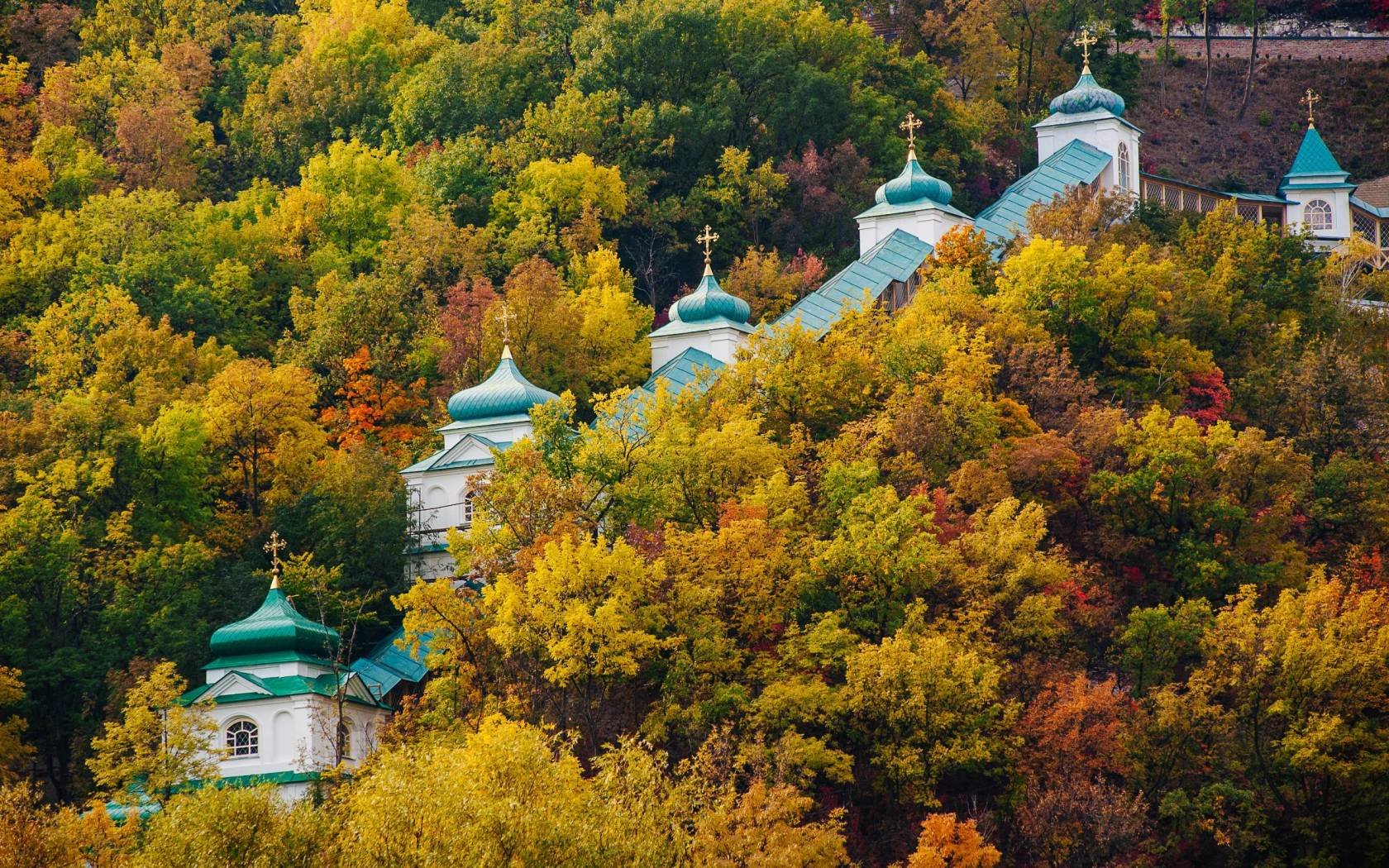 Sviatohirsk Lavra, 2019. Credit: Vitalii Kliuiev / Alamy Stock Photo.
Sviatohirsk Lavra is no more. Or rather, the centuries-old Ukrainian monastery dedicated to All Saints has been so badly damaged by Russian shelling and a resulting fire that it is unusable. That places the monastery, in Sviatohirsk, eastern Ukraine, in the tragic tradition of churches such as Coventry Cathedral and Dresden's Frauenkirche. Like them, it may outlast the conflict as a shell of its former self — a stark reminder to future generations of the horrors caused by war.
'On June 4, 2022, as a result of hostilities, a large-scale fire broke out on the territory of the All Saints Skete of the Holy Dormition Sviatohirsk Lavra. The flame completely engulfed the main church of the monastery,' the Ukrainian Orthodox Church reported that evening. Ukraine's minister of culture and information, Oleksandr Tkachenko, was more direct. 'Skete of All Saints of the Holy Dormition Svyatogorsk Lavra is now on fire caused by russia's [sic] hostilities. There were about 300 refugees, about 60 children. racists [sic] continue to prove inability to be part of civilized world,' he tweeted on 4 June, adding a photo of the burning monastery. More than 130 Ukrainian churches have now fallen victim to Russia's invasion, Tkachenko added. All Saints had already been shelled by Russians once.
When the war ends, Ukrainians will return to their damaged or destroyed homes. They will try to quickly rebuild them, because that is what people do after wars end. We all need a roof over our head. Shops, schools, and factories will be rebuilt, because life needs to go on. And All Saints monastery? Rebuilding the wooden church that dates back to the 1600s will require significant funds and, more importantly, architectural skills possessed by only a few specialists. The monks and people of Sviatohirsk face spending a long time with its skeleton in their midst.
They will find sympathy among the people of Dresden. On 13 February 1945, with Allied victory over Germany virtually certain, Air Marshal Sir Arthur Harris ordered 772 bombers to attack the city, known as the Florence of the Elbe, and neither a military nor an industrial hub. The following day, US bombers completed the attack. More than 25,000 Dresdeners perished, but the city's architectural masterpiece, the eighteenth-century Baroque Lutheran Frauenkirche, remained standing. Then, on 15 February, it too collapsed as her tower plunged into the nave. The Frauenkirche joined the Coventry Cathedral of Saint Michael as symbolic and cultural collateral damage of the Second World War. Four years earlier, in November 1940, Nazi Germany's Luftwaffe destroyed the fifteenth-century church in a night raid codenamed Moonlight Sonata that also cost 568 Coventry residents their lives.
Just twenty-two years later, a new cathedral rose where Saint Michael once stood. Dresden's residents had to wait much longer. Because East Germany's governing Socialist Unity Party lacked the money, and the interest, to restore the ecclesiastical masterpiece, the German Democratic Republic came and left without restoring the church. In 1993, ordinary citizens, large donors, and the government had managed to raise the necessary funds , and twelve years later the Frauenkirche — looking just like her former self —was consecrated once again.
But until then, Dresdeners and visitors had to endure the sight of the church-turned-rubble — a painful reminder of the brutality of war. Coventry residents, too, were reminded of the war daily by the rubble of their cathedral, and foes of the modernist structure that replaced it might argue the new church was deliberately made so ugly that people would never forget the Second World War.
For now, nobody will think about how to rebuild All Saints monastery. And when this war ends, All Saints, and all the other destroyed churches, will be asked to await their turn as the government — assisted by allied governments — begins reconstruction by making homes and workplaces safe for people to return to. I dare suggest that All Saints' brave monks — who have not just endured shelling but also hosted hundreds of ordinary citizens in the hope they'd be safe in a holy place — will continue to celebrate Mass in the rubble of their church. 
Until the monastery is rebuilt, it will serve future generations of Ukrainians as a reminder of the brutality of war. But more importantly, it can serve future generations of Russians as a reminder of this brutality too. The Russian media lies to the Russian public about what is happening in Ukraine: about the crimes its soldiers commit and the suffering of ordinary Ukrainians; and so many Russians in their home country live in ignorance of the pain caused in their name. The more Russians see the destroyed church, some five-and-a-half hours by road from the southern Russian city of Rostov-on-Don, the more they will understand the reality of this war.
Ever since the Second World War, Coventry Cathedral and the Frauenkirche have served as places of healing for Germans and Britons. They wanted to reconcile, and the Germans were willing to ask for forgiveness. At the moment, most Russians seem unwilling to ask for the same dispensation, or even admit guilt. That's why it may, paradoxically, be, in some way, therapeutic if Sviatohirsk Lavra is not immediately rebuilt. It would be naïve to expect busloads of Russians to travel to the monastery to see what has been done in their name – but even if just a small critical mass of people do, it could make a difference. And what better place for conversion than a church.