The Vault of Heaven: Silvio Berlusconi's final resting place
His personal life may have been splashed across newspaper front pages for all to see, but mystery surrounds the 'tomb of a pharaoh' the controversial ex-prime minister has been interred in, a grand monument of his own design in the grounds of his infamous Arcore villa.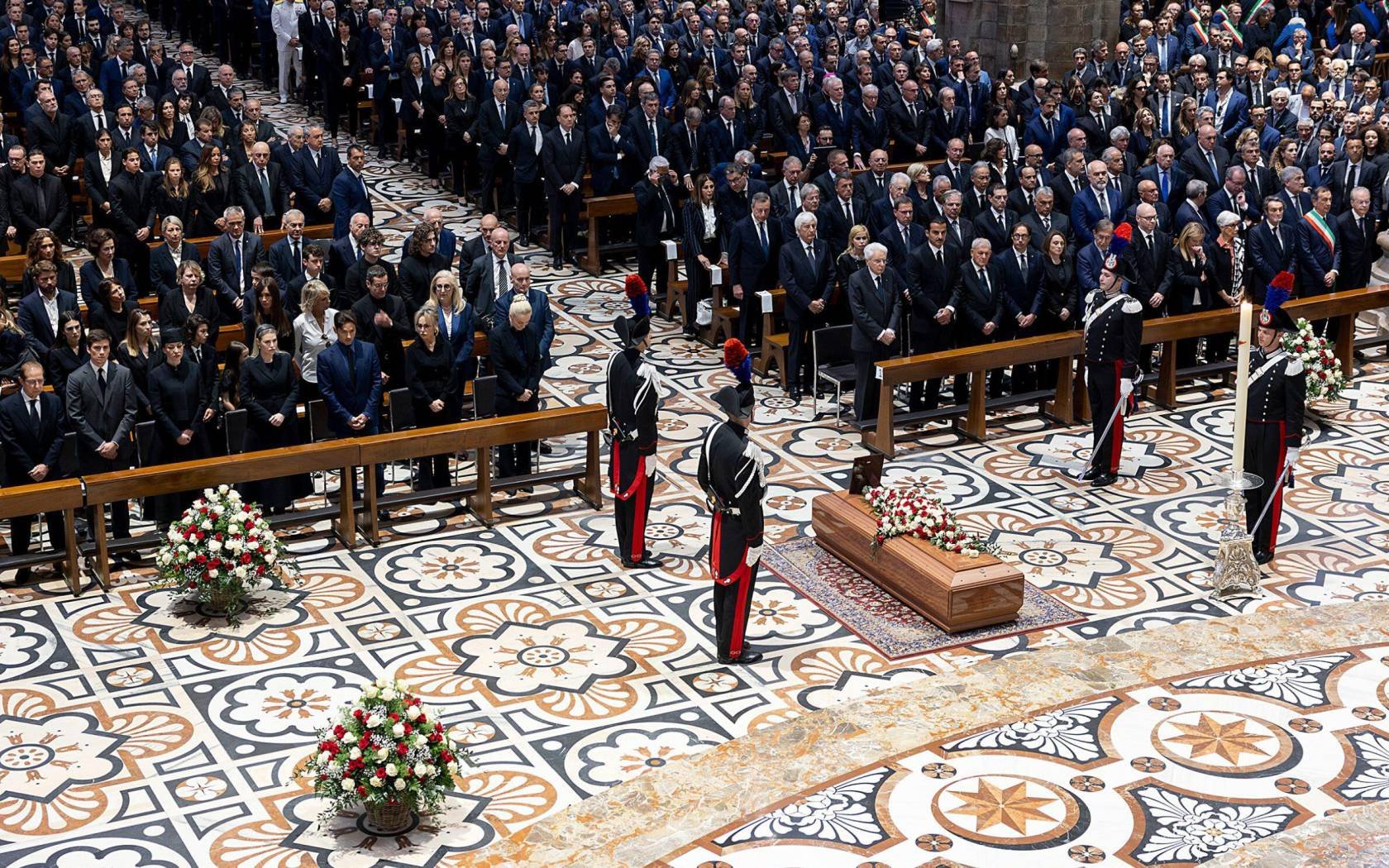 Thousands of mourners packed the area around the Duomo di Milano in Milan to bid farewell to Silvio Berlusconi, the Italian media mogul and former prime minister who died at the age of 86. Credit: Xinhua / Alamy Stock Photo
On 14 June, a state funeral was held for Silvio Berlusconi at the Duomo, Milan's prominent Gothic cathedral. The former Italian prime minister died two days previously, aged 86, after a rapid decline in his health. The government declared a day of national mourning, and a controversial decision was made to suspend all parliamentary activity for two days. An article in la Repubblica drew comparisons between Berlusconi and Chairman Mao, asserting that, excluding Queen Elizabeth and Fidel Castro, no other deceased leader had received as many honours. The funeral service, set to the sombre notes of Tomás Luis de Victoria's Missa pro defunctis, was attended by a congregation of thousands, including Italian politicians, high-ranking officials, television personalities, managers, journalists, and a few notable foreign guests, including the Emir of Qatar, Al Thani, and the Hungarian prime minister, Viktor Orbán. In the front row, Berlusconi's five children and his partner, Marta Fascina, sat in mourning. Outside the cathedral, in a designated area at the centre of the piazza, a diverse group of Berlusconi's most loyal supporters gathered. They had travelled from various parts of the country, and included young members of his political party, Forza Italia, and fervent fans of AC Milan, the football club he formerly owned, who are known as Curva Sud, or 'the ultras'.
Despite Berlusconi's recent transparency regarding his private life, for instance when he invited reporters to his 'symbolic' wedding with Marta Fascina in March 2022, his final resting place remains shrouded in quasi secrecy. The imposing structure, named La Volta Celeste (The Vault of Heaven) is a large travertine complex meticulously crafted by renowned Italian sculptor Pietro Cascella. The mausoleum-sculpture is located in the park of Villa San Martino, Berlusconi's favoured residence in the village of Arcore, approximately 30 kilometres from Milan's city centre. The villa, infamously known as the venue for 'bunga bunga' parties, was controversially acquired by Berlusconi in 1973 at a price below market value. In 1989, following the death of his father, Luigi, Berlusconi began to contemplate a final resting place for himself and his family. Eventually, he commissioned Cascella, whose reputation was established through large-scale abstract stone sculptures, notably the International Monument to the Victims of Fascism in the Auschwitz II-Birkenau death camp (1967), the Gateway of Peace in Tel Aviv (1972), and 1987's La Nave, a memorial to prisoners of a notorious fortress in the Italian town of Pescara. During an interview, the artist disclosed that Berlusconi personally provided him with instructions on the design of his mausoleum: 'He told me "Don't make me a morbid thing with skulls and crossbones," and so I thought of looking up at the sky, and I made this thing called the Vault of Heaven.'
Berlusconi envisioned the mausoleum not only as a final resting place for himself and his immediate family, but also for his fedelissimi, his lifelong friends and collaborators, including Fedele Confalonieri, president of Berlusconi's mass media company Mediaset, and Gianni Letta, his former secretary of the council of ministers. Berlusconi's desire to be buried alongside loyal associates evokes similarities to Gabriele D'Annunzio's monumental tomb at the Vittoriale degli Italiani, where the poet's sarcophagus is surrounded by those of ten 'heroes' who had taken part in his 15-month occupation of Fiume (today Rijeka, Croatia) between 1919 and 1920. Berlusconi allegedly took pleasure in showcasing his mausoleum to a select group of guests, cultivating their aspirations to be interred there with him. Occasionally, he would even promise them one of the spaces in his shrine. Legend has it he extended an invitation to controversial journalist and right-wing hero Indro Montanelli, who humbly declined with the words 'Domine, non sum dignus' ['Lord, I am not worthy'].
But despite Berlusconi's extrovert personality, his mausoleum has been seen by only a handful of people. Completed in 1993 after three years of construction, a few photographs have circulated since, and in 2003, David Willey described on BBC News the mausoleum based on a visit with Cascella a few years prior. 'It looks for all the world like the tomb of a pharaoh', he commented. 'The underground mausoleum has 100 tonnes of marble abstract sculpture on top. You enter it by a stairway reminiscent of pre-Roman burial sites, pass through a narrow corridor and enter an imposing square burial chamber with a pink marble granite sarcophagus in the centre.' Surrounding Berlusconi's tomb is a 'dormitory' comprising 36 niches meticulously prepared to accommodate the remains of his family and loyal friends.
The Vault of Heaven lacks Christian symbols. Instead, Berlusconi specifically instructed Cascella to include a frieze of hooks to symbolise the bond of friendship. Additionally, bas-reliefs depicting fruit, food, roses, and a portable telephone are incorporated into the design. Some critics have interpreted these as symbols associated with Freemasonry and esotericism, possibly alluding to Berlusconi's alleged past affiliation with the Masonic lodge Propaganda Due — an anti-communist secret society, implicated in numerous crimes and accused of having connections with criminal organisations, right-wing terrorism, and intelligence agencies.  On top of the crypt, there are twelve columns adorned with spheres, half-spheres, pyramids, and cubes. Notably, the complex is heated in winter.
While Italian law prohibits burials outside designated cemeteries, it does permit families to retain the ashes of their loved ones. In recent days, the ashes of Berlusconi's parents, Luigi and Rosa, as well as his sister, Maria Antonietta, were reunited with his remains within the mausoleum. Throughout history, the tombs of great leaders have attracted countless admirers and supporters drawn by their political achievements. As soon as he conquered Persia, a young Alexander set off to pay homage to King Cyrus at his tomb, only to discover it had been plundered by grave robbers. The potential for the Vault of Heaven to become a pilgrimage destination remains uncertain, given Berlusconi's divisive reputation and his desire to keep the site away from the public.