Turin's touch of the divine
Any trip to Turin would be incomplete without a visit to Palazzo Madama, a treasure trove of Renaissance art and mysterious relics.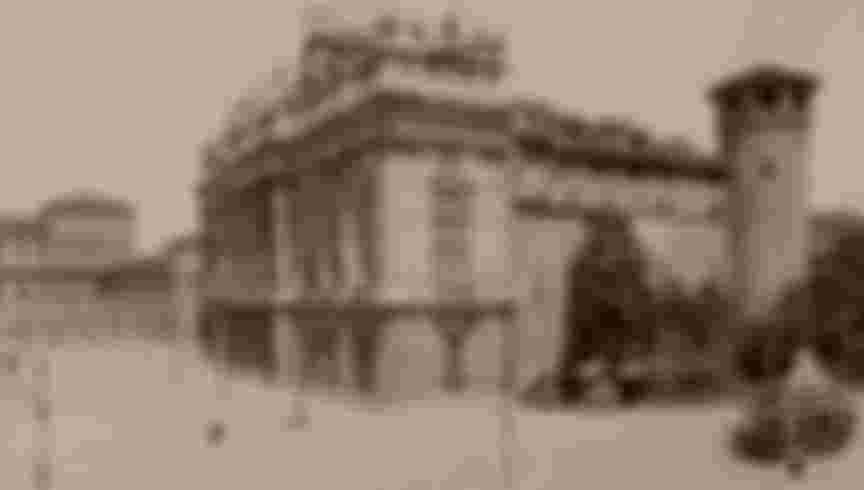 A view of the Palazzo Madama in Turin, in the early 20th century. Credit: Getty Images.
How lucky, occasionally at least, to be able to travel during a world pandemic thanks to a job that takes you where your heart wants to go. I was fortunate to arrive in Turin the day the city reopened. Within a few hours, I managed to find a free table at a restaurant's terrace on Via Lagrange and eat fassone (coarsely minced raw beef sprayed with lemon juice and olive oil), go and see a very sentimental American film called Minari at Cinema Nazionale, step into shops on Via Roma just because I could, and most importantly enter the Palazzo Madama at Piazza Castello. All four pleasures and activities had been denied my fellow citizens in France and Britain for more than five months.
What more perfect a place to reconnect with civilisation, history and art than Palazzo Madama. This baroque building sitting right in the heart of the first capital of united Italy (between 1861 and 1865), has somehow always been here. Built on Roman vestiges dating back to the first century before Christ, this possession of the House of Savoy was remodelled and redesigned through the centuries until Madame Royale or Madama Reale gave it her name. Paris-born Marie Jeanne Baptiste of Savoy-Nemours, Regent of Savoy for nine years, commissioned a baroque façade for her medieval residence. To walk around this chimera of an edifice is to travel through time.
These royal residences whose art collections and architectural history span almost two thousand years offer an endless source of discoveries for the returning visitor. It was probably my fourth visit to Palazzo Madama over the last fifteen years. Each time, I am drawn to something I had not noticed and I learn something new. And if I very much enjoyed reacquainting myself with an old friend, Portrait of a Man, painted in 1476 by Antonello da Messina, with that bold black background reminiscent of Van Eyck, I was perhaps even more stunned to discover the work of a local master of the Renaissance, Defendente Ferrari. His use of colour, from deep emerald and turquoise to rich velvety burgundy, is what stops you in your tracks. Having lived and worked mostly in Piedmont, his altar pieces and polyptychs having remained in churches and convents of the region, his talent is mainly known to art historians and auction houses. Thanks to a donation made in 1909 by the children of art collector Leone Fontana, Palazzo Madama has the finest collection of panels by Defendente Ferrari, and this alone is worth a detour for Renaissance fanatics.
I then progressed through the different epochs and levels of the Palazzo. On the top floor, having passed dozens of glass cases full of precious ceramic and majolica, I was treated to Turin's first post-covid exhibition dedicated to gold and silver medieval head reliquaries. Did I sense merely the semi-darkness of the exhibition space or a saintly presence floating in the air? Those head reliquaries dating back to the 13th century proved magnetic, even magical. The power of relics also works, it seems, on agnostics and atheists.
The New Testament speaks of the healing powers of objects that were touched by Christ and his apostles. A Saint provides a spiritual link between Them and Us, God and man. 'Fueled by the Christian belief in the afterlife and resurrection, in the power of the soul, and in the role of saints as advocates for humankind in heaven, the veneration of relics in the Middle Ages came to rival the sacraments in the daily life of the medieval church. Indeed, from the time of Charlemagne, it was obligatory that every altar contain a relic,' wrote the medieval art historian Barbara Drake Boehm.
The face of a Saint is rendered by the art of encasing bone fragments in a precious bust. All the heads exhibited here in Turin, fashioned out of painted wood, silver, gold or ivory, sometimes a mix of all four materials, some of them even covered in precious gems, convey an astonishing humanity: a medieval presence in the way they smile timidly and stare at you or look sideways, fixing the horizon in a mysterious way. I almost expected them to turn their heads and start moving their lips to speak to me. I can still feel the presence of Saint Balbina with her golden plaits, semi-closed eyes, pale cheeks and red thin lips. What incredible poise.
Those highly decorated works of art make a profound impression on the onlooker. As Bernard of Angers wrote, back in the 11th century: 'It is not an impure idol that receives the worship of an oracle or of sacrifice, it is a pious memorial, before which the faithful heart feels more easily and more strongly touched by solemnity, and implores more fervently the powerful intercession of the saint for its sins.'
When the spiritual becomes a physical presence: the perfect post-covid experience.