War displaces Ukrainians – again
The growing and unresolved humanitarian crisis unfolding in Europe as hundreds of thousands of Ukrainians flee fighting is not new. When Russia invaded Ukraine's eastern regions in 2014, it scattered millions of people seeking safety further west. By 2021, some 1.5 million had the status of internally displaced people. But now, just as then, ordinary citizens are mobilising to help each other.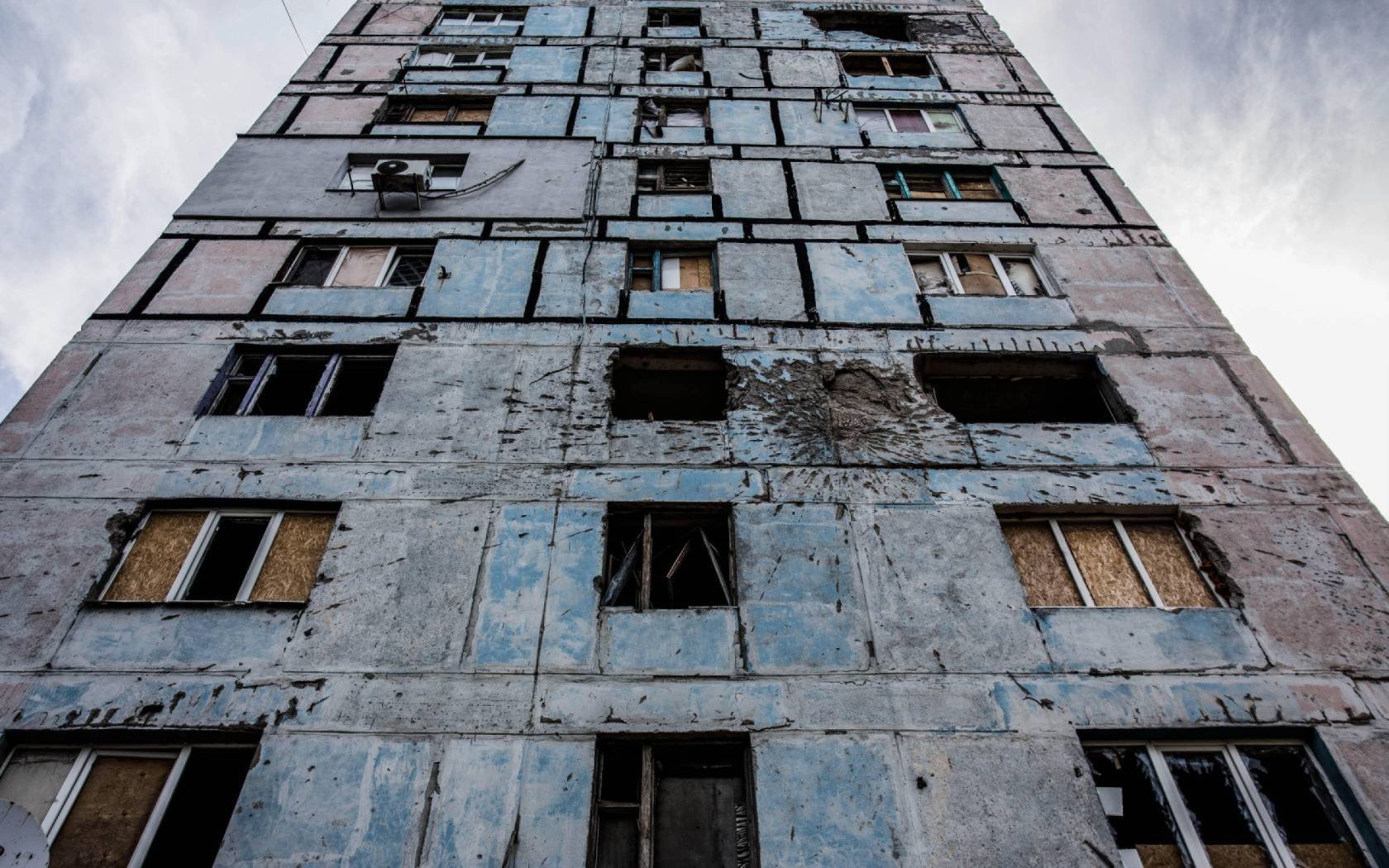 A building in Avdiivka, eastern Ukraine. The battle of Avdiivka was one of the bloodiest moments of the 2014 conflict. Credit: LE PICTORIUM / Alamy Stock Photo.
Iryna is from the city of Dnipro in eastern Ukraine, 391km southeast of the Ukrainian capital, Kyiv. In the spring of 2014, after Russian forces began to invade the eastern regions of Donetsk and Luhansk to support violent separatist uprisings, she started to see waves of people coming to her city from the east. The regional government could not accommodate such large numbers, so Iryna and the Dnipro community took over a deserted dormitory. 'It was rotten, it was a disaster. It was all mildew, and damp. So basically we cleaned it. We mobilised the community via social media,' she told me in an interview in 2021. 'There was no preparedness when it started, nobody was ready, nobody knew what to do.' But more than 100 people from Dnipro came to help clean, register internally displaced persons (IDPs) from Donetsk and Luhansk, and distribute aid, including clothes and food. Iryna's organisation helped some 30,000 people in the first year of the war alone.
Since then, the United Nations High Commission on Refugees (UNHCR) estimates nearly 1.5 million people were displaced within Ukraine (as of March 5, 2021). Although that number is dwarfed by the current displacement and refugee crisis, it signifies the extent to which the conflict that started in 2014 had already upset Ukrainians' lives and communities. The challenges of sustained displacement created burdens for both Ukrainians and their state, as well as opportunities for Russia to exploit as it prepared for full-scale invasion.
From spring 2014 to early 2022, many displaced people moved to Kyiv. However, more stayed close to the front lines, the border that bisected areas controlled by the Ukrainian government and the separatists. Nearly 800,000 displaced people were registered in the Donetsk and Luhansk regions as of May 2021, in cities and towns close to the front lines. Many of those displaced living closer to the front line continued to hold onto hope that they might return to their homes in parts of the Donetsk and Luhansk regions occupied by Russian forces since 2014. Many had moved several times, first evacuating to a safe place across the country, including to the far west, and then moving again to find work or because they had contacts in other cities.
In Ukraine, such people are still Ukrainian citizens, and, according to the UNHCR, internally displaced people continue to be the responsibility of the country in which they are displaced. (Refugees, on the other hand, are people displaced outside of the borders of their own country, so their needs should be addressed by non-state or international agencies.) However, throughout the eight years preceding last week's invasion, the Ukrainian government failed to create a clear policy. The government ministry that was expected to address the issues changed several times, most recently becoming the Ministry of the Reintegration of the Temporarily Occupied Territories. In the autumn of 2021, this ministry was working with international organisations, including the Danish Refugee Council, to develop a comprehensive plan for internally displaced people and their integration. This failure created many additional challenges for people living with IDP status – and it also created opportunities for Russia to implement policies to influence Ukrainians still living in the-then occupied territories of Donetsk and Luhansk (known as temporarily occupied territories).
From 2014 up until Russia's full-scale invasion of Ukraine on February 23 people were required to register with the Ukrainian government to receive IDP status. This status provided additional social benefits, including cash payments, and allowed people to continue to keep their property in temporarily occupied territories, even if they changed their registered address. Many people who claimed IDP status continued to live in those occupied territories rather than in Ukrainian-controlled areas. They had to cross the border regularly in order to receive their pension, for example, as it was paid by the Ukrainian government — as well as to ensure the continuation of their IDP status. These borders saw some million crossings between the government and non-government controlled territories most months up until March 2020. Then, both Ukraine and the authorities of temporarily occupied territories closed their borders due to COVID-19 restrictions.
Since the restrictions, Ukrainian citizens living in these territories were increasingly drawn into the Russian sphere of influence. Russia began an intense campaign of passportisation —distributing Russian passports in the territories they occupied. The territory authorities did not allow their border with Ukraine to open, so many people living there had no choice but to turn to Russia. The Russian Federation encouraged (and in some cases, coerced) territory residents with Russian passports to vote in the 2021 Russian Duma elections. Many of these voters continued to also hold Ukrainian passports and IDP status, but Russia's manipulation of this population was clearly planned long before the invasion, with residents holding Russian passports offering Russia a number of tools to achieve their goals. Men aged 18-45, for example, are now being mobilised into the Russian army.
Now, Ukraine's displacement crisis is entering another phase. Many displaced people who remained close to the front lines are already on the move, and many people leaving Kyiv and other major cities are likely to also become internally displaced (there is currently no data). Lines at the Polish border are reportedly 24-36 hours long, even as Poland is offering Ukrainians free passage.
Iryna said that in 2014, all the displaced people she met in Dnipro in the first month of war were 'hoping that it will somehow dissolve and everything will get back to normal. But then it didn't.' Ukrainians who are now refugees in Poland, Slovakia, Hungary, Romania, and Moldova are left wondering how long they will be displaced and whether or not their homes—and homeland—will even exist in a month.
Yet Ukrainians are mobilising again. Their long experience of war means they know how to self-organise, creating their own networks to help get people to safety and collecting supplies to distribute to those in need. Ordinary people are offering train tickets, car rides, and phone numbers to help each other get to safety, just as Iryna organised her community to create housing and aid distribution networks to those displaced by war in 2014. While facing a foe with many times the military power, Ukrainians know they can look to each other, even as the stakes are higher than ever.