What is Russia doing in Africa?
Compared to China, Russia's activity in Africa is relatively modest. Nevertheless, recent diplomatic, naval and military projects illuminate Moscow's mental maps, and reveal how Russia sees the world evolving.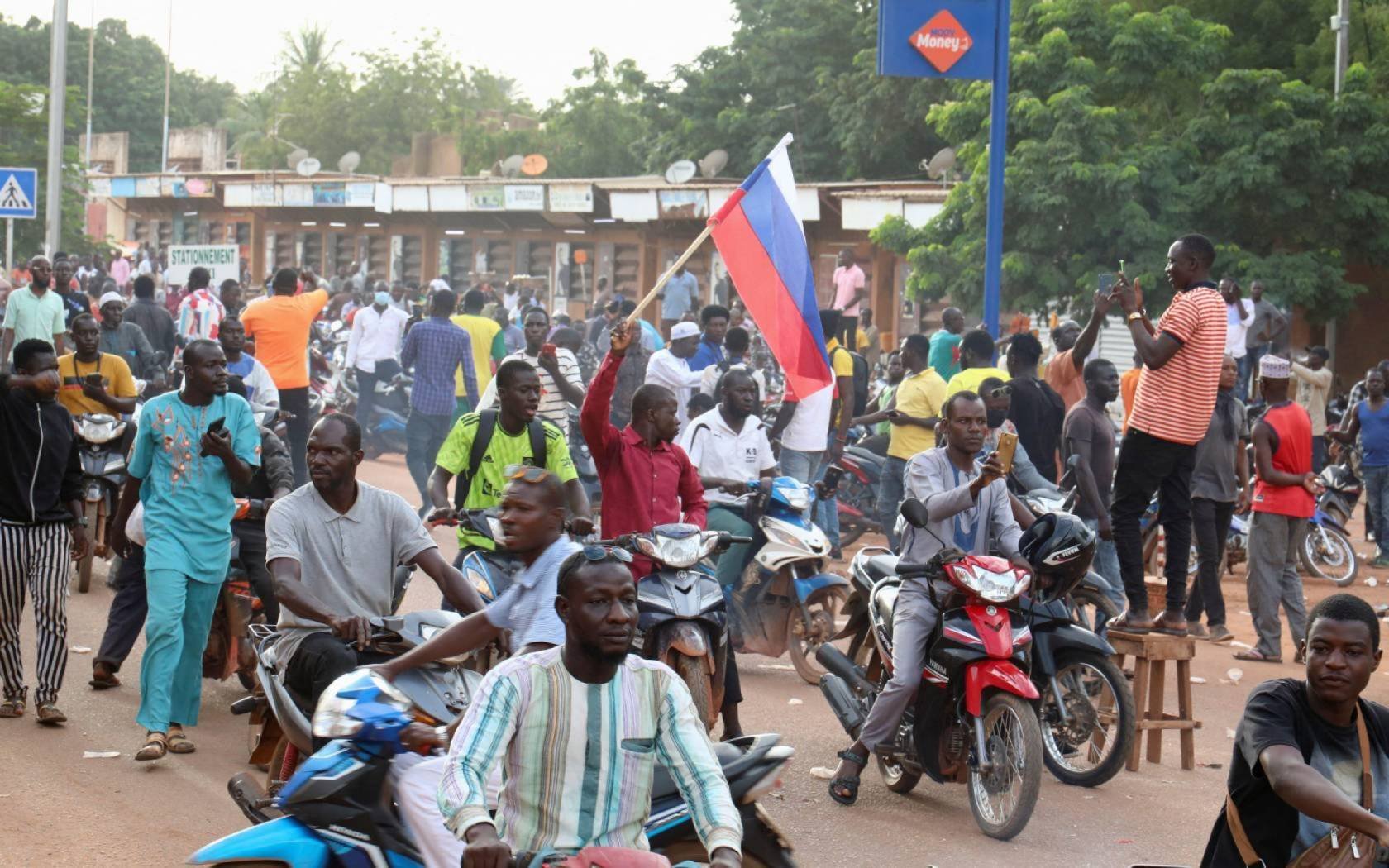 A man holds a Russian flag during a demonstration of supporters of Burkina Faso's self-declared new leader Ibrahim Traore, in Ouagadougou. Moscow is believed to have been involved in the coup. Credit: REUTERS / Alamy Stock Photo.
For Moscow, the fighting in Ukraine is just one part of a wider, global contest, one that is shaped by an intensifying struggle over access to commodities, transit routes and markets. Indeed, this view has underpinned Russian activity through the 2010s, as Moscow sought to pre-position Russia by developing infrastructure connecting different regions (such as the Northern Sea Route which runs along the Russian Arctic coast), and forging diplomatic and economic links across different continents.
If senior political figures have long been explicit about this, so has the military. In 2013, Chief of the General Staff Valeriy Gerasimov described these geoeconomic challenges in the same terms, and, in 2017, he stated that Russian armed forces sought to develop the ability to reach and defend Russia's interests in strategically important regions of the world. Such views are also set out in official documentation, such as the Maritime Doctrine and the Fundamentals of State Policy for Naval Operations for the Period to 2030, which describes priority areas, including in the Indian Ocean and Antarctica, and again explicitly links geo-economic interests to military activity. Illustrating this global horizon, in 2019, a naval task force conducted Russia's first successful circumnavigation, stopping in Djibouti, Sri Lanka, China, Ecuador, Cuba and Cape Verde.
Russian activity in Africa in many ways reflects this approach. Moscow's co-hosting (with Egypt) of the inaugural Russia-Africa summit in 2019 stands out as a key moment in Russian diplomacy in the region, but diplomatic efforts had already intensified in the middle of the decade with the appointment of Mikhail Bogdanov as Special Presidential Envoy for the Middle East and Africa in October 2014. This was followed by visits by senior officials, including Senator Igor Morozov, Secretary of Russia's Security Council Nikolai Patrushev and Foreign Minister Sergei Lavrov.
Russian economic activity has subsequently grown substantially across the continent, including interests in mining and other natural resources, nuclear power, grain and arms. Russia has become the dominant grain supplier to large parts of the continent, including Eritrea, Somalia, Senegal, Egypt, Tanzania, Tunisia, Sudan, Mozambique, Libya, Kenya, Uganda and Nigeria, and between 2017 and 2021 Africa imported nearly 50% of its weapons from Russia.
Russian military planners see Africa in this context, therefore: both as part of a global geoeconomic contest, and one in which Russia has specific interests to protect. Beyond the supply of weapons, therefore, Russian military involvement in Africa takes two broad forms. First is the widely commented on presence of Russian military trainers/instructors and private military companies [PMCs], which have become increasingly active in a number of African states, including Libya, the Central African Republic and, more recently, Mali. This involvement appears to be to provide training to local forces, protection to local politicians and also to the mining interests acquired by Russian companies.
The second form is the active role played by more formal military structures, especially the Russian navy and aerospace forces in terms of Russia's wider geoeconomic positioning and assertion of interests. As noted above, in conducting its circumnavigation in 2019, the Russian navy docked in two African states: Djibouti and Cape Verde. But the Russian military presence across Africa is extended much further through deployments, exercises and basing agreements, again most clearly where there are strategic resource, transit route and market interests.
The navy has sought port rights in several African states. It has explored establishing a naval logistical hub in Sudan. This would offer Russia a strategic presence in the Red Sea, which would provide both a link to the eastern Mediterranean and the Suez Canal Economic Zone Moscow is establishing with Egypt, but also offer power projection capabilities into the Indian Ocean.
The Russian navy has also deployed recently in counter-piracy operations in the Gulfs of Guinea and Aden, for instance, which are both vital hydrocarbon transit routes. Russia has also conducted military exercises with African states. 'Bridge of Friendship' exercises have taken place between Russia and Egypt since 2015, for instance, most recently in December 2021 in the eastern Mediterranean. And Russia has conducted exercises with South Africa (and China) off Cape Town and in the Indian Ocean.
To be sure, Moscow continues to face limitations, problems and setbacks. Comparatively, Russia's presence in Africa remains rather smaller than that of China, the United States and European states. And not only have Russian trainers and instructors suffered casualties and failures, but military contractors appear to have been involved in the massacre of civilians which has prompted a UN investigation. Moreover, the port agreement in Sudan appears to have become delayed, as has the second Russia-Africa summit, originally scheduled for late 2022, but now delayed into 2023.
Nevertheless, Russia's activity in Africa illuminates Moscow's 'mental maps' and how it sees the world evolving: the importance of resources and natural choke points, and access to the Indian Ocean and Antarctica. It also indicates the close links between Russia's geoeconomic interests and military deployment. And Moscow is metaphorically and practically heavily invested in developing its African presence, reflected in Lavrov's visit to Egypt, Ethiopia, Uganda and the Republic of Congo in July 2022. A broadly coherent approach is visible, one that is rendering Russia both diplomatic advantages as numerous African states refrain from criticising Moscow's invasion of Ukraine, and also access to resources and growing markets that help to sustain the Russian economy.