The fine hand of the artist and the musician has gone a long way for some of history's great and terrible figures.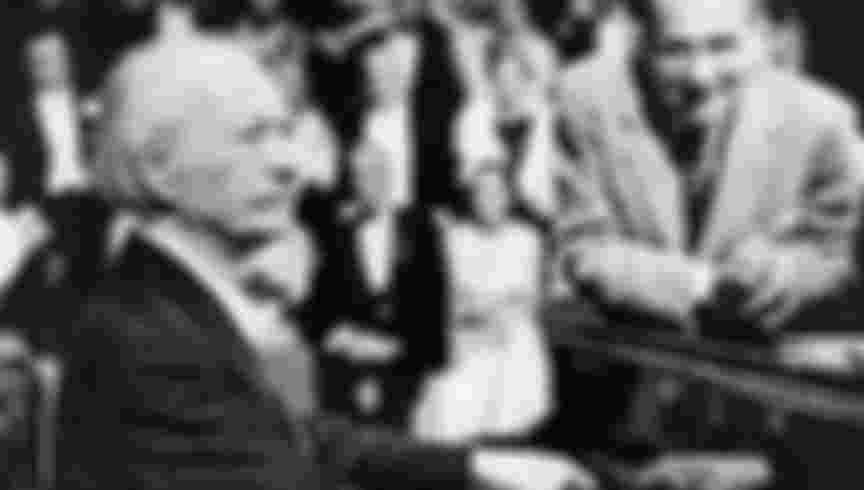 At the end of David Lean's masterpiece, Dr Zhivago, Alec Guinness's character asks the departing daughter of the eponymous hero whether she plays the balalaika as her father had done before her. Her boyfriend triumphantly responds 'does she play? She's an artist!' prompting Guinness to inquire as to who taught her. 'No one. She taught herself.' exclaims the boyfriend proudly. 'Ah, it's a gift then' sighs Guinness with a sly smile spreading across his wise face.
The gift of artistic ability is enviable. Even the masters of non-artistic  mediums wish they excelled in more expressive disciplines. There are evidently inherent and efficacious skills that artists possess. When Dr Watson attempts to explain the genealogical source of Sherlock Holmes's singular powers of observation and analysis, Holmes insists that 'that way is in my veins, and comes from my grandmother, who was the sister of Vernet, the French artist'.
The mysterious competence for pattern perceptions, for subtle solutions, for harmonious conclusions, that constitute artistic aptitude can surely be effectively applied to numerous lines of work that are seemingly divorced from the noble undertaking of aesthetic creation.
Recently, the UK Chancellor, Rishi Sunak, got into trouble when he said that some artists who are economically vulnerable due to the pandemic ought to 'retrain'. Sunak said he had been misquoted or misunderstood, but the theme went viral. It provoked some more excitable members of the artistic community to sarcastically repost photos of Adolf Hitler on social media accounts with the caption 'careful Mr Sunak, last time we retrained it didn't end well'. No doubt the world would have been a better place if Hitler had kept to his paints and canvasses but what positive examples are there when musicians, poets and painters adopt political professions.
The 18th century Irish dramatist Richard Sheridan springs to mind. The author of several hit plays such as The Rivals and The School for Scoundrels cut an attractive figure on the London theatrical circuit before being elected to the House of Commons as a Whig Member of Parliament in 1780. His oratorical adroitness, clarifying declarations and searing wit irked his opponents and galvanised his allies. His speaking performances during the famous trial of Warren Hastings occupies a legendary status in the annals of parliamentary debate and confirms how appropriate a setting a legislative chamber is for those naturally inclined to exhibit their creative prowess.
The Chilean poet, Pablo Neruda, is another artist who branched out. Already an accomplished poet at the tender age of thirteen, he won the Nobel Prize for Literature in 1971, but his achievements were not confined to the arts. He was a veteran diplomat who served Chile in Spain, Mexico and Argentina before sitting as a Communist senator in his native assembly. Although he only attended the Chilean senate for three years, he left an indelible impression on the politics of his country and was later employed by the President as a special adviser.
Neruda was not the only poet to become a capable diplomat. Chaucer and Wyatt both led distinguished diplomat careers. So have seven other Nobel Prize winning poets including Ivo Andric, George Seferis, Octavo Paz and Czeslaw Milosz. Their poetic faculties might not account for their successful public service, but perhaps it reveals a fundamental connection between people capable in the arts and those who proficiently conduct their civic duties.
One of the most intriguing transitions from creative to political employment must be Ignacy Jan Paderewski. Paderewski ranked high on the list of popular concert pianists in Europe before the First World War. His dramatic gestures and technical mastery beguiled international audiences for over fifty years, but when Poland needed a representative, someone to advance the cause of independence and to lead a new nation into the modern world, Paderewski became the popular choice. He was duly made Prime Minister and Minister for Foreign affairs in 1919. His short tenure at the top of Polish politics coincided with one of the most transformative phases in modern Polish history. He organised democratic elections, protected ethnic minorities, ratified the Treaty of Versailles, established a system of public education, reduced unemployment and social tensions, negotiated difficult border disputes and averted a famine.
Those titanic achievements attest to his natural abilities, charming and swaying resistant interlocutors. He is even said to have played the piano while brokering trade deals in order to soothe his counterparts, which is a delightful way of finding a practical political use for the skill that made him so famous.
Maybe the artists who sardonically responded to Sunak should think again, and retrain as politicians and diplomats. The world right now needs more Paderewskis, Sheridans and Nerudas to creatively steer us out of our current plight.