When JS Bach came to Leipzig
His superiors may have worried about his 'weird tone', but three centuries after the composer's most astonishingly productive period, his contribution to music remains immense, with subsequent generations of musicians of all genres channelling his innovative techniques.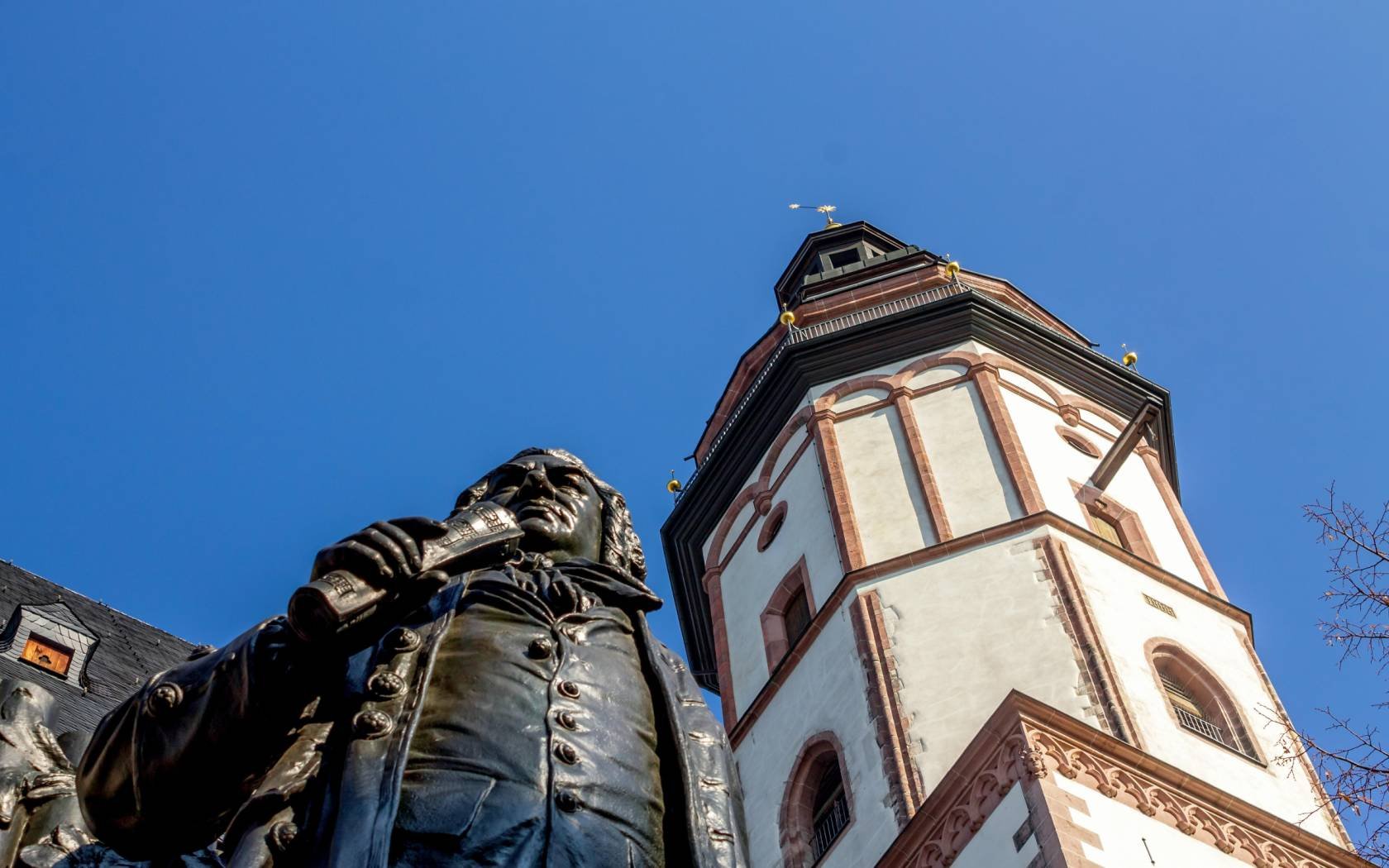 Statue of JS Bach. Credit: Sina Ettmer / Alamy Stock Photo
Almost exactly 300 years ago, the newly-appointed music director at St Thomas's Church in Leipzig assumed his duties. The appointee hadn't been the Leipzig City Council's first or even second choice for the post — but the council's reluctant choice marked the single most important milestone in the history of classical music. During his 27 years at the Thomaskirche, Johann Sebastian Bach wrote not just some of his most famous compositions, but also constructed an extraordinarily sophisticated and wide-ranging body of work.
A few years ago, a video of a ball rolling down wooden panes in Japanese woodland went viral — because the resulting sounds from the 'forest xylophone' were a compelling rendition of Jesu, Joy of Man's Desiring. The famous chorale setting by Bach ends his cantata Herz und Mund und Tat und Leben, composed in 1723. He'd just assumed his duties as the church's director of music, which included writing music for other Leipzig churches too, not to mention teaching choir boys — and composing a cantata every week. Bach's new employers weren't much looking forward to their new musician's endeavours; they'd been turned down by Georg Philipp Telemann and Johann Christoph Graupner, the musicians they'd hoped to recruit — both had better offers. Leipzig had to contend with the former Kapellmeister at the nearby court of Anhalt-Köthen, even though members of both the city council and the clergy were unhappy with his 'weird tones', as they put it.
Bach, who hailed from a musical family that included scores of organists and other instrumentalists, was indeed known to compose in ways that were more complex than those of the highly popular Telemann. Bach hadn't invented the fugue (the compositional technique where different parts take turns presenting a key passage), but he excelled at it, and at other compositional forms to the point that listeners used to the relatively simple musical joys of Telemann and Graupner felt lost. But the new music director wasn't deterred by his new superiors' lack of enthusiasm for his musicianship. His first Sunday in the post was the First Sunday in Trinity, which fell on 10 June this year. Here you can hear his first newly-composed cantata — Die Elenden sollen essen — that the congregation at St Thomas heard almost exactly 300 years ago.
These weekly compositions on top of the liturgical performances and Bach's other compositions created an immense workload. We're the beneficiaries of it. Music today; 50 years ago; 100 years ago; and 200 years ago would be unthinkable without the works he composed during his 27 years at the Leipzig church. His influence isn't limited to magnificent opuses like the Passions, the Christmas Oratorio, his Mass in B minor, the Magnificat, or his astonishing collection of preludes, fugues, passacaglias and toccatas for the organ. All those are pillars of today's classical musical repertoire, but his 226 surviving cantatas have not only stood the test of time but experienced a renaissance in the past 50 years. Indeed, ever since Felix Mendelssohn launched a revival of the master's work in the early 1800s, Bach's compositions have occupied a central place in Western churches and concert halls. Imagine your auditory environment today without Bach: unthinkable. Once, when I was in Leipzig around Christmastime, McDonald's advertised its chow with the slogan 'Jauchzet, frohlocket' — the opening words of the Christmas Oratorio ['Rejoice, exult'].
But Bach's contribution to music goes far beyond performances of his own works. Such is his impact that subsequent generations of Western musicians carry his spiritual genes. Composers as varied as Mendelssohn, Richard Wagner, Frederic Chopin, Johannes Brahms, Dmitry Shostakovich and Federico Busoni either adopted some of his composing techniques, wrote tributes to him, or both. 'I'm making a collection of Bach's fugues,' a young Wolfgang Amadeus Mozart wrote to his father in 1782. Some, including Franz Liszt, Robert Schumann, Nicolai Rimsky-Korsakov and Max Reger, have written tributes on the theme of B-A-C-H (B-flat A C B in the English notation).
Bach's influence doesn't end with classical music. Dave Brubeck often commented on Bach's influence on jazz. Eddie van Halen channelled Bach's organ music in his famous Eruption solo, and Paul Simon has explained that a sequence in Bridge over Troubled Water comes from Bach's setting of the chorale O Sacred Head, Now Wounded from the Matthew Passion. He also built American Tune on the same chorale. The Beach Boys, Led Zeppelin, Lady Gaga and The Beatles have all borrowed from the great master. And Procul Harum's massive 1967 hit A Whiter Shade of Pale was a whole-scale adaptation of Bach's music.
Some 300 years after Bach's arrival in Leipzig, as global audiences enjoy his tunes without needing to understand his compositional techniques, musicologists continue to examine those techniques and deliver new discoveries documenting his extraordinary brilliance.
And at the church, the very place where Bach's patrons grumbled about his 'weird tones', services are now filled to capacity by visitors from all over the world. Leipzig's annual Bachfest has just begun, this time with additional fanfare (and guests including the Chinese star pianist Lang Lang). Some performances are taking place in the city concert hall, some in the open air and some in the church. As every year, all are dedicated to the man who assumed his duties at St Thomas's in 1723.
During the Bachfest, like every day, almost all who enter the church walk up to the master's grave underneath its stone floor. And when they do so, they don't walk on top of it: out of reverence, they walk around it. 'Bach is the beginning and end of all music,' his fellow German composer and organist Reger concluded. And quite right he was too.